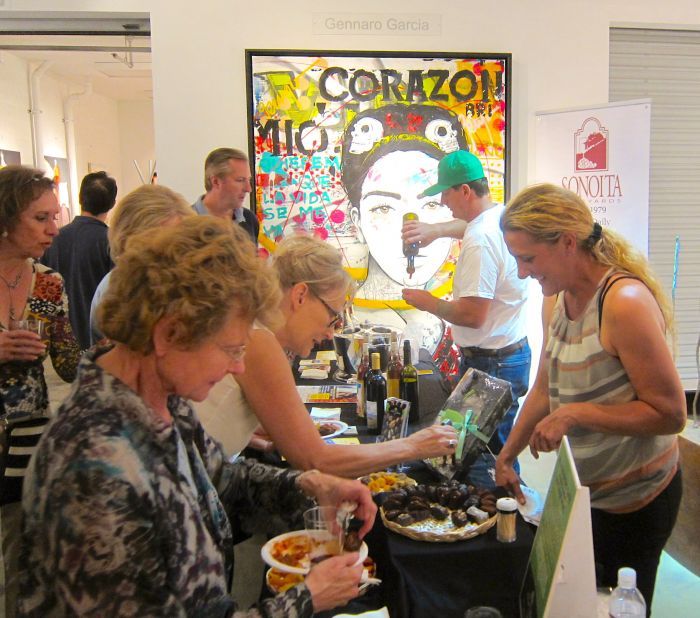 Photo by Michael Reiss
The stark Sonoran Desert nurtures a rich source of creative expression that is unearthed in all the arts in Scottsdale. From ancient rock drawings to modern culinary innovations, this landscape is full of inspiration. Some of its more obvious manifestations abound in the visual arts that are celebrated in every vista.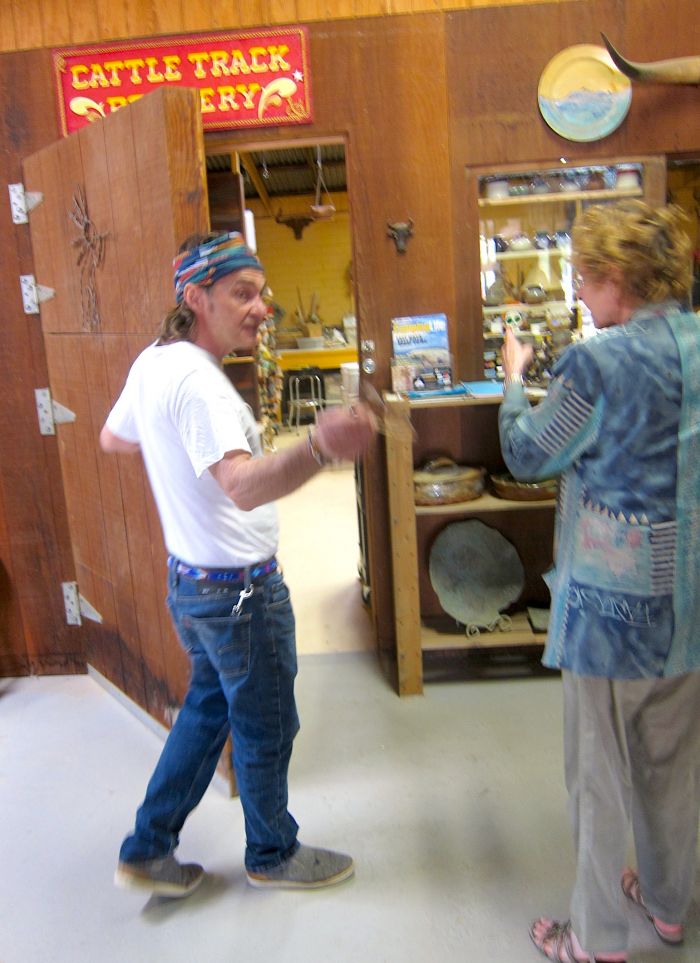 Photo by Michael Reiss
Visit the Cattle Track Artistic Compound where artists work and live together. You will observe artists at their craft and enjoy the Artistic Compound Tour lead by the incomparable artist/musician Mark McDowell.
The Thursday night Scottsdale ArtWalk in downtown Scottsdale has been part of the palette of life for over four decades. All manner of visual creations--from over 70 galleries--make this a must-attend event. Several times a year, food and wine pairings are on offer at many of the galleries to enhance the artistic expression. Street musicians add to this unique celebration of the arts.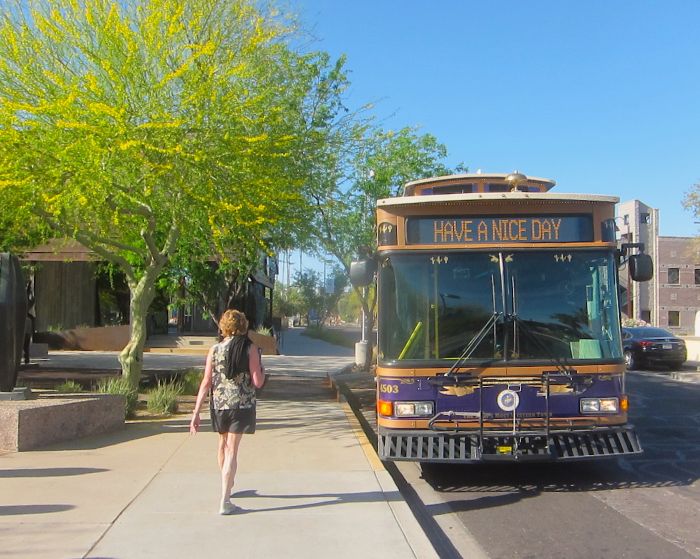 Photo by Michael Reiss
Even viticulture has tapped creative inspiration from the terroir to produce artistic wines of unique character here. Hop on a complimentary shuttle bus--called the Scottsdale Trolley--that conveniently makes the rounds of the tourist areas every 10 minutes.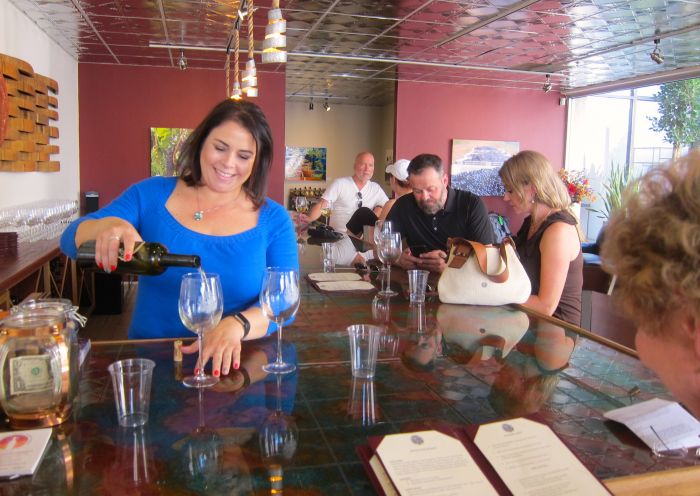 Photo by Michael Reiss
Stop at some of the tasting rooms that dot the downtown. Because of small production, most Arizona wines can only be found in the state. They have a loyal group of wine savvy followers who appreciate the distinct expression of their indigenous grapes. Sample the wines of Carlson Creek in their Tasting Room, including their flagship blend, Rule of Three.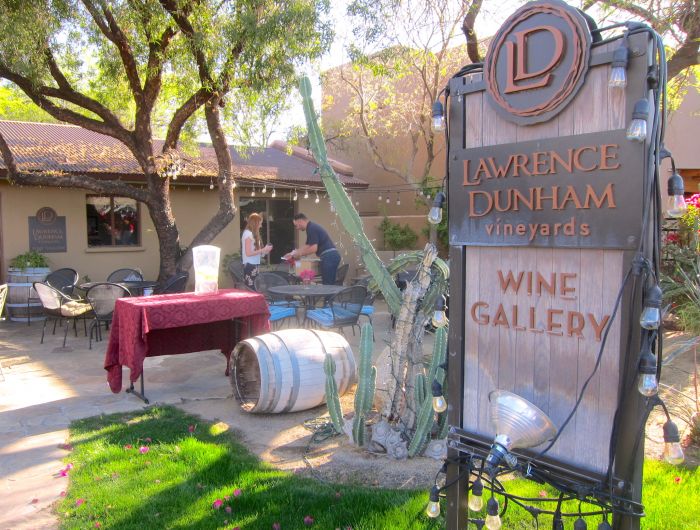 Photo by Michael Reiss
Then head to the award-winning LDV Winery, known for their Rhone varietals. Listen to owner Curt Dunham tell his story of starting a vineyard and winery from the volcanic ground up near Wilcox, one of the main growing areas in Arizona. Expand your wine knowledge and discover a new taste profile.
But perhaps what is most universally accessible is the diverse culinary artistry available in the area. With over 600 restaurants, denizens and visitors have more choices here than in Manhattan.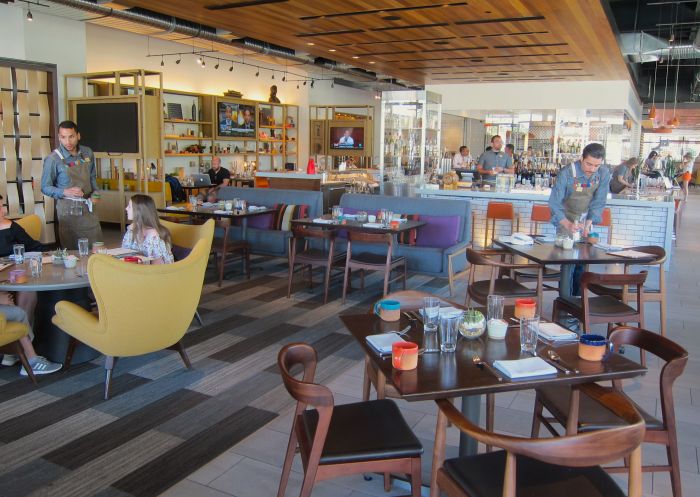 Photo by Michael Reiss
Weft and Warp Art Bar + Kitchen, at the Andaz Scottsdale Resort and Spa offers contemporary Sonoran cuisine. Executive Chef Adam Scheff offers small plates and sharing sized mains to suit various appetite levels. He utilizes locally produced Crow's Dairy goat cheese in his "Dumplings Dusted with Charred Scallions" set in a puddle of Mornay sauce. What's more, He also offers weekly cooking demos to encourage interested guests to try their hand at his menu. While staying at the Resort, we made this dish under the guidance of the chef. Other creations include charred corn, peppers, ancient grains and tubers as accompaniments to a variety of protein-based main courses.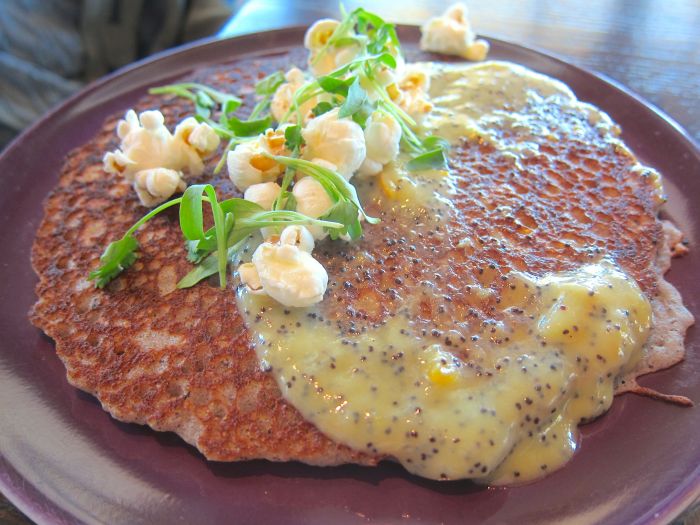 Photo by Michael Reiss
At breakfast, the "Blue Corn Short Stack Drizzled with Orange Poppy Seed Custard" and garnished with popped corn took star billing. The wine list highlights unique offerings of international boutique vintners including Arizona varietals. Each wine was specifically selected for the unique story it represents as well as its exemplary taste profile. The servers are well versed in the menu and wine list to suggest pairing options that enhance the total dining experience.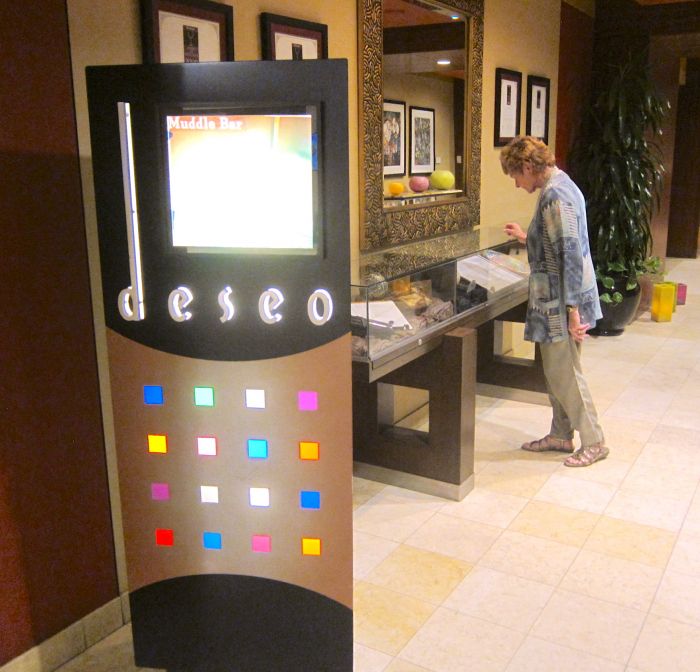 Photo by Michael Reiss
Another artistic inspired Scottsdale restaurant, Deseo, located at the Westin Resort Kierland, features an artist working on his painting by an easel placed adjacent to the bar and reception desk. His bold, finished works adorn the walls, which makes for a visually evocative introduction to this popular dining venue. Here creative contemporary Latin American-inspired menu items are featured, including a broad range of ceviche and other entrees that reflect the many influences found on the South American continent.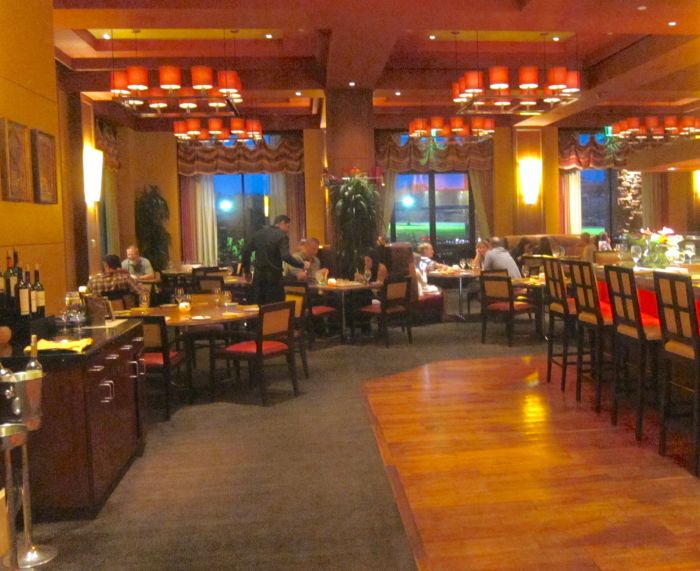 Photo by Michael Reiss
You can munch on addictive cheesy Columbian gluten-free dinner rolls, consider a Brazilian churrasco combo plate, or a toasted rice dish filled with crab, asparagus, andouille sausage and topped with a lightly poached egg that is mixed into this unctuous concoction. The wine list is strictly South American with great Chilean and Argentinian selections by the glass and bottles to pair with this ode to all things Latino.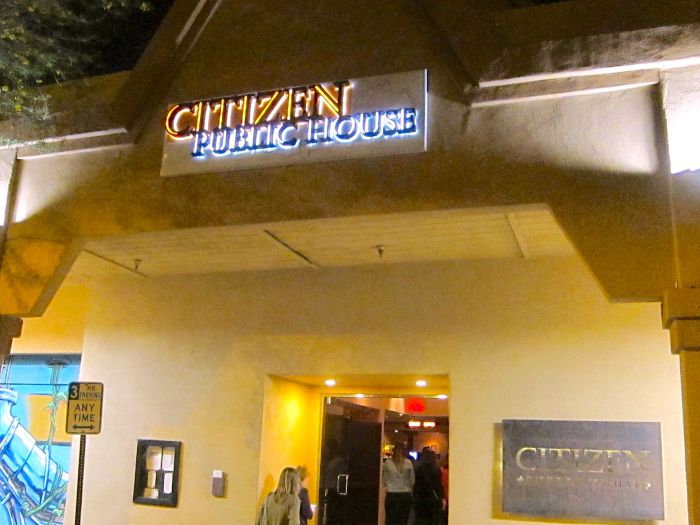 Photo by Michael Reiss
Located in the middle of the arts district, Citizen Public House serves up artistic dishes that please the eye and tempt the palate. Chef Bernie Kantak's original riff on cobb salad is an unusual ingredient and plate presentation of smoked salmon, couscous, arugula, Asiago cheese, currants, pepitas, dried super sweet corn, marinated tomatoes and buttermilk herb dressing mixed at the table by the congenial waitstaff.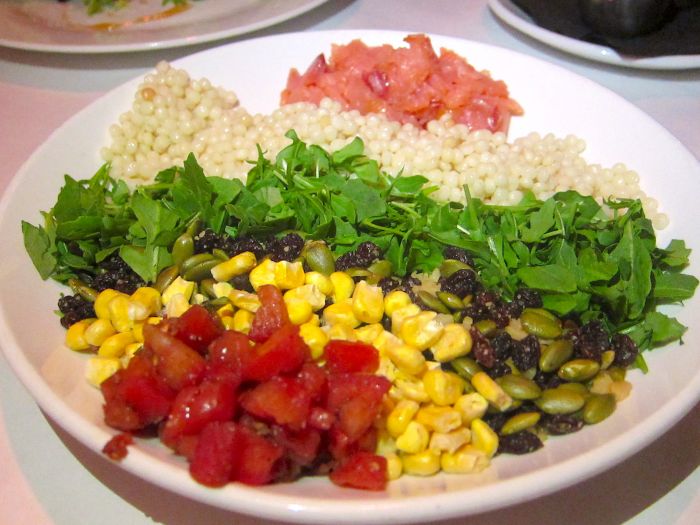 Photo by Michael Reiss
They tell us that their 'Cobb Salad' has its own Twitter following. The visual and textural blend of pan seared scallops served over roasted sweet corn grits, snow pea greens, bacon and cola gastrique is a culinary masterpiece. As evidenced by the lively bar scene, this gastro pub is noted for its variety of beverages including cocktails, wine, beers and spirits that are carefully crafted and curated to ensure their patrons enjoy the fruits of their labor.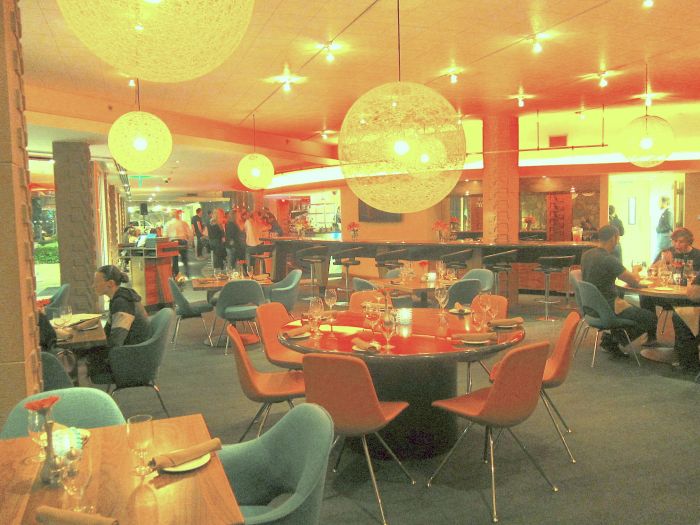 Photo by Michael Reiss
Take a trip back in time when you dine at retro chic ZUZU in the Hotel Valley Ho but be prepared for nothing less than cutting edge cuisine. Toast your evening with a glass of Perrier Jouet champagne served in their house labeled hand-etched flutes.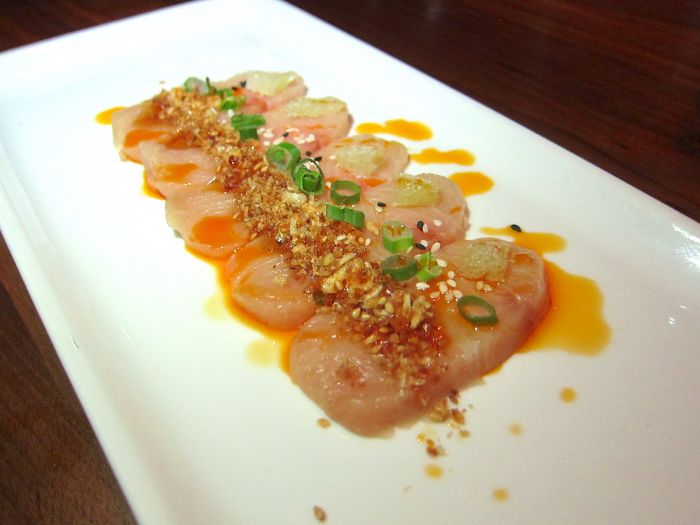 Photo by Michael Reiss
At ZUZU standouts include Chef Russell "La Casce's Yellowtail Hamachi Crudo," dressed with soy yuzu crunch, scallions, sesame, lime, and chili oil. This deft combination of textures and flavors set the bar high for this popular menu item.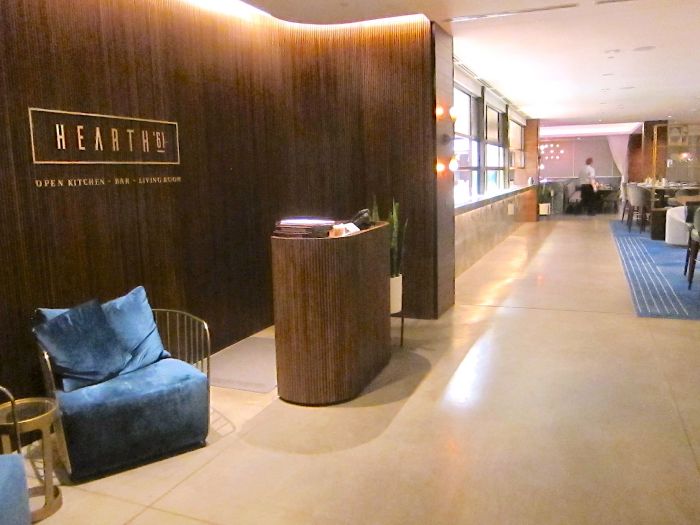 Photo by Michael Reiss
Artistic ambiance abounds at Hearth 61 located at Mountain Shadow Resort. As you approach the venue, the bar beckons with live music and lively conversation to accompany the expertise of convivial bar staff. Pass the action of the open kitchen before deciding whether to sit inside listening to the illuminated water feature or poolside. Whatever your choice, the dim lighting makes for an intimate setting.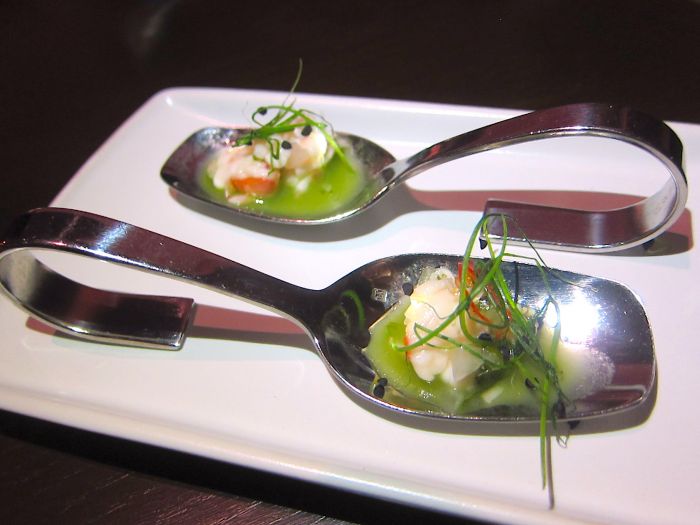 Photo by Michael Reiss
Start with the wood-fired shrimp and polenta or the duck confit. Continue with the "Beets Salad" or "Brussel Sprout Caesar Salad" and enjoy the wood-fired roast of the day for an ideal feast.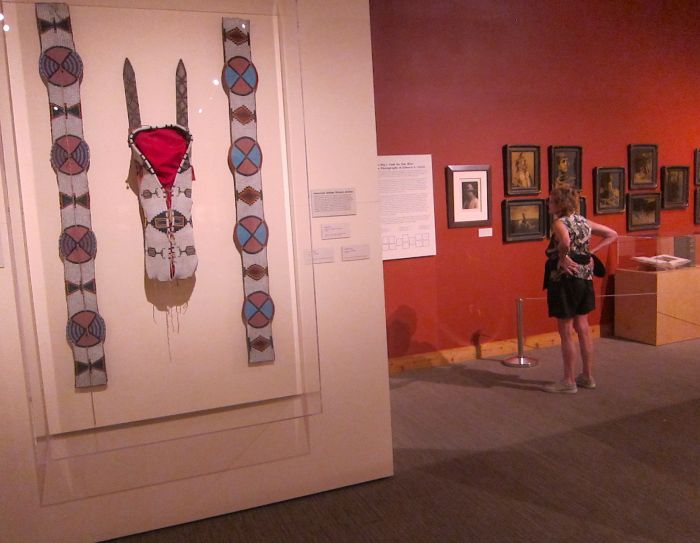 Photo by Michael Reiss
Lest one gets carried away with the artistry evident in dining, let's not forget the variety of museums that punctuate the artistic scene of Scottsdale.
There are two standouts museums in the downtown area. Both are housed in architecturally significant buildings and are recognized as among the finest in their categories in the Western United States. Don't miss the recently (2015) opened Western Spirit: Scottsdale's Museum of the West. Explore the iconic identity of the American West through fine art and historic artifacts. Make your visit meaningful by joining one of the docent tours and watching the 10-minute film shown on the hour.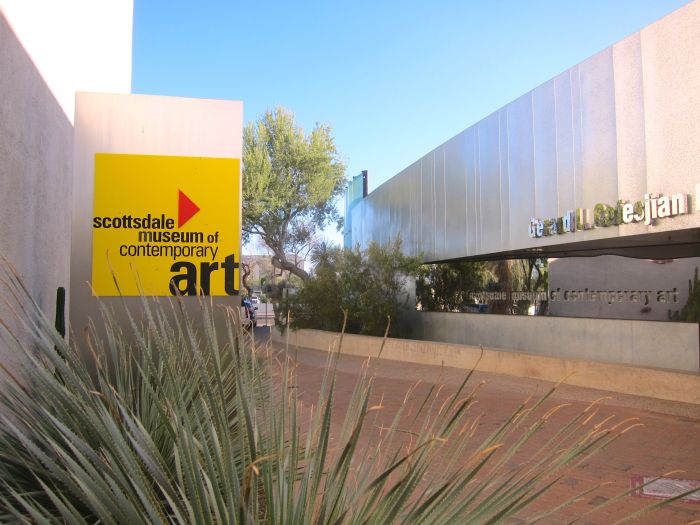 Photo by Michael Reiss
Visit Scottsdale's Old Town district and go to the Scottsdale Museum of Contemporary Art to peruse modern art exhibits in a dramatically curated setting.
Whatever your artistic bent, Scottsdale has you covered. This is a mecca for anyone who enjoys the finer artistic aspects of the good life. It's all here, in Scottsdale, easily accessible and waiting to be discovered.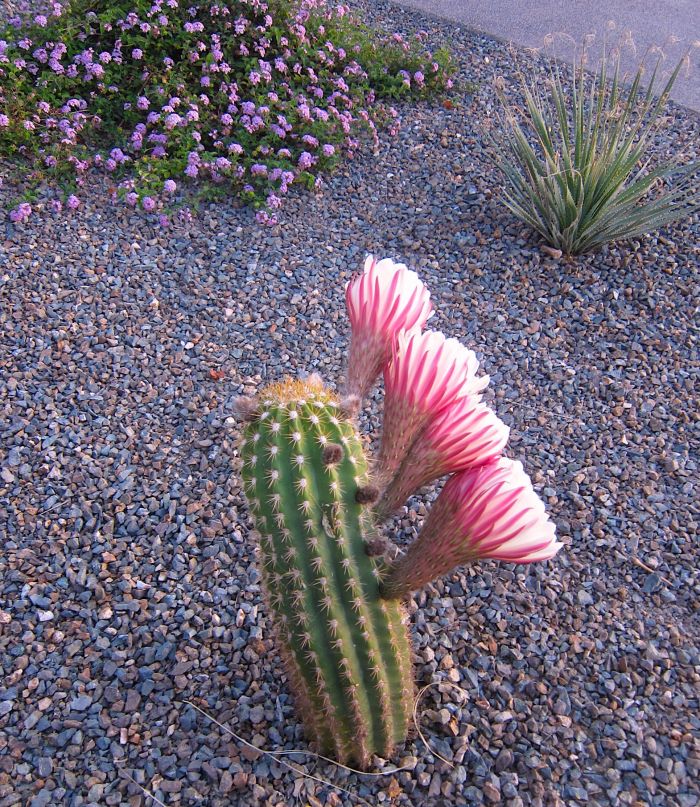 Photo by Michael Reiss