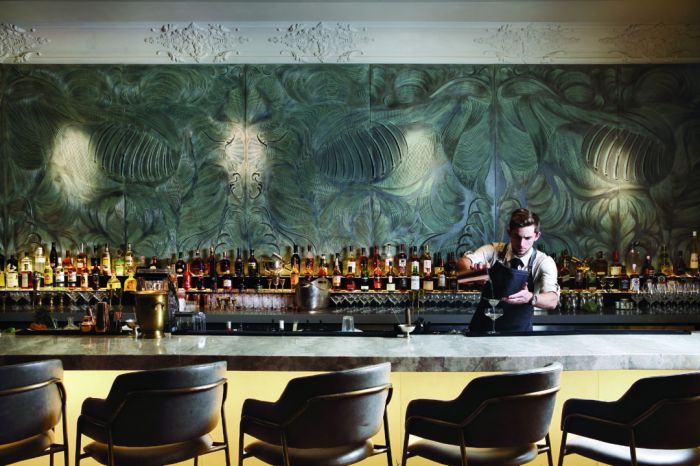 Marble Restaurant
A Weekend in Johannesburg
Long regarded as a stopover for travelers heading to South Africa's famed Kruger National Park, coastal stunner Cape Town or neighboring Botswana, Johannesburg is emerging as an exciting destination in its own right. From its gold rush roots to present-day incarnation as a thriving, multi-cultural capital, today Jo'burg's exploding food, art and design scene is quickly nabbing it spots on must-visit lists and accolades as the 'cool capital of the Southern Hemisphere'.
LAY YOUR HEAD
Surrounded by lush, landscaped gardens the Saxon Hotel, Villas & Spa is the last word in understated luxury. Discretely nestled in the tranquil suburb of Sandhurst the gated mansion and its adjacent suites are an oasis of calm mere minutes by chauffer driven car from the Central Business District. Voted one of the World's Leading Boutique Hotels for multiple consecutive years the property was originally designed in 1990 as the private residence of a South African billionaire business magnate: eminent former guests include Nelson Mandela, who worked on his autobiography Long Walk to Freedom here, and Oprah Winfrey who has a lounge named after her.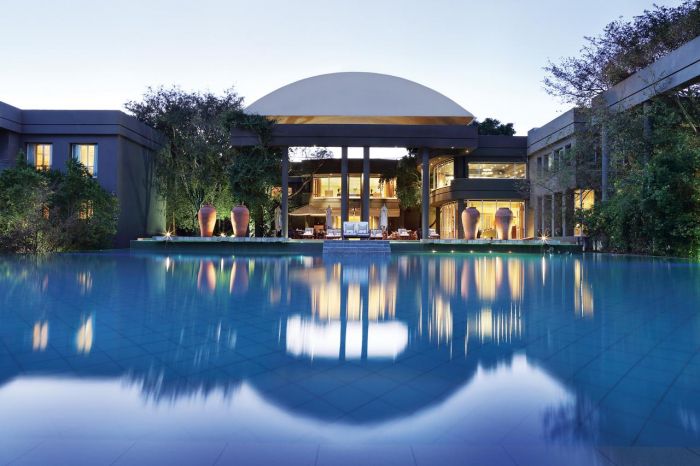 Saxon Hotel & Villas
From the chilled bottle of South African MéthodeCap Classique awaiting you upon arrival to butler delivered breakfast and everything in between, the service is flawless. Overlooking the hotel's impressive infinity pool, The Terrace is a must for lounging, sundowners and discreet people watching. Whether just arriving or prepping to depart, an R&R afternoon at Saxon's elegant namesake spa - which offers Elemis facials and a range of signature body therapies including the Hammam Body Ritual - is also highly recommended.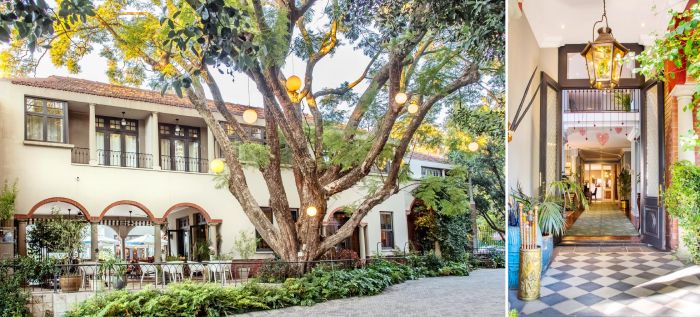 The Winston Hotel
A noteworthy alternative mention goes to The Winston Hotel in the cosmopolitan midtown enclave of Rosebank. Exuding timeless colonial elegance - with a perfect dash of modern - the handsome 30-room establishment is a stone's throw from corporate and financial district Sandton and within a safe walking distance of the Gautrain System making it a great base from which to easily explore the city and surrounding neighborhoods.
EXPLORE
To the uninitiated Johannesburg can be a sprawling metropolis with dozens of boroughs and district. Here's a look at four key neighborhoods – from tony to hipster – to help fine-tune and maximize travel time.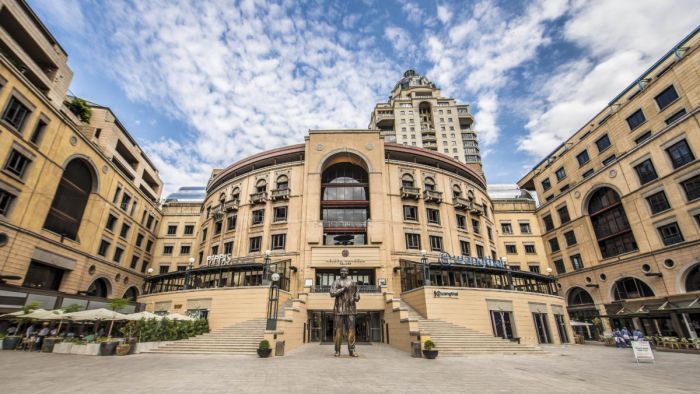 Nelson Mandela Square
SANDTON: In Johannesburg's business and financial district you will also find Sandton City Mall and Nelson Mandela Square. Shop international high street labels and luxury brands at the mall, or visit high-end department store Luminance. A popular tourist destination, the European style piazza Nelson Mandela Square is flanked by numerous sidewalk cafés and fine dining restaurants.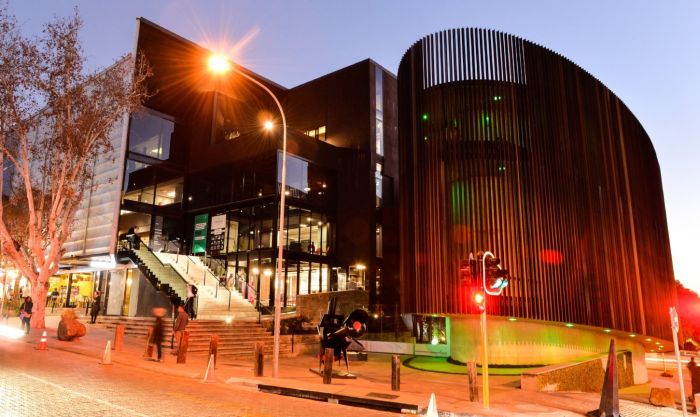 Lucy MacGarry
ROSEBANK: Sandwiched between the city center and Sandton business district, Rosebank is a popular residential and commercial hub with multiple dining, retail and entertainment options. One of the area's hottest spots is the Keyes Art Mile: housed within architectural stunner the Trumpet building this development has turned a once quiet thoroughfare into a buzzy, art-focused social hub. Here, design studios share space with upmarket boutiques like African luxury brand Opaki, which specializes in bespoke bags and accessories made using sustainably sourced game skins. Check out emerging South African and African artists at modern art space smac or head across the street to catch a contemporary exhibition at CIRCA, considered one of the best galleries in Jo'burg. Local foods - from olives and preserves to honey - are also showcased at the monthly pop-up Pantry Market.
BRAAMFONTEIN: Home to the striking Wits Art Museum and its extensive collection of historic and contemporary African artworks, this young neighborhood bordering the city center has a rich cultural scene. Set in series of renovated 1930s era industrial buildings, mixed-used development 44 Stanley is the place to shop local for luxury leather goods (Colony Design), handmade ceramics (Storm in a Teacup) and one-of-a-kind garments by atelier Helen Asrat. Rich with history and bearing testament to South Africa's turbulent past the former prison complex Constitution Hill - now a museum and exhibition space - is also located in the neighborhood. Open daily for tours it offers a fascinating insight into the precinct's complicated history. On a lighter note, music lovers should make a beeline for late-night jazz club, The Orbit, on De Korte Street.
MABONENG: Must-visits in this gentrified downtown district (Sotho for 'place of light') are predominantly centered around Fox Street where former no-go industrial warehouses have been reimagined into stylishly hip hangouts. Look for South African luxury tea brand Yswara and its sumptuous flagship store inside the thoughtfully restored Victorian-era hotel, The Cosmopolitan. Creatives will enjoy The Museum of African Design where new collections by artists from across the continent are showcased every four months or so.
APPETIZING EATS (& DRINKS)
Hailed by the New York Times as "the most transformed city in Africa", Jozi - as it's affectionally called by locals - has also racked up some serious culinary cred. A fast-evolving food scene has seen a boom in chef-driven restaurants, plus chic cocktail bars, cool coffee shops and craft distilleries, popping up across town that could easily rival Manhattan's finest. Here's where to eat and drink like a local: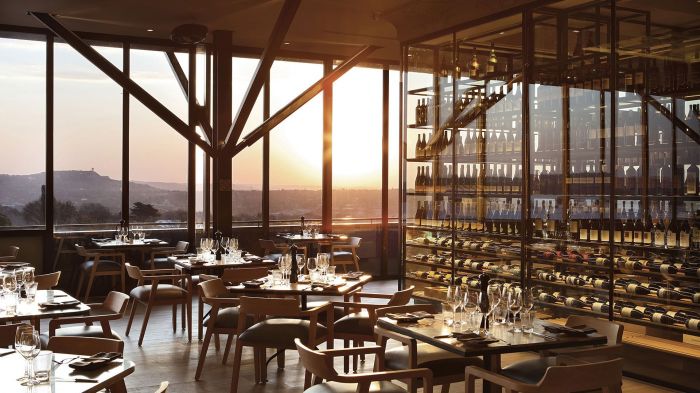 Marble Restaurant
Marble – located in the Keyes Art Mile, acclaimed chef David Higgs gorgeous rooftop restaurant focuses on wood and open-fire cooking. The adjacent cocktail lounge has a wraparound terrace with gorgeous views of the Magaliesburg mountain range. Grei – head chef Candice Philip is doing amazing things at the Saxon Hotel's intimate fine dining space with her seasonally inspired six-course pairing menu using produce from the on-site veggie garden. The Living Room – this plant-filled rooftop oasis boasts great views of Johannesburg's skyline perfect for lingering over drinks. Cube Tasting Kitchen – reservations are highly recommended at this in-demand eatery famed for its innovative 10-course tasting menu. Father Coffee – has outposts in Braamfontein and Rosebank for espressos, pour-overs and all other caffeine-related requirements. Time Anchor Distillery – enjoy a curated Mirari Gin tasting experience at the city's first craft distillery. Urbanologi – it's all about craft beer and 'urban garde' cuisine at this downtown stunner helmed by head chef Jack Coetzee who puts a 'street food technique-inspired' spin on fresh Asian and local ingredients.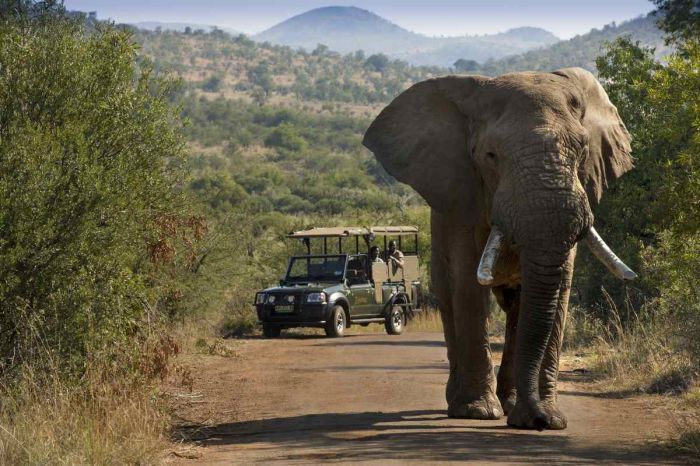 Pilanesburg National Park
DAY TRIPPING
No time to hit the Kruger, no problem. A day trip to Pilanesberg National Park promises potential sightings of the coveted Big Five (lion, leopard, white and black rhinoceros, elephant and cape buffalo) just a three-hour drive from Johannesburg. Set within the crater of an ancient volcano, the landscapes at Pilanesberg are spectacular and span a transitional zone between the Kalahari and subtropical Lowveld regions. While relatively small in size (220.9mi² compared to Kruger's 7,523 mi²) almost all native South African bird and animal species, including zebra and giraffe, can be found here. Private and small group day safaris, including transportation and lunch at Bakubung Bush Lodge, can be arranged through hotel concierge services or a reputable local tour operator, such as GO Safari.
Noteworthy Mention: Less than an hour from Johannesburg the Lesedi Cultural Village in Hartbeespoort allows visitors the chance to meet five South African tribes — Xhosa, Zulu, Pedi, Basotho and Ndebele — and experience their distinctive foods, traditional music, dress and dance forms. Both half day and overnight trips, the latter of which includes lodging in a traditional homestead, can be arranged through MOAfrika Tours.
RETAIL THERAPY
Look out for Johannesburg-based brands like Stich and Steel who make eye-catching, limited-edition wrist watches and coveted South African skincare brands Africology, Charlotte Rhys, Lulu & Marula and Suki Suki Naturals. For more traditional last-minute souvenirs OR Tambo International Airport has several craft boutiques worth popping into on the way through departures. Indaba Origins and ZULU African Design Emporium both carry a tasteful selection of beadwork, woven bowls, waxed heritage fabrics and mud cloth cushion covers, among other goodies.
Saxon Hotel & Villas
An oasis of calm awaits at the Saxon Hotel's namesake spa.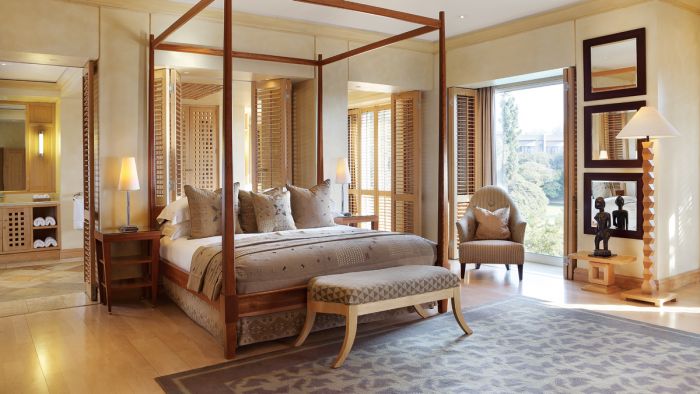 Saxon Hotel & Villas
A suite at the Saxon Hotel, Villas & Spa.
Yswara
Shop for signature tea blends at YSWARA.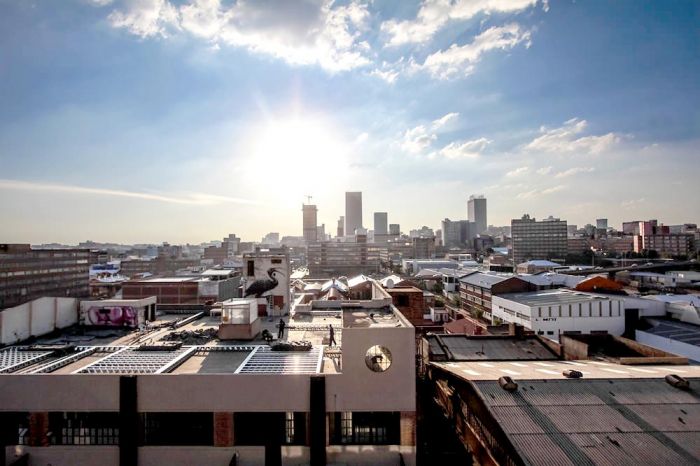 The Living Room
Johannesburg boasts a stunning city skyline.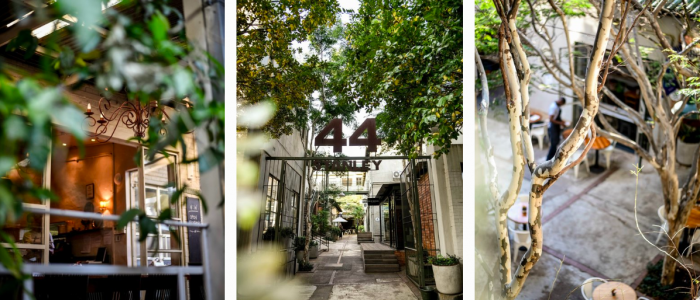 44 Stanley
Leafy mixed-use development 44 Stanley in downtown Jo'burg.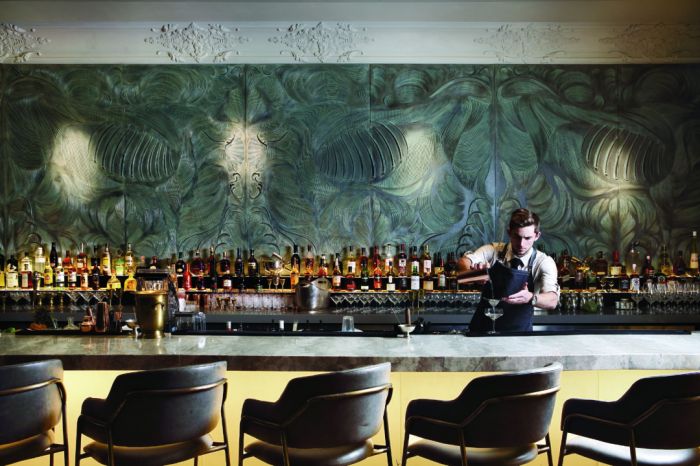 Marble Restaurant
Enjoy top-notch drinks at Marble's sleek and sexy cocktail bar.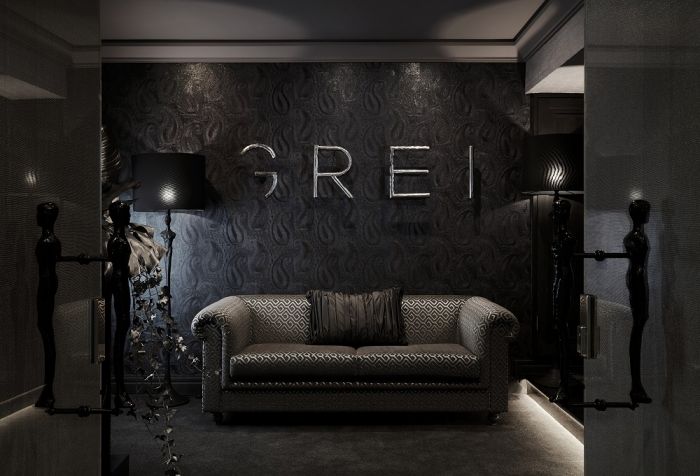 Grei
Chef Candice Philip has put GREI firmly on Johannesburg's culinary map.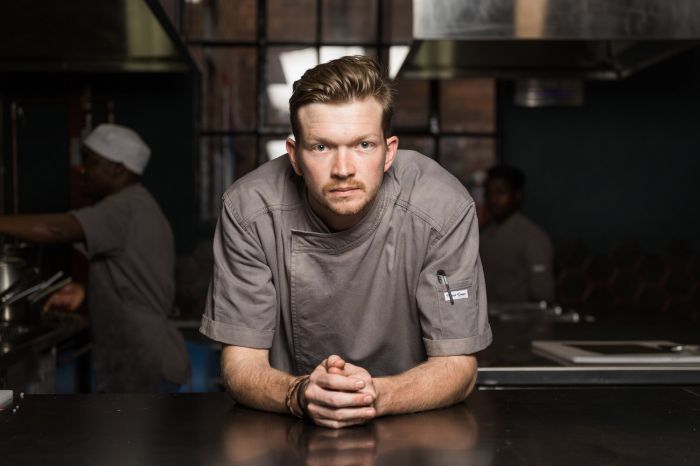 Urbanologi
Chef Jack Coetzee has won critical acclaim with his Asian-fusion inspired menu at Urbanologi.
Bakubung Bush Lodge
Enjoy a post-safari lunch at the luxury Bakubung Bush Lodge near Pilanesberg.