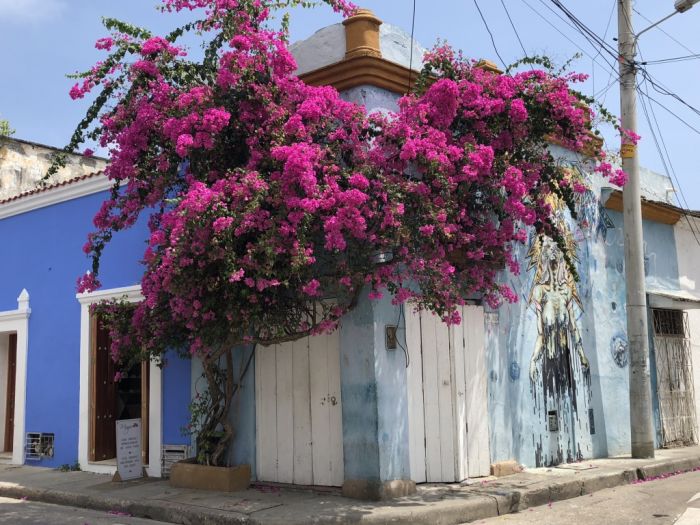 Whitney Spielfogel
Known for its constant sunny skies, warm weather, killer mojitos and eye-popping architecture, it's no wonder that images from Cartagena have filled your Instagram feed and the city has become an increasingly popular tourist destination in recent years. JetBlue offers non-stop daily flights from the US from New York's JFK airport (the flight time is just around 5 hours) or Fort Lauderdale (a mere 2 ½ hours by air) so it's easy to spend a several days wandering the streets between the past and present in this sexy South American Caribbean coastal city. Upon landing, Rafael Núñez International Airport (CTG) is a 10-minute drive from the city's Old Town and a taxi will cost around 10,000 Colombian Pesos (~$3). It's time to book a long weekend getaway in this glorious city!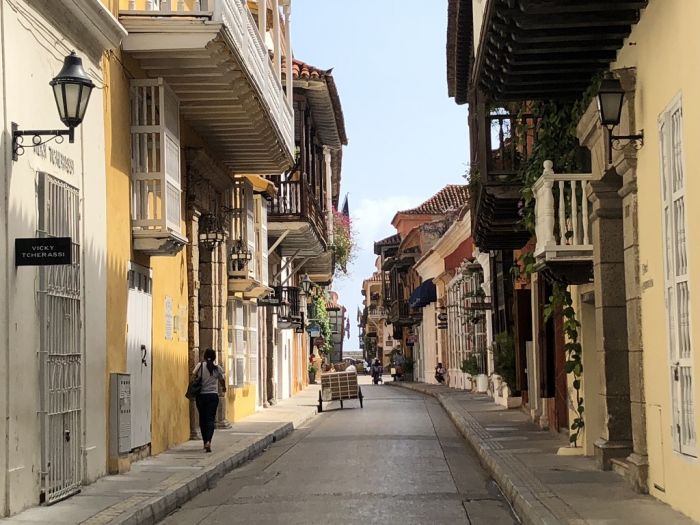 Whitney Spielfogel
The Old Town of Cartagena de Indias, a UNESCO World Heritage site, was founded as an important Spanish port in the 1500s and today remains largely intact due to a high stone wall around the town that peers out over the ocean. A visit to Cartagena isn't your typical Caribbean vacation (although, yes, you can most certainly visit the beautiful beaches and small little islands here). You can just as easily immerse yourself in history, food, art and theater as you can enjoy a refreshing dip in the sea.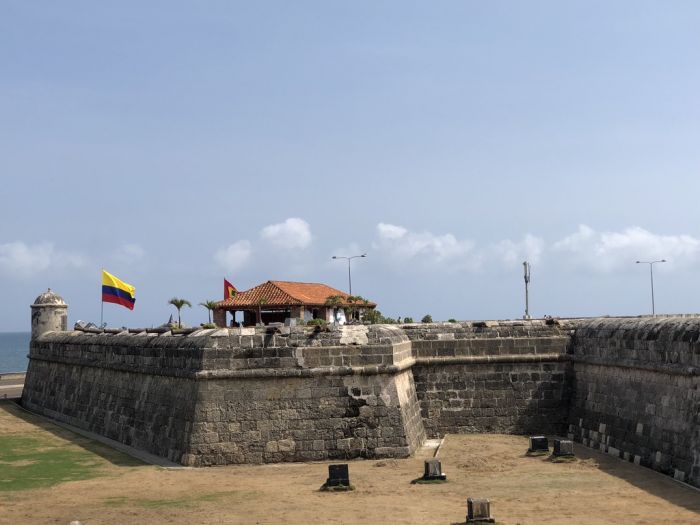 Whitney Spielfogel
Within the weathered walls of Old Town, you'll find Spanish-Colonial architecture that's been either affectionately restored or left to crumble, mom-and-pop shops that are mixed in with hip new restaurants, fabulous boutiques as you stroll the cobblestoned streets and a handful of hip hotels. The game-changing Hotel Casa San Agustin upped the luxury ante when it first opened in 2010, where every detail is meticulously thought out. The property is housed in a 17th-century mansion with a romantic pool in the center atrium, designer interiors and a sultry Miami Beach vibe. At the heart of the building is an up-lit swimming pool which breaks through a gigantic 300-year-old aqueduct to unite three well-designed buildings.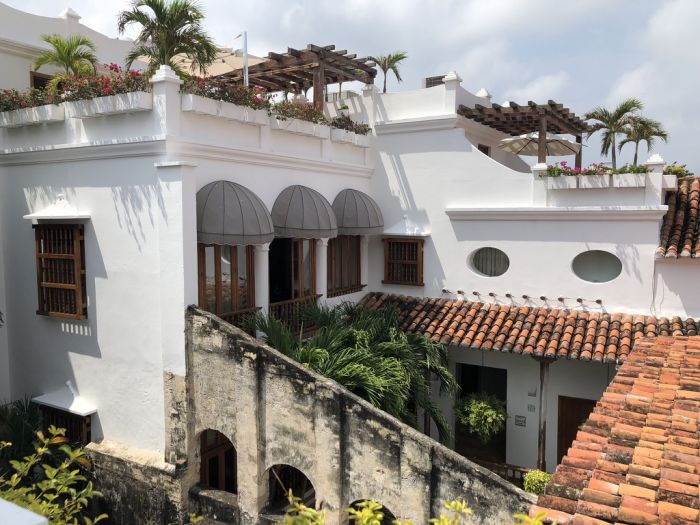 Whitney Spielfogel
Within the three buildings, there are 24 beautifully decorated rooms by designer Kelley McRorie, which feel rather like private residences, where you'll find a soft pallet of turquoises and creams and an earthy mix of materials. The rooms boast four-poster King beds with Frette linens and all of the contemporary comforts of home that one would desire.
At the heart of Casa San Augustin is Alma, the hotel's swanky restaurant and bar. Sean Brasel, of Meat Market Miami fame, and mixologist John Lermeyer, from the Delano Hotel in Miami, are the men behind Alma, weaving local Colombian flavors into the fresh and innovative menu. Enjoy a meal in the picturesque courtyard or eclectic dining room and revel in live music at dinner from Wednesday through Sunday.
The walled city's growing pack of internationally acclaimed chefs will delight visiting foodies. Cartagena is chock full of delicious dishes to eat, from food that reflects the city's 16th-century Moorish influence to all sorts of spins on Spanish paella, but the best local meals include fresh seafood. You can't go to Cartagena and not try dinner at Carmen or its sister restaurant Moshi. There is a reason that Carmen and Moshi are at the top of Cartagena's culinary lists. The sister restaurants are as delicious as they are innovative and surprising. If you are lucky enough to snag a reservation here, try the 7-course tasting and beverage pairing menu or be sure to order what the staff recommends. Offering contemporary cuisine, Carmen Cartagena's menu is inspired by local flavors that come together in innovative and ultra-modern preparations. Dishes are very creative (think edible sand!) and celebrate sophisticated versions of traditional local fare. Moshi, with an Asian gastronomy menu, offers an ode to Japanese cuisine (the best Bibimbap I've ever tasted!) with the unique Caribbean and Colombian twists. Again, the fancy presentations, quality preparation and the attentive staff are second to none at this fine-dining establishment. Carmen and Moshi's super cool yet elegant and serene ambiance guarantee a very memorable evening and unique dining experience whichever site you choose.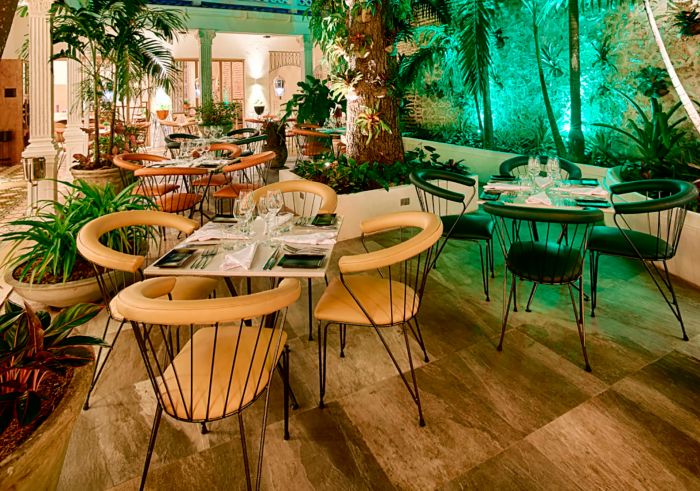 Carmen Cartagena
Another standout is Don Juan Cartagena where the fashionable blue and white décor, chic denim napkins and cool floor-to-ceiling wine rack walls make this the kind of restaurant that feels like it could easily be in the Hamptons or Mykonos. Chef Juan Felipe Camacho presents exceptionally fresh and well-rounded delicious dishes like grilled fish on lemon parmesan risotto and pork chops with fried yucca and artichoke aioli. Don Juan is located on the same street as Alquimico and La Jugada, which are top nightclub options for some after-dinner dancing and action.
Cartagena's local street-food is a must! Don't miss the colorful fruit carts, lime/lemon juice stands and/or coconut purveyors. You also can't go to Cartagena and not try the ceviche. One of the freshest tasting ceviche (and the best bang for your buck) is from a street cart called Ostreria Sincelejo. Be sure to order the Camarones ceviche, which is a constant crowd-pleaser. Another top-notch pick for ceviche is the popular La Cevicheria, which was featured on an episode of Anthony Bourdain's "No Reservations" series back in 2008.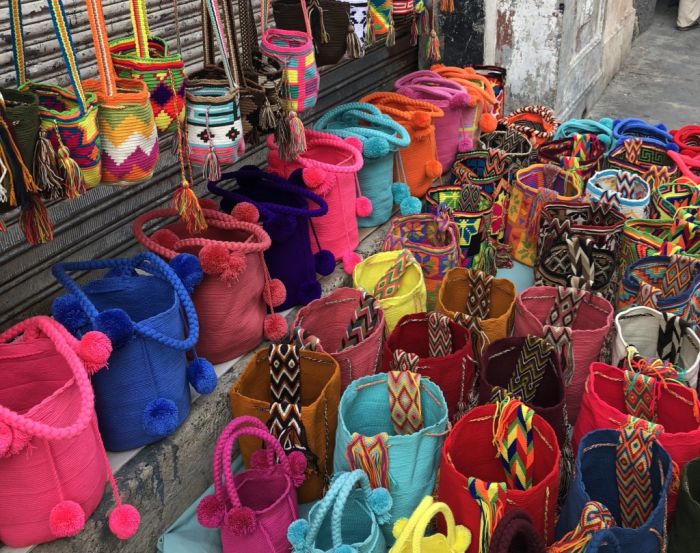 Whitney Spielfogel
Instagram addicts will go crazy for Cartagena's colorful buildings, amazing doors and intricate doorbells, vibrant flowers and grand plazas. Spend an afternoon getting lost in the city's winding streets and shopping the many fine boutiques that the city has to offer. Casa Chiqui is the go-to spot for home décor and interesting jewelry. It's the largest interiors store in the city and is stocked with goods from all over the globe. If you're into hand-woven brightly-colored bags, you've come to the right place. Nearly every souvenir shop and street corner are packed with a selection of cross-body bags and prices range from around $25 to $50 depending on the size and quality. Once you've decided on the colors and pattern, don't be afraid to haggle with shopkeepers.
After your fair share of street food, ceviche and shopping, grab your newly purchased swimwear and hop a boat for one of the surrounding islands, which are a nice contrast to the urban environment. The Rosario Islands are an archipelago located off the coast of Colombia, only about an hour by boat (100 kilometers) from mainland Cartagena. They are considered to be part of Colombia's national parks and, as such, the islands and surrounding waters are protected and very well preserved. They are beautiful and well worth a day trip. For a truly upscale day on the water, turn to Luxury Boats Cartagena, who stock their yachts with refreshing beverages both alcoholic and non, a wonderful assortment of snacks and bring you to the best beaches and day clubs on the islands. There's no better time to book a getaway to these glorious islands and Cartagena's coastal city!