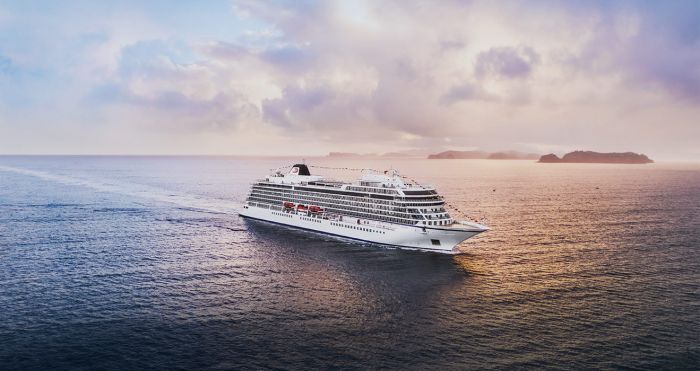 Viking Ocean Cruises
Amid this pandemic, travel almost feels like a forbidden word. The idea of hopping on a plane to explore far-flung destinations anytime soon feels almost selfish, but there's nothing wrong with planning ahead for your next vacation—and after months of staying indoors, you should make it a big one. Maybe a trip around the world is in order. And Viking's famous World Cruise is back just in time. Starting 2021, the 136-day long adventure stops at 56 ports in 27 counties on six different continents with overnight visits in 11 cities around the world. It sounds perfect.
The Viking World Cruise is the longest in the world and will depart from Fort Lauderdale on Dec. 24, 2021, with the option to hop aboard from Los Angeles on Jan. 10, 2022. The route will journey through Central America, across the Panama Canal, up the west coast of North America, down to Hawaii, across the Pacific to New Zealand and Australia, then through Asia, the Middle East, and the Mediterranean before ending in London. Those who wish for just a little extra adventure can stay an additional three days and disembark at the ship's homeport in Bergen, Norway.
While most companies are trying to deal with the pandemic, Viking is looking to the future of international travel. "This has been an unusual year for all travelers, but we remain focused on the future and are pleased to offer our guests a new destination-focused World Cruise that allows for extensive exploration in 2021-2022," Torstein Hagen, Chairman of Viking, said in a statement.
The Viking Star only occupies 930 guests so every stateroom has a veranda, and offers an intimate experience with all the luxuries of a major ship including a fitness center, a bar, a spa, a salon and many restaurants to choose from. During your trip around the world, the ship's on-board Resident Historian will offer lectures and cultural education based on your location.
Bookings for the 2021-2022 Viking World Cruise start at $49,995 per person and includes business class international flights to and from the departing and landing port, transfers to and from the ship, all gratuities, visa services, luggage shipping, and the Silver Spirits beverage package which includes "virtually all drinks on board."
Guests who book before Sept. 30, 2020, will receive $2,000 per person in shore excursions credit, which can be used toward optional shore excursions or overland tours, and $1,000 per person in shipboard credit, which can be used toward spa services, on-board shops and laundry. And Viking Explorer Society Members will receive an additional $1,000 per person shipboard credit.