Kokomo Private Island Fiji
A white sand beach framed by swaying coconut palms and aquamarine waters with barely another soul in sight. It's the castaway escape we've all dreamt about. If wanderlust is at an all-time high, chart a far-flung course from the Persian Gulf to the South Pacific, with five of the world's most exclusive private island resorts, where, in some cases, seaplane and helicopter are (quite literally) the only way to arrive.
Kokomo Private Island Fiji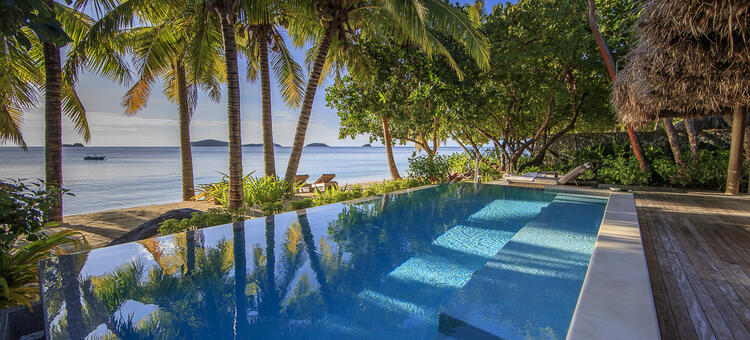 Kokomo Private Island Fiji
Sustainable barefoot luxury personified, Australian property magnate Lang Walker's award-winning Kokomo Private Island Fiji is just a 45-minute helicopter ride from Nadi International Airport. Equally perfect for honeymooners as multi-gen travelers, it features 21 beachfront villas – each with its own infinity pool, private deck and direct private beach access – and five hillside residences ensconced within lush gardens.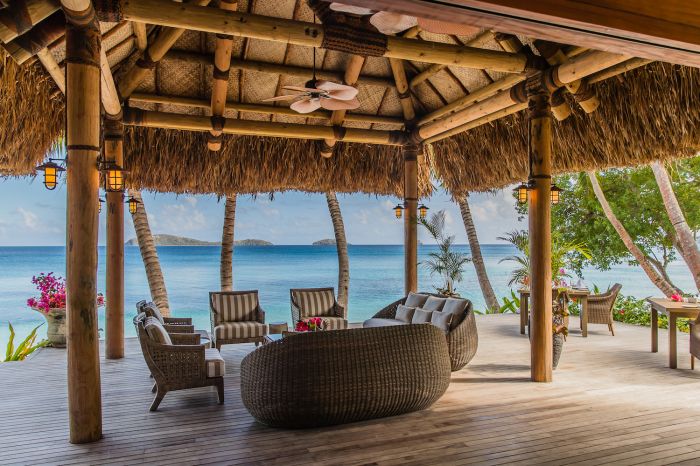 Kokomo Private Island Fiji
The island also boasts its own organic farm, complete with beehives and free-range chickens, where everything from vegetables and exotic fruits are grown and used by the culinary team uses across its menus.
Fringed by the Great Astrolabe Reef (the world's fourth-largest) days can be spent diving and snorkeling, which, as one might expect, is world-class. Alternative activities range from creative workshops and cultural tours to sailing, surfing and deep-sea fishing trips. Be sure to carve out time at the Yaukuve Spa Sanctuary for some head-to-toe pampering – try the 90-minute Jet Lag Recovery upon arrival or three-hour Island Revival before departure.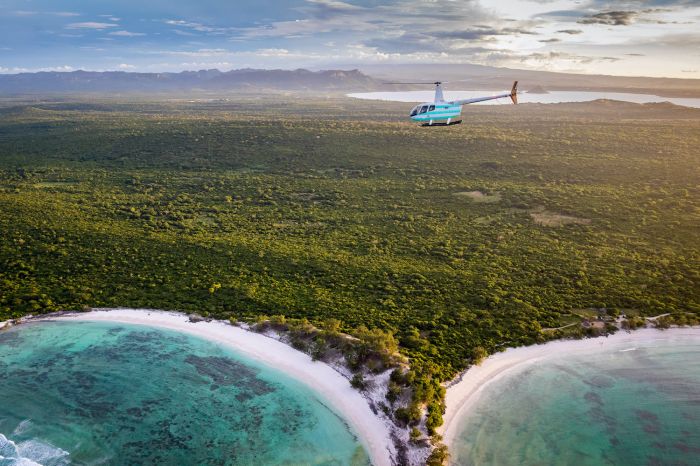 TIME + TIDE Miavana
TIME + TIDE Miavana, Madagascar
If a day that starts with an early morning trek to spot lemurs and ends with an afternoon spent scuba diving appeals, then TIME + TIDE Miavana is the off-grid destination of your dreams. Reachable only by helicopter, it's located on the island of Nosy Ankao off the northern tip of Madagascar. Once a hideout for seasonal fishermen and modern-day 'pirates,' today it's home to an eco-resort like no other - one whose vision is to leave a long-term legacy of sustainability and conservation for the island and its archipelago.
Design is luxe yet low impact, the vibe beachy but sophisticated. Each of the 14 villas features a kitchen and private plunge pool, but at the Piazza (the resort's stonewalled central hub) you'll find an infinity pool, rooftop bar, dining areas, wine cellar and mini museum of island artifacts.
Located 250 miles off the coast of Africa, Madagascar's biodiversity is unparalleled - 85 percent of the plants and animals are found nowhere else in the world - which makes Miavana fantastic as a standalone destination. Guests, can, however, combine a stay at sister camp TIME + TIDE Chinzombo in Zambia, before rounding out their travels exploring, swimming and stargazing on Nosy Ankao.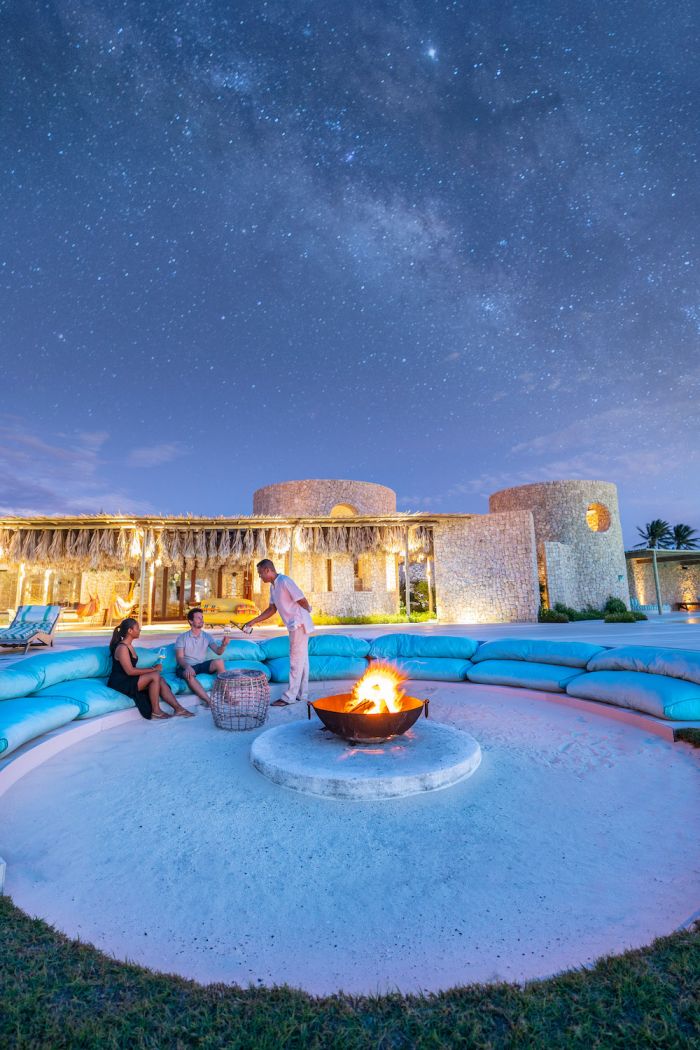 TIME + TIDE Miavana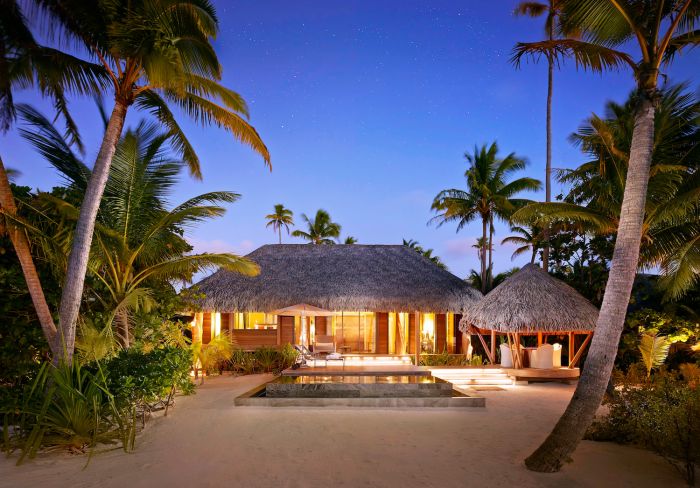 The Brando
The Brando, French Polynesia
A 20-minute flight from Tahiti (options include charter helicopter or six-seater plane) The Brando is an eco-luxe paradise like no other. Marlon Brando discovered the remote Tei'aroa atoll while filming Mutiny on the Bounty in 1960, later turning it into his personal private getaway. Today, it's a Platinum LEED-certified movie star hideaway that has played host to celebrities like DiCaprio, former U.S. Presidents, and the Duchess of Cambridge's sister, Pippa Middleton, who honeymooned here in 2017.
Nothing short of majestic, its 35 thatched-roof villas (from $3,168 per night) boast outdoor baths, private decks and infinity pools, and branch out in two directions along Turtle Beach (stay on this side for South Pacific sunset views) and Mermaid Bay. From the all-day alfresco Beachcomber Café to fine-dining Les Mutinés (overseen by chef Guy Martin of Le Grand Véfour in Paris) eating out can be as casual or as grand affair as you wish.
After a day spent gliding over coral reefs SUPing or snorkeling with sea turtles, retreat to the Varua Spa, for the three-hour 'fare manu' or Bird's House experience in one of the igloo-like domed treatment suites.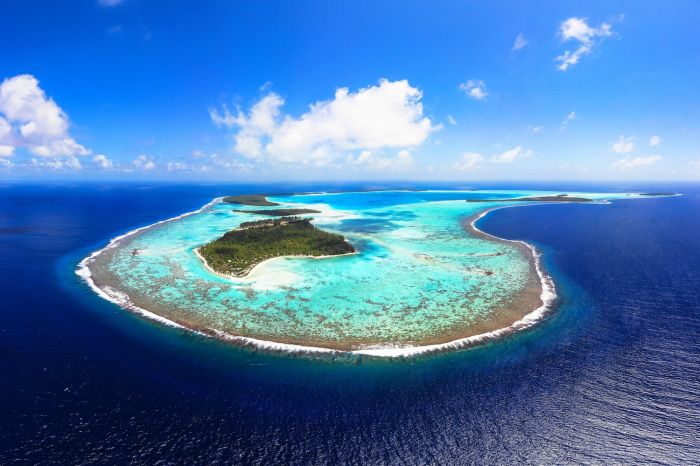 The Brando
Caerula Mar Club
Caerula Mar Club, Bahamas
The first luxury resort to open on the Bahamian island of South Andros, Caerula Mar Club made its debut in February but closed shortly afterward due to the pandemic. Restful and romantic, the intimate hideaway has six private villas and 18 suites, all optimally angled steps away from - and with lovely views of - the ocean. Rooms are finished in tasteful white-washed neutrals with lots of natural elements like linen and stone.
Currently only available for private buyout, the Resort Buyout Package (from $32,000 per night) includes ground transfer to and from Congo Town Airport (reached by puddle-jumper from Nassau), unlimited access to SUP boards, kayaks and snorkel gear, plus meals made by the hotel's Argentine chef Sebastian Perez. Nicknamed "The Sleeping Giant," Andros is the largest and least inhabited island in the Bahamas, making it perfect for safe social distancing when it fully reopens on October 24.
Zaya Nurai Island, Abu Dhabi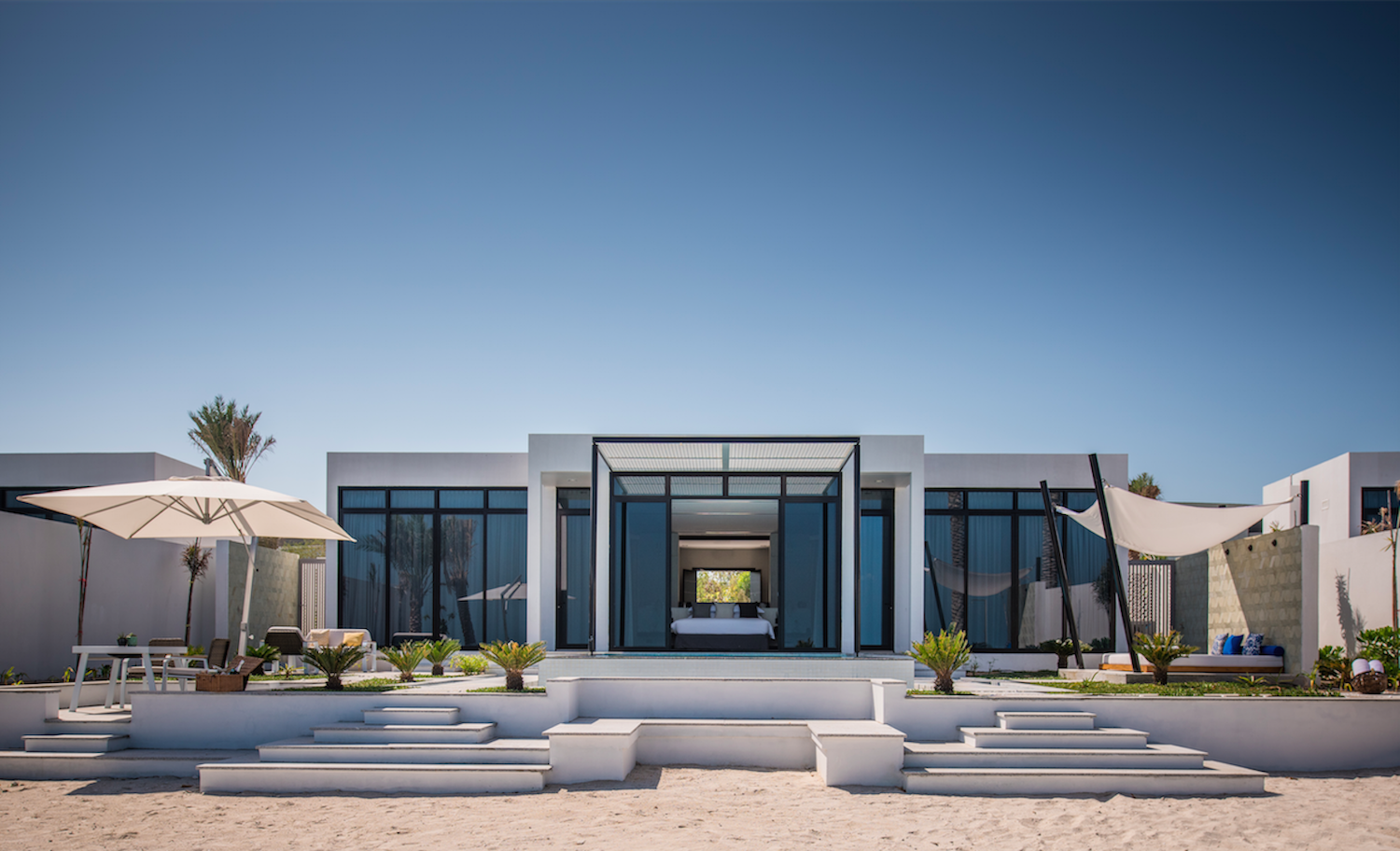 Zaya Nurai Island
The Persian Gulf might not immediately spring to mind when daydreaming about tropical escapes, but just over an hour from downtown Abu Dhabi is the 'barefoot meets bling', Zaya Nurai Island. Developed by Emirati entrepreneur Nadia Zaal, the resort is reached by speedboat from nearby Saadiyat Island, although A-listers have been known to arrive by helicopter.
From one-bedrooms set around a crescent-shaped beach to five-bedroom estates dotted around the perimeter of the island, all of the 32 villas boast showstopping sea views. There's also an award-winning spa and five restaurants although service is currently limited to in-room only. During normal operations, head to the Smoking Pineapple for a sundowner.
Whether coming to the island as a day guest during a layover or enjoying an extended stay, set aside a few hours of R&R on one of the outdoor terraces - alternating time on a generously-sized day bed with dips in the infinity pool and watching out for dolphins as they swim by in the Gulf.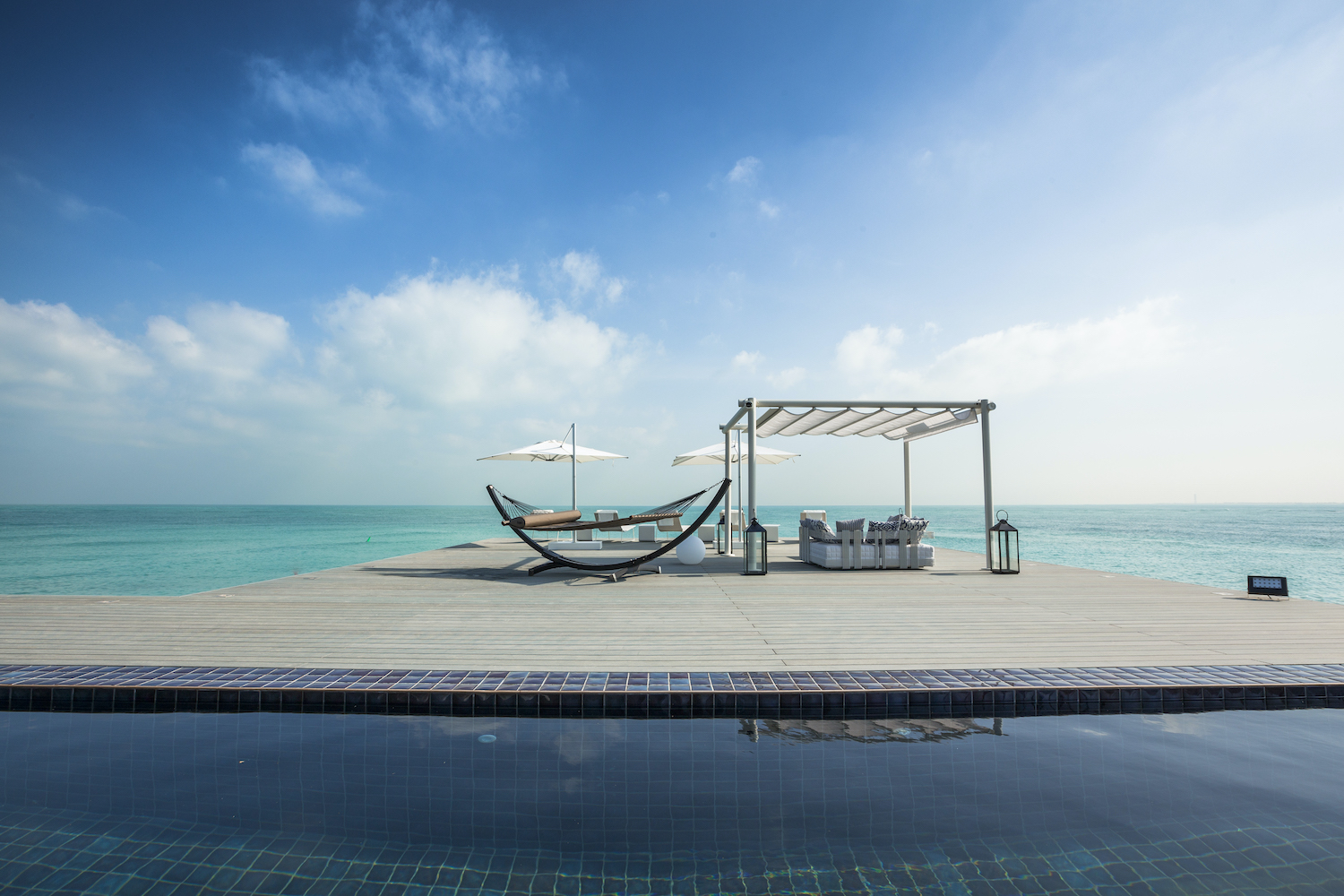 Zaya Nurai Island
COVID-19 Travel Information
Fiji currently has entry restrictions in place for foreign national travelers who have been in the United States within 14 days of arriving. The Department of State has issued a Level 3 Travel Advisory for Madagascar. Reopened to international tourism on July 15, travelers wishing to board a flight to French Polynesia must carry a negative COVID-19 test and online registration document from the French Polynesian Government. Protocols for entry to the Bahamas include a negative RT-PCR COVID-19 test and mandatory 14-day quarantine unless arriving by private jet. All travelers must provide a negative COVID-19 test result before flying to the UAE.
Please note that travel restrictions are subject to change without notice.