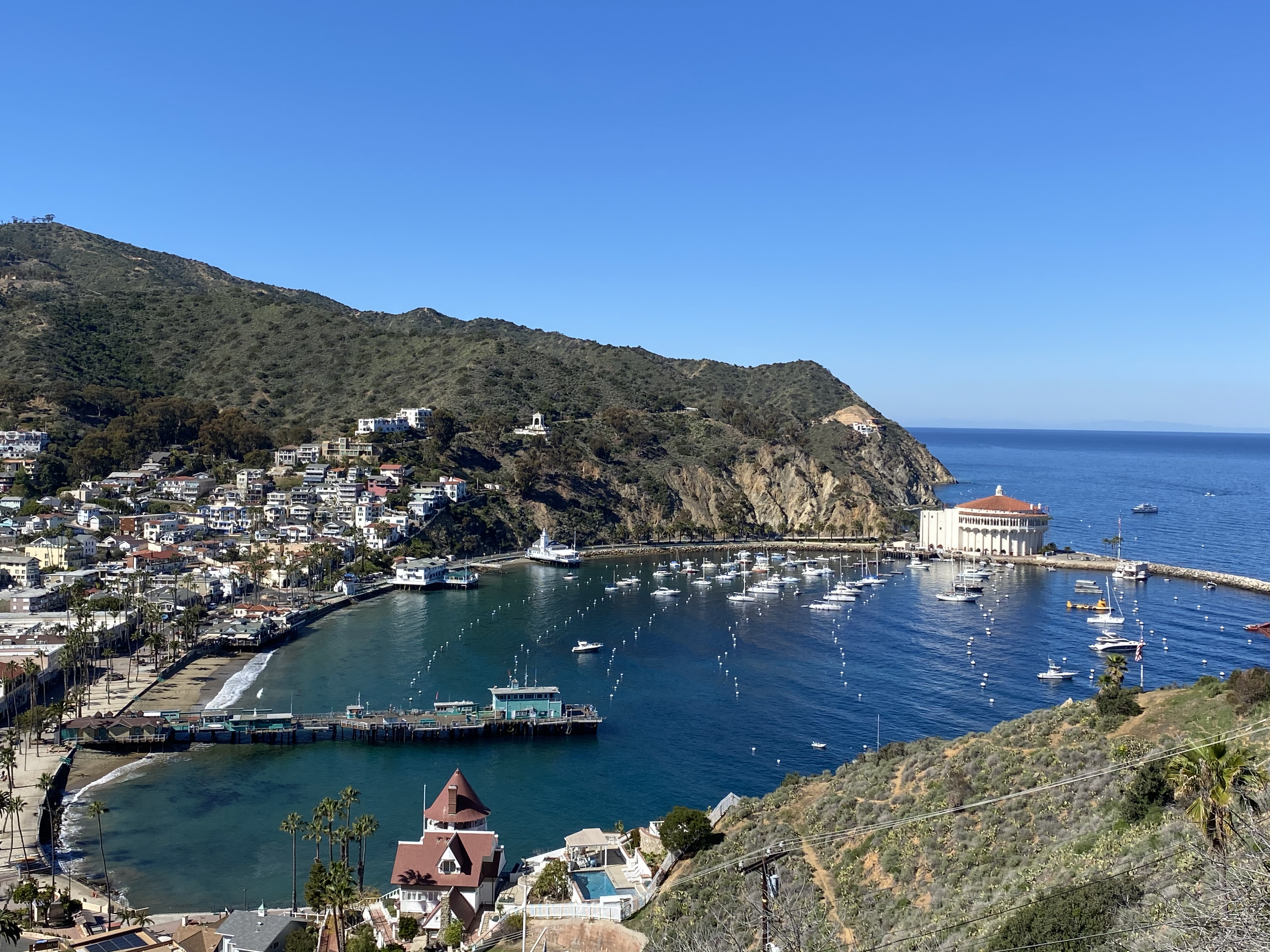 Cynthia Dial
More than six decades ago, Southern California's island of Catalina was memorialized in the Four Preps' song, 26 Miles, in reference to its proximity to the populous region's coastline. And though almost everything in the nation has changed in this expanse of time, Catalina has not.
It has been years since one of my many day visits here and my only expectation was that it would be different, perhaps not better, just different. More people, less charm, was my apprehensive prediction.
Verdict: wrong.
So, for an insider's peek of today's Catalina, keep reading. Relaxation begins in route—skipping across the waves aboard Catalina Express, a passenger ferry service operating from the three mainland harbors of San Pedro, Long Beach and Dana Point to the island. On-board perks include an outdoor deck, cocktail bar, luggage check-in and depending on the port of departure, a peaceful 60- to 90-minute voyage. And on some days, the premier plus is sighting dolphins and whales.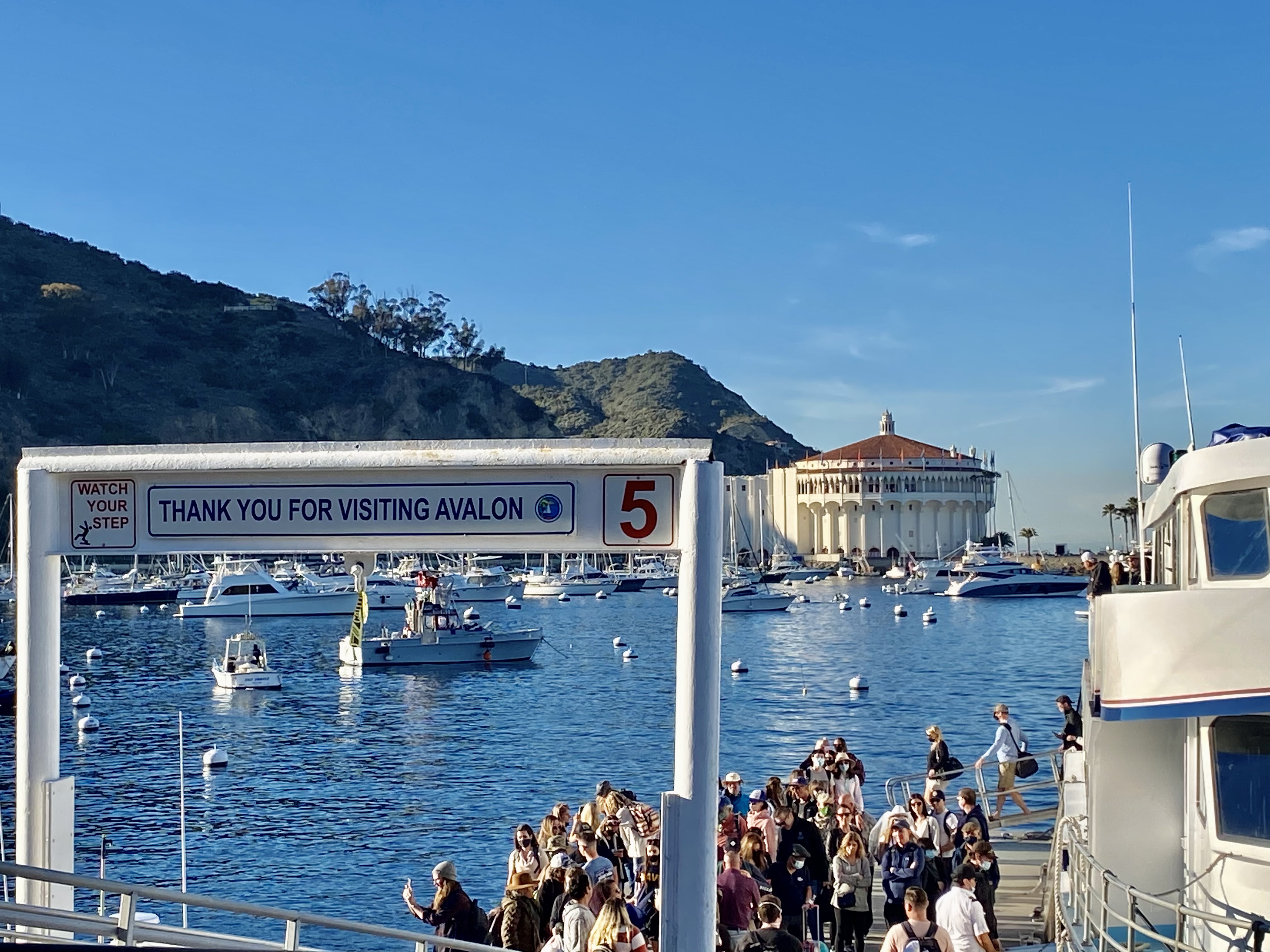 Cynthia Dial
"Welcome to Avalon," reads the signage greeting disembarking passengers upon arrival in this town of less than 4,000 residents—California's only island getaway. After collecting my luggage, it's a short walk along Crescent Avenue, the appropriately named croissant-shaped street fronting the harbor, to the Bellanca Hotel. Perfectly positioned, this newly-renovated 40-room boutique property is in the middle of the destination's low-key action—the waterfront, iconic casino and Crescent, the predominately pedestrian-only thoroughfare fronted by an eclectic assortment of places to eat, shop, sleep and stroll.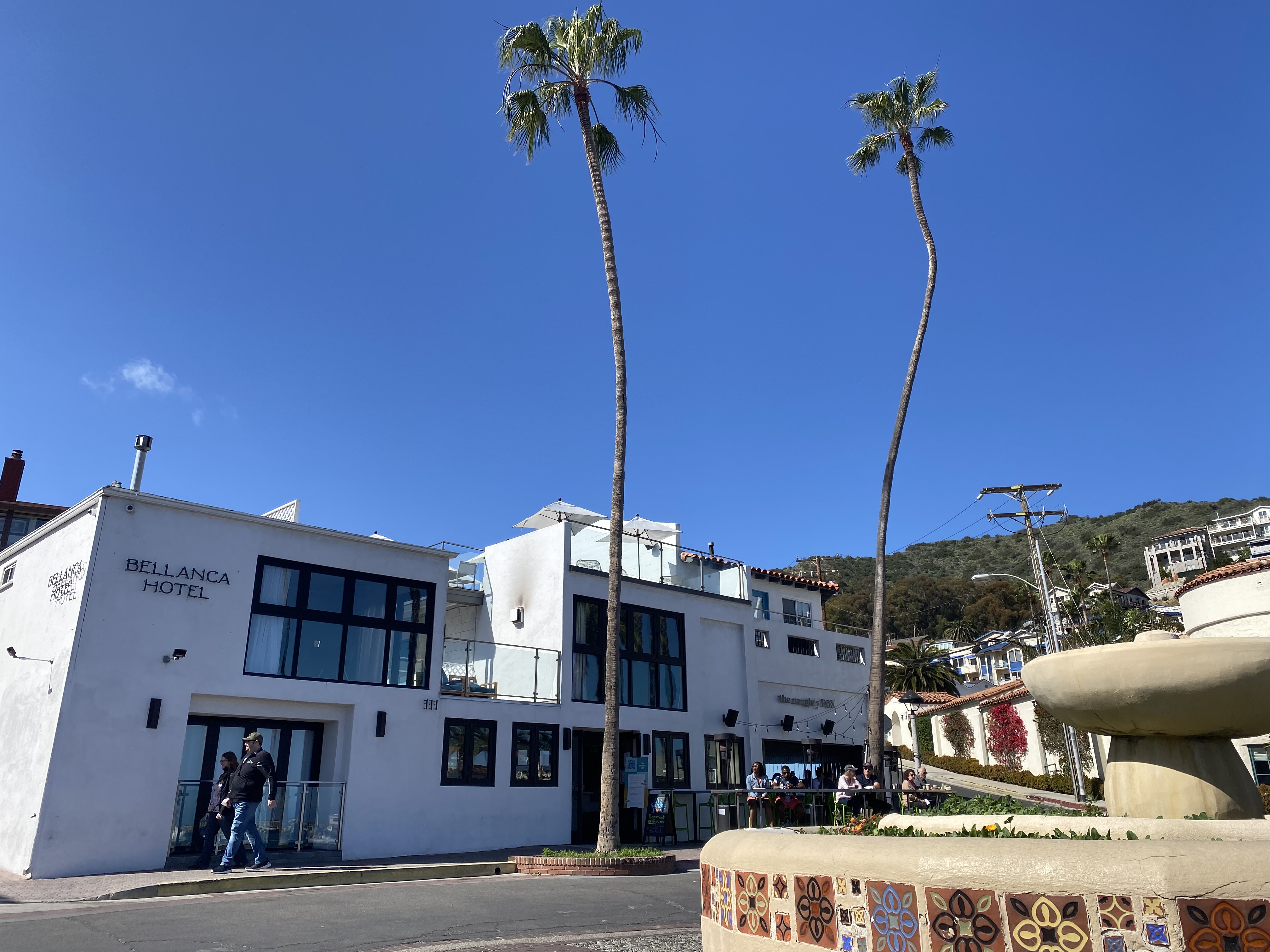 Cynthia Dial
Though understated, elements of the beachside inn are comfortable, yet smart—from its ocean view rooftop deck to its small but savory Naughty Fox restaurant. This casual, open-air and patio-fronted eatery—easily spotted by its lime green seating—is not only good, but exceptional. With Chef Russell Hayden (former executive chef of the Ace in Palm Springs) at the helm, my favorite finds include the selection of island bennies (choice of pork belly, avocado, lobster, sausage or smoked fish eggs Benedict) at breakfast and lobster BLT later in the day (tip: don't miss the side of papas bravas).
Sitting at the Naughty Fox is a people-watching mecca—from a zipping-down-the-hill skateboarder carrying a sleeping bag and overnight essentials and a purple-haired golf-cart-riding resident alongside her four-legged passenger to a cyclist pulling his wheeled luggage.
Advised to "set your clock to island time," it's not a difficult accomplishment, especially when staying in one of my top two rooms of choice—#503 or #504—those with private balconies overlooking the active avenue and harbor dotted with sailboats, powerboats, vessels ferrying passengers from the mainland and the occasional cruise ship.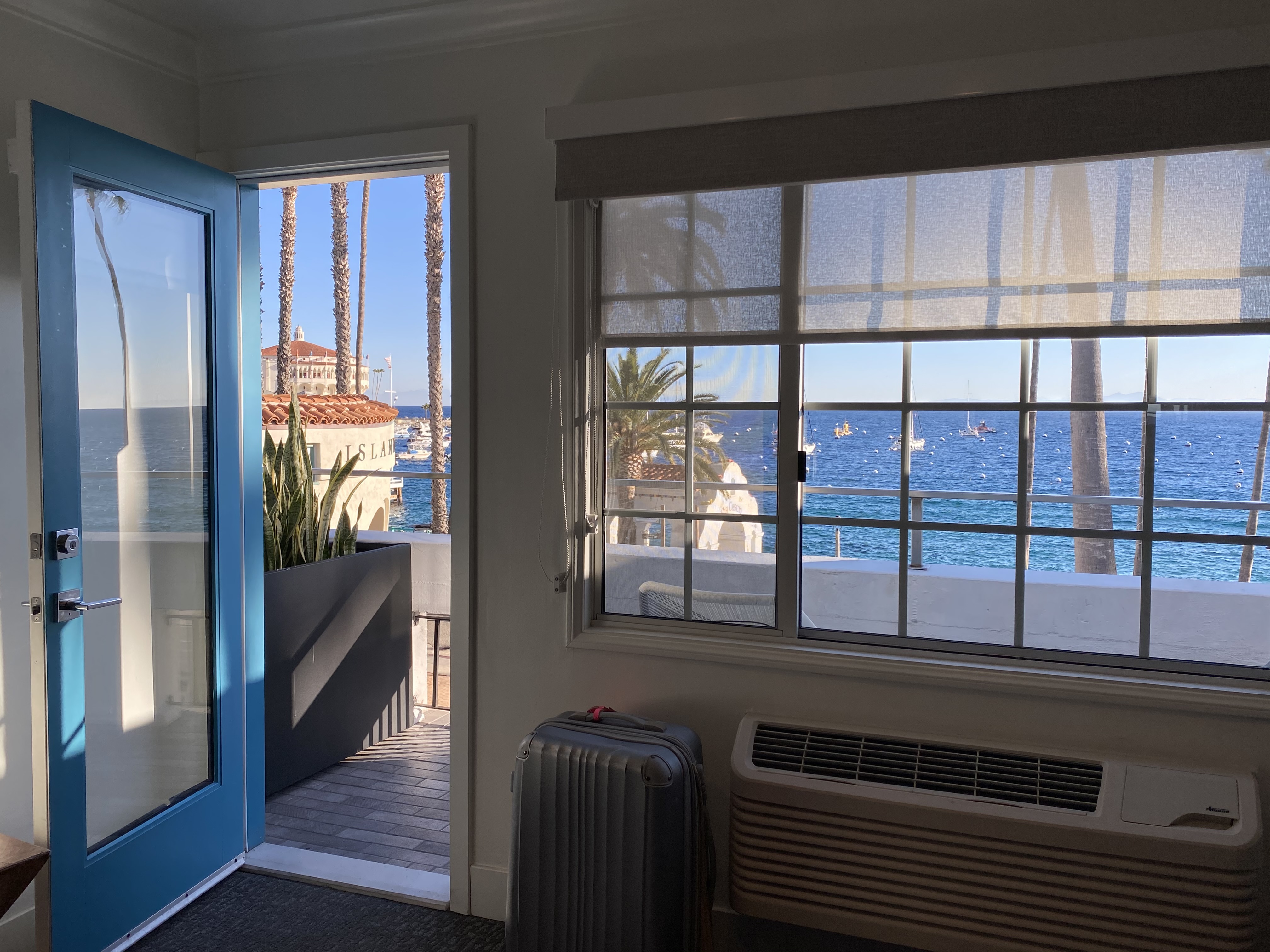 Cynthia Dial
And when out the door and onto the streets, there is much more. Two "must" see-the-island options are renting a golf cart and taking the bison expedition. Though most visitors self-tour in golf carts (more on that to come), the best way to see Catalina's acres of lesser explored land is a two-hour, four-wheeling adventure that explores the grazing grounds of the approximately 150 American bison (aka buffalo). As descendants of a small herd left on the island after their inclusion in the making of the 1920's film, The Vanishing American, the possibility of sighting the typically elusive mammals is a thrilling quest.
My tour was led by Andrew, a homegrown guide whose Indian Jones-style outback driving talent in an open-air, biofuel Hummer sets the stage for adventure. Signage greets us at boarding—"Notice to passengers: All scenic tours travel on steep, narrow, winding, bumpy, dusty mountain roads (as well as scenic)." Before beginning, Andrew issues a bevy of warnings—discouraging passengers with back issues and fear of heights, as well as specific sitting (namely, seats in the back row and on the sides of the all-terrain vehicle). The only response from this Hummer full of passengers: "Have you ever lost anybody?" All laugh, all are cautiously excited.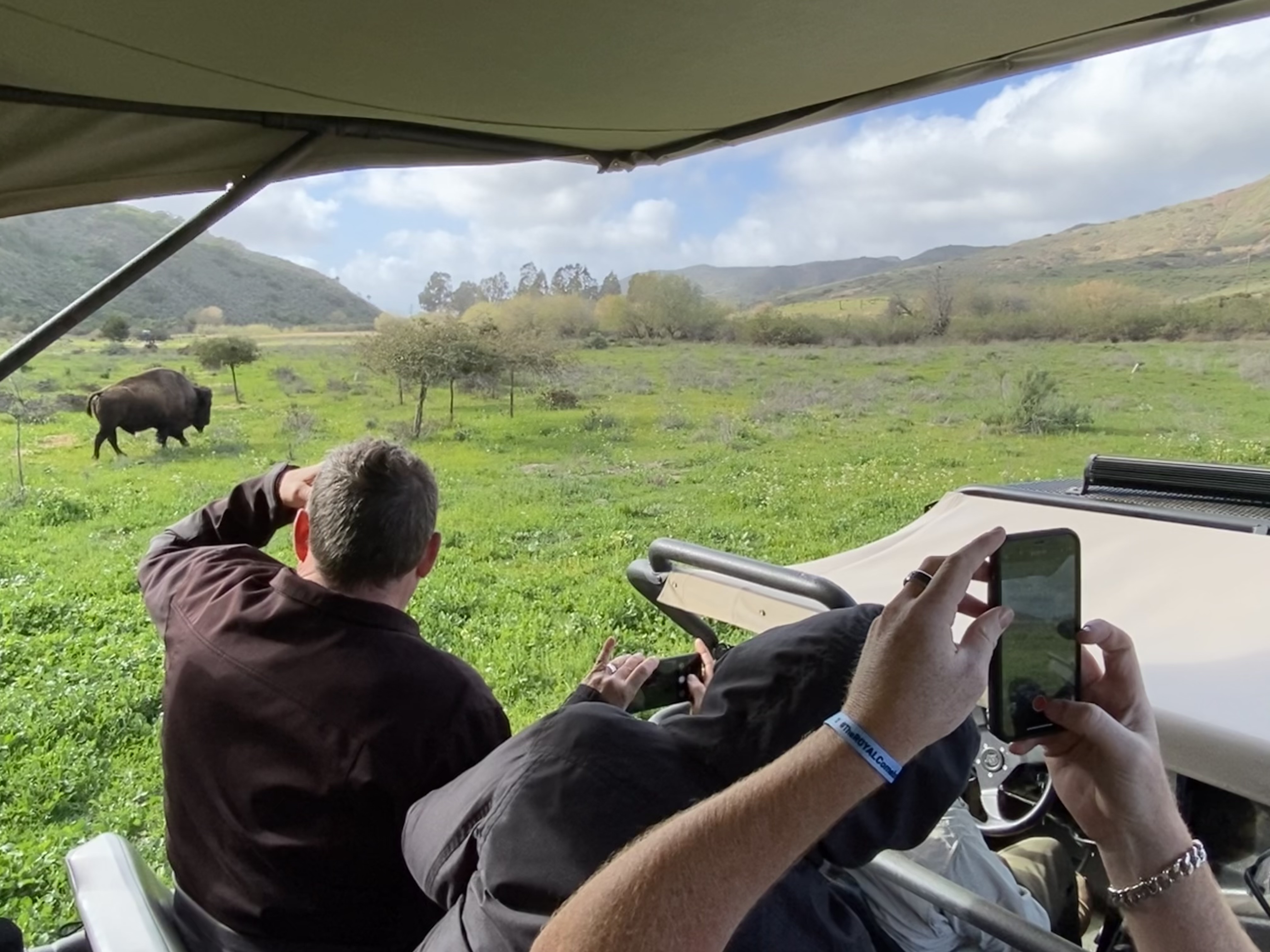 Cynthia Dial
While in route, we spot indented paths weaving across the hillsides indicating bison migration patterns, drive along the original 19th century stagecoach route and through historic Middle Ranch, up rugged Cape Canyon and to the scenic overlook on Blackjack Mountain (at 2,000 feet, it's the island's second highest point). Ascending into the clouds, we drive into a gated area and traverse four switchbacks stacked on top of each other. In the end, the journey is exhilarating, not petrifying, and we see more than a dozen of the country's designated national mammals as of 2016. Our multiple sightings are an unusual coup, I learn.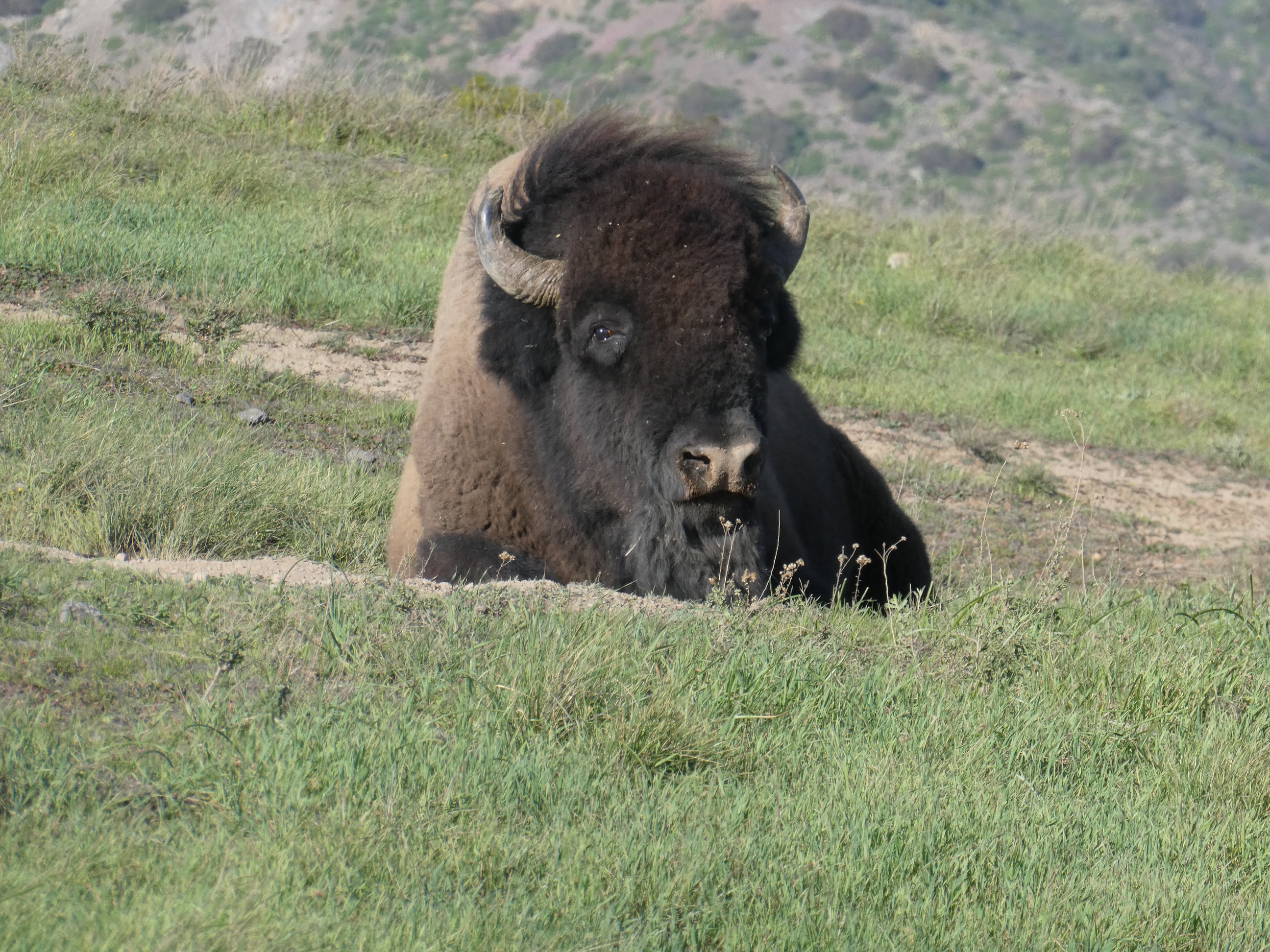 Cynthia Dial
Knowing the best exploration of the under-eight-square-mile town of Avalon is to get behind the wheel of a golf cart, I head from the hotel to Crescent Avenue's opposite end and Catalina Golf Cart Rental. After arranging a two-hour hire, I set about on a suggested route— beginning on Pebbly Beach Road and driving past the former Wrigley Mansion, an assortment of lookouts, the town's pet cemetery and onto the Chicago Cubs' back-in-the-day spring training field, the casino and more. Though easily walkable, the use of a golf cart allows touring quickly and seeing sights beyond the tiny town center.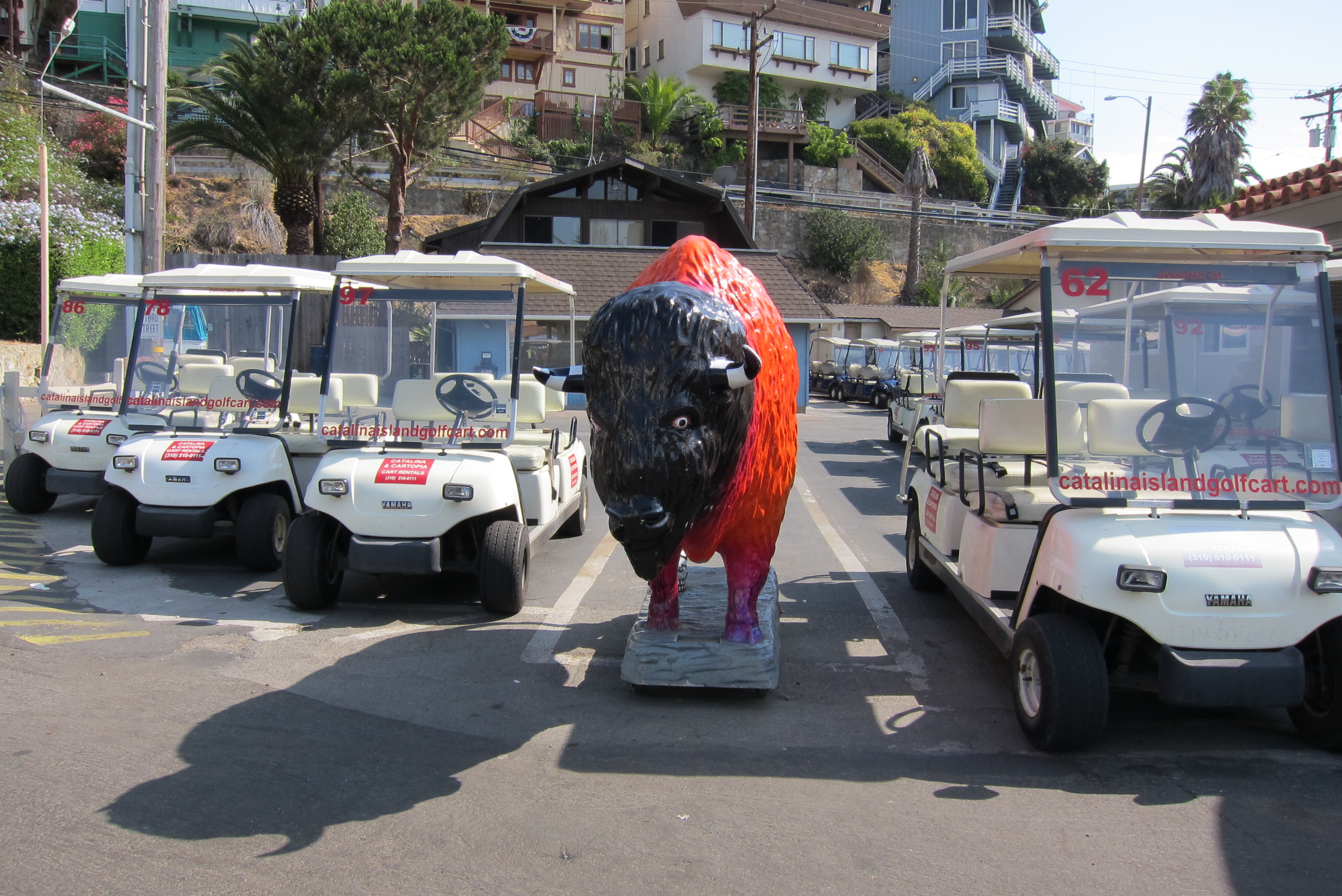 Cynthia Dial
On the edge of town, Catalina Casino—the destination's most visible landmark—is not to be missed. Recognized as "an emblem of the island" since its 1929 opening, it has a storied heyday history of hosting world-renowned entertainers with dinner and dancing and showing first-run motion pictures. Not to be mistaken for a Las Vegas-style casino, there has never been gambling here. Rather, its name reflects the Italian meaning of "gathering spot."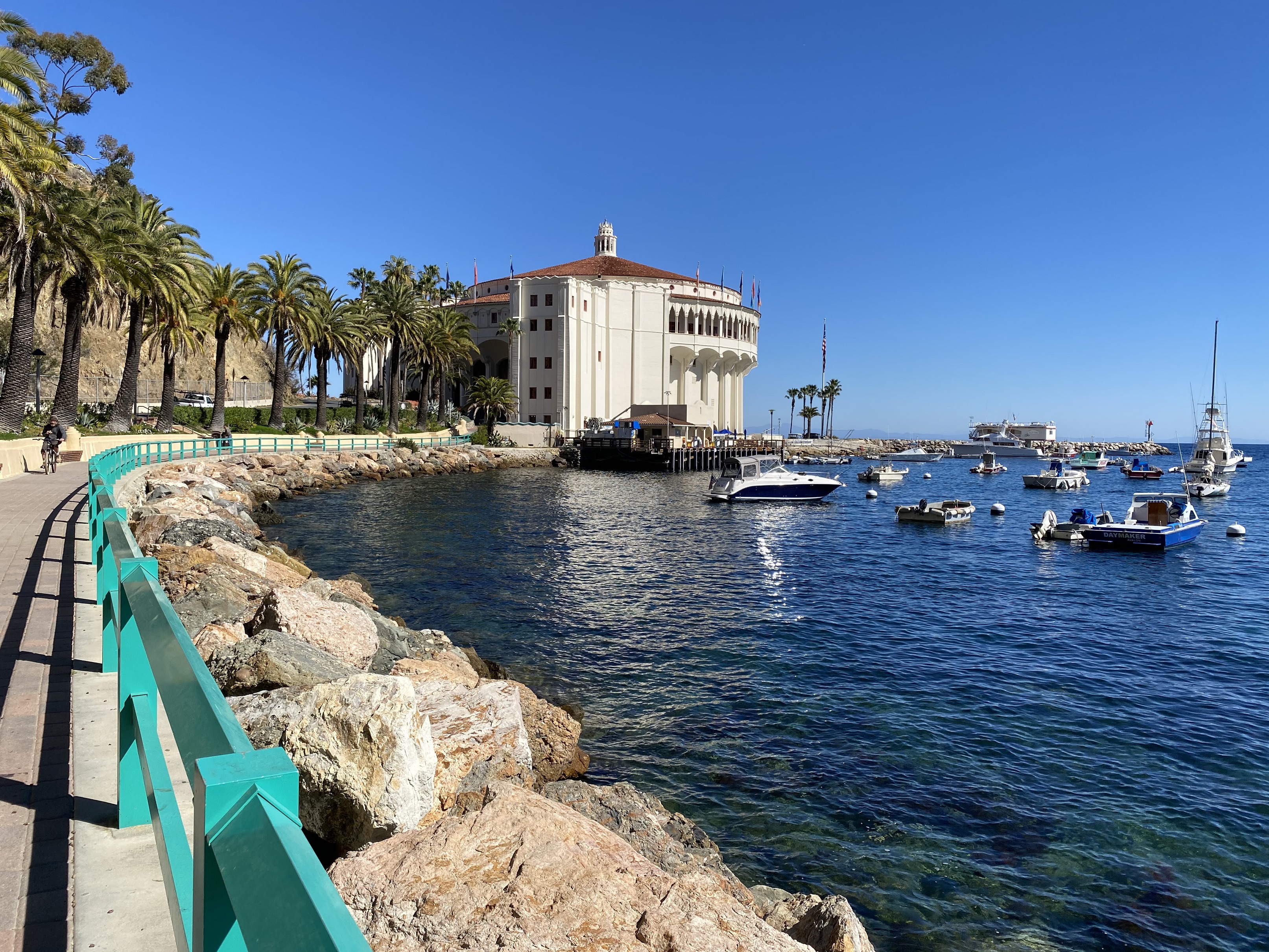 Cynthia Dial
A short walk past the casino is Descanso Beach Club. A somewhat hidden "find," it's a stylish, on-the-cove and open-to-the-public bastion of relaxation that offers cabana rentals, a private beach and a beachside bar serving up waterfront views alongside appetizers, entrees and signature cocktails.
In addition to its island-style shopping, good eating is a significant part of Avalon's fun, with the following mentions only a sampling of the offerings.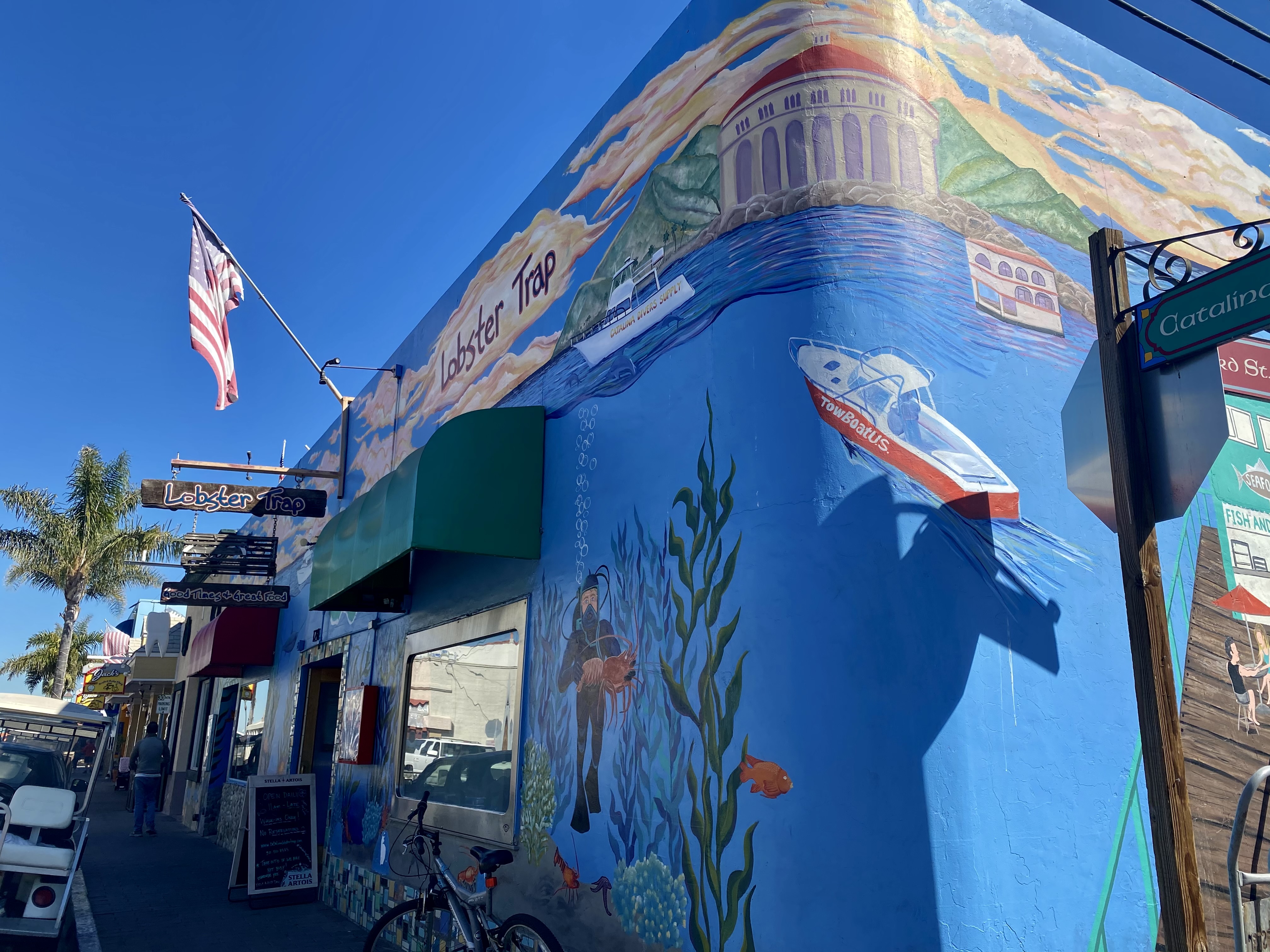 Cynthia Dial
Lobster Trap is a legendary local hangout. Known for its welcoming wit as much as its freshly-caught fish selection from the harbor's own boats, you'll know you've arrived by its bright-blue, marine mural-like exterior. It's casual and it's clever with such signage as, "We serve lobsters, actually we serve almost anyone" and "Notice: If you're drinking to forget . . . please pay in advance."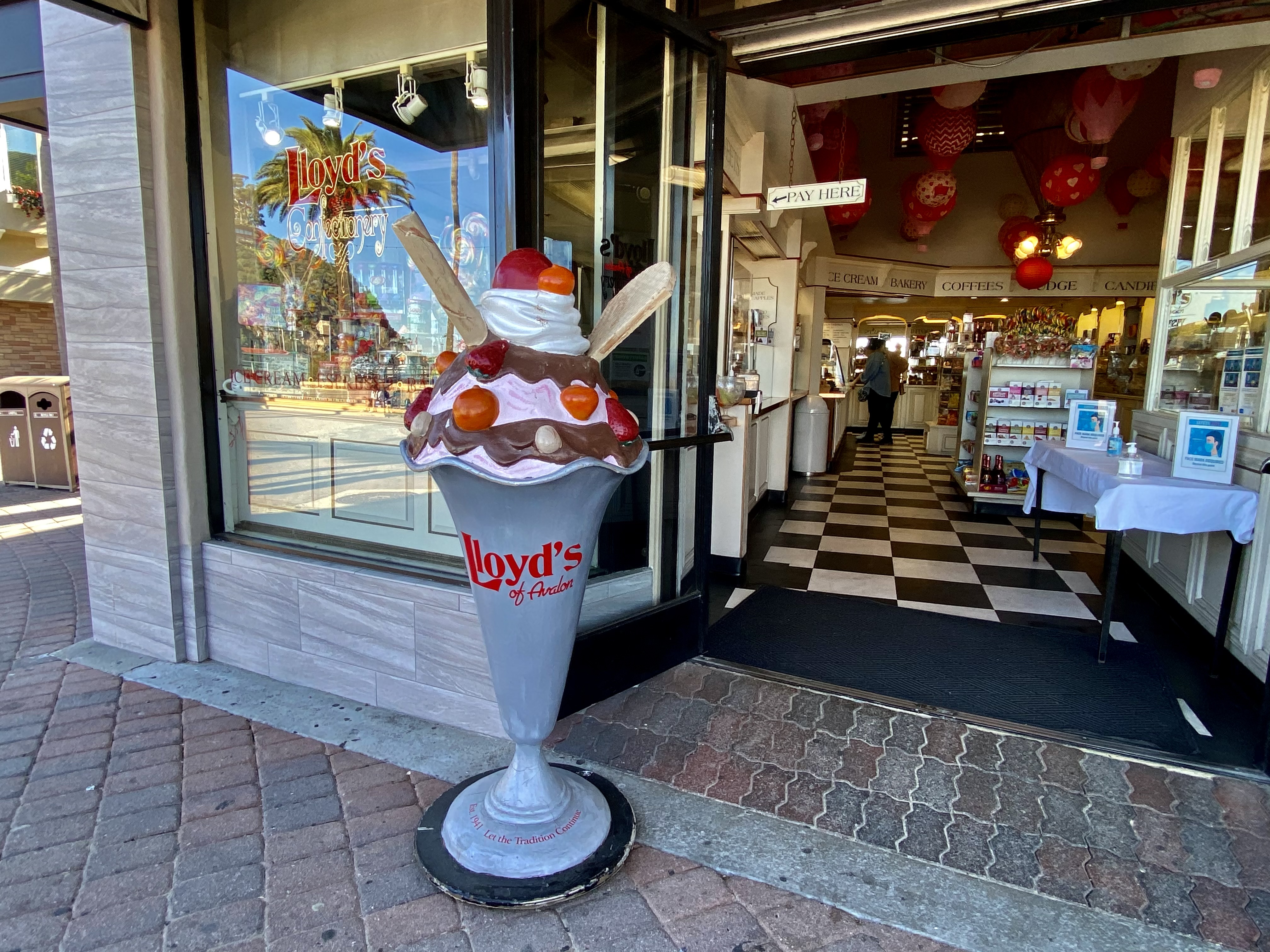 Cynthia Dial
For a casually elegant dining experience, M Restaurant is Italian-inspired with a local flair (think seafood). Located in the Metropole Marketplace, request seating on the patio to best take advantage of your Catalina location.
And for dessert, look for the oversized ice cream cone at the entrance of Lloyd's of Avalon Confectionery, a local sweet shop known for its fudge, saltwater taffy, ice cream and old-time style sweets since its 1941 opening.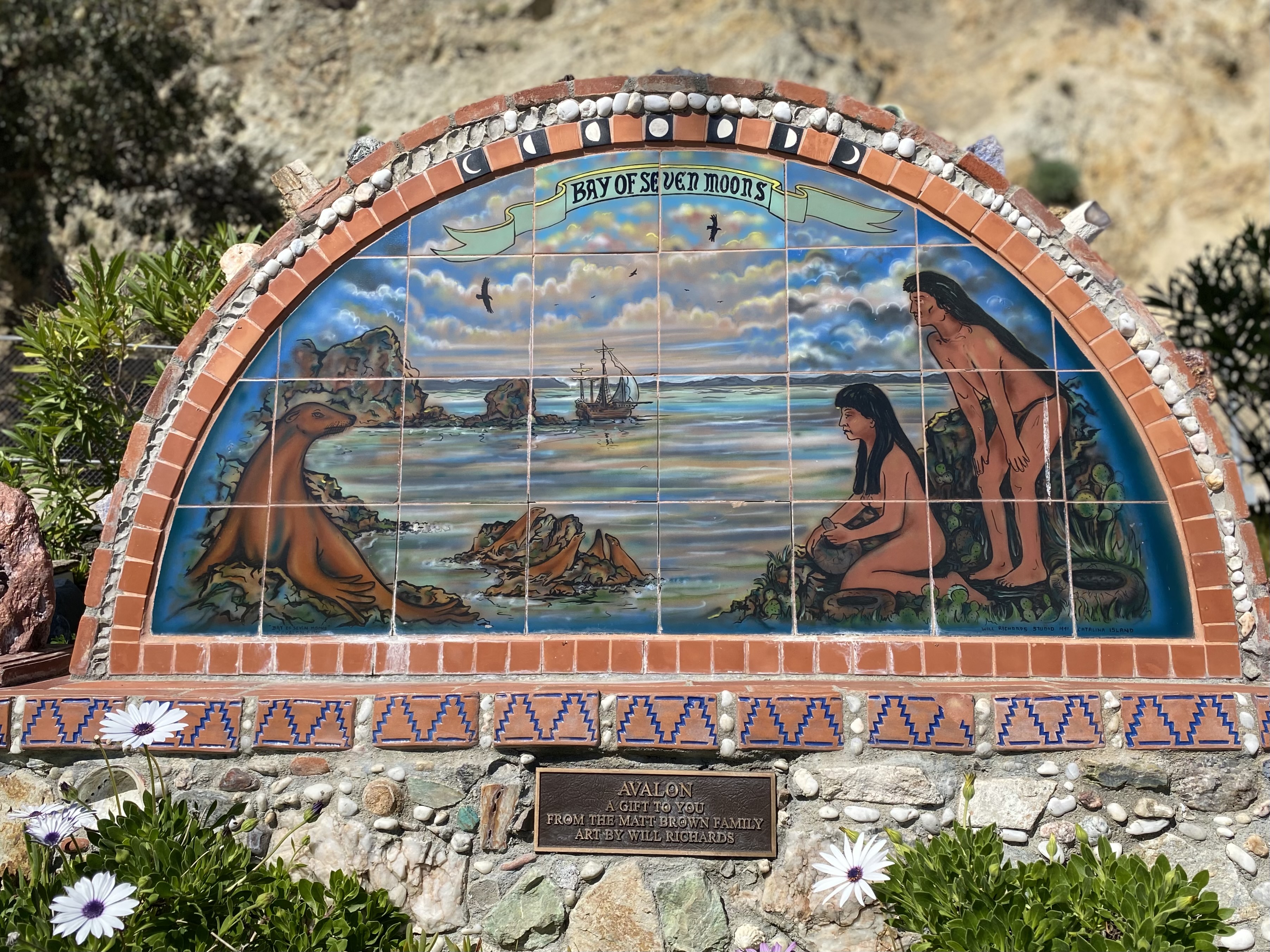 Cynthia Dial
To repeat, I have been to Catalina many times, albeit years ago, but as my first visit overnight, I experience a different destination—one to be savored slowly. So, my advice: Travel across the water to California's Mediterranean-like getaway but don't rush. It's defined by red rooftops, a low-profile townscape, decorative tiles scattered throughout and a soothing informality self-described "barefoot luxury."