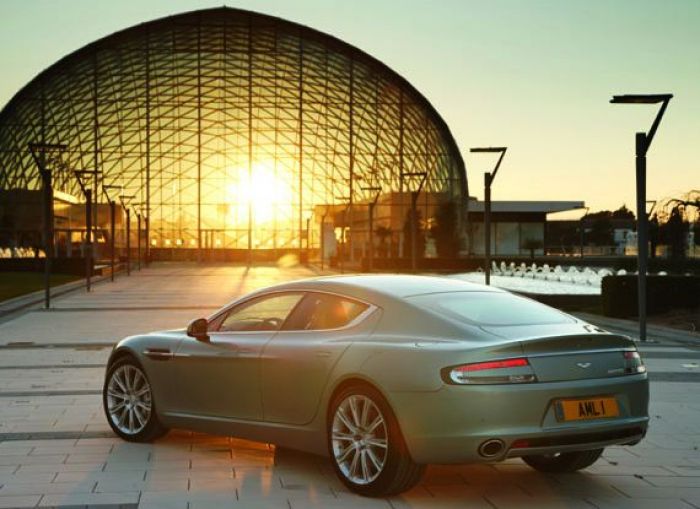 Test Driving the Aston Martin Rapide
When we received the invitation to test-drive the Aston Martin Rapide, we could hardly say no; the car is enticing to say the least. Originally introduced to the masses in 2006 as a concept, the first Rapide available for purchase came off the production line just over a year ago.

One of the only four door vehicles on the market with so much power and imposing presence, the Aston Martin Rapide makes a dramatic first impression. Sleek, sexy bodylines create a distinctive shape that stands out against a crowd and the delicious growl the car makes is just the beginning of what it is to drive this thing. After starting up a Rapide, custom-made Bang & Olufsen acoustic lenses rise silently out of the dash. Outfitted with a total 13 loudspeakers utilizing ALT (Acoustic Lens Technology), the audio system has been tailored specifically to the Rapide's interior dimensions, providing the best sound experience possible. Naturally the system offers various media choices. I was pleased to find that plugging in my iPhone was simple and I was blasting – I mean testing – the speakers in no time.
If you hadn't already fallen in love with the Rapide's impressive physique, driving it will do the trick. Once you get going, this car hugs the road as solidly as you can imagine that it would and when you are already up to 60mph, a good tap on the gas will still throw you back in your seat - make no mistake, this car is fun to drive. Naturally a car of this caliber comes as a 6-speed with the convenience of Touchtronic technology, to really drive, should one be in the mood. While the Rapide offers much more space than you would expect from a sports car, it also packs a mean punch with a 6.0-liter 500hp V12 engine. Maximum speed is reached at 188mph; a driver can take the car from 0-60 in exactly 5 seconds.
The interior is wrapped in hand-stitched leather, and on this particular model carbon fiber added an additional element that felt very supercar-esque. Naturally a GPS system opens smoothly out of the dash, but I kept it down the whole time as I thought it looked much cleaner without it raised. All of the seats are bucket seats, which means a lot for those riding in the rear. The backseat area is very comfortable with a large armrest to stow personal items and, of course, LCD screens in the back of the front headrests. Specially designed to accomodate four, Chief Executive Dr. Ulrisch Bez fittingly commented: "With Rapide, the entire family can enjoy their Aston Martin together in unison, in an invigorating yet comfortable environment, sitting low, with plenty of visibility from every seat and with new levels of comfort, refinement and entertainment." While trunk space is not ample, it certainly should be mentioned as the vehicle boasts more of it than what you would expect. According to Aston Martin, the space will hold 317 liters, increasing to 886 liters with the rear seats folded down.
Driving the Rapide around San Diego, I had the opportunity to make several observations about what it would be like to own one. Swan-wing doors are a smart design element on a beautiful car that, at it's core, is made to be quite practical for everyday. After parking near a curb, this becomes immediately apparent as passengers are in no danger of scraping the pavement. Another very frank benefit to driving a sophisticated vehicle like this is that other cars simply move out of the way. Driving the crowded streets of downtown actually became pleasurable. I suppose that is really what it boils down to. Would you purchase an Aston Martin Rapide for everyday use if you knew it would change the way you experienced driving? Well now you know. Perhaps you should head out and test-drive one your self.
The most elegant sports car in the world, the Aston Martin Rapide starts at $207,895. See the full brochure and specifications from Aston Martin.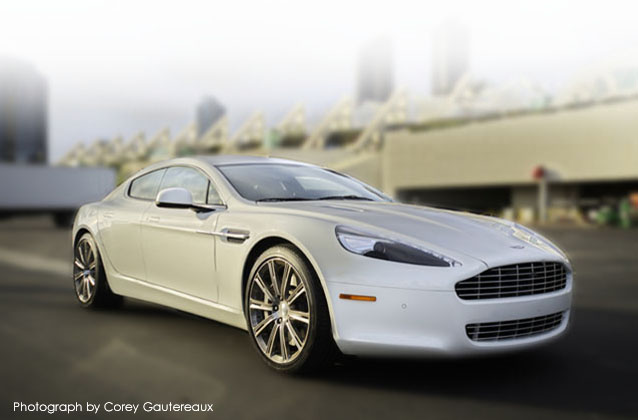 Photograph by Corey Gautereaux
Photograph courtesy of Aston Martin
Photograph courtesy of Aston Martin
Photograph courtesy of Aston Martin
Photograph by Corey Gautereaux
Photograph courtesy of Aston Martin
Photograph courtesy of Aston Martin
Photograph courtesy of Aston Martin
Photograph courtesy of Aston Martin
Photograph courtesy of Aston Martin
Photograph by Corey Gautereaux
Photograph courtesy of Aston Martin
Photograph courtesy of Aston Martin
Photograph courtesy of Aston Martin
Photograph courtesy of Aston Martin
Photograph courtesy of Aston Martin
Photograph by Corey Gautereaux
Photograph courtesy of Aston Martin
Photograph courtesy of Aston Martin
Photograph courtesy of Aston Martin
Photograph courtesy of Aston Martin
Photograph courtesy of Aston Martin
Photograph courtesy of Aston Martin
Photograph courtesy of Aston Martin
Photograph by Corey Gautereaux
Photograph courtesy of Aston Martin
Photograph courtesy of Aston Martin
Photograph courtesy of Aston Martin
Photograph courtesy of Aston Martin