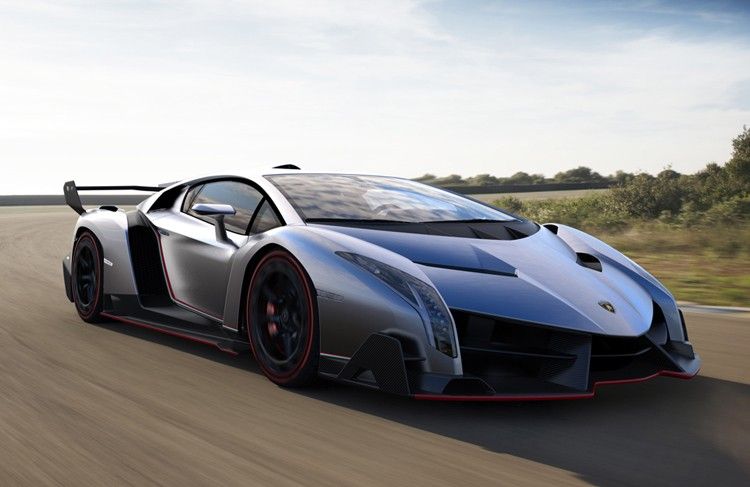 Photos Courtesy of Lamborghini
The notion of spending a million dollars on a car — however rare, exotic or capable — was unthinkable not long ago, but that was before cars like the
Bugatti Veyron
or Aston Martin One-77 came along. This car, however, doesn't cost a million...it doesn't even cost two million. No, the price tag on this particular piece of extreme automotive engineering is set at a massive $4 million.
What you're looking at is the
Lamborghini
Veneno, the second offering from the Bolognese automaker's special products studio following the Sesto Elemento and the marque's 50th anniversary, which included a luxury fashion collection. Lamborghini will only make three of the Veneno: one in red, white and green — the colors of the Italian flag — plus this fourth example in grey shown in the photos, which will remain at the factory. Unfortunately, all three of the aforementioned have already been spoken for so the chances of getting your hands on one is pretty slim.
Based on the Aventador, the Veneno is (like all proper Lamborghinis) named after a famous fighting bull. It packs a 6.5-liter V12 with 750 horsepower that will propel it to 100 kilometers per hour (62 mph) in 2.8 seconds and on to a top speed of 221 mph. While Ferrari, McLaren and Porsche develop advanced race-derived hybrid powertrains, this one kicks it old-school.
What sets it apart from the Aventador, however, is its even more extreme styling. Looking ready to transform into some kind of alien robot, the Veneno adopts the radical aerodynamic elements of a Le Mans Prototype racing car, from its tiered front spoiler and the wide side sills with gaping vents to the fin extending from the roof, the prominent rear wing and the aggressive underbody diffuser. Even the wheels have been designed to work like turbines to keep the brakes cool.
In short, it doesn't get any more extreme than the Veneno. Not much rarer either, or — with its multi-million-dollar price tag — much more expensive.