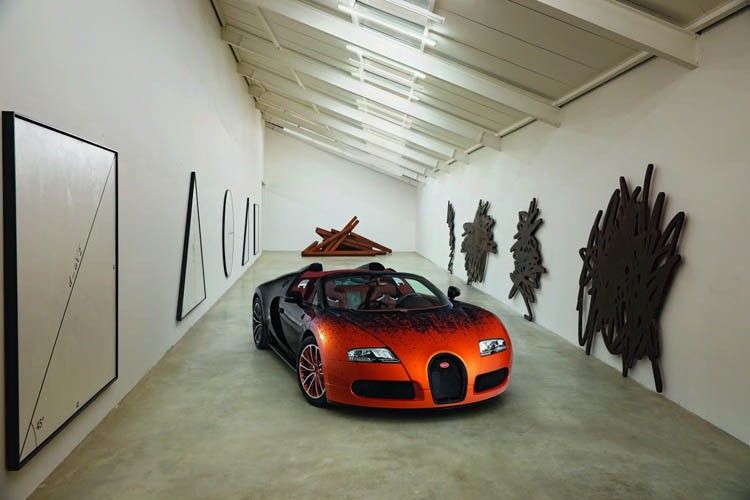 Photo Courtesy of Bugatti
Bugatti prides itself in offering a virtually endless array of color combinations for its exclusive Veyron supercar, but this particular example goes even beyond the Alsatian marque's considerable palette. Touted as the fastest piece of artwork ever created, this unique Veyron Grand Sport has been specially painted by New York-based French artist Bernar Venet, putting it into that rarefied breed of Art Cars.
Venet started with quite the canvas: the Veyron Grand Sport is the convertible version of Bugatti's record-breaking performance automobile. Its 8.0-liter quadruple turbocharged sixteen-cylinder engine produces over one thousand horsepower to propel the car past 250 miles per hour. Short of the Vitesse version of the same car, that makes the Grand Sport the fastest convertible on the market.
From there, Venet applied his trademark faux-rust finish (thankfully not actually rusting the car's body, which is made largely of carbon composites anyway). Taking his cues from mathematics, Venet applied all manner of scientific digits and characters to blend the orange nose into the brown tail. The theme continues inside with deep brown leather and orange accents.
"A Bugatti is already a work of art in itself, one that transports both its beholder and its driver into new dimensions of reality," said Venet of the project. "I realized how I could translate my passion for mathematical equations and scientific treatises into three-dimensional form."
Bugatti's chief designer Achim Anscheidt added: "Our collaboration with Bernar Venet, one of the most demanding artists of our time, has led to creative impulses and inspiration that will continue to motivate us in the fields of concept and design. We are pleased that this collaboration has resulted in the creation of a significant, collectible work of art."
The one-of-a-kind creation was unveiled in early December 2012 at the Art Basel festival in Miami Beach, Florida.