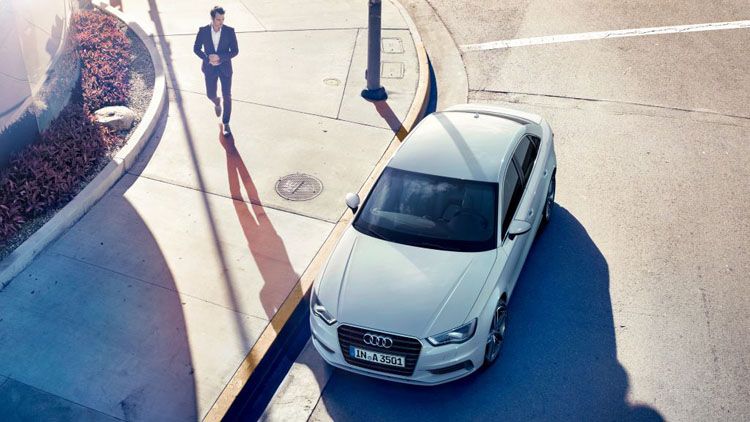 Photos Courtesy of Audi
Audi of America will be among the few companies to run a 60-second TV commercial during Super Bowl XLVIII. The 48th running of the NFL's game of the year marks the seventh consecutive time the luxury car maker will appear. The commercial will run during the first in-game break following the kick-off to start the third quarter of play, and the star will be the all-new Audi A3 — which will arrive to U.S. showrooms in spring 2014.
The Audi A3 sedan is the entry-level luxury car for the German-engineered brand, with a base price under $30k. An A3 Carbriolet, a hybrid A3 Sportback and an S3 sedan will be added to the new line for the 2015 model year.
"We're excited to once again return to America's biggest advertising stage, the Super Bowl, for our seventh consecutive year," said Loren Angelo, director of marketing for Audi of America. "As one of the most highly-anticipated viewing events of the year, the Super Bowl is the perfect venue to launch the all-new, technology-advanced Audi A3, set to be a game changing vehicle for Audi in the U.S."
Noam Murro (renowned for various TV commercials, including spots for Sprint, Land Rover, Guinness, Heineken, and DirecTV) directed the new ad, which was produced for Audi of America by San Francisco-based Venables Bell & Partners.
The deluxe automaker has garnered a reputation for its innovative commercials for the Super Bowl over the past couple of years. For example, it was the first ever to feature a hashtag in its 2011 spot that featured Kenny G. Last year, as a way to spur early interest, Audi posted three versions of their commercial Prom, asking fans to vote on their favorite ending via social network sites. We can't wait to see what they have in store for us next!