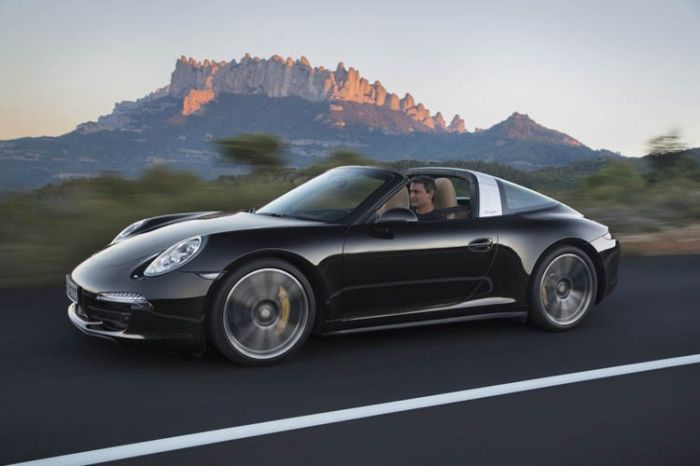 Photos Courtesy of Porsche
There are coupes and there are convertibles, but sometimes there are coupe-convertibles — as some luxury automakers have been known to call their vehicles with folding hard-tops. And then there is a category somewhere in between, strictly for cars that have removable or retractable roof panels, but keep the rest of the greenhouse structure in place. It's a body-style commonly known as the "targa," but it's one that Porsche effectively pioneered, and a name over which it holds a firm grasp. But the German automaker has redefined what it means over the years, and has done just that again with the latest 911 Targa.
Revealed earlier this month at the North American International Auto Show, the new vehicle splits the difference between coupe and convertible versions of the company's iconic sports car. Instead of the complex sliding glass panels that adorned the past two iterations of the Targa, Porsche went back to a more retro profile with a contrasting metallic hoop in front of an expansive rear glass clamshell, giving it a look reminiscent of the original. But where the first model demanded the driver remove the roof panel manually, the new one does it for you ? the glass rear clamshell automatically rises up and backward, and the roof panel glides up and into place, all at the touch of a button.
Porsche is offering their new model with all-wheel drive in either Targa 4 or Targa 4S trim the difference between them coming down principally to the engine. Buyers will be able to choose between a 3.4-liter version of the brand's famous flat-six engine producing 350hp, or a 3.8-liter version with 400hp. Spec it out right and you could be rushing to 60 in a scant 4.2 seconds with the wind in your hair ? but not too much wind. Pricing starts at $101,600 (plus a $995 destination fee) for the Targa 4 and $116,200 for the Targa 4S, with deliveries set to commence in the summer.