Courtesy
Driving the New Mazda CX-90 Plug-in Electric Hybrid in its Most Premium Trim
Mazda's flagship full-size SUV gets a plug-in hybrid option for 2024, and I spent a week driving it in its luxury Premium Plus trim. In that time, I got to experience the benefits of the new SUV's plug-in power––and a few limitations.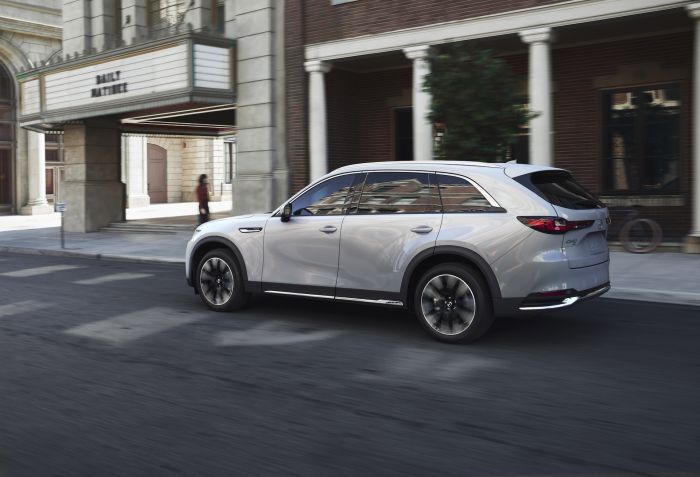 Courtesy
Design and Interior
The Premium Plus version of the CX-90 PHEV starts at just under $60k, and from a luxury standpoint, the interior is extremely refined. Every surface you touch feels premium; you've got your arm on a leather console or your hand on the precision edges of a metal dial. All the analog buttons on the dash are also appreciated, as I don't enjoy having to go through a touch screen for everything. I like that Mazda hasn't gone too far into the future here. There's nothing overly techie that screams "electric!" No glaring visual cues making promises of a new and better future. Inside and out, it has the same dignified design presence of the CX-90 of recent years. Refined, it certainly is. Exciting… maybe not. Then again, the excitement in a Mazda SUV is more about the drive and handling.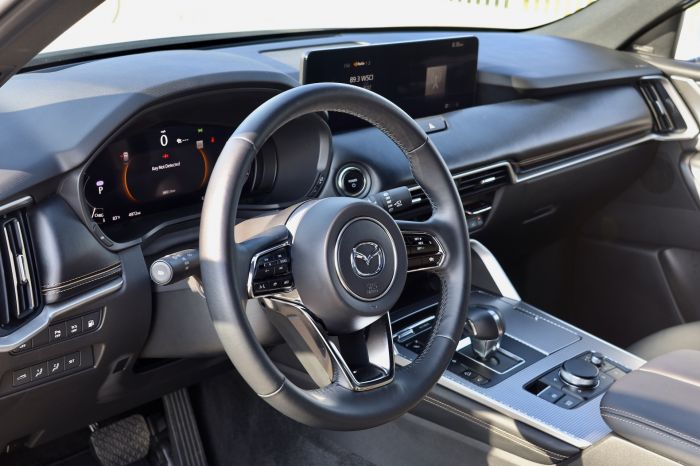 Stinson Carter
Getting into the cockpit for the first time, I had some issues with the user interface. I tried to pair it over Bluetooth with two different devices and couldn't get a successful pairing. This highlights something inherently unfair about reviewing a car. As a buyer, I would troubleshoot this until I got it worked out. But with limited time, after trying two phones with no success, I gave up and moved on. I'm sure that anyone purchasing this car would get this resolved, but the UI didn't win me over on first impressions. Another thing I couldn't figure out was why the toggle on the steering wheel would change the audio source (from FM to XM, for example) instead of toggling between stations, and I had to do that on the touchscreen. There may be a setting to adjust here, but I was not able to find it. Another tech issue I encountered was that the steering wheel locked multiple times while the SUV was in park, and as a quick fix I would restart the engine to disengage it. It's very likely that this was a matter of user error, but I do drive a lot of different cars, and this is not something I've encountered before. One tech feature worth mentioning is that the battery can be used as a 1500-watt outlet, which could be very useful if you wanted to take it camping.
It is a three-row SUV, though the third row is better for kids than adults for anything other than short drives. That said, the panoramic moon roof keeps things light and airy in the third row, so it doesn't feel claustrophobic. Adult passengers would find the second row very comfortable for a long car ride.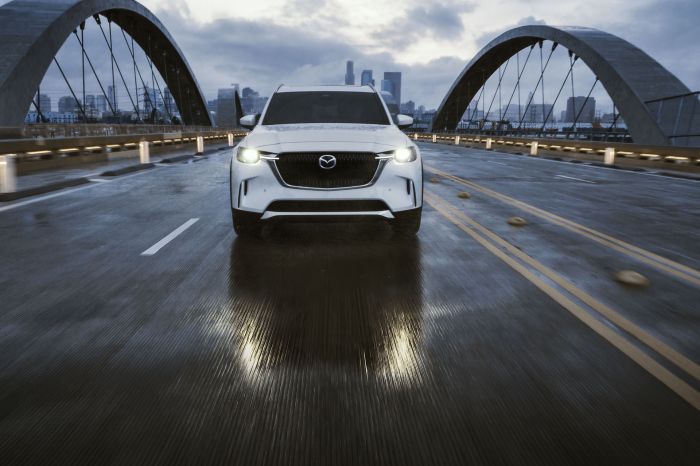 Courtesy
Experience and Performance
The CX-90 PHEV comes standard with all-wheel drive. Mazda estimates that the electric-only range is 26 miles, and that with a full charge and a full tank, you can get 490 miles of range. But let's break that down a bit: 490 miles of range is solid, but in my opinion this kind of range is not where this vehicle excels. On a long road trip where the 490-mile figure matters, you would run through the electric battery relatively quickly. But the SUV is not compatible with Level 3 DC fast chargers, so the shortest charge time is 2.5 hours with a Level 2 charger, which isn't practical on a road trip. So, for the majority of such a trip, I would personally prefer to be in a gas-only CX-90 instead of the PHEV, because of the better all-gas performance.
But this logic changes drastically in a daily driver situation. As mentioned, the battery charges to full in 2.5 hours at a Level 2 charger, and 11 hours with a regular 120-volt Level 1 outlet. I actually found it to be very easy to keep it charged even with a Level 1 at home. In short drives to the gym or the grocery store, where I never depleted the battery fully, the performance is magnificent. The 2.5L 323-horsepower hybrid engine with its 369 lb-ft of torque felt zippy and fast––the Mazda performance that I was expecting. Mazda SUVs are known to be some of the most fun crossovers to drive, and when going on electric and gas power or on electric alone, you really feel this. It has five driving modes: normal, sport, off-road, towing (up to 3,500 pounds) and EV. The most fun I had with it was driving it fully as an EV, but the sport mode was also very fun––as long as the battery was topped up.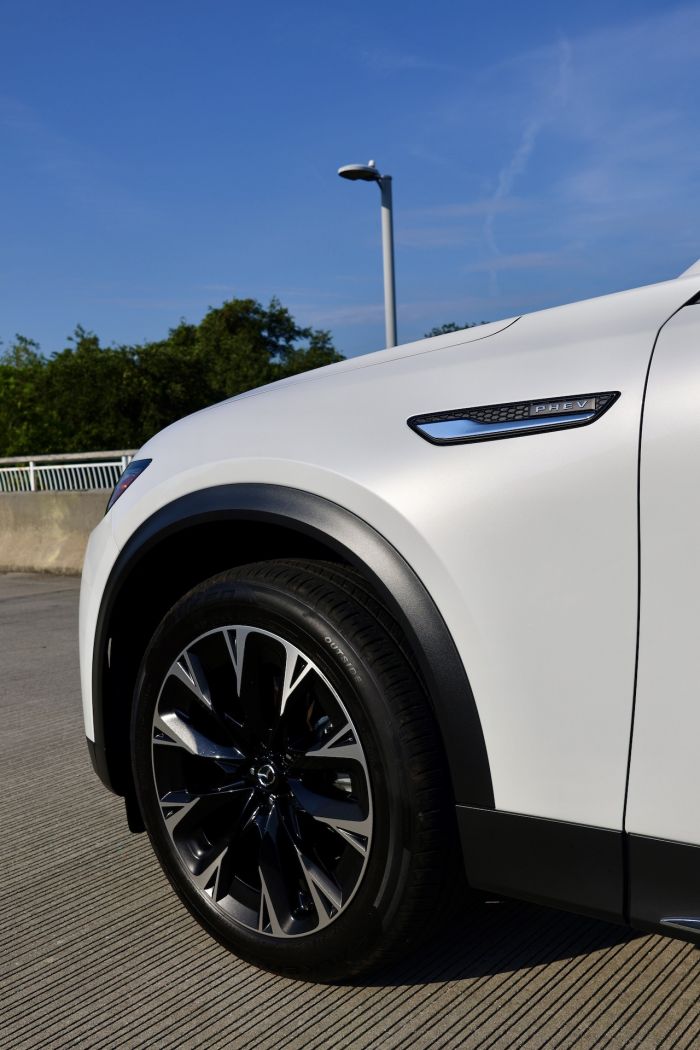 Stinson Carter
It's when you're out of power that I felt it lacked that Mazda zip. Driving it on gas power alone, the engine didn't live up to the posh interior surroundings, for me. On gas alone, it was a more disjointed experience––like with electric engaged alongside the gas you're enjoying a symphony, and then when you switch to all-gas it's as if the violin section has gone silent. What you're left with isn't bad, but it's not the full experience.
I came away feeling like anyone looking at this SUV seriously would have to be honest with themselves about how they actually drive versus how they imagine themselves driving. If what you mainly do is make runs to the grocery store, to work, or to take kids to school, then I think this is an excellent luxury SUV that is fun to drive and priced very well for its level of refinement. But, if you're heading off on long drives every weekend, I think the gas-only version may deliver more of what you need.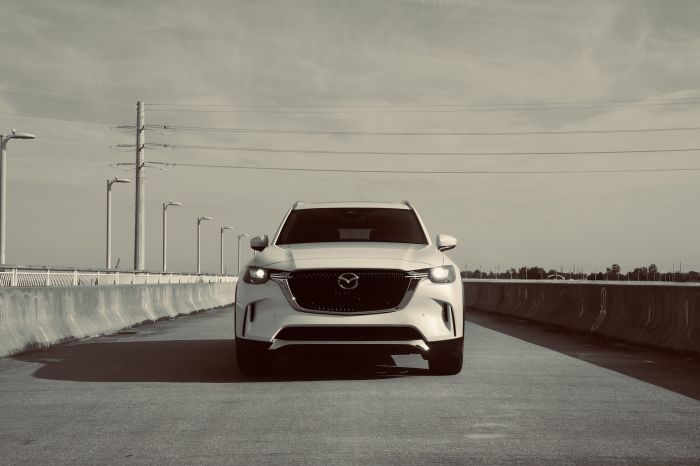 Stinson Carter
Final Thoughts
It's difficult to drive any electrified vehicle without commenting on the technology and the infrastructure supporting it, which isn't exactly fair. If I were to hold gas-powered cars to the same standard, I'd have to nitpick all the noises and smells that come with internal combustion that we all take for granted at this point. But because EV technology is evolving more dramatically in real time, it gets way more scrutiny. It is not fair, but it is still the reality of the user experience.
For some users, a plug-in hybrid can be the best of both worlds, but for other users, it may not achieve the best of either. Based on how and where you drive, you may prefer the CX-90's all-gas sibling, so you know the power you have is always going to be there. Or an all-electric vehicle, so you can do 20-minute charges on the road at direct-current fast charging stations. Or a more traditional hybrid that gives you extra mileage but never needs to be plugged in. There have never been more options for how little or how much you want to electrify your driving experience, but not every option is right for you, and it's important to go into that decision with open eyes.
The CX-90 is tried and true at this point. As a three-row crossover, it doesn't have anything left to prove. It is a truly excellent SUV. And while the PHEV version is probably perfect for many, it may not be the best choice for everyone.