All images courtesy Land Rover USA
The 2024 Range Rover Velar and Evoque Reveal New Tech and Design Updates
From art to fashion, the world of luxury cars often intersects with industries where innovation in design language and craftsmanship are shared objectives. So, it made sense that iconic British SUV maker Range Rover selected landmark hotel Le Royal Monceau - Raffles Paris for the latest edition of its traveling experiential showcase, Range Rover House, to reveal updates on the 2024 Velar and Evoque. Part of a global series of invite-only experiences for select clients, previous locations include a ski chalet in Australia and a yacht club in Saint-Tropez. During the 2023 Pebble Beach Concours d'Elegance, a modernist mansion in Carmel Highlands overlooking Monterey Bay served as a gathering space.
Range Rover House Paris
According to President and CEO of Jaguar Land Rover North America, Joe Eberhardt, the concept establishes a brand presence while traveling the world with Range Rover owners – whether skiing in Utah over winter or sailing in Southern France for the summer. "Range Rover is the perfect choice for life's leaders, and Range Rover House allows us to tailor each setting to specific client bases seeking more intimate experiences beyond a traditional car showroom," Eberhardt says. "From an affinity perspective, Paris is a perfect canvas for our brand. It's the capital of luxury and fashion, while the Philippe Starck-designed Le Royal Monceau has a fantastic history that aligns perfectly with our values and design philosophy."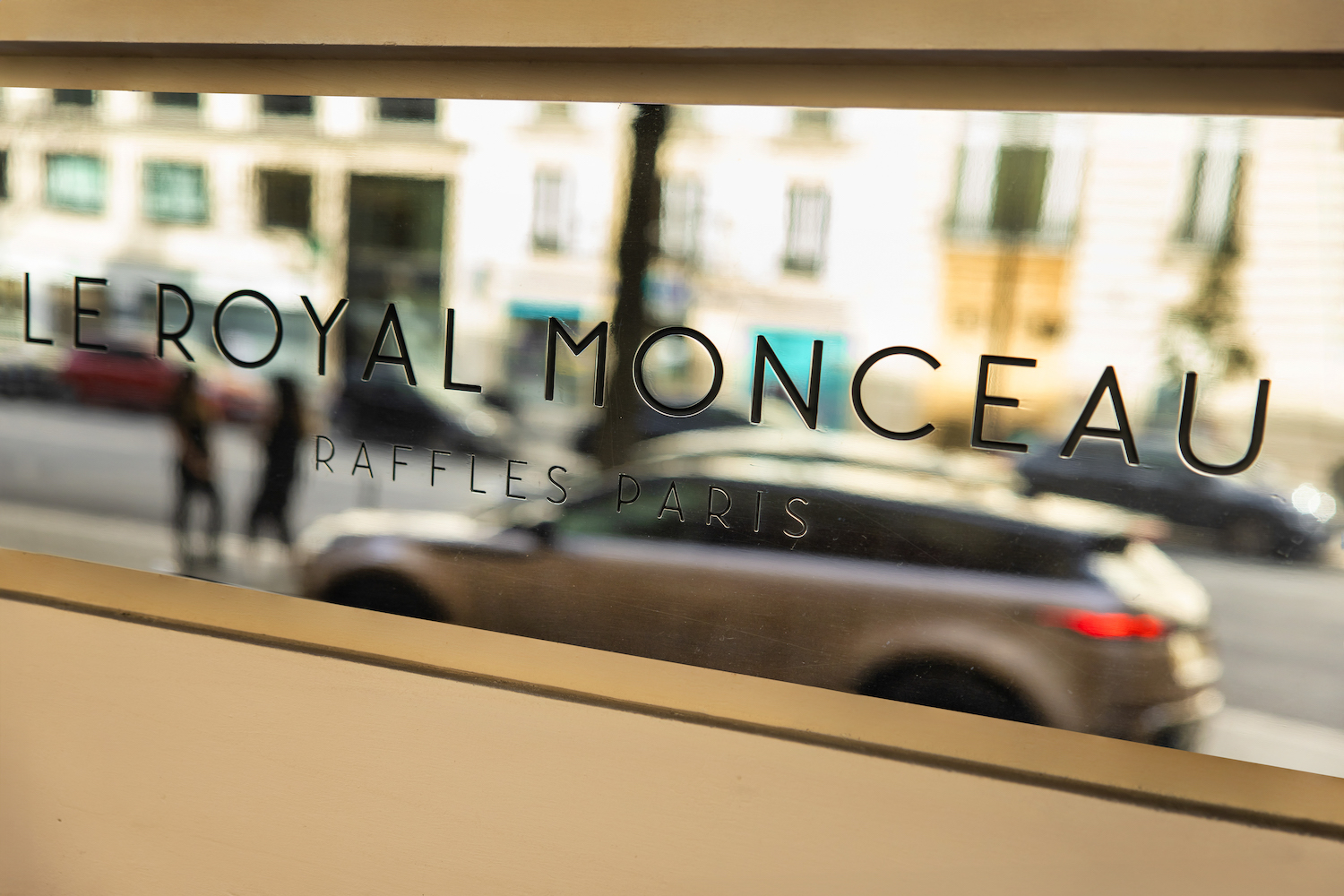 Within walking distance of the Arc de Triomphe and Champs Elysées, the Art Deco "palace" hotel's 8th arrondissement location and aesthetic lent itself impeccably to the Velar and Evoque, whose compact size make them well suited to the city although equally at home when driven around, say, a muddy vineyard in the Champagne region. Range Rover has long been a first choice for luxury SUV buyers but thanks to their sleek modernist design and punchy performance – albeit in more petite packages – the Velar and Evoque have become leaders in the compact-premium SUV market and helped draw a growing number of female and first-time clients to the brand.
Updated for 2024, both offer head-turning new paint colors and refined exterior and interior styling, state-of-the-art tech, and behind-the-wheel wellness upgrades.
The 2024 Evoque: Strikingly Fashion-Forward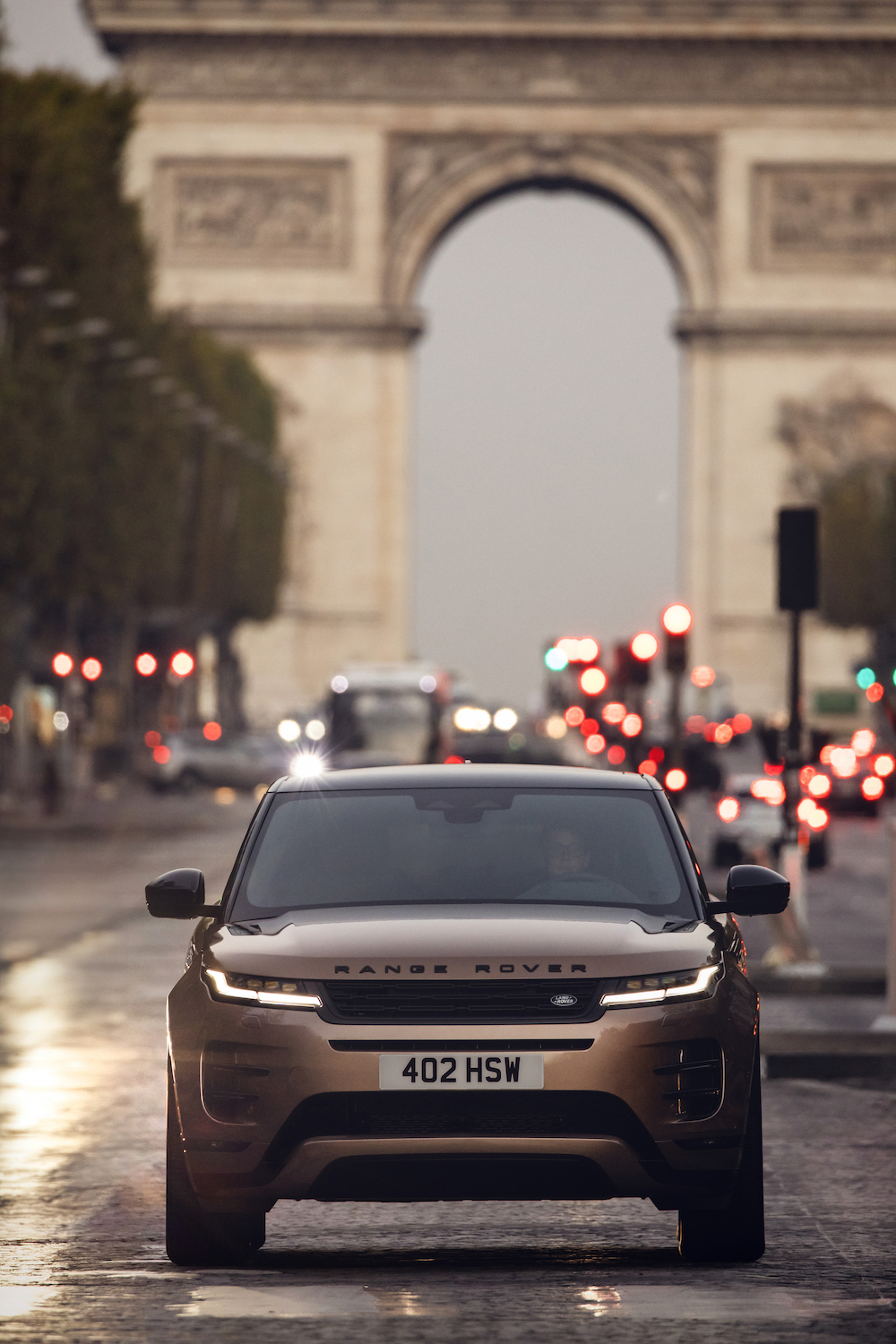 Driving in Paris can be exhilarating and challenging but navigating from city to countryside via the infamous périphérique ring road proved less nail-biting, more calmy composed experience thanks to several features in the new-look Evoque. Presented in Tribeca Blue with a contrasting Corinthian Bronze roof, its reductive new design was evident immediately upon sliding into the driver seat: a clean dashboard punctuated by a floating Pivi Pro powered 11.4-inch touchscreen and gear shift on the center console. A minimalist lover's dream where one voice command (Amazon Alexa 10 is integrated; just say "Alexa" or tap a button on the touchscreen) or two presses on new sidebars provide easy access to frequently-used functions: navigation, climate, heated seats, wireless Apple CarPlay, Android Auto.
Pulling away with trepidation from Le Royal Monceau and into traffic, the decluttered cabin translated into a clearer, more relaxed headspace for concentrating on our route out of the city towards the municipality of Saint-Étienne-Roilaye and later beyond to the Champagne region. It was quiet, too, and once we hit the "périph," Range Rover's active road noise cancellation became apparent. Designed to reduce fatigue by minimizing traffic and wind noise, as drive experiences go it 'serene' sprang to mind.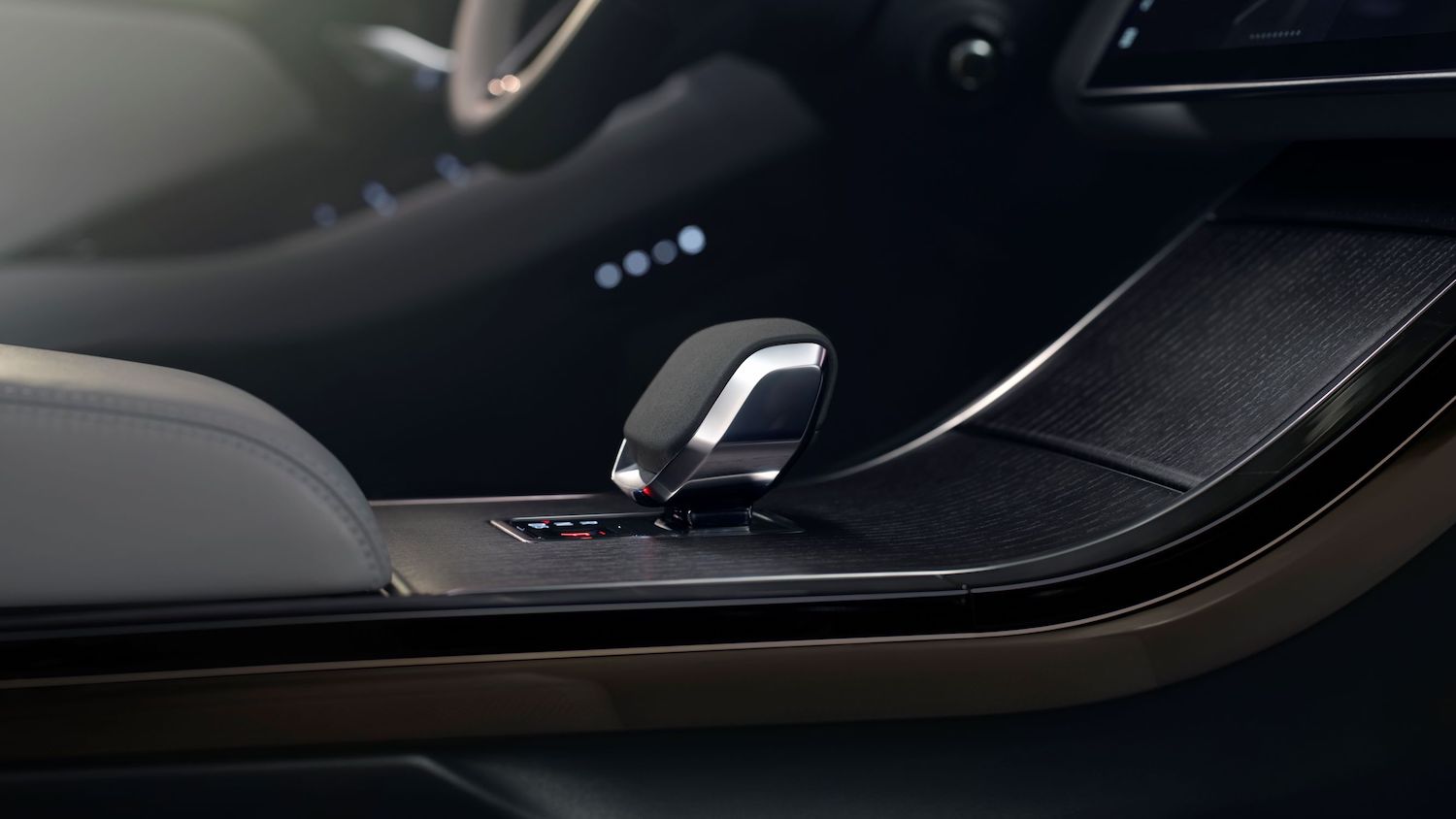 'Sophisticated design and timeless sense of modernity'
Less obvious but a best-in-class for its kind, the Cabin Air Purification Plus system (available for the first time on the Evoque) automatically filters the air and reduces the number of harmful PM2.5 particulates within the vehicle (think fewer allergens, reduced pollution, and odor elimination). The luxurious materials made more of an apparent visual statement and amplified the sanctuary-like cabin in a combination of leather-free alternative Ebony perforated Ultrafabrics and Kvadrat wool blend seats that complemented the moody but attractive Ebony interior. The panoramic roof allowed plenty of natural light to showcase a new Moonlight Chrome trim.
Set amongst acres of manicured gardens and natural forest, our lunch stop – former textile mill turned hunting lodge turned five-star bed and breakfast, Moulin Royale – provided a chance to soak in the handful of exterior updates. Still striking at first glance with its characteristic floating roof, unbroken waistline and flush door handles, not much has changed outside. However, you will find the latest Range Rover family grille design and super-slim Pixel 1 LED headlights that won't blind oncoming drivers thanks to a clever 'adaptive' light-altering pattern. For wheel options, there are eight in five new finishes, including 21-inch diamond-turned alloys with satin dark grey contrasts. Arroios Grey and Corinthian Bronze round out exterior paint selections, as does Narvik Black for a second contrasting roof color selection.
JLR chief creative officer, Gerry McGovern OBE, notes that the Evoque's "sophisticated design and timeless sense of modernity continues to strike that all-important emotional chord" and after driving it between the busy French capital and quieter countryside, I couldn't have agreed more.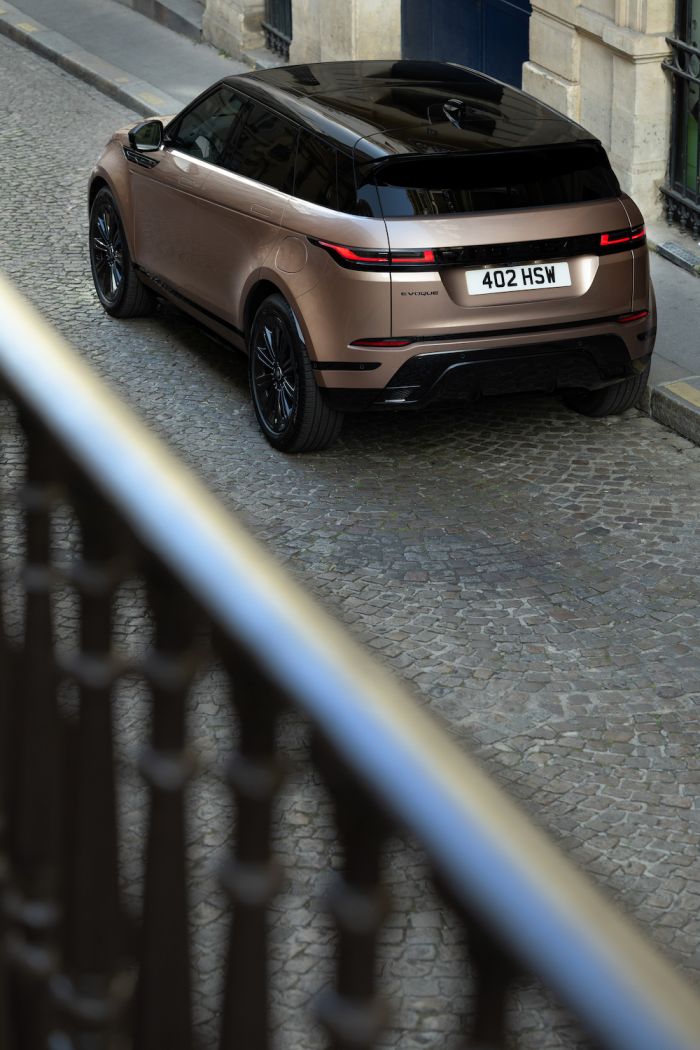 The 2024 Velar: Minimalist to the Max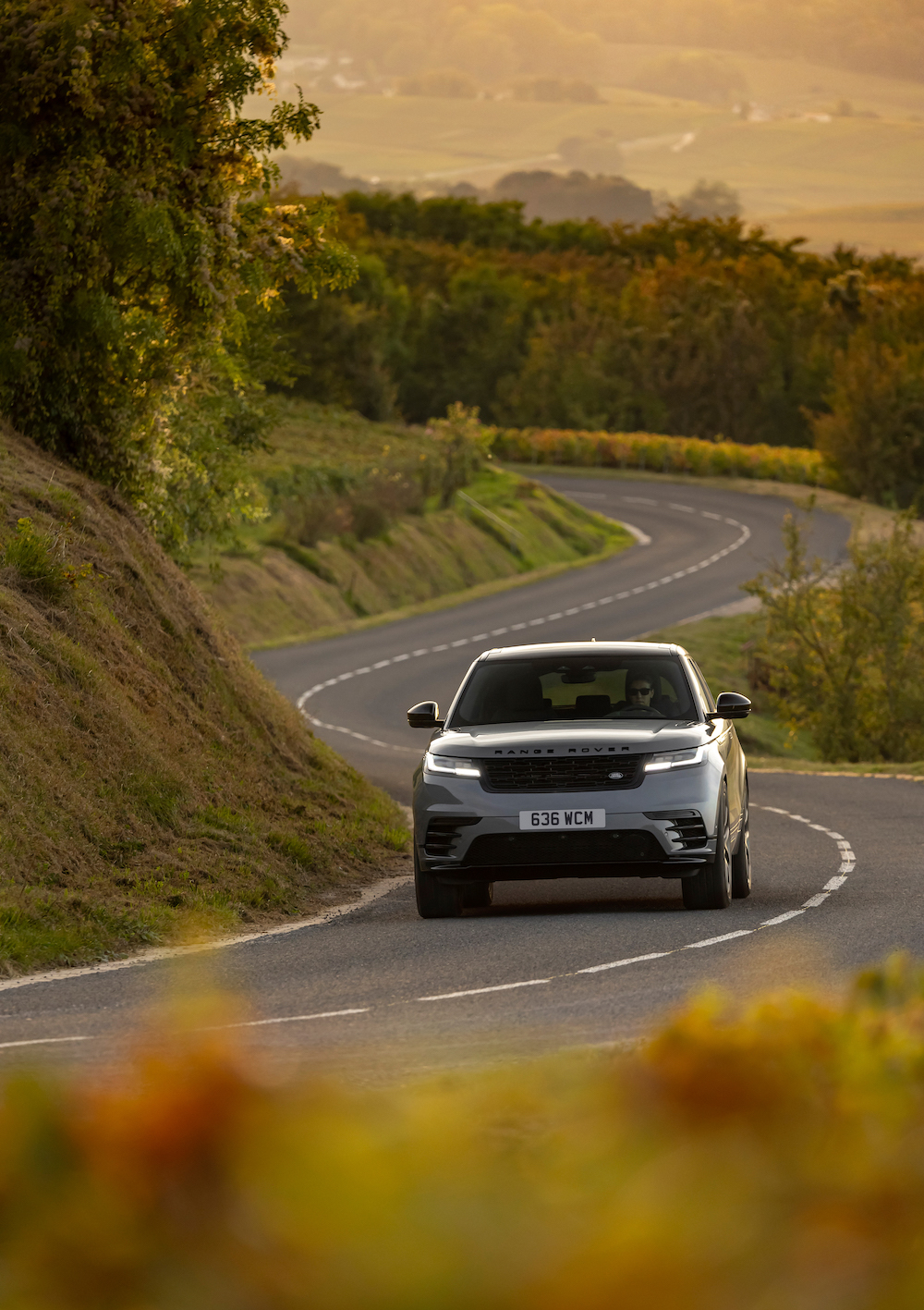 Although the Evoque is entirely off-road capable, a steep and muddy vineyard in the Champagne heartlands – specifically outside the postcard town of Épernay and capital of the region – provided a chance to flex a few of the off-road credentials on the 2024 Velar. Both vehicles also have the optional Dynamic Handling Pack (which adds adjustable drive modes and adaptive dampers); however, an optional self-leveling air suspension in the Velar allows for extra ground clearance and creates a more cushiony ride.
An expanded suite of settings and modes for off-road driving in the Terrain Response 2 system includes seven easy-to-find presets for options like grass-gravel-snow, sand, and, on this occasion, mud-ruts from the touchscreen. Each press it and forget it setting adjusting suspension, stability control, and the all-wheel drive system. Supplemented with a ClearSight ground view camera and an interior rear-view cam, the 3D surround camera showed every rock and rut. A steep downhill grade that began by allowing the hill-descent control system to let the car figure things out while I steered in a cruise control-based crawl provided a taste of the Velar's intelligent and oh-so-smooth off the beaten track capabilities.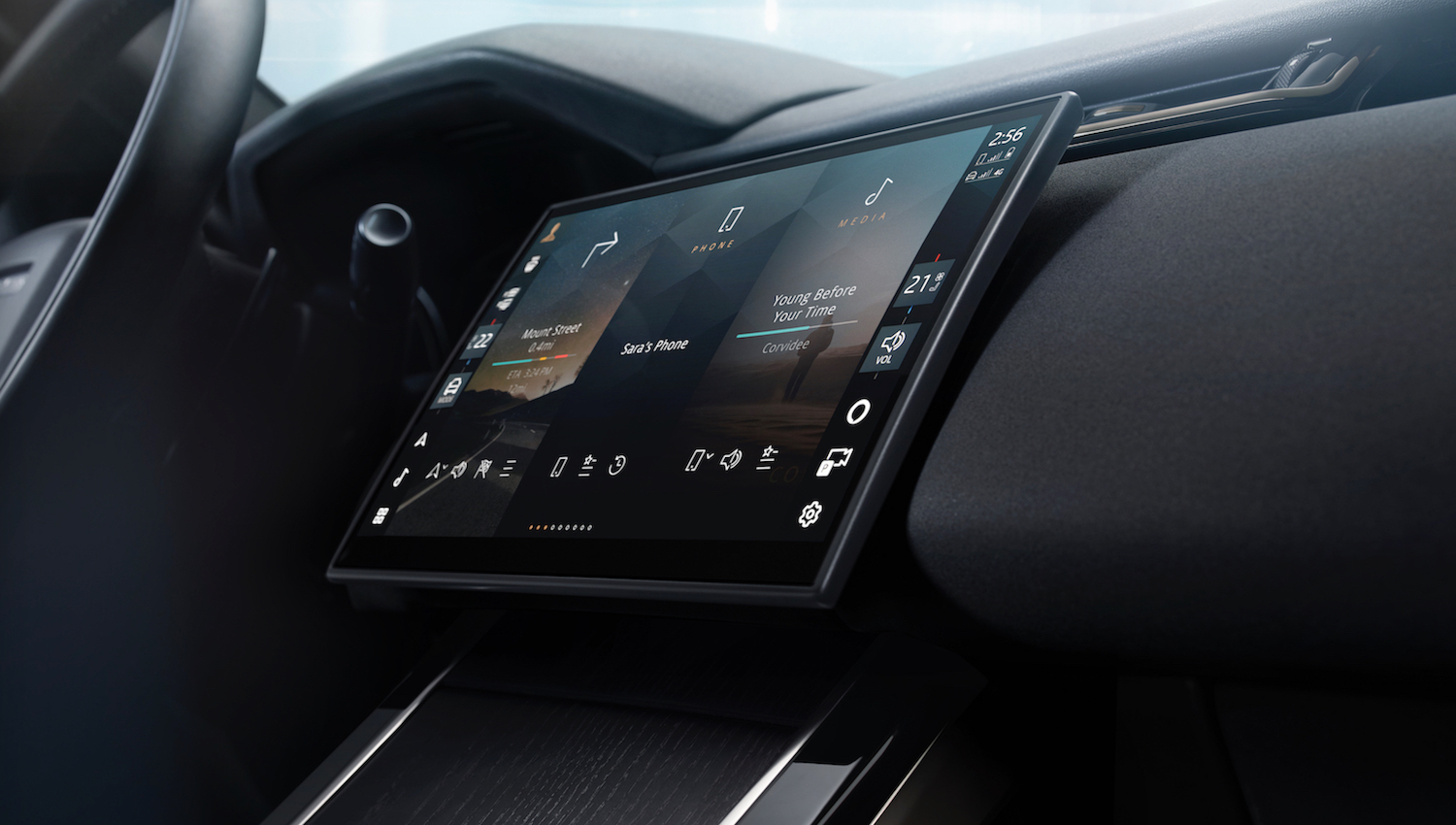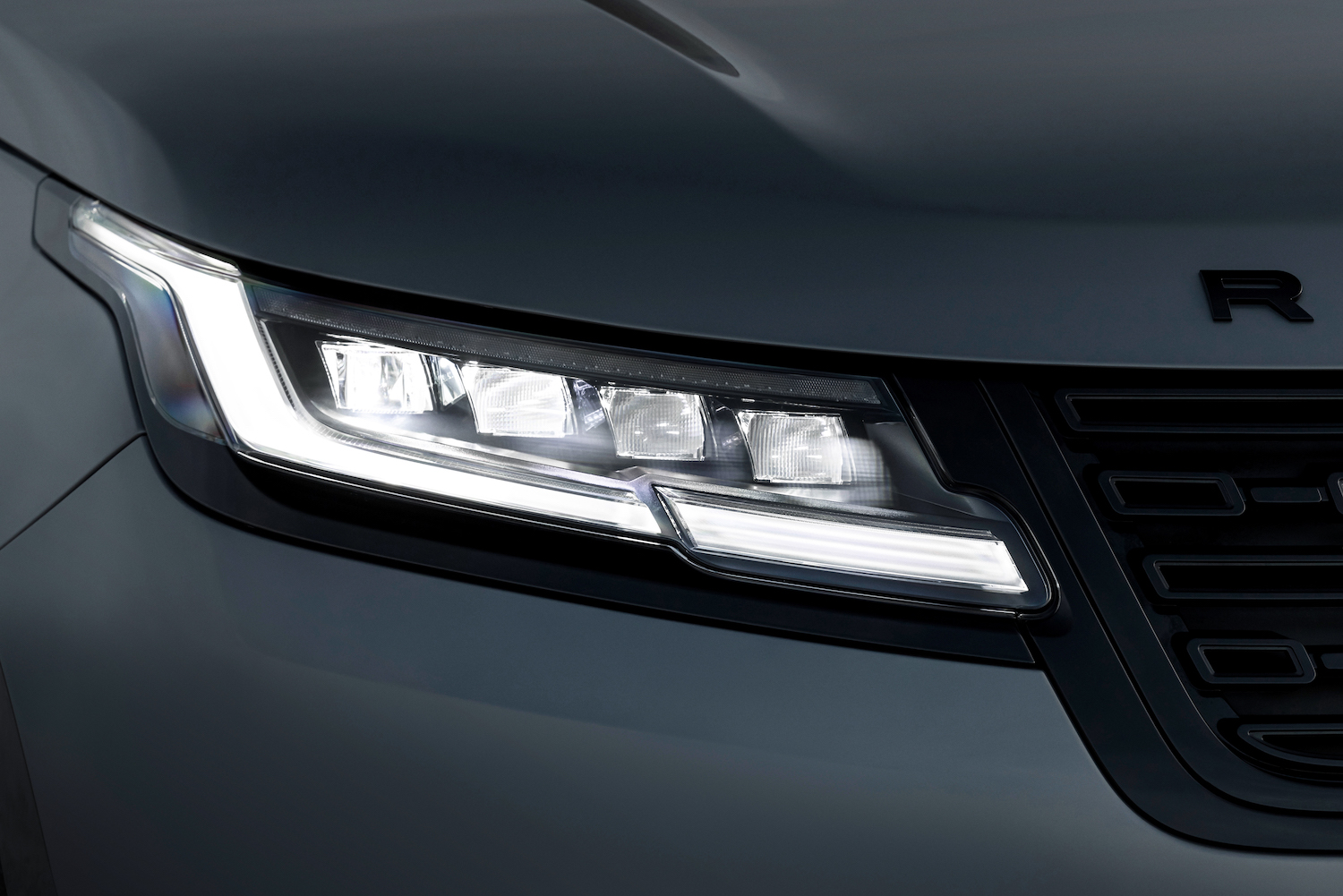 'The 'Goldilocks' Range Rover for off-roading urbanites'
Profile-wise, updates here are relatively modest but in a similar "reductive design" vein as the Evoque – a restyled front grille, new lower rear bumper, and jewel-like adaptive LED headlamps – plus, 1.4-inch curved touchscreen (where in two taps or less you can access virtual sliders on a sidebar display to adjust everything from audio volume and navigation to the heated massage seats). Also on the tech side, new software updates are received through wireless over-the-air updates, which means no trips back to the dealer. Interiors include a leather-free material option (which comes in Cloud Gray only for the US market) although leather offers more choices with Raven Blue and Deep Garnet. For paint, there's a sharp-looking metallic Varesine Blue and premium metallic Zadar Grey.
With a reduced-to-the-max profile complemented by a minimalist interior adorned with premium materials, the 2024 Velar delivered a smooth drive experience along winding country roads where my partner got a chance to put the 3.0-liter liter inline-six and 395 horsepower on the P400 more deftly through its paces during our nearly two-hour jaunt back to Moulin Royale.
Having recently divided its four vehicle identities – Jaguar, Land Rover Discovery, Land Rover Defender, Range Rover – into a "House of Brands" concept, Joe Eberhardt says the move has provided a distinct space for each to develop its personality and connect with clients accordingly. "Thanks to its legendary capabilities, Range Rover takes top position as the most luxurious off-road brand within the four, but being extremely reductive and modernistic in its approach, the Velar has led the way for the new Range Rover design language. And so from that perspective, the Velar really set the pace for the Range Rover and Range Rover Sport," shares Eberhardt.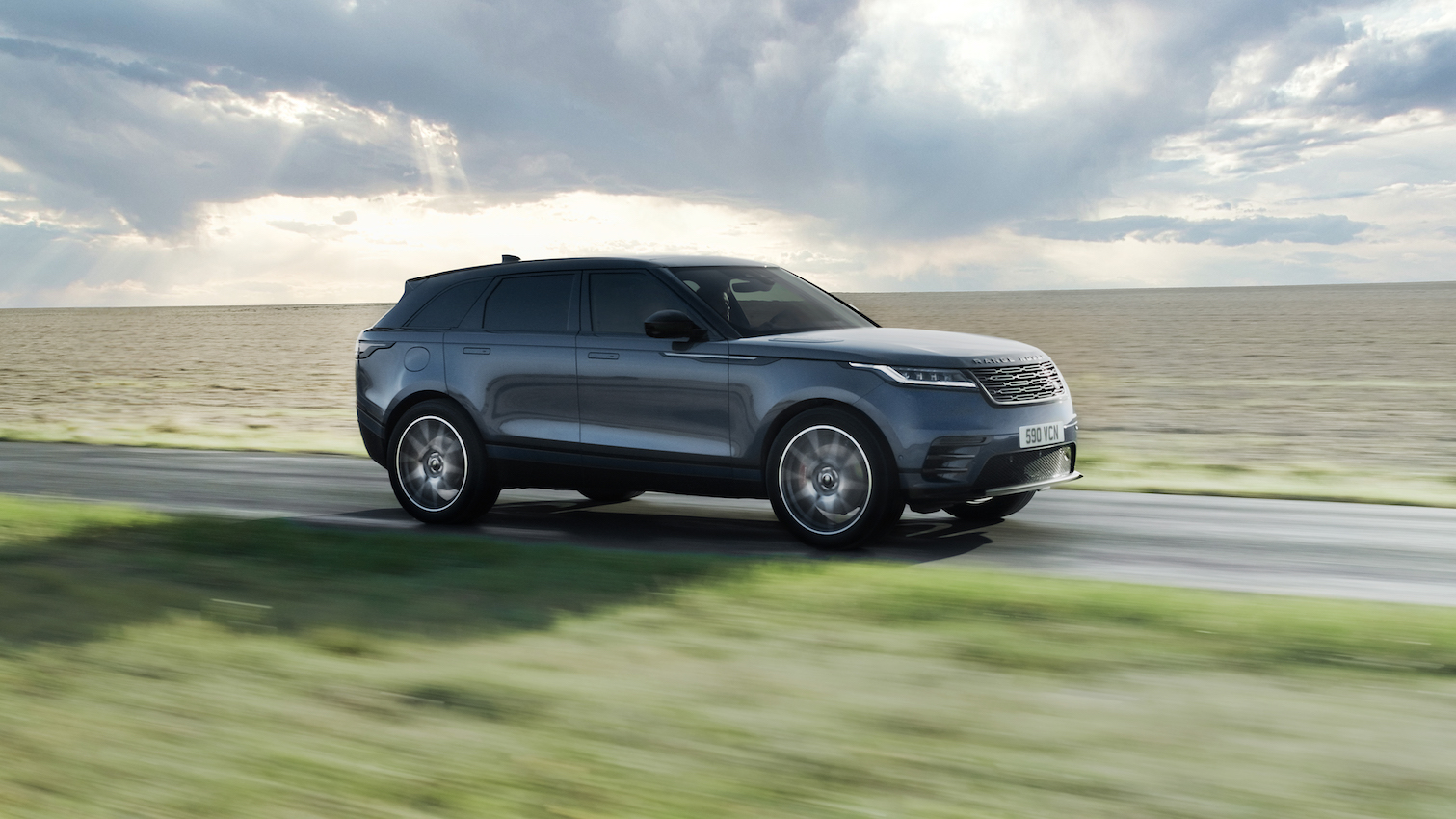 The 2024 Range Rover Evoque starts at $51,075 or $56,075 for a Dynamic SE model. The 2024 Range Rover Velar starts at $61,500 or $84,795 for a sportier P400 Dynamic SE model. Visit landroverusa.com.