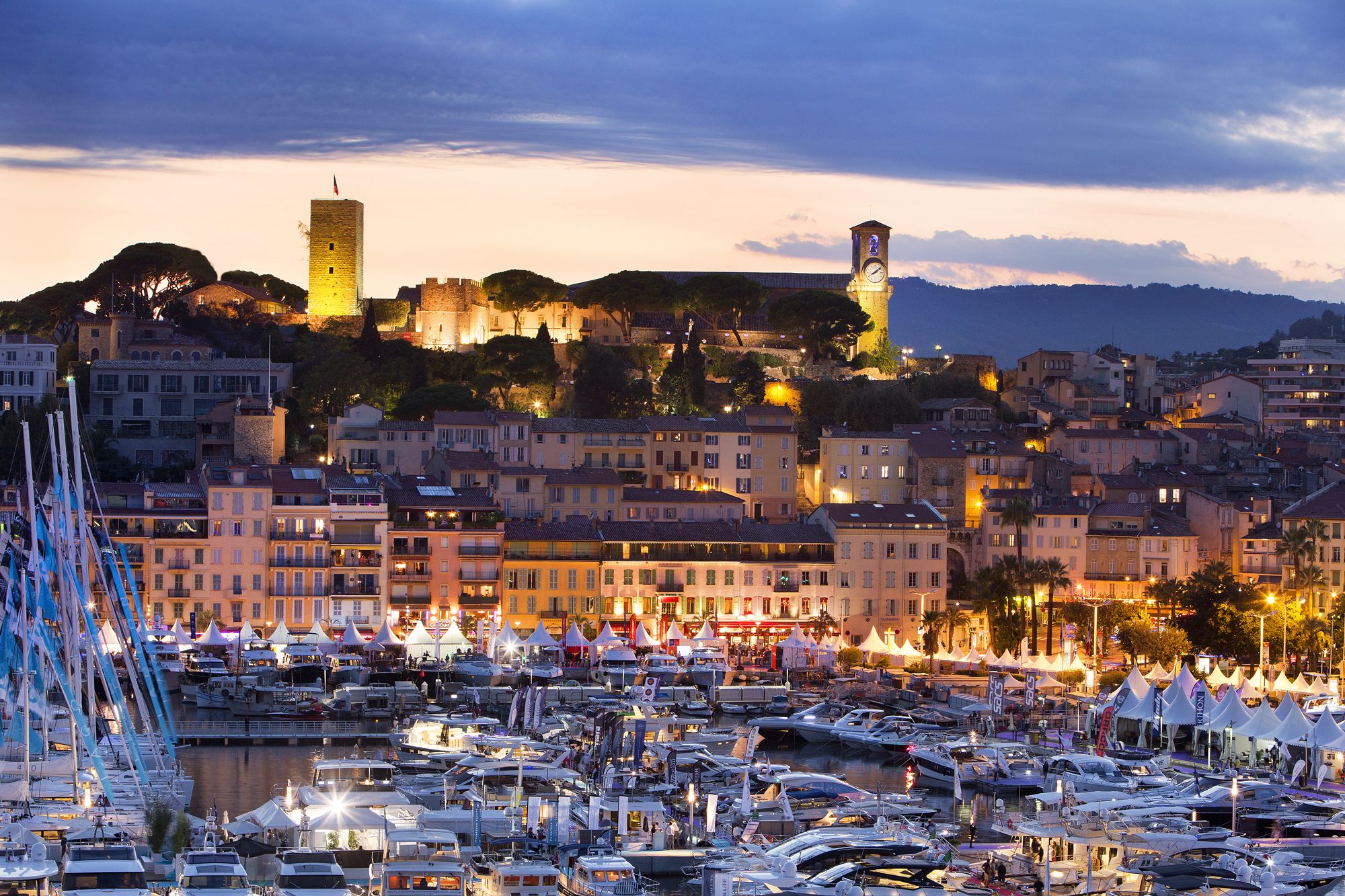 Photos Credit: Cannes Yachting Festival
The 38th annual Cannes Yachting Festival is getting ready to kick off on September 8 and for six days the bay will be packed full of stunning designs, at least 100 of which will be world premieres. Expecting over 50,000 international guests to the Vieux Port and the Port Pierre Canto, the event is more than prepared to wow visitors with test-drives and exclusive offerings—like their new Riviera Card, which is way better than their pre-existing VIP card and includes the use of a helicopter.
Though some may attend for the pure fun of it, many use the docks as a floating shopping mall where their new baby is just waiting to be snatched up. To make your hunt a little easier, we picked out 10 of our favorite world debuts (including the gorgeous Monte Carlo MCY105), including two that are also the event's largest.
Prestige 680
Able to reach a top speed of 30 knots (34mph), this little motor boat from Prestige Yachts is pretty stylish with its pronounced hull by J & J Design out of Arizona. Once inside, you can ramp the speed up and check out the scenery through the large windows that give a 360-degree view.
Benetti Vivace 125'
The second design to join the flagship Class Fast Displacement line—Veloce 140 was the first—the Benetti Vivace 125' features a Azipull 65C pod engine that was exclusively created by Rolls-Royce and a hybrid hull that can cut through water by displacement or planing. The 125-foot yacht reaches a top speed of 22 knots (25mph) and includes three decks (plus a sun deck) and has tons of horizontal windows that play into the vessel's lines.
Baglietto 43
The Baglietto 43's hull is a whopping 43.65 meters (around 143 feet) long, making it the largest motor yacht at this year's festival. Carrying the nickname of Pachamama (an earthy goddess who is worshipped by indigenous people of the Andes), the all-aluminum luxury superyacht can accommodate up to 10 people and a seven-person crew. It features large skylights, a dining room that can be connected to the galley and dinette, a full-beam master cabin in the aft, Jacuzzi, and a huge outdoor living area with plenty of room for sunbathing.
Princess 35M
This year marks the 50th anniversary of Princess Yachts, so what better time to launch their new 35M superyacht? The foredeck allows for plenty of socializing and dining space, while the flybridge promises to be much larger than one would normally find in a vessel of this size. Not only is there a four- or five-suite layout inside, including a full-beam owner's cabin on the main deck, there is also a platform at the aft that can be dropped into the water and a garage holding a tender.
Sunreef 60 Loft
Catamarans always hold a special place in our heart and the new ready-to-sail Sunreef 60 Loft is no exception. Able to accommodate six guests in its three cabins (plus two crewmembers in the port aft cabin), this yacht features a comfortable cockpit with a lounging area that has couches, sun pads (more can be found on the flybridge) and a dining table.
Wauquiez Pilot Saloon N48
Promising a hull that has been "designed to endure the harshest sailing conditions," the Wauquiez Pilot Saloon N48 has a 2.1m (6.8ft) bulb keel and a mast that measures higher than 19m (which is over 64ft). With a minimalist deck, the boat offers great visibility from the cockpit and is apparently pretty easy for one person to sail since it has oversized winches and an optional self-tacking track. Below deck one will find an aft owner's cabin, two guest cabins and two bathrooms.
Sacs Strider 19
If you've been looking for a new tender for your luxury yacht, the Sacs Strider 19 may be the winning ticket. This rigid inflatable boat has a deep-V hull and a pretty low center of gravity, which helps it to cruise the waters no matter what the weather conditions are like. Even though this is one of the smaller vessels on the list, it still has a sunbathing area and two spacious cabins below deck, as well as a bathroom and dinette.
Chantier Catana Bali 4.3 MY
As the only other catamaran on this list, the Bali 4.3 MY is the first motor yacht in its range. It features an open platform with a retractable glass door that creates a large living space with panoramic views. Between the hull (which was designed to reduce drag) and the twin 160hp engines, the vessel boasts a pretty low consumption rate that allows for over 2,500 nautical miles when cruising.
Monte Carlo MCY105
As their 32m (105ft) flagship, Monte Carlo's MCY105 is being debuted to coincide with the company's five-year anniversary, making it pretty special indeed. It boasts a large Portuguese deck at the bow, an ergonomic pilot house that is raised up, and a master cabin on the main deck with full-sized windows. The best part is that the vessel can be completely customized, from the layout to the materials used, to suit all of your needs.
Seawave by Southern Wind Shipyard
With a hull that is 31.78 meters (around 104 feet) in length, the Seawave by Southern Wind Shipyard is not only making its world debut at Cannes this year, it is also the longest sailing yacht at the event. The boat features an open saloon on the coach roof that offers panoramic views through its windows, an owner's cabin, a crew area, and closed grain teak and ivory linens throughout.