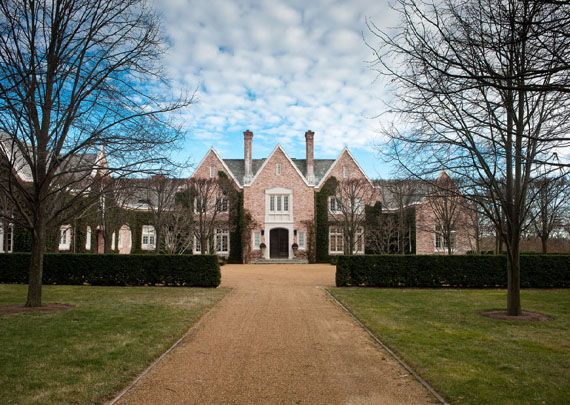 This week we are looking at an exquisitely done modern classic in the wealthy enclave of Greenwich,
Connecticut
. Greenwich boasts some of the most striking homes in the U.S. including Leona Helmsley's Dunellen Hall which was once priced at $125 million but sold for $35 million last year.
The town is also rich in scenic beauty and has long been a favorite among businesspeople who want to raise a family away from the city but still live within commuting distance of
New York City
(an express train puts you at Grand Central in around 40 minutes). Residents of Greenwich include Tommy Hilfiger, Ron Howard, Judge Judy Sheindlin and Kathie Lee Gifford.
Rockwood Manor is on 13.5 acres and overlooks Rockwood Lake. Although the home was built in 2002, it has an older look, taking its inspiration from English manor style. The exterior is done in brick with sharply peaked roofs and tall chimneys. Climbing greenery and a frame of sharply trimmed hedges help add to the feeling that you are in the Cotswolds not Connecticut.
The home was designed by Wadia Associates and landscape architect Francois Goffinet created the
property design
that features rolling green lawns, well-manicured formal gardens, stone walls, mature trees and pathways. The property includes a pool and spa, pool house and a fountain.
Inside, elegance and modernity reign. The dramatic entry has a double staircase that curves gently contributing to a rotunda-like effect. The public rooms combine the formality of heavy curtains, columns and gilded furnishings with more casual touches like sisal rugs to give the home a contemporary feel. The sunburst is a theme here, showing up in lighting fixtures and mirrors.
The home is a family home (the alphabet magnets on the refrigerator are a dead giveaway) and in the kitchen things lighten up a bit with a massive aquarium that serves as a wall divider and a set of Fornasetti face plates gazing down on the occupants. There are plenty of places to eat including a table in the kitchen, a nearby breakfast room with a round table dominated by a lazy susan and also a formal dining room.
The first floor master suite continues the home's calming blue and ecru theme and its location away from the other family areas gives it a feeling of peaceful privacy. Upstairs in the children's bedroom, headboard details and trundle beds are classic
New England
style. There's also a separate children's playroom and a small media room that is cozily defined by the home's peaked roof. The second level has five ensuite bedrooms total. On the lower level you'll find staff quarters, an exercise room, storage and laundry areas.
This home is listed at $17.5 million with Carol Zuckert of
Sotheby's International Realty
.
Photos Courtesy of Sotheby's International Realty