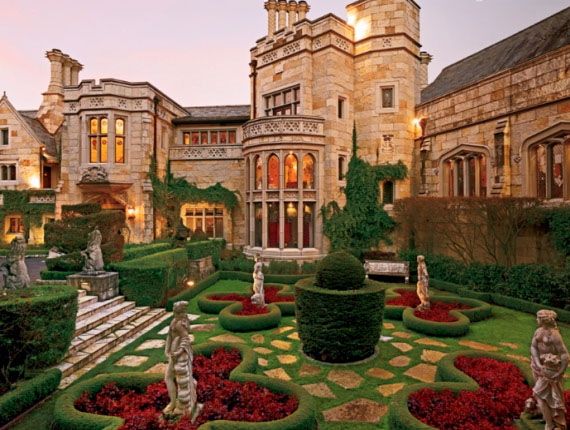 Photo Courtesy of Christie's International Real Estate
An incredible estate in
Silicon Valley
, one of the largest private residences on the entire West Coast, has been listed for sale at $43.9 million via Christie's International Real Estate.
Chiltern is a remarkably faithful recreation of an English Tudor country estate completed at enormous expense in 1992. The 36,000-square-foot main house on more than six acres boasts numerous museum-quality architectural elements originally from classic English country houses including a foyer featuring Jacobean paneling dating from 1633; 15th Century Gothic doorways; and a 45-foot-high great hall adorned with 17th Century paneling from Dyffryn House in Wales. The exterior of the imposing estate is composed of dolomitic limestone and fossil stone.
The mansion features seven bedrooms and seven-and-a-half baths. Many of Chiltern's 16 fireplaces have exquisitely carved mantels and fire surrounds also dating to the 17th Century. More than 250 pieces of antique stained glass in the mansion, one of the largest collections in the world, date from as early as the 13th Century, including the "St. Giles" and "St. Catherine" panels from the Hearst collection.
The second-floor master suite occupies its own wing, offering a sumptuous bed chamber, his and her dressing rooms, a paneled sitting room, and an office. Accents of walnut burl, black granite, Persian green onyx, and fossil stone distinguish these regal quarters.
On the third level, intricately carved antique bronze doors open to an ­office suite, private art gallery, and sculpture terrace overlooking the bay. Automated systems include elaborate security measures, computer-controlled lighting, heating and air conditioning, access control, and intercom. The media room is superbly appointed with a THX sound system, as well as state-of-the-art audiovisual equipment that is networked throughout the house.
The property also includes an 80-foot indoor pool, racquetball and squash court, tennis court and gymnasium. The lush manicured grounds feature 60-year-old gardens, a 50-tree orchard, numerous rose gardens, a walled English garden, maze, French parterre, greenhouse, and koi garden. A pond and waterfall, rose-covered arbors, fountains, gazebos, nature trails, an outdoor pool and guesthouse round out the estate's luxe touches.