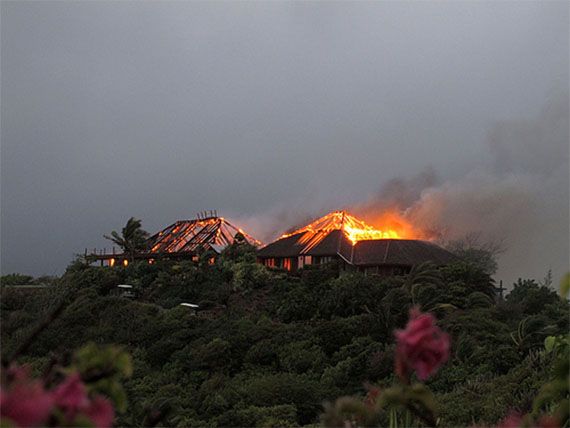 Photos Courtesy of Virgin
British billionaire Richard Branson and actress Kate Winslet barely escaped a fire at the businessman's private island on Monday. No one was injured in the blaze, but the nearly $100 million home on
Necker Island
is gone.


The house was struck by lightning on Monday morning as Hurricane Irene moved through the Caribbean. Kate Winslet, her two children and her boyfriend were among Sir Branson's approximately twenty VIP guests for the week, and in the scramble to get everyone to safety Ms. Winslet reportedly swept the tycoon's 90-year-old grandmother off her feet and carried her to safety.


Sir Richard Branson was staying in a villa about 100 yards from the Grand House, and upon seeing the flames engulfing the main building he leapt out of bed and ran to make sure everyone was safe— without getting dressed. Sir Branson says his son Sam was instrumental in rescuing the guest's from the fire, and was quoted in an interview with ITV saying of Ms. Winslet, "It was she who carried my mother out of the house. She said it was like being on a film set where you're waiting for the words 'cut'."

The Branson family is already reportedly moving forward with high spirits, and the patriarch is determined to rebuild the property. His impetus probably comes from the fact that his daughter, Holly, has scheduled her wedding to shipbroker Freddie Andrews for November 20 at the island, and the efficient entrepreneur is not known for canceling any sort of plans.

In the meantime, the Branson family and their celebrity guests are staying at the Balinese-style villas scattered around Necker Island while the tycoon draws up plans for the rebuild. Hurricane Irene continues to move toward the United States, and will likely be the first hurricane to make landfall there in three years.

Follow the story and send Sir Richard well wishes at his Virgin blog.