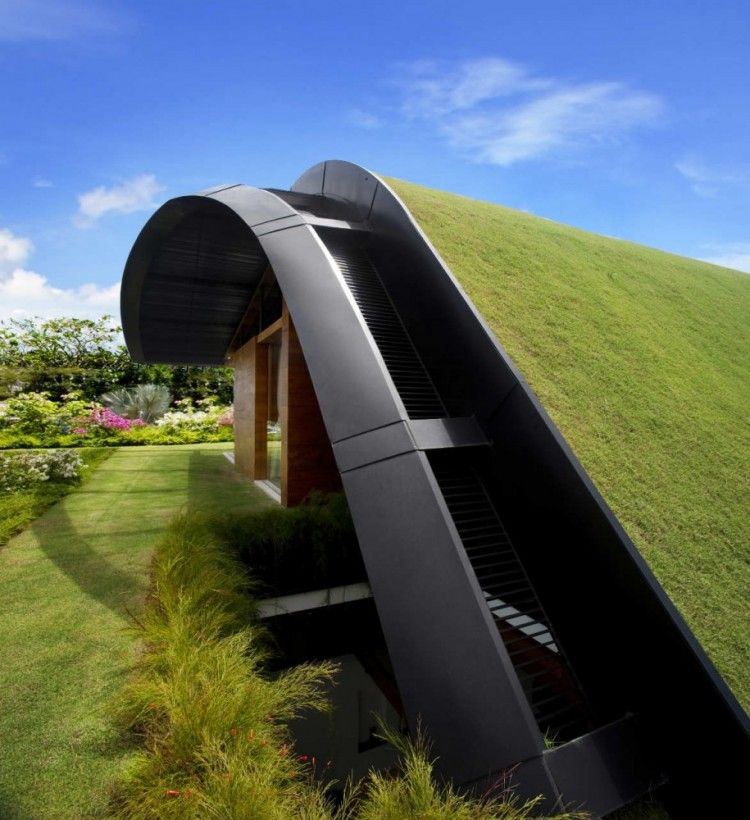 Photo Courtesy of Guz Architects
Meera Sky Garden House by Guz Architects is a beautiful, lush, eco-friendly house built on prime real estate on Sentosa Island, previously known as Palau Blakang Mati, in Singapore. The Meera Sky House truly looks like a garden house set in the sky. The sweeping grass roof overlooks a harbor and is set apart from other homes in the neighborhood with the help of a unique design and plenty of greenery behind the walls.
According to the Guz Architects website, "The large multi layered four storey house tries its best to break down the volume into human scale spaces with interaction with gardens and greenery at all levels."
Each floor of the house has a grass-covered roof, separating it from the floor above and below. The unique layout creates a feeling of each level being a structure complete unto itself, but are tied to the other levels with the greenery. The stories are connected on the inside by a vast spiral staircase that runs through the center of the house. Having a central staircase gives the home a feeling of openness, which is compounded by bright airy windows that let in sunlight and sea breezes.
Although the home is built on a plot of land meant for a typical single-family home, the use of the land integrated into the architectural design makes it look much larger. Using the philosophy of creating a seamless transition from man-made structure to nature, Guz Architects have created a house that is part of the hills. With integrated terraces and lush gardens, Meera Sky Garden House features the ultimate roof to sunbath on.
For more information visit
GuzArchitects.com
.