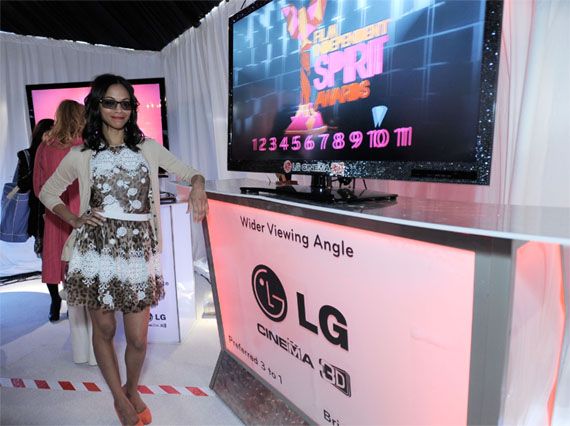 Plenty of celebrities braved the blustery winds at the beach this weekend in Santa Monica to attend the Independent Spirit Awards and snag some fabulous freebies made exclusive to them this
awards season
.
We went behind the scenes at the LG Cinema 3D HDTV Gift Lounge to see which gifts were snagged among the stars.


Naomi Watts, Nicole Kidman and Jane Lynch sidled up to the enormous LG Cinema televisions; as did Michelle Trachtenberg, Vanessa Hudgens and Gerard Butler, who all quickly donned Swarovski 3D glasses to check out the high-def picture and special effects.

Hilary Swank stayed nearby to tease Butler about his new accessories, while Rosario Dawson made a beeline for the TV screens as well, explaining that she's a die-hard gamer. "I can't wait to see what Spiderman looks like on this TV! It's kind of phenomenal," the actress, who wore Burberry and Brian Atwood shoes for the occasion, laughed. All of the celebrities will be sent an LG Cinema 3D television, the next generation in 3D TV.



Zoe Saldana, in Dolce and Gabbana, perused the offerings from sponsors including Pure Dark chocolate (Malin Akerman sampled the sweet stuff and confessed to being a chocaholic), New Balance (celebrity trainer Harley Pasternak accompanied the brand to inspire the stars with his fool-proof fitness tips), Crunch Gym (which offered stars a year membership and personal training session), Altoids and more. She also took home a few incredible goodies including an exclusive AMC signature pass, which entitles her and one guest to see movies for free for a full year!

Kate Walsh (who stayed close to Taye Diggs throughout the event) and Anne Heche were just a few of the leading ladies who picked out striped bikinis from Nautica, along
with cheery tote bags, umbrellas and beach coolers from Vera Bradley.

And finally, another popular hit among the stars: The Ritz-Carlton, of course! "The best gift here has got to be the two-night stay at the Ritz in Central Park. Romantic weekend in New York? Who's going to be the lucky guy?!" winked Erika Christensen.

All in all, no matter who won the awards, it was clearly a win-win situation for everyone in attendance.

Hilary Swank and Gerard Butler

Vanessa Hudgens and Malin Akerman