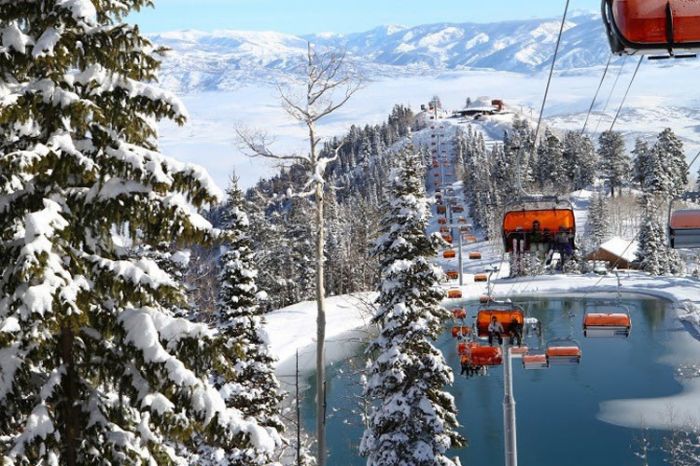 Photo Credit: Justin Olson
There's always news of some kind in Park City, Utah, even when there is no snow. But the most recent news took many by surprise. At the end of May this year, it was announced that
Vail Resorts
, one of the leading mountain resort operators in the United States, and publicly traded on the NYSE (NYSE:MTN) was taking over the operations of the well-run, hugely popular Canyons Ski Resort, beginning in June of this year.
Photo Courtesy of Beaver Creek
Further, it would be accomplished by Vail Resorts entering into a long-term lease, where the company assumed all the resort operations of Canyons while Talisker Corporation, the owner of Canyons, has retained its development rights for four million square feet of real estate at the resort.
Vail Resorts is no beginner at creating and maintaining compelling mountain ski resorts and exceptional experiences. They operate the mountain resorts of Vail, Beaver Creek, Breckenridge and Keystone in Colorado; Heavenly, Northstar and Kirkwood in the Lake Tahoe area of California and Nevada; Afton Alps in Minnesota and Mt. Brighton in Michigan; and the Grand Teton Lodge Company in Jackson Hole, Wyoming.
Photo Courtesy of Vail Resorts
The Company's subsidiary, RockResorts, a luxury resort hotel company, manages The RockResorts collection and includes One Ski Hill Place in Breckenridge, CO; The Osprey at Beaver Creek in Beaver Creek, CO; The Pines Lodge in Beaver Creek, CO; The Arrabelle at Vail Square in Vail Square, CO; The Lodge at Vail in Vail Village, CO; and Half Moon in Jamaica.
Last week we sat down with Blaise Carrig, President of Vail Resorts, to ask him about the transition—what it would mean in the long term for Canyons, and what new components would be added to make Canyons a more compelling, attractive resort, year-round.
Photo Courtesy of Canyons Resort
JustLuxe: Let us know about the transition from being a Canyons Resort to being a Canyons Vail resorts property. What differences will the guests see?
Blaise Carrig:
I have said this before, but it bears repeating: We have always seen Utah as the missing link in our properties. We have some glorious ones in Colorado, some in California, but none in Utah until now. We have always felt that Park City would be a perfect place for us. So when this opportunity came forth, we did not think twice. With Canyons, Talisker (the owner of Canyons) will be handling the real estate operations, while we focus our energies on the operations of the ski resort. It is not that we aren't interested in real estate; it is just that right now ski and snow are our priority.
We are in the early stages of creating a transition plan for the resort, but you probably won't see any real
observable
change in the next year or two. We do plan to have more and greater snowmaking machines, more on the service side, but you will see more than this as time goes by. But we are sure that many new guests will come because of the Epic Pass, as Canyons is now part of group of elite ski resorts.
Photo Courtesy of Vail Resorts
JL: And what is the Epic Pass?
BC:
Basically the Epic Pass is a seasonal ski pass that allows you to have unlimited access to Vail, Beaver Creek, Breckenridge, Keystone, Canyons, Heavenly, Northstar, Kirkwood, Afton Alps, Mt. Brighton, Arapahoe Basin, and Eldora with no blackout dates. It also includes five free days at Verbier, Switzerland and five free consecutive days at Arlberg, Austria. The Epic Pass spring price starts at $689 for adults and $359 for children (ages 5-12).
In addition, Vail Resorts is introducing the new Epic 4-Day for the 2013/2014 season at $349 (adults) and $199 (children ages 5-12). The pass allows holders to save up to 30 percent off lift tickets if they ski any four days of the season at Vail, Beaver Creek, Breckenridge, Keystone, Arapahoe Basin, Heavenly, Northstar or Kirkwood. It seems that children, especially, get a great deal on the Epic Pass!
Can you imagine that we have been challenged on lowering prices for children's passes? But we say, this is the way the kids get to know the brand, and when they grow up they will know us and ski with us. We have a long-term perspective. From a deeper, root systems perspective, we are happy to introduce our Epic Bass members from the States to the unbelievable skiing in Verbier and Arlberg.
Photo Courtesy of Canyons Resort
JL: Are the Verbier and Arlberg destinations new to the Vail Resort family?
BC:
They are new as of last year. Verbier has some of the best skiing in the world. Our Epic pass holders can ski at Les 4 Vallees, the largest ski area in Switzerland, and at Arlberg, in Austria. Arlberg is home to St. Anton, Lech-Zurs, St. Christoph and Stuben mountain ski resorts. We believe this will also allow international skiers to come to Colorado, California and of course Park City.
Photo Courtesy of Vail Resorts
JL: How do you see the future of Canyons with a Vail Resorts brand?
BC:
Canyons has 4,000 skiable acres, $75M of recent resort improvements, and is very close (within five minutes or so) to Park City. It is a perfect balance to our other significant mountain resorts. We do expect quite a number of new guests and skiers to Canyons this season, and we will be ready for whatever this and the next seasons bring.