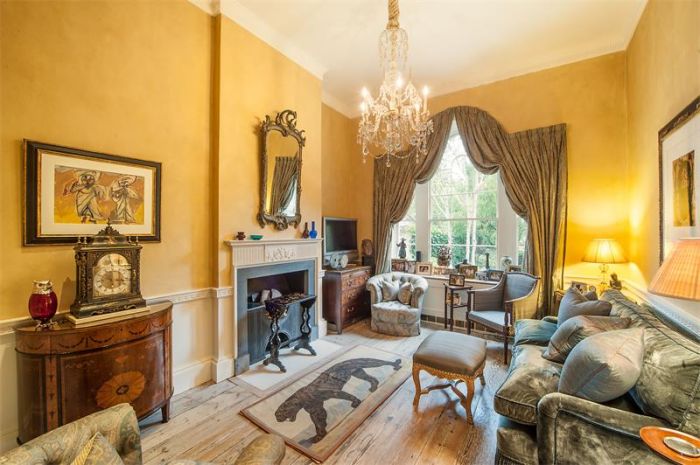 Belle Vue House, London; Photos Courtesy of Christie's
In January of last year, news broke that Japan's second richest man, Softbank chief Masayoshi Son, had paid $117.5 million for a nine-acre estate in Woodside, California. That set the tone for a booming luxury real estate market that lasted through all of 2013, according to a new report from Christie's International Real Estate called Luxury Defined: An Insight into the Luxury Residential Property Market.
In the report, the global leader in luxury home sales identifies the world's top 10 luxury markets — the only ones that really matter if you're talking real money. There were big increases in $1 million-plus transactions across the board, fueled by big-spending billionaires and tycoons like Mr. Son.
Luxury Defined is the result of the firm's in-depth analysis of key luxury markets and purchasing trends, focusing on the word's top 10 priciest sales locales: the Cote d'Azur, Hong Kong, London, Los Angeles, Miami, New York, Paris, San Francisco, Sydney, and Toronto. Basically if you don't live in one of those places, you're poor. Well, not quite, but pretty close. Using their patented Christie's International Real Estate Index, markets were ranked using specific data, including record sales price, prices per square foot, percentage of non-local and international purchasers, and the number of luxury listings relative to population.
London topped this year's Index, with a US$101.5 million top sale and average luxury home sale prices of $4,683 per square foot. New York and Los Angeles ranked second and third, respectively, with Hong Kong coming in fourth place. According to the report, the "entry point" for the luxury housing market ranges from $3 million in San Francisco to a whopping $7 million in London, the world's most expensive city by far.
"With more millionaires and billionaires in the world than ever before, pent-up demand and increasing consumer confidence, luxury real estate sales surged in 2013 around the world," says Bonnie Stone Sellers, Chief Executive Officer of Christie's International Real Estate. "Strong momentum in the global international luxury housing market was led by cities such as San Francisco, New York, and London, which saw year-over-year increases of 62 percent, 22 percent, and 20 percent respectively, in the total number of US$1 million property sales."