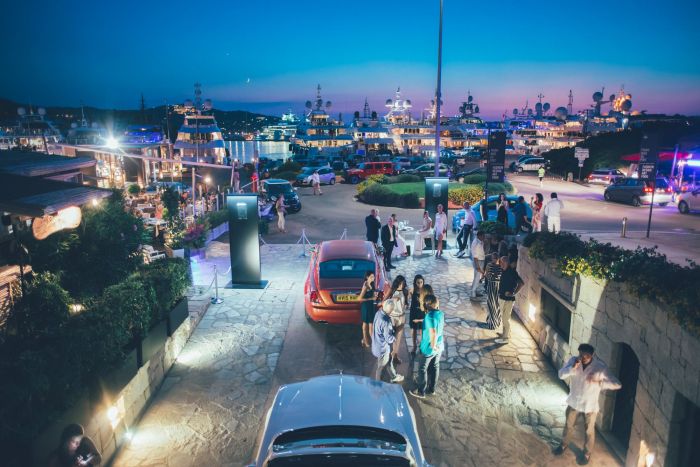 Photo Credit: Rolls-Royce
Each year, as the hotter months roll around to awaken the European joie de vivre, thousands of wealthy tourists flock to idyllic destinations across the continent to shop and sunbathe. Few though, are more coveted, opulent and glamorous than the exclusive enclave of Porto Cervo. Tucked into the spectacular coastline of Italy's Sardinia and home to billion-dollar superyachts each year, Porto Cervo is a pretty sought-after spot. As Engel & Volkers listings show, it's generally priced at €300,000 per square meter (approximately $30,454 USD per square foot), making the city one of the most expensive locations in Europe for real estate, retail and relaxation.
While several luxury brands—from Bulgari and Dolce & Gabbana to Prada and Cartier—have already recognized Porto Cervo's lucrative pool of wealthy consumers and staked their claim with permanent boutiques, many others tested the waters this past summer via innovative pop-ups. The shops offered the elite buyer an intensely curated, if fleeting, taste of what their brand experience has to offer.
Here are six that stood out this season:
Photo Credit: Bugatti
Bugatti
Bugatti joined Rolls-Royce on the luxury automotive scene at Porto Cervo with its branded Lifestyle Boutique in Harrods Village. The sports car marque welcomed guests to its temporary summer quarters with a showcase of branded Bugatti apparel and accessories. An exclusive line of watches, produced in collaboration with Parmigiani Fleurier, was also on show for privileged passers-by. The main attraction came in the form of two Bugatti Veyron 16.4 Grand Sport Vitesse models, which is considered to be the fastest roadster in the world, having reportedly reached over 250mph.
Photo Credit: Chopard
Chopard
Chopard inaugurated its seasonal boutique last month, located on Piazzetta Porto Cervo in the heart of the Costa Smeralda. British singer Robbie Williams, who was passing through during his Let Me Entertain You tour, joined Chopard's Co-President and Artistic Director Caroline Scheufele for the ribbon cutting.
The temporary Chopard residence showcased an opulent mix of exposed brick, wood, lavish leather and precious silk interiors, dotted with typical Sardinian furniture with ocean-inspired colors. Within its walls, Chopard customers were offered a warm and relaxed atmosphere to experience the brand's most prestigious creations, including the new Haute Joaillerie Capsule Collection Fleurs d'Opales.
Photo Credit: Cipriani
Cipriani
With a reputation for muted luxury and a posh following, restaurant chain Cipriani came out this summer with a pop-up dining space inside Billionaire, Porto Cervo's premiere nightclub venue. The restaurant came to life in its new location, amongst an opulent indoor/outdoor dining room of terrazzo tiles piled with oriental rugs and a funky collection of slip-covered regency furnishings.
"For many, it's the most expensive meal they will ever eat," boasted the restaurant boasts. To set the scene, the gastronomy on offer was brought to guests via a two-page long, leather-bound menu with fine grain paper. Selections included a lengthy appetizer selection of fresh crab claws, steak tartare and seafood salad with grilled octopus; a pasta selection of delicate raviolis, lobster penne and stuffed cannelloni; and mains including grilled whitefish or fluffy chicken scaloppini served with button mushrooms.
Photo Credit: PRNewsFotoHUBLOT
Hublot
From dining to entertainment, Swiss luxury timepiece brand Hublot invited 50 of its top press contacts and clients to a private, improvised concert by its brand ambassador and internationally-renowned pianist prodigy Lang Lang. Taking a break from his world tour of over 80 dates, Lang Lang gave two surprise concerts in temporary summer sites, including the new Hublot pop-up that was built within the Harrods Prestige Village.
A private yacht ferried the artist to the event as he ceremoniously declared the Hublot pop-up open before taking the stage. Canapés and Champagne flowed throughout the event, with guests invited to peruse the pop-up after the performance and before a private dinner hosted nearby at Finger's restaurant.
Photo Credit: Rolls-Royce
Rolls-Royce
Located in the heart of Porto Cervo, the Rolls-Royce Summer Studio joined other super luxury brands on the waterfront Promenade du Port during the summer for the second consecutive year. As part of its pop-up offer, the brand provided its select clientele an insight into its iconic marque amidst an exclusive showcase of its Porto Cervo Wraith edition—just one of three to be built—along with its latest Ghost and Phantom models.
Guests were offered the opportunity to learn about the cars through static displays whilst enjoying its bespoke Fendi Casa lounge. They also had the option to arrange private appointments or test drive the vehicles on the winding roads of the Costa Smeralda.
Photo Credit: luis abrantes/Shutterstock.com
Harrods
Last, but not least, is the impressive undertaking by Harrods and its Prestige Village Porto Cervo offering, which actually housed some of the aforementioned pop-ups. Fashioned as a "real and appropriate model village with recreational spaces and exhibitions," internal green gardens were traversed by wooden paths and dotted with 22 commercial offerings related to artisanship, exclusivity and luxury.
Bringing a touch of elegance to the department store, one-stop-shop vibe, the famous London brand hosted the village for the third consecutive summer this year across a renewed layout of 64,580 square feet, showcasing luxury brands such as Bugatti, Maserati, Audi, Richard Mille watches, De Grisogono jewels, and clothing brands like Just Cavalli and Maurizia Bijoux.