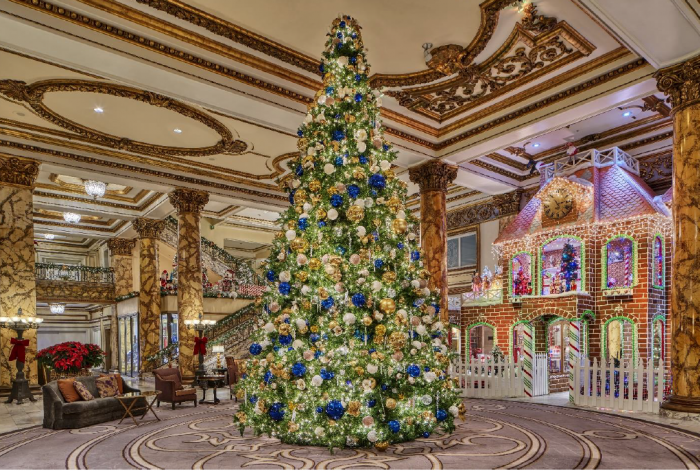 Fairmont San Francisco
Chef Michael Quigley took on the task of building a life size two-story Gingerbread House where visitors and guests staying at the Fairmont San Francisco can walk through and also dine inside.
The enormous Gingerbread House is adorned with hundreds of pounds of See's Candies. According to Quigley he has to replace many pieces of the house each day, as visitors are too tempted to pluck a sweet from the house to enjoy. "Even though the exterior is edible, I don't recommend people doing this, as hundreds of people walk through the house each day," said Quigley.
During a virtual interview Quigley shared that the bricks are made with flour, brown sugar and molasses. "The smell of the bricks is incredible," said Quigley. "A train runs through the rooms and one can see Santa is up in the chimney and some of his elves pop-up." Kids can write letters at the "North Pole Nook" all season long.
Since there is such a demand to see this holiday wonderland, in the spirit of the season, an entrance fee of $10.00 per adult (children free with adult) will be collected from non-hotel guests to admire the festive décor and one-of-a-kind house. The net proceeds from entrance fees will be donated to Make-A-Wish Greater Bay Area.
A seasonal Moët Champagne bar is open and the holiday tea is Thursdays through Sundays with seatings at 1 p.m. and 3 p.m., and daily one week before and after Christmas. It's a holiday tradition since 1907, with polished silverware, fine china and Victorian accouterments. The honey they serve with the afternoon tea is from the honey farmed up on the roof of the hotel.
The ultimate holiday experience is staying in one of Santa's Suites. Reserve one of these festively decorated rooms now through Jan. 3, 2022, and stay in a family-friendly, luxury suite decked out in Santa inspired decor. Guests will receive breakfast for up to four people, and enjoy Santa's 'Candy and Hot Chocolate Bar' with adult beverage options too. Also included in a DIY Gingerbread house kit, one complimentary holiday classic movie and overnight parking. Reservations can be made here.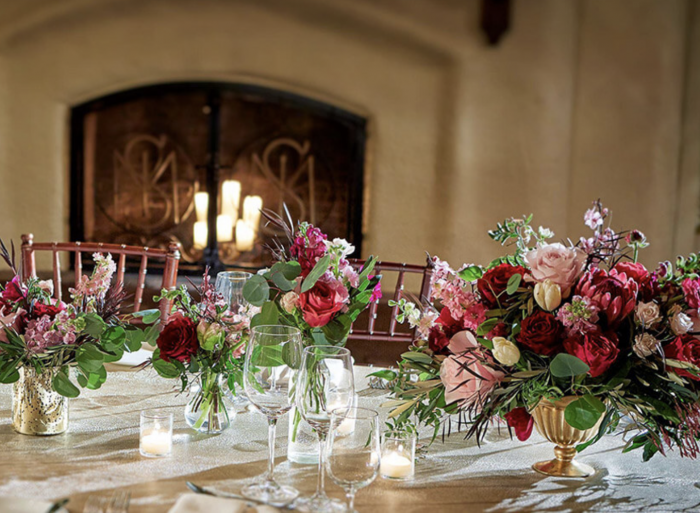 Fairmont Sonoma Mission Inn
Tis the season at the Fairmont Sonoma Mission Inn with wine country inspired holiday festivities, special entertainment, meals, and overnight packages. The Fairmont Sonoma Mission Inn offers one of the finest European spa experiences for guests looking forward to soaking in warm natural minerals waters. Live entertainment is every Friday and Saturday evening featuring a local musician such as Clay Bell, Stewart Degner or Michael Ahern.
Between now and January 11, 2022, the hotel will donate $10 from each guests night stay to a local charity. Book a stay at and enjoy 10% off the daily rate, as well as a $25 hotel credit per stay.
A Sonoma Christmas Dinner will be presented at Santé, the hotel's restaurant. Christmas supper is served 1pm - 7pm, and a children's menu is also available. Sommelier, Brian Casey has some special wine pairings planned for this special dinner prepared by Executive Chef Jared Reeves and his team. Caviar, champagne and other decadent fares will be featured on the Christmas and NYE menus.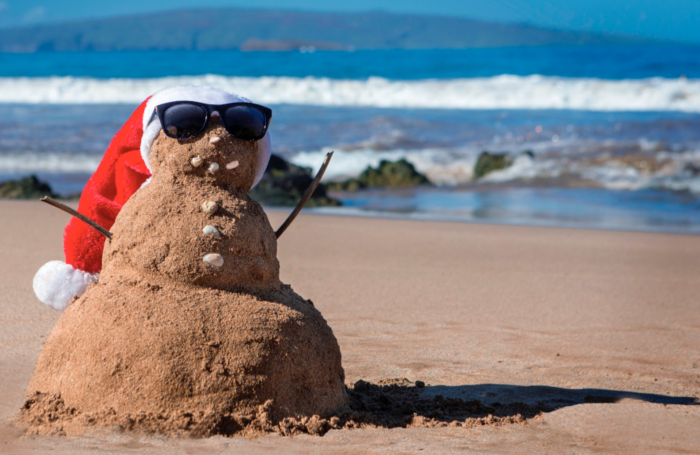 Fairmont Kea Lani
The Fairmont Kea Lani Maui offers a Hawaiian holiday for guests with decorated trees, authentic Hawaiian cultural activities, artist markets and trunk shows, and Santa's arrival by outrigger canoe on Christmas Eve.
Executive Chef Jonathan Pasion is back at Ko Restaurant preparing holiday items influenced in Hawaiian Culture made with Maui-grown produce, fresh-baked pastries and breads, and seasonal specials. Chef Jonathan prepares many dishes using Pacific Hawaii gourmet sea salts that are hand harvested and blended in Molokai. There are 10-mineral-rich sea salts he uses that include black lava, white coral and red alaea. He also likes to use Hawaiian Macadamia Nut premium cooking oil for its high heat tolerance, nutty flavor and richness in Omega 7.
The resort continues efforts in building a visitor-supported conservation program called Rooted In Aloha - A Reforestation Initiative. In partnership with Skyline Conservation, they are helping to restore Maui's native forests on the slopes of Haleakala. Through education, fundraising and voluntourism, the new on-property native forest displays educate hotel guests and visitors about Hawaii. Guests can help sponsor a tree starting with seedlings that will be nurtured in the resort's greenhouse. Once it grows into a small tree, it will be planted on Haleakala.
Guests can also learn about the cute red IIWI bird. It's a Hawaiian honeycreeper that is rapidly declining and facing the risk of extinction. Purchasing a stuffed bird that makes its natural sound, will have the proceeds benefit its conservation, habitat management and recovery on Maui, Hawaii.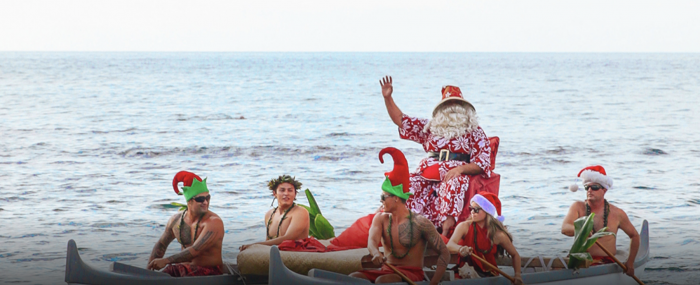 Fairmont Orchid
Forget the ski boots and wear flip flops this Christmas while staying at the Fairmont Orchid on the Big Island of Hawaii. The swaying palm trees dazzle with glittering lights in a lush tropical setting. Families ('ohana in Hawaiian) can build a Hawaiian gingerbread hut, make petroglyph lava etchings and watch hula dancers sway to live Hawaiian music in the courtyard.
Families can turn a Hawaiian pineapple into a festive tree for their room and learn how to create and decorate their own Hawaiian horn to bring to the nightly torch lighting at sunset.
Brown's Beach House is preparing special holiday menus with a festive, gourmet twist on fresh seafood, pasture-raised meats and island-grown ingredients. A special four-course dinner menu will be presented on Christmas Day and New Year's Eve.