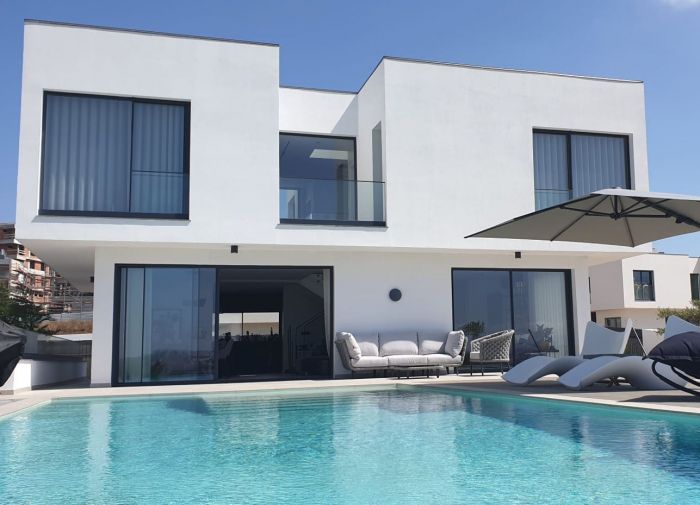 JPS GROUP, one of the largest real estate developers in Portugal, wins the international award "Luxury Lifestyle Awards 2022" in four notable categories "Best Luxury Real Estate Developer in Portugal", and the SKYCITY development "Best Luxury Residential Development", "Best Luxury Apartment Living" and "Best Luxury Sustainable Residential Development". These awards aim to recognize excellence across the industry and maintain the highest standards in the real estate industry worldwide.
The Luxury Lifestyle Awards organizing committee, after a research and selection process, distinguished JPS GROUP as "one of the best promoters in the real estate market in Portugal" and recognized its "impeccable reputation" and "professional performance" in this market. According to the jury of this international award, JPS GROUP achieved an impressive result by winning four awards and now sees its work recognized.
The SKYCITY development, is one of JPS GROUP's large-scale projects under construction in Portugal, was distinguished by the jury of this award in 3 notable categories. Developed on a concept of excellence, SKYCITY proposes the integration of architecture and design in nature as a line of force that presides over its strategic design.
Located in Serra de Carnaxide, the SKYCITY development is composed of (47 Detached Houses, 50 Townhouses, 16 Semi-Detached Houses, 250 Apartments, and 24 commercial spaces) which were carefully implemented to take full advantage of the landscape, the river, and the mountains. With highly competitive prices, unique acquisition conditions, and an environment that contemplates the river and the mountains without ever moving away from the prime region of Lisbon, SKYCITY is a luxury condominium fitted with all the necessary amenities.
"We couldn't be more proud to have been selected for not only one but four Luxury Lifestyle Awards 2022. The JPS GROUP team has devoted itself to SKYCITY, despite all the adversities we face, including the pandemic, among other issues, and we have paid attention to every detail to make SKYCITY the prestigious development that becomes. Thank you to the experts at the Luxury Lifestyle Awards for recognizing us for the great effort and dedication that we put into this project, as well as to JPS Group as a whole," says Dr. João Sousa, Chairman of the Board of Directors.
For more information about the SKYCITY development, please visit the website https://www.skycity.pt/
About Luxury Lifestyle Awards
Luxury Lifestyle Awards is a global award selecting, recognizing, celebrating and promoting the best luxury goods and services all over the world. The goal of the company is to connect people with the best of luxury. LLA has evaluated more than 10 000 various goods and services in 400 categories from 60 countries and analyzed the results to give you a TOP list of the best of the best in the world. Such world-renowned brands as Chanel, Dom Perignon, and Ferrari were proudly named winners. The victory brings companies status and recognition, global promotion and exposure to an entirely new market of customers. For more information, please visit: https://luxurylifestyleawards.com/ Like us on Facebook: https://www.facebook.com/LuxuryLifestyleAwards/ Join us on Instagram: https://www.instagram.com/luxurylifestyleawards/
About JPS GROUP
JPS GROUP is a Portuguese real estate developer whose mission is to create new housing solutions. It selects the best businesses and develops its own projects, from the business plan to the construction and commercialization of properties. Since its establishment, JPS GROUP has developed more than 300.000 sqm in projects, which represents more than 1550 properties, and a general sales volume upwards of 600 million euros. JPS GROUP is more than a real estate developer. It's a unique brand with unique projects, which anticipates trends, and always offers the best ratio price/quality. It will also launch in 2022 an extraordinary project with more than 1200 apartments and villas. For more information, please visit: https://www.jpsgroup.pt/ Like us on Facebook: https://www.facebook.com/empresajpsgroup Join us on Instagram: https://www.instagram.com/jps.group/