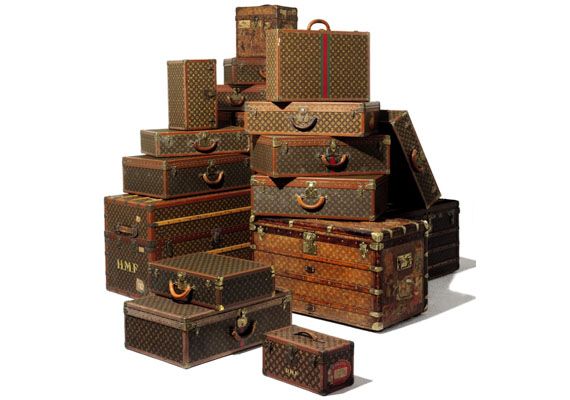 News & Trends:
On September 28th Christie's in
London
will offer an incredible collection of vintage Louis Vuitton luggage during its Interiors: Style & Spirit sale. Over 20 original pieces from the famed French luxury goods house dating from the late 19th century to the 1940s will go on the block, including perfectly patinated suitcases, cabin trunks, small trunks, hat boxes and vanity cases. Each timelessly luxurious item tells a different story, with many still sporting vintage travel labels from trips with their original owners on steamships and to
exotic locales
, while others feature hand-painted monograms and colorful custom stripes.
The latter are the original inspiration for the Mon Monogram personalization program recently re-introduced by Vuitton, harking back to the golden age of travel when aristocrats, sporting gentlemen and military officers would have their custom-made luggage emblazoned with their monogram, emblem, racing or regimental colors. With an inviting estimate range of £400 for smaller cases to £6,000 (about $9,000) for the steamer trunks along with favorable exchange rates, this is a perfect opportunity to add to or begin that vintage luggage collection and recapture the glamour and decadence of a bygone era when journeying to a foreign land involved adventure, romance and style.