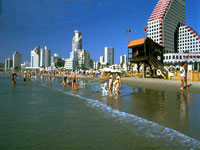 Tel Aviv Nightlife
Tel Aviv is the irrepressible social hub of Israel, and has a great selection of trendy bars, grinding clubs and pubs with enough loud music, dancing and merriment to keep any party person happy.
During the summer months, kick things off with sundowners at one of the many beach bars, such as the popular Jerusalem Beach or Banana Beach. The nightlife in Tel Aviv doesn''t usually get going until around 11pm, so it''s best to ease into the swing of things by going out for dinner before hitting the bars and clubs. Even on Friday nights during Shabbat the locals go wild, while Thursday nights are another big night out.
Clubs and bars are constantly changing, but the main areas stay the same. Allenby Street is a good place to start, with over 20 clubs centred round the small area offering house, disco, funk and techno music. The Tel Aviv port and Rotschild Blvd. areas are popular too, with clubs such as TLV; while those looking for a gay scene, should head to Vox or to the trendy Florentin district. Expect traffic jams at 2am, as this city that never sleeps is capable of keeping you up way past dawn.