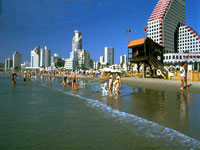 Best Restaurants in Tel Aviv
Tel Aviv has an incredible range of restaurants, guaranteed to satisfy every traveller''s mood, taste buds and budget.
Fast food in Tel Aviv (usually falafel with humus) is uncommonly healthy, and there are snack shops and small take-away eateries located on basically every street corner. Be sure to try Abu-Hassan (in Jaffa) and The Syrian (near the Carmel Market) - locals are divided on which of these two establishments is the best.
For classier evenings out, Tel Aviv has a wealth of local and international cuisine restaurants - far too many to provide a comprehensive list. Pizza Fino serves highly-rated kosher pizza, while Raphael Restau-Bistro is a chic little place specialising in Moroccan food. Onami makes the best Asian food in Tel Aviv (try their tofu dishes!), while the Yoezer Wine Bar offers a gourmet French and Italian selection.