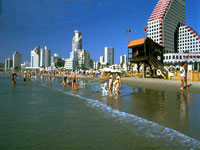 Tel Aviv Shopping
Tel Aviv undoubtedly offers the best shopping options for tourists to Israel. Whether you''re looking for speciality items, high fashion, or some authentic Israeli souvenirs, you are bound to find what you''re looking for in Tel Aviv.
There are three main types of shopping experience to be had in Tel Aviv. Firstly (and most memorably), are the city''s wonderful, colourful market-places (shuks). These open-air markets bustle from dawn to dusk and - over and above the exciting things to buy from their noisy vendors - are tourist attractions in themselves, giving visitors a real taste of the Middle East. The biggest and busiest market is the Carmel Market (near Allenby Street), but the Flea Market (Rabi Nachman Street) is a great place for antique-hunters, and the Levinsky Market (on Levinsky Street) is the place to go for dried foods and spices.
Tel Aviv also has a fast-growing shopping mall culture, and if you''re looking for international brands these establishments are probably a good place to start. Even if you''re not a mall person back home, you might find yourself enjoying the air-conditioned interiors of these places more than the shopping that''s on offer! The biggest and best shopping malls in Tel Aviv are Azriely, the Dizengoff Centre and Gan Ha''ir - all located near the city centre.
Tel Aviv also has a few remaining speciality shopping streets. For those seeking fashion deals, Dizengoff Street is a must (and particularly, the second-hand clothing store Daffodil 11); while those after arts, crafts, jewellery and Judaica products should head to Gordon Street. Finally, haute couture junkies should try coincide their visit to Tel Aviv with the City Designers'' Market, where twice a year (in February and August) the city''s top designers present their latest creations to the admiring public.