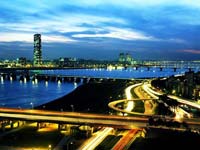 Seoul Kids Attractions
Many people may not think there is much to do in Seoul for children on holiday, but look a little closer and you''ll discover that there is actually a surprising amount of fun activities and attractions for kids to enjoy.
Head to the Samsung Children''s Museum which will educate and captivate young minds, or the IMAX Cinema or the Aquarium which are both located close to the Grand Hilton Hotel. Lotte World Adventure Amusement Park will keep the kids entertained indoors and out, making it an ideal attraction during the summer and winter months. Renowned as the world''s largest indoor theme park, kids will love the carnival shows, rides, roller coasters, folk museum and ice rink.
Head to Seonyudo Islet, an island park on the Han River for a day of fresh air, picnics and playing games in the sun, and it even features a small playground for kids to enjoy. Grand Park in Neung-dong is worth a visit for families with children as it features a multitude of attractions including a zoo, an aviary, a circus, elephant rides, a giant greenhouse and even a small amusement park with rides which will delight younger children, but older kids will find these a bit tame.