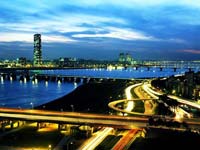 Seoul Overview
Encircled by mountains, containing a population of 10-million, and with more than a million registered motor vehicles inching through its congested streets, one would imagine the metropolis of Seoul, capital of South Korea, to be a polluted nightmare. The city fathers, however, have made a concerted effort in recent years to clean and green this thriving, prosperous city, also ensuring that the mushrooming of gleaming skyscrapers has not meant the neglect or destruction of centuries-old palaces and shrines. The result is a bustling, but organised, city filled with fascination, where old and new co-exist happily.
A great deal of the credit for the well-ordered urban planning of Seoul can be given to the ancient Joseon Dynasty, which used great foresight when crafting the city into a capital way back in the 14th century.
The old Joseon Dynasty city with its central main palace is now the traditional downtown heart of Seoul where many of the most popular sights, hotels and markets are to be found. One of the most popular areas for visitors to explore is Insa-dong, filled with antique shops, art galleries, traditional teahouses, restaurants and bookshops.
Across the Han River the modern city is dominated by Korea's World Trade Centre, and the Coex Mall, a shopper's delight. Even the island, Yeouido, in the middle of the Han River is densely packed with high-rise buildings; this is also the base for the Korean National Assembly, and the world's biggest Presbyterian church.
Interspersed through the urban landscape are several lush, green parks, the most central being Namsan Park, encompassing the mountain of the same name just to the south of downtown Seoul. Namsan Park is also home to the iconic Seoul Tower, which offers spectacular 360 degree views of the city and surrounding countryside.
Nightlife in Seoul is lively and legendary with something to suit all tastes, from a 'booze-cruise' through the raunchy red light district of Itaewon, or a sedate sit-down at a traditional teahouse. Eating out, too, is a feast for the senses in Seoul, with an enormous international variety to choose from, whether it is succulent steak, perfect pizza, multi-course gourmet, tasty tandoori or even perhaps classic Korean.