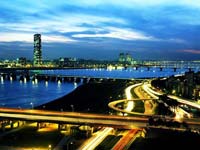 Seoul Shopping
Shopping in Seoul is an interesting and sometimes chaotic experience; a vast selection of products, busy shopping areas and communication barriers all offer beguiling challenges. There are, however, many bargains and treasures that make it worthwhile. Most shops stay open till 10pm and some markets are open 24 hours, giving shoppers ample time to spend their money!
Myong Dong, the most popular shopping district, is home to sports and fashion shops offering cheap and trendy clothes for young people. In Tongdaemun, Doota sells cheap beads, accessories and shoes, as well as every imaginable type of fabric for homes. Second-hand goods such as televisions, CDs, clothing and shoes are available from the Hwanghak-dong Flea Market. Chang-anp''yong Antique Market treasures include paintings, calligraphy and old chests, as well as stone and ceramic artefacts. Also in the Myong Dong area, are Seoul''s ''Big Three'' department stores: Shinsegae, Lotte and Hyundai. These dazzling shopping emporiums stock everything under the sun, from cheap electronics to high-end fashion, and all feature labyrinthine grocery sections and popular food courts.
The Itaewon area has shops selling discounted designer clothes from brands such as DKNY, Nike and Adidas; stalls on the street sell hats and fake designer handbags. Apkujong has upscale department stores and boutiques, as well as the Kangnam underground shopping mall. Prada, Gucci, Armani, Stella McCartney and the Galleria are also found here. Counterfeit goods are illegal and may be confiscated at home. Tax-free shopping is advertised where applicable.