By Jared Paul Stern Mar. 26th, 2014
Bostonians and Beantown fans alike will have something to look forward to this summer when The Verb opens its doors near the iconic Fenway Park. The cool boutique hotel mixes classic mid-century modern motel style with the rich musical and artistic roots of the Fenway neighborhood. The 94-room property is being built on Boylston Street on the former Fenway Motor Hotel site that originally opened in 1959.
This marks the first hotel for Samuels & Associates—who are credited with many of Fenway's coolest residential, retail and commercial spaces—and was developed in partnership with Weiner Ventures and Spot-On Ventures, the developers of the Mandarin Oriental Boston.
Each of the property's rooms and public spaces will tell a unique story via rare music and pop-culture memorabilia from Boston's heritage. The collection will be curated by the longtime Director of Special Projects for the Phoenix Media Group, which recorded many of the seminal moments in the Boston rock scene. An outdoor pool with a great bar will anchor the Verb's entertaining spaces.
"We saw a real opportunity to create something unique in this space, while respecting the independent spirit of the local community, building on the arts culture in Fenway and delivering real hospitality in a world that moves too fast," says Steve Samuels, Chairman and Principal of Samuels & Associates. "The Verb will be a distinctive destination and experience for locals, tourists and business travelers alike."
"The Verb reflects the energy, music and attitude that are at the heart of the Fenway neighborhood," notes the hotel's General Manager, Anna Gaffney. "The Verb's place in history, its experiences and subsequent stories to tell, make this a spot like no other." Reservations for the summer season will be taken starting April 1.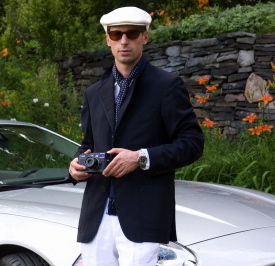 Jared Paul Stern
Jared Paul Stern, JustLuxe's Editor-at-Large, is the Executive Editor of Maxim magazine and has written for the Wall Street Journal, New York Times, the New York Times' T magazine, GQ, WWD, Vogue, New York magazine, Details, Hamptons magazine, Playboy, BlackBook, the New York Post, Man of the World, and Bergdorf Goodman magazine among others. The founding editor of the Page Six magazine, he has al...(Read More)