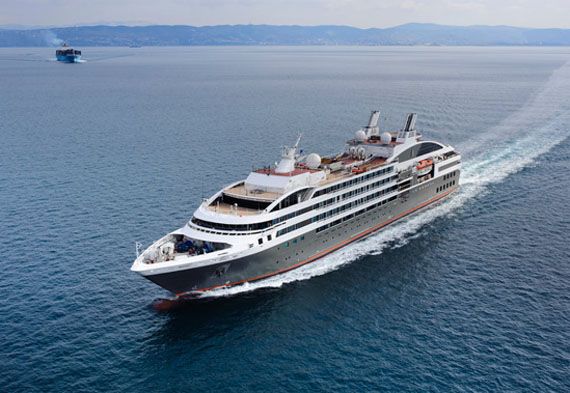 Photo Credit: Compagnie du Ponant/François Lefebvre
In the small-ship specialized cruise niche, French cruise line Compagnie du Ponant is setting quite the creative bar this year. Its "Gastronomy: Coté Ouest" sailings will feature four
Michelin-starred culinary talents
, while its "Et Vogue L'Opera" 12-day cruise will showcase a host of notable European talent including returning Artistic & Stage Director Jean-Francois Vinciguerra.
While the
luxury cruise
company is strong in its island itineraries, offering two South Pacific cruises this year and 17 Caribbean itineraries including the improbably named "Fort-de-France," it is the European cultural cruises that truly showcase the curators' expertise. They are perfect experiential pairings of classic European locations with classic European artistry.

In the "Et Vogue L'Opera" sailing which departs May 10, the 12-day route takes passengers from Suez to Venice, with lectures, workshops and events entertaining and educating them all the way across the sea. Stops include Beirut, Rhodes, Dubrovnik and the Dalmatian Islands. Traveling aboard the company's newest megayacht, they'll enjoy days of historic sightseeing and nights of classical music and dance. People can also opt to book just the first half of the cruise (Suez to Itea), or just the second (Itea to Venice).
The Gastronomy cruise is a five-night experience celebrating the 100th issue of luxury French publication
Maisons Coté Ouest.
The company is exquisite, for those who enjoy epicureans: In addition to Michelin-starred Chefs Jacques Marcon, Phillippe Joannes and Jean-Marc Delacourt, onboard experts include the editorial staff of
Maisons Coté Ouest
. Aboard luxury superyacht
Le Boreal
, passengers will travel to Ostend, Belgium (and from there daytrip to the medieval city of Bruges), to Amsterdam in Holland; and to Hamburg, Germany.
All Compagnie du Ponant prices include full board: all meals (restaurants and 24-hour room service), wine and beer, plus special cocktail parties, a Captain's welcome party, and the many events and shows that define these themed cruises. Sailings in May, 2012. Visit
Ponant.com
to learn more.