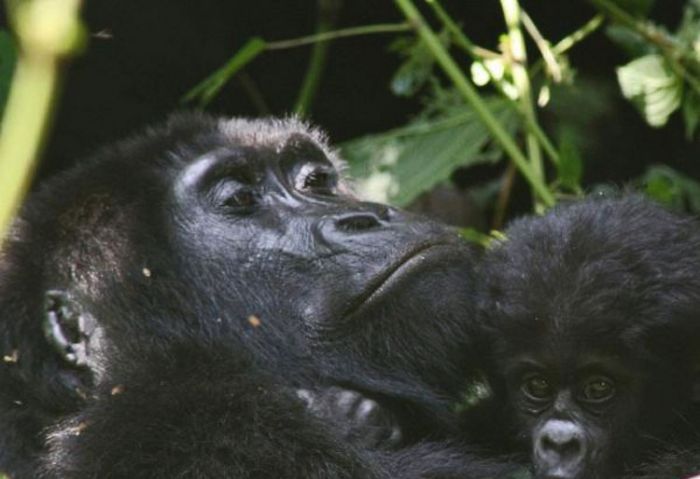 Photo Courtesy of Crystal Cruises
Imagine for a minute staring into the eyes of a 500-pound silverback mountain gorilla. Got it? That image is part of what's in store for vacationers that go on Crystal Cruises' newest Overland Adventure: Bwindi Forest Gorilla Tracking Experience.
Gorilla tracking is the latest extreme escapade added to the docket of unforgettable journeys offered by the Japanese luxury cruise line. The five-day itineraries are an "ultimate bucket-list trip," according to staffers at Crystal Cruises. It is a trip that very few people will get to experience, as only a handful of guests will ever get to see these mountain gorillas up close and personal. The special tour is only available to guests that sail on either the 18-day voyage from Singapore to Cape Town, or on the 21-day-trip from Cape Town to London.
Photo Courtesy of Shutterstock
"This excursion allows guests to enjoy the ruggedly beautiful simplicity of nature in comfort and ultra-luxury," says John Stoll, VP of land programs. "Although one of the most remote in all of Africa, our camp has a spa, plus private tubs and decks overlooking the forest. But it pales in comparison to the opportunity to trek through Africa's densest rainforest, deep valleys, and mountain waterfalls to encounter one of the planet's most remarkable, nearly-extinct creatures in its natural habitat."
Photo Courtesy of Pal Teravagimov/Shutterstock
For two of the five-day voyages, guests will travel to the UNESCO World-Heritage classified Bwindi Impenetrable National Park and personally experience encounters with the rare gorillas. The fortunate few will travel deep into Uganda and then reconnect with their ship in Cape Town. The five-day excursions include two nights at The Lake Victoria Serena Resort and three nights at the silver-service Sanctuary Gorilla Camp. The Bwindi Forest Gorilla Tracking Experience starts at $11,676 per person.