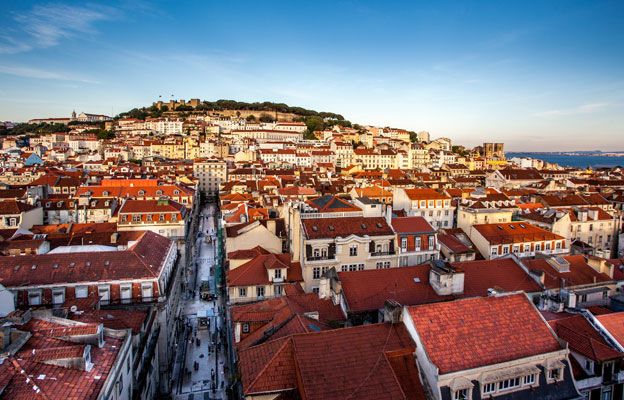 Photos Credit: Tom Harper River Journeys
I'll be the first to admit that cruises typically aren't my thing; but this 12-day, 11-night Douro River of Portugal getaway has my attention. I could say that it's because of its interesting shore excursions or that the allure of Portugal drew me in, but let's be honest, it's because of HRH The Queen of England. Why you ask? Just take a gander at her in the below picture when two years ago, everyone's favorite long-living royal put her stamp of approval on the vessel, all the while dressed like vanilla soft serve (also a favorite).
In 2012, during the Thames Diamond Jubilee Pageant, the Queen chose Tom Harper's Spirit of Chartwell to lead the procession. That same ship is being used for the Douro River cruise (and who doesn't want to feel like royalty?). The 28-passenger ship, now dubbed the Royal Barge, will make stops in a number of destinations such as Salamanca, Coimbra, Regua and Entre-os-Rios.
Before embarking on the cruise, you'll spend two nights at Sofitel Lisbon Liberdade, Design Hotel Teatro, or Hotel Melia Madeira Mare before transferring to Porto and touring Coimbra. Along the journey, visit vineyards and ancient villages while learning about the country's culture and history through breathtaking architecture, natural scenery, and some of the finest food and wines in the world.
"A long-standing mecca for wine lovers, there are plenty of riverside wine caves to be sampled, along with shopping, galleries, museums, historic sites, and wonderful cafés," said Gordon. "The Douro River Valley may just be Europe's best kept secret, but won't be for much longer."
Highlights:
Dining at the 14th century Alpendurada Monastery
Touring the Palacio de Mateus manor house in Vila Real
Visiting the Douro Museum
Dining at a 17th century mansion in Pinhão
Sightseeing in Castelo Rodrigo
Discovering Salamanca University (UNESCO Heritage Site)
Witnessing the famous Bom Jesus Sanctuary
Learning the wine making process at a quinta, a traditional Portuguese vineyard
Decorated with a chocolate and cream color scheme, The Spirit of Chartwell has 14 cabins and one Royal Suite. All cabins are 176 square feet and come with twin beds, an en suite bathroom, writing desk and a double wardrobe. The suite was home to the Queen during the pageant and comes with rich hardwood finishes, a queen-sized bed (obviously), a seating area, and en suite facilities with a power shower.
"The Spirit of Chartwell combines state-of-the-art comfort with lovingly restored antique touches inspired by the Rene Lalique 1929 Pullman car 'Cote 'd'Azur'," said Tom Harper River Journeys CEO Bret Gordon. "Elegant and filled with genuine pieces from historic ocean liners, this ship was designed and built for the Queen of England to lead the Thames Diamond Jubilee Pageant in 2012".
The cruise sets off on either October 15 or October 22 and currently, only the Royal Suite is left for the first departure. However, the suite is booked for the second set of dates. Rates start at $4,799 (only one left at this price) and travelers can choose to add all-inclusive international airfare and transfers to their reservation.