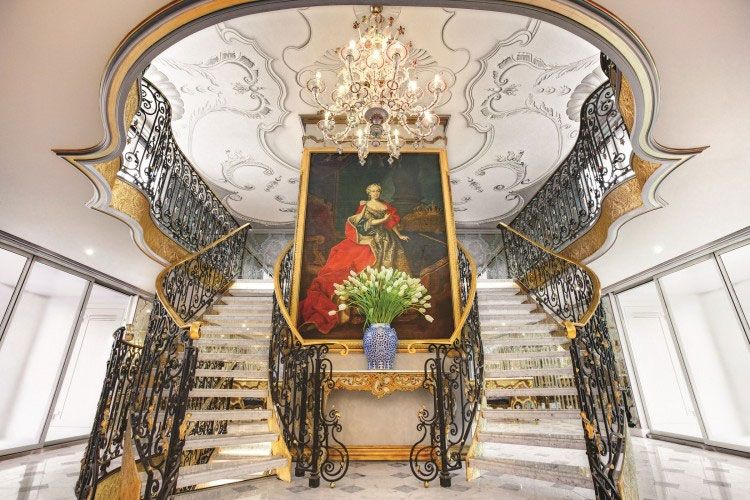 Photos Credit: Uniworld Boutique River Cruise
Recently, in advance of its March 26 launch in Amsterdam, Uniworld Boutique River Cruise Collection gave a sneak peek of its newest vessel, the super ship S.S. Maria Theresa. She will be Uniworld's most ambitious ship yet, joining a fleet of luxury river boats that are already the most elegant all-inclusive boutique cruise ships in Europe.
Fit for a queen, the S.S. Maria Theresa is a floating palace where Marie Antoinette would feel right at home. The grand lobby features an enormous oil portrait of Austrian Queen Maria Theresa herself, taking the stage in the center of the imperial staircase. Throughout the ship, elaborate interior decorations feature Baroque styles and such classical elements as royal crown details, gilded mirrors, velvet upholstery, tasseled shades and pillows, marble bathrooms, and English Savoir beds.
A royal blue and white color scheme dominates the public rooms including the Habsburg lounge and Baroque dining room. Classic color schemes vary for private staterooms including one 410-square-foot Royal Suite, and 10 305-square-foot suites with sitting areas, partial canopies above custom beds, and open-air and French balconies on the main and upper decks. Modern conveniences in staterooms include Nespresso coffee machines, mini bars, Hermès bath products, plush robes and slippers, and in-suite butler service.
S.S. Maria Theresa's maiden voyage will be March 28, departing on the 10-day Tulips & Windmills tour from Amsterdam to Antwerp, with stops at Hoorn, Nijmegen, Rotterdam, Veer and Ghent along the way. Her subsequent journeys will be on Uniworld's European Jewels, Danube Holiday Markets, and the Enchanting Christmas & New Year's Cruise itineraries. For each voyage, the ship will accommodate just 150 privileged passengers and a staff of 57.