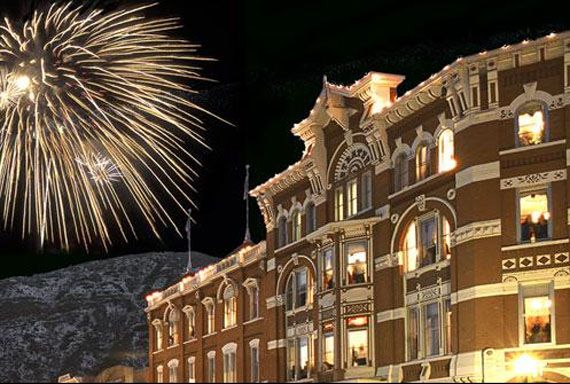 Photo Credit: Ray Pearson & The Strater Hotel
In the late 1880s, Durango,
Colorado
was teetering on the edge of deciding whether to remain a rugged mining town, or become something grander. Henry Strater helped move the decision along when he put his money where his faith and vision were. He built his opulent, four-story hotel in the grand American Victorian architectural style right in the center of town.
Like its brethren on the East Coast, luxuriating in American's Gilded Age, the Strater featured crystal chandeliers, ornate woodworking details in coffered ceilings, one of the world's largest collections of the period's distinctive walnut furniture, and its exterior construction of ornamental red sandstone and white stone cornices.



Durango's refinement did not happen overnight, and the Strater, despite its opulence, had its share of rough and tumble times. The hotel's safe was robbed with enough frequency, both of hotel and guests' money and jewelry, that ingenious hiding places were created. Hotel guide Roy Meiworm showed me one secret area, behind a hinged corbel in a hallway doorframe. Moving to the Diamond Belle Saloon, Roy pointed out a bullet hole in the walnut back bar.


The hotel offers 93 guestrooms, each featuring American Victorian antiques, high ceilings, and period accoutrements. Writer Louis L'Amour found the Strater so relaxing and evocative of "The West" that he frequently booked rooms 222 and 223, where he drew inspiration for his novels. Today, guests revel in this same atmosphere.




Nostalgic sounds of authentic steam locomotives are part of Durango's allure and The Strater is only two blocks from the train station. The Diamond Belle Saloon's atmosphere takes us back to a time of dapper dandies, bar maids in Can Can costumes, and the occasional barroom brawl, where a disagreement usually takes to the street for a shootout. Guests have great fun in talking with the actors, as the gun smoke clears.


Two stunning Tiffany-inspired chandeliers dominate the Mahogany Grill Dining Room and help create a relaxing, genteel atmosphere in which to enjoy sophisticated western cuisine. Locally-grown vegetables and sustainably-raised meats are of great importance at the restaurant.

Two standouts are the Anasazi Bean Cakes, local Dove Creek beans with cilantro aioli atop jicama vegetable spaghetti; and the hotel's signature entrée, Pepper Steak Herbert, hand-cut Sterling Silver beef filet peppered and pan seared then flambéed with brandy in a peppered-mango chutney. More exotic fare is also available, such as Elk Tenderloin.


For those seeking adventure a bit out of town, there are major sports activities year-round. Specialized adventures also include the occasional hot air balloon ascension in nearby Mancos (check calendar), sail plane rides on warm updrafts over the San Juan Mountains, and the Durango-Silverton Narrow Gauge Railroad.



Train tours run throughout the year focusing on special interests, including leaf-peepers, photographers, senior citizens, and winter runs. The trains run along the Animas River, slowly climbing the precipitous, cliff-hugging route to Silverton, 60 miles to the north.


Durango has changed drastically since Henry Strater's day, but The Strater Hotel is still the hub of downtown activity. Today, "Colorado's Finest Victorian Hotel" is a designated National Historic Landmark, and a member of Historic Hotels of America.