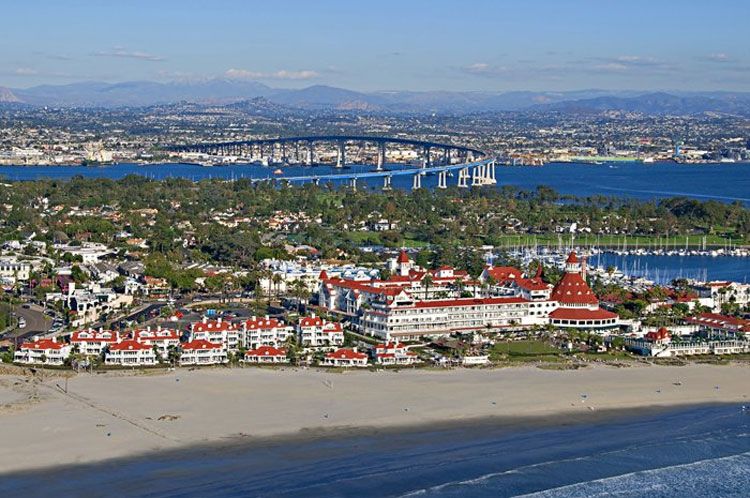 Photo Courtesy of The Hotel del Coronado
?America?s Finest City? is also home to one of the finest hotels in California,
Hotel del Coronado
, where locals, travelers and celebrities have found a true SoCal gem within its walls. As a San Diego staple, the property has been serving the city since 1888 and continues to provide the utmost in service and accommodations. Celebrate its 125th birthday in 2013 with a stay at The Del during your next San Diego getaway.
Boasting the finest in luxury and style, the accommodations at the hotel are truly memorable. Hotel del Coronado suites vary in size and are filled with lavish amenities. Located in the Victorian building, the extra-large Jr. Suite rooms come with a king size bed or two queens and feature a sitting area.
The spacious Blue Octopus Family Suites feature a master king bedroom, living area and an ocean-inspired children's bedroom. With a focus on family, the furniture includes bean bag chairs, bunk beds and a chest filled with fun ocean-themed toys for the kids.
Dinging out at The Del is made easy with a variety of restaurants and bars right on site. At Sheerwater Restaurant, the simple yet refined atmosphere makes for the perfect location for a casual dining experience. Its oceanfront seating and giant outdoor fireplaces exude a quiet charm while, while menu options impress with a focus on fresh and sustainable seafood. The restaurant also serves up traditional classics as well as flavorful meats and vegetarian options.
A favorite of many locals and guests alike is Hotel del Coronado's Crown Room Sunday brunch. Voted San Diego's best brunch by
San Diego Magazine
and
The San Diego Union-Tribune
readers, the Sunday brunch provides an ever-changing menu filled with many favorites ranging from eggs Benedict to berries and chocolate waffles to delicious clam chowder.
If traveling with children, The Del has a variety of programs to keep your young kids and teens entertained during the stay. Kidtopia Camp & Crafts, for ages 4-12, features beach-themed rooms and stages for playtime and performances. Colorful rooms, Dance Dance Revolution, and a funhouse mirror are sure to keep your little one smiling for hours. Year-round, The Del caters to teens as well with Vibz, a contemporary lounge furnished with billiards, foosball, darts, karaoke, and more. Teens can meet other travelers their own age in this fun and casual setting.
Click Here to Book Hotel del Coronado
Its red turrets and oceanfront location are not the only standouts at The Del. Brides-to-be, explore all the hotel has to offer for its wedding packages and see why the Travel Channel named the hotel "number-one wedding destination in America." This picturesque backdrop is the ideal location for a beach wedding under the warm Southern California sun. Whether an intimate indoor affair or a grand scale outdoor event, the team at The Del will make sure to take care of your every need.
A hotel unlike any other, Hotel del Coronado continues to offer beauty and sophistication dating back to its beginnings. This timeless property situated on 28 beachfront acres is a true must-see!
Hotel del Coronado
1500 Orange Ave
Coronado, CA 92118
800-577-1259
HotelDel.com