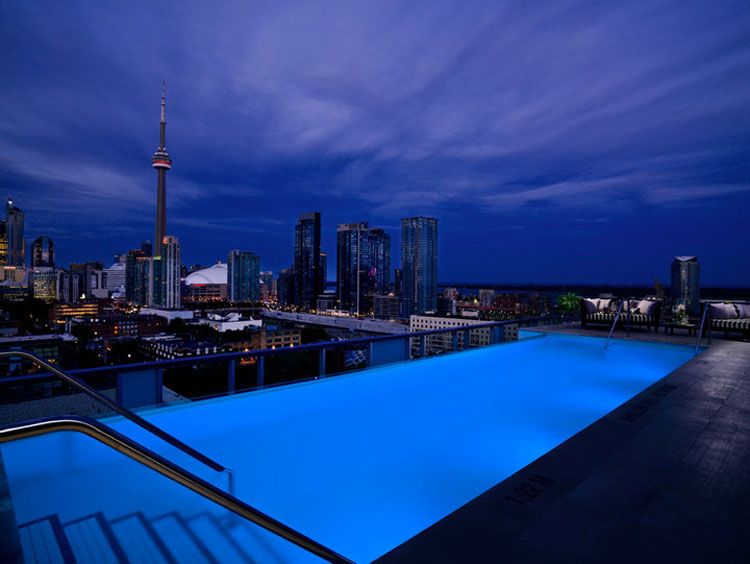 Photo Courtesy of Thompson Toronto
Everyone loves Canadians, right? (Or so the saying goes.) After a recent excursion through Canada, we can definitely say that they are some of the friendliest people around. And with the Toronto Film Fest underway, we can't help but be craving a visit to the CN Tower, some poutine and a Tim Horton's coffee. So we thought it highly appropriate to highlight our favorite hotels, and give everyone a leg up on making travel arrangements for next year:
Photo Courtesy of The Ritz-Carlton Toronto
Elegance: The Ritz-Carlton Toronto
If you look up, you'll see it. Sitting among the city's tallest skyscrapers, The Ritz-Carlton, Toronto is centrally located and a lavish five-star hotel. Inside, 450 pieces of local artwork and maple leaves decorate the interiors, offering guests a quintessential Canadian feel. This year, the hotel was voted by Travel + Leisure readers among the Top City Hotels in Canada. Every inch of the property is sophisticated and stunning with marble and sparkling chandeliers throughout. To get the best out of your reservation, upgrade to Club status and you'll be invited into their exclusive lounges to enjoy continuous complimentary culinary offerings like breakfast, light snacks, hors d' oeuvres, alcoholic beverages and sweets.
What We Love: The heated floors for those chilly nights and the floor-to-ceiling windows in every guestroom are a great way to view the city.
Photo Courtesy of Thompson Toronto
Style: Thompson Toronto
From the minds behind the New York-based Thompson Hotel Group, this King West Village boutique hotel is just as hip and artistic as the neighborhood it sits in. Each of the Thompson Toronto's 102 guestrooms are marked with dark hardwood flooring and bursts of bold colors against sleek design elements. Part of its cool factor lies in its state-of-the-art screening room where guests can watch their favorite movies right at the hotel. Not to mention its rooftop pool and outdoor lounge area that make any summer day even better. Awarded the CAA 4 Diamond Winner 2012 & 2013, Scarpetta Italian Restaurant inside the property is one of the most respected restaurants in the city and designed with a rustic and refined atmosphere.
What We Love: The yoga studio that allows us to keep our Namaste all trip long.
Photo Courtesy of Windsor Arms
Romance: Windsor Arms
With only 28 suites and an old-world charm, this neo-Gothic building and its 1920s French style rooms are a great way to enjoy a dreamy vacation with your loved one. Cozy fireplaces, oversized bathrooms with limestone flooring and deep soak tubs are paired with a different musical instrument in each suite creating an elegant yet homey feel. To avoid disturbing guests, a butler's pantry is provided in each room which allows for laundry, shined shoes or service trays to be placed in the room privately. Since 1927, the Windsor Arms has been serving tea throughout the day among a fireplace-lit setting and an array of fresh pastries.
What We Love: The spa, located on the fourth and fifth floors, opens up with a large terrace and panoramic views of Toronto; its salt water pool is also a great way to relax without chlorine drying your skin.
Photo Courtesy of Trump International Hotel & Tower
Business: Trump International Hotel & Tower, Toronto
Ever the business-man himself, Donald Trump has created a hotel in the heart of downtown that is ideal for the refined business traveler. Proving that sometimes more is, well...more, Trump International Hotel & Tower, Toronto is extremely showy in nature, staying true to Trump's unmatched reputation for enjoying the finer things in life. Starting in the glamorous lobby outfitted in granite and crystallized artwork, every detail, space and room is meticulously thought out and calculated to showcase an extremely polished hotel. From personalized business cards and stationery to chic meeting spaces, the property inspires success for corporate visitors.
What We Love: The technology-centered rooms that allow you to simply lift a finger to do everything from closing the drapes to listening to music or watching movies on your HD-TV.
Photo Courtesy of Shangri-La Hotel, Toronto
Design: Shangri-La Hotel, Toronto
The Shangri-La takes you on an adventure through Asia with its East-meets-West aesthetics. In case you have trouble finding the property, just search out its $5 million Chinese exterior sculpture from artist Zhang Yuan that welcomes you into its entrance. Sweeping city views, leather furniture, Jerusalem gold marble, silk-covered walls, Asian original artwork and modern touches embody the 202-room hotel. The average size of its rooms is extremely spacious at 525 square feet of space and beautifully sleek hardwood walls and paneling line the suites.
What We Love: Everything? If we had to choose, the luxurious red- and velvet-covered spa with its Moroccan-style hammam that is private (unlike traditional ones), is a sight on its own.
Photo Courtesy of Shutterstock
Whether you're looking for your favorite brand hotel or wanting to try out a more intimate boutique hotel, Toronto's luxury hotel market is one to be admired. Personally, I think I'd stay at a different one each night, no one said we had to pick just one.