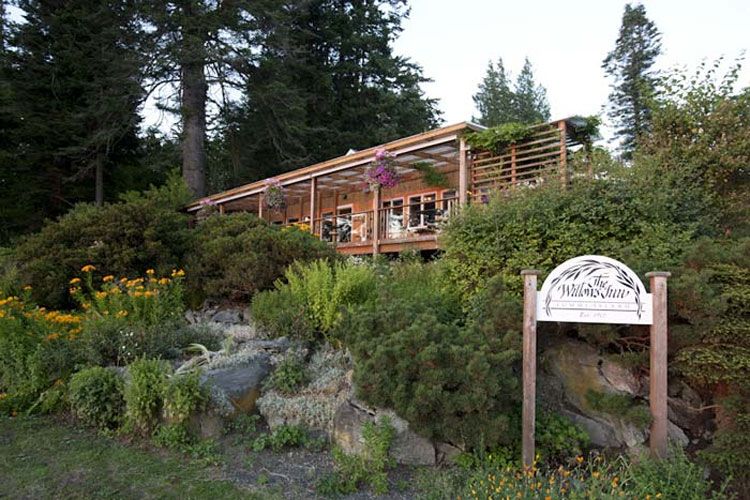 Photo Courtesy of Willows Inn on Lummi Island
It was a sliver of the perfectly balanced sweet/salty, smoked reef-net salmon, simply presented on a cedar slab — I was a goner. Every nibble was unconsciously accompanied by a soulful 'mmmm.' I knew then that no matter how hard I tried to search out its equal, I would fall short, because each bite was absolute perfection.
But I'm getting ahead of myself. I should start at the beginning, which was a dinner I attended last year with about a dozen other journalists at the Willows Inn on Lummi (rhymes with yummy) Island, part of the San Juan archipelago in Washington state. The minute I finished my meal I immediately started planning a return visit, which did not occur until I flew to Seattle last week to take my mom on a little birthday getaway for what I promised her would be the YOLO (you only live once) meal of her lifetime. And since we were celebrating her big 90th (shhh, don't tell her I told you), she's had plenty of good meals.
Photo Courtesy of Willows Inn on Lummi Island
She knew all about the Willows' food, mostly because I had raved about Chef Blaine Wetzel like a gushing schoolgirl, describing every dish in minute detail, and holding up the accompanying photo for her to identify like flashcards. Likewise, N.Y. Times' restaurant critic Frank Bruni and renowned Chef Rene Redzepi, Wetzel's mentor at Noma (which is considered the #2 restaurant in the world by The World's Best 50) also raved about the esteemed chef.
Upon reaching the serenely, picturesque Lummi Island, we were welcomed by a kaleidoscope of sea foam blues, forest greens accented with tomato reds, and a shot of brilliant sunset pink. Guests staying overnight (which I suggest highly, since being a hotel guest jumps you to the head of the line for acquiring dinner reservations) have the option of staying in the cozy, rustic rooms at the Inn or in one of their off-site house rentals. The glamorous Watermark home faces the private driftwood and seashell covered beach, backed by boatloads of reef-netting fishermen who were hard at work catching salmon for dinner at the restaurant. Behind the tastefully styled-out beach house is a wooden boardwalk that winds through a scenic estuary, home to an assortment of birds and ducks.
Photo Courtesy of Willows Inn on Lummi Island
The three-bedroom house (each room with private bathroom), was surrounded by decks and patios with sliding glass doors, garden sculptures, comfy lounge chairs, a fire-pit with a welcome stack of firewood and a huge BBQ. Inside is a fabulous granite kitchen, several big screen TVs, a dramatic vaulted living room, a shell-tiled gas fireplace and a striking dining room with open views of the wetlands in back and the beach in front. The upstairs bedroom, the Sea View Suite, has a jazzy Vegas-red and luxe-gold vibe and features a walk-in closet and soaking tub. In the Orcas View Suite is a relaxing study of sandy beige tones with oversized leather chairs, a writing desk, a large tiled shower, stackable washer and dryer and a mini fridge.
Photo Courtesy of Loganita Farm
As tempting as it was to just relax and take in the views, we decided to skip lunch and explore the island, ensuring a hearty appetite for dinner. Strolling along the beach, nature-lovers can easily find lovely sea shells and sculptural driftwood to take back as mementos. Other activities include borrowing one of the inn's bikes to pedal around the island, hiking Lummi Island's three nature preserves, kayaking, whale-watching or taking advantage of the Willows' spa for a Lomi Lomi or Hot Stone massage.
One popular field trip is visiting the new bio-intensive Loganita Farm that supplies the vegetables, berries, edible flowers and herbs used at the Willows and the neighboring Beach Store Café, which is where Willows guests congregate for a complimentary, and very tasty, breakfast.
Photo Courtesy of Willows Inn on Lummi Island
Mary von Krusenstiern, the dedicated farm manager, works closely with Chef Wetzel, to ensure that the produce is the perfect size and ripeness to be harvested in time for that evening's menu. Each day, von Krusenstiern leads tours of the facilities at 10 a.m. "What we do that is unique, is that Blaine has a vision for what he wants in a particular dish and menu, he tells me in very specific terms, and we grow it for that one dish and menu," said von Krusenstiern.

Art enthusiasts could easily spend the whole weekend exploring the island's plethora of artists' galleries that reside there as well. Public studio tours are available each year on Memorial Day, Labor Day and the second weekend in November; otherwise, the Willow's concierge will happily make appointments for you to visit the painters, sculptors, textile artists, and furniture makers' studios on your own. Choices include Susan Brendon who creates jewelry made from local stones and beach glass, or a make-your-own-sculpture raku session with potter Lynn Dee. One must-do is a walk through of Ann Morris' tranquil Sculpture Woods, where the artist has hidden 17 of her life-size figurative bronzes around, almost appearing as if they were rising up from the ancient earth.
Photo Courtesy of Willows Inn on Lummi Island
Back at the inn, the 6:30 dinner reservation quickly arrived for the highly anticipated event. Joined by a diverse group of gastronauts (people with an ardent appreciate for food) on the Willow's deck, we dined on a sunset aperitif before heading inside. The extremely professional wait staff manages to exude a sense of sincere warmth and graciousness. At times, Chef Wetzel will personally deliver a dish, coupled with a sweet smile and humble "Hope you enjoy this," exclamation. The prix-fixe dinner is $150 pp while wine pairing is another $65 or a handcrafted juice pairing adds an extra $40 to the dinner.
Photo Courtesy of Willows Inn on Lummi Island
Throughout the next two hours, the meal unfolded and opened with a half dozen, pristinely plated bite-sized snacks starting with a cedar box. Slowly and reverently, we open the boxes like a gift from Tiffany's, to unveil — through a puff of aromatic smoke — one perfect green alder-smoked mussel. This was followed by crispy crepe niblet of salmon roe, maple cream and chives, a crunch of toasted kale with rye crumbs and black truffle, crispy black and white halibut skins, and other wondrous bites steeped in the local terroir. It took every ounce of self control not to devour the whole loaf of hot-from-the-oven, hearty rye bread.
Mains included an intense watercress gilded geoduck, charred caraflex cabbage enlivened with lemon verbena, and a dry-aged duck with red-currant glazed beets with a zingy touch provided by the sheep sorrel. Desserts (very lightly sweetened by malted barley) showcase forest fruits and berries, such as huckleberries with chartreuse green woodruff ice cream.
Photo Courtesy of Willows Inn on Lummi Island
Every bite of a meal at Willows Inn has been farmed, foraged and fished on the nine mile island and its surrounding waters. After asking my mother about her reaction to the meal, her reply was music to any daughter's ears, "You were right," she said. Read the Willow's monthly newsletter to find out about special dinners, guest chefs, what's going on at the farm, or just to see what you're missing.