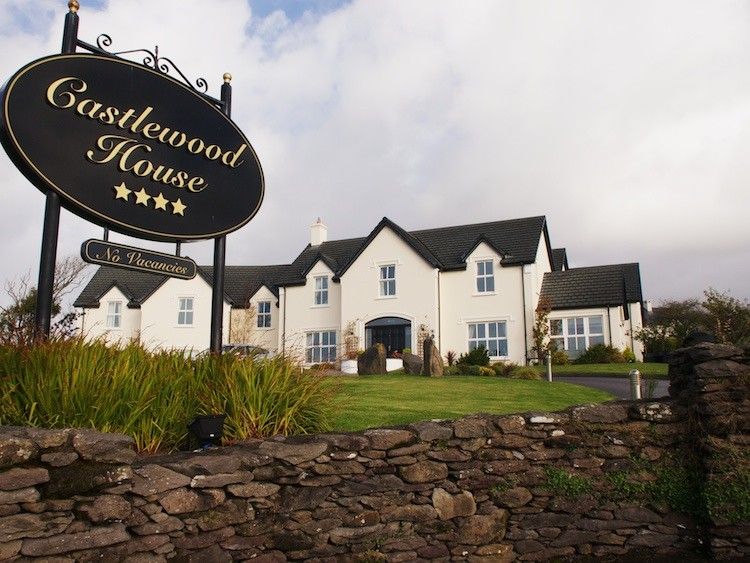 Photos Credit: Columbia Hillen
Outside, a strawberry and cream-colored fishing boat bobs gently in the lapping waters of Dingle Bay; such is the picturesque southwest Ireland location of Castlewood House Dingle. Brian Heaton, an experienced Irish hotel manager, opened this charming guest house eight years ago with his wife, Helen, just outside the pretty Kerry town of Dingle. The couple met fresh out of college while working at the five-star Ashford Castle in County Mayo.
Aside from the various planning permissions that took twice as long as the actual construction, it is difficult to believe the couple completed this graceful building from scratch within ten months. Upon entering through a sturdy, black-painted wood front door with brass handles, the property's elegance is more than evident. Inside, a small hallway with natural slate floor, paintings decorating its walls, fresh flowers, and a white wicker basket containing Irish woolen shawls for guest use decorate the interior.
The spacious main lobby reinforces the sense of sophistication, fitted with a thick crimson carpet, its furnishings include a central varnished yew table and mahogany and rosewood side tables, upholstered Victorian and Edwardian-era armchairs, and evocative oil paintings by Helen's mother. A small reception desk lies straight ahead with a decanter of sherry and crystal glasses on a side-table as a welcome drink. On either side of the lobby are an airy breakfast room and a cozy, walnut-floored drawing room with a gilt-framed oil painting featuring Helen's parents and farmhands erecting a haystack.
Reading materials are plentiful, with morning newspapers and novels on shelves ranging from Margaret Mitchell's classic Gone With the Wind to Dubliner Roddy Doyle's The Snapper. Complimentary tea and coffee are available as well as homemade scones and biscuits purchased through an honesty bar, with payment made upon departure.
Breakfast at Castlewood is sheer bliss, with Brian as connoisseur and composer, self-taught and aided by years of observance in hotel management. The impressive cold buffet includes cereals, a variety of fruits, three different types of yogurt including a passion fruit variety, delicious homemade pastries and a delectable passion fruit curd (yes, I do like passion fruit – isn't it a crime not to?). Fifteen separate hot choices are featured on the menu ranging from the fluffiest of pancakes with a mascarpone creamy cheese accompaniment to a perfectly moist Cashel blue cheese and mushroom omelet and Eggs Benedict Supreme with local organic salmon and chives. Other picks include Dingle Bay kippers, a traditional Irish plate with sausages, black pudding, bacon and eggs and bagel supreme with salmon and cheese.
Up a winding balustrade to the first floor, our compact yet comfortable guestroom was tastefully decorated with a series of old–world prints of beautiful, dusky- haired women. The furniture is Plantation-style with a large double-door closet, two cabinets, two corner armchairs, a round glass-topped table and Wedgewood cups and saucers. An interesting addition to the well-being of guests is the complimentary Pi water — water, similar to the consistency of your own body water — that enhances living energy.

Aside from Castlewood's relaxing location facing the bay, it also lies within a leisurely ten-minute walk to town, as well as beside the start of what is known as Slea Head Drive. Slea Head Drive is a looping coastal road that winds through some beautiful scenery, both from cliff and beach viewing points. Ancient archaeological sites including ring forts and stone beehive dwellings, interesting art and pottery stores can all be seen along the route. Dingle also offers many entertainment options such as live music (mainly traditional) in its many bars (one quaint bar serves as both a hardware store and pub), as well as souvenir and clothes stores, cafés and restaurants.
Of particular note along the way is the Celtic and Prehistoric Museum established by Connecticut-born hammer-dulcimer maestro Harris Moore who collected a wide variety of impressive artifacts during his many travels. These include the skull of a woolly mammoth fished out of the North Sea; a complete baby dinosaur skeleton; tools, weapons and other artifacts from the Jurassic, Stone, and Bronze ages and an outstanding collection of Celtic jewelry from the Viking and Celtic eras. A shop within the museum sells fossils, crafts, antiques and other unusual gifts.
A 45-minute drive from Castlewood is Kerry's capital town, Tralee, home to Siamsa Tire National Folk Theatre of Ireland which hosts performances year-round. Along with Siamsa, Kerry County Museum brings to life the story of the area from the earliest times to the present day.
Castlewood House Dingle's personal touches and their attention to detail make it a great stay for the discerning traveler seeking an intimate four-star property. The boutique property offers a wealth of history behind its doors and a number of activities to keep guests entertained or can assist with custom itineraries for exploring the Ireland countryside.