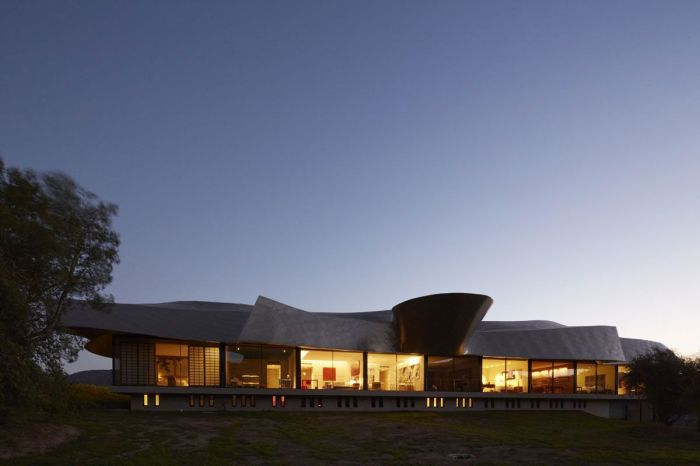 Photos Credit: Viña Vik Millahue
When it comes to Chile's wine regions, you might recognize names like the Colchagua, Rappel and Casablanca valleys. But it is the up-and-coming Cachapoal (near Colchagua and about 90 minutes from Santiago by car) that is making a name for itself these days thanks to one of the country's premier wineries and a new art-driven luxury hotel.
Viña Vik Millahue is the latest project from Norwegian-born but US-based financier Alexander Vik and his wife, Carrie. They cut their hotelier teeth with properties in Uruguay including Estancia Vik and Playa Vik, as well as the more recent Bahía Vik, all near José Ignacio. But it was across the Andes that the Viks looked for a tract of land with the intention of creating a vineyard there and making South America's best wine. The vineyard and winery were established in 2004, when the couple purchased 11,000 totally undeveloped acres after an extensive search. Today, over 60 parcels of vineyard are planted there of Cabernet Sauvignon, Merlot, Cabernet Franc, Syrah and Chile's flagship grape variety, Carmenère. All of them, in amounts that vary year to year, are blended by winemakers Patrick Valette and Cristián Vallejo into a premium red wine called VIK, which debuted in 2009.
As impressive as the wine itself is the majestic new winery in which it is made. The massive structure was designed by Chilean architect Smiljan Radic with a soaring roof to maximize natural light, and stunning features including a reflecting pool of running water strewn with boulders that looks out to the nearby hills and calls to mind a mountain stream (as well as working as a cooling agent for the barrel rooms below).
Architecture is also center stage at the hotel, which is perched on a hill overlooking the vineyards, the winery and a reservoir. It was designed by the Viks and Uruguayan architect Marcelo Daglio. Millahue, the place where the hotel is located, means "place of gold" in the indigenous Mapuche language, and the property was designed with a Frank Gehry-like swirling titanium roof with a slightly bronzed tint that pays homage to that heritage.
Guests are welcomed into the communal living room, a light-filled parlor divided into various casual sitting areas with some of the finest pieces from the Viks' personal art collection on display, including works by Chilean painter Roberto Matta, a technicolor-bright mural by Totoy Zamudio, specially commissioned furnishings, and even a pool table for moments of idleness. From there, you can enter the tranquil Zen garden, around which many of the rooms and suites are arranged.
The property is comprised of just 22 accommodations in all: 17 suites, four master suites and the singular Vik Master Suite. All offer floor-to-ceiling windows for stunning panoramas of the surrounding countryside. Each is decorated according to a different theme and/or artist such as the Fornasetti Suite, which comes with custom-made furniture by the classics-inspired design titan. The Shogun Suite feels like staying in an authentic Japanese ryokan, complete an all-wood bathroom and a rectangular soaking tub, while the Alvaro Gabler showcases the trompe l'oeil genius of the eponymous Chilean artist who is based in the nearby region of Chiloé.
The Hollywood Suite features film scenes painted by Francisco Uzbeaga. The Azulejo Suite is includes gorgeous blue-and-white Portuguese tiling and pastoral scenes drawn from the vineyards right outside, while the Versailles-like Louis Louis Suite features parquet floors, aged mirrored walls, Chinoiserie textiles and a claw-foot tub in the bathroom. Each space is like an art gallery unto itself, so make friends with your fellow guests so that you can sneak a peek at their rooms as well.
The true showstopper, however, has to be the corner Vik Master Suite. It contains art by Argentine painter Antonio Segui and American artist James Turrell, as well as what must be one of the world's most futuristic bathtubs, the Vessel Bathtub by Splinter Works. The sleek hammock-like sheet of carbon fiber is suspended from the walls, and practically invites you to loll the day away contemplating the landscape outside.
But then you would miss out on activities including horseback riding, mountain biking, hiking and trekking, yoga, cooking classes and, of course, private tastings at the winery. Of course, you could also spend an afternoon lying by the cantilevered slate infinity pool, or indulging in a vinotherapy wine bath followed by a massage at the small spa adjacent.
The other hallmark here is its cuisine, courtesy of Chef Rodrigo Acuña Bravo. Chef Bravo has scoured the surrounding region of Chile's sixth district, which was once known as "la bodega de Chile" thanks to its agricultural bounty. By doing so, he has forged relationships with artisanal farmers, orchards, ranchers, foragers, dairies, fisherman, salt harvesters, and local co-ops that partner with the Chilean Agricultural Ministry. In turn, they stock his larder so he can create daily changing menus based on the freshest things he finds.
Lunch one day might include hake pan seared in local olive oil with cauliflower puree and mustard greens. Or, dinner may start with a leek-cream soup with grilled prawns, continue onto local duck with artichoke and radish, and end with an autumnal apple tart topped with orange ice cream and dulce de leche. All accompanied by the latest vintage of VIK. Luxury, art, food, relaxation and wine, what better pairing could there possibly be?