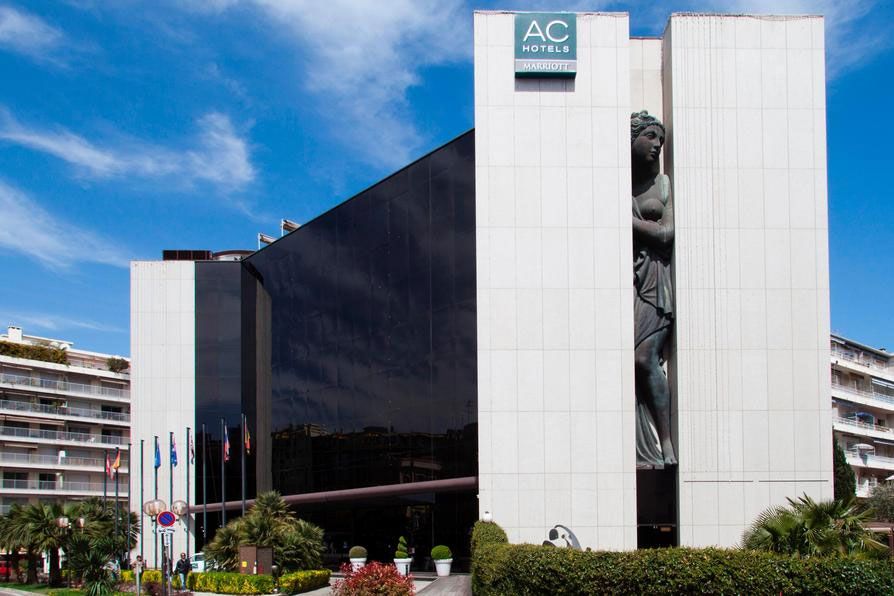 Photos Credit: AC Hotel Nice
A bronze statue of a goddess encased in granite along the length of the façade is the first thing that grabs your attention upon approaching the Marriott's AC Hotel Nice. The stunning 85-foot tall sculpture is the work of an artist best known as Sosno, and is an impressive introduction to this four-star hotel. Built in 1987 as the Elysée Palace, it was taken over by the Marriott group two years ago.
Casual comfort pervades the spacious lobby with many assorted sofas and armchairs to choose from throughout the room. Its furnishings are minimalist with books, paintings and white shelves donning vases of flowers creating private areas for quiet conversation and reading. One of the property's most attractive aspects is its expansive rooftop terrace and bar where you can enjoy cocktails, the pool and panoramic views over the Baie des Anges (Bay of Angels).
The hotel is only about three miles away from the Nice Côte d'Azur Airport, and guests can hop on a direct shuttle to the property. Old Nice is also a short 15-minute walk along the broad beachfront promenade (there is also a regular bus service) while the Fine Arts Museum featuring works by Jan Brueghel, Louis-Ernest Barrias and Luc-Olivier Merson is just around the corner.
All 143 rooms and suites include a mini refrigerator and flat-screen TV with satellite channels and a downstairs restaurant serves regional, traditional French and American cuisine. Room furnishings are contemporary rather than whimsical and are decorated in shades of grey and cream. Each bedroom has large, floor-to-ceiling windows with strong insulation that muffles out the sound of outside traffic.
Around the property, guests can relax outside on seats scattered around the Zen garden, enjoy local art displayed throughout the hotel or workout in the fitness center. Business clients can utilize any of the three meeting rooms for seminars and cocktails for up to 250 people. The hotel also has a partnership with Florida Beach, several hundred meters away, with discounted rates for travelers.
The quaint hotel is a great choice for those who prefer a boutique property that still offers big brand amenities and services. Plus its location makes it an ideal choice for enjoying Nice's amazing beaches.