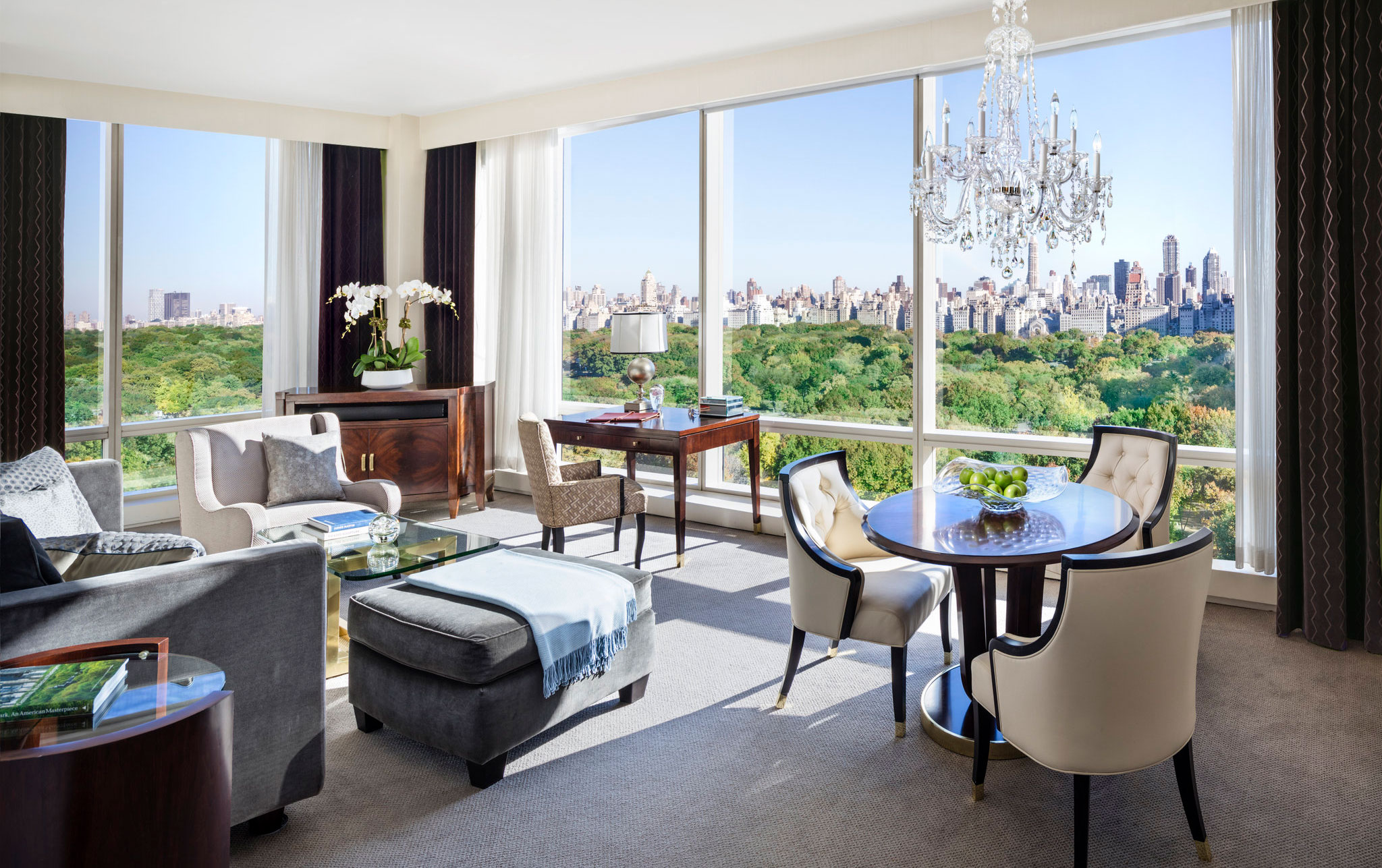 Photo Credit: Trump New York
November 8 is already less than a month away, which means we'll soon be welcoming in a new president. And unless you're in the 24.3 percent of people who are lying don't know that the Republican candidate is also a hotelier, you're already aware that Donald Trump owns properties across the globe. So we decided to create a definitive ranking of Trump Hotels'* presidential (or best) suites in an effort to make hotel stays great again.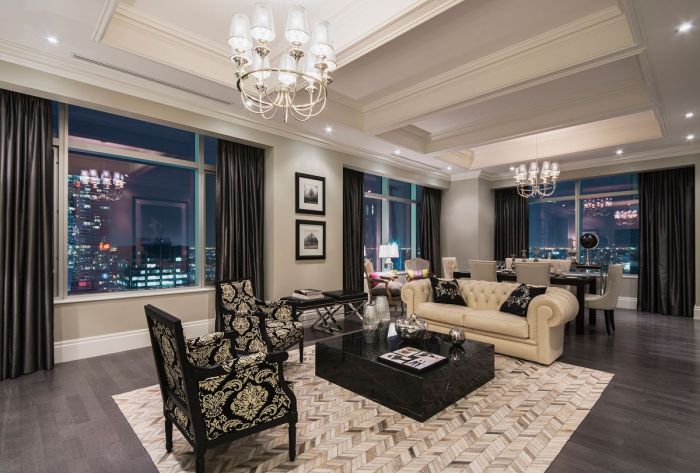 Photo Credit: Trump Toronto
Trump Toronto (#1)
At $20,000 per night, Trump Toronto tops our list of presidential suites. The room sits on the 35th floor of the hotel and offers 2,500 square feet of space. The suite comes with a grand living room and dining room, two bedrooms, breakfast lounge area, and a Roman tub in the master. And, should you wish to invite your friends over for a party, the suite can accommodate up to 60 people. Moral of the story is, if you're not poppin' bottles here, then you're doing it wrong.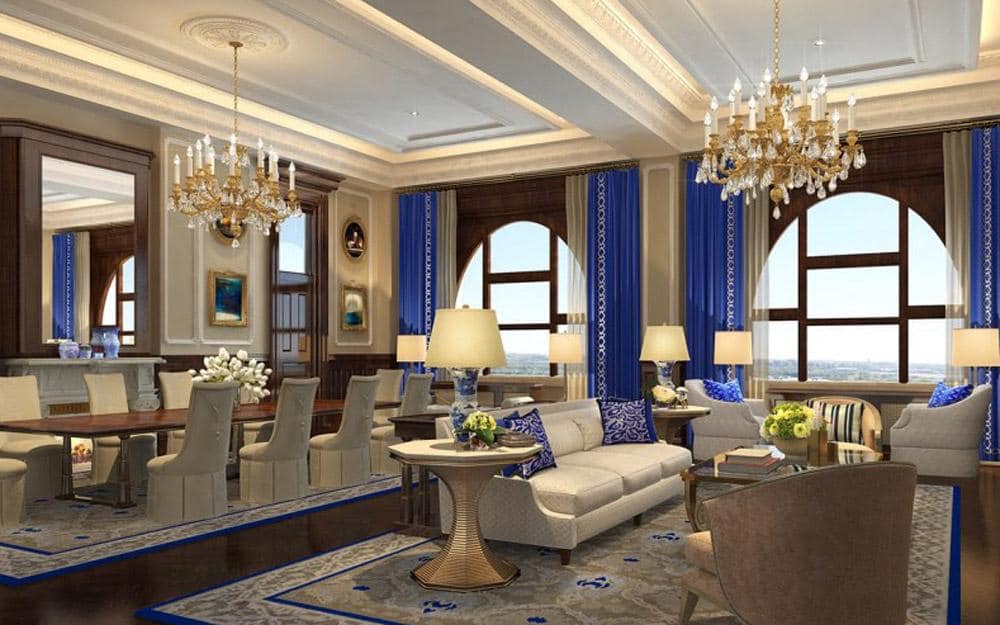 Photo Credit: Trump Washington D.C.
Trump Washington, D.C. (#2)
Opened this past September, Trump DC's 2,100-square-foot presidential suite is priced at $9,600 a night and boasts 16-foot ceilings. Along with three bedrooms, three walk-in closets, and living and dining room, the suite is also home to its own private fitness center. Among its unique luxury finishes is Calacatta gold marble in the master bathroom. Plus the hotel itself is inside a restored post office which adds to its "cool" factor.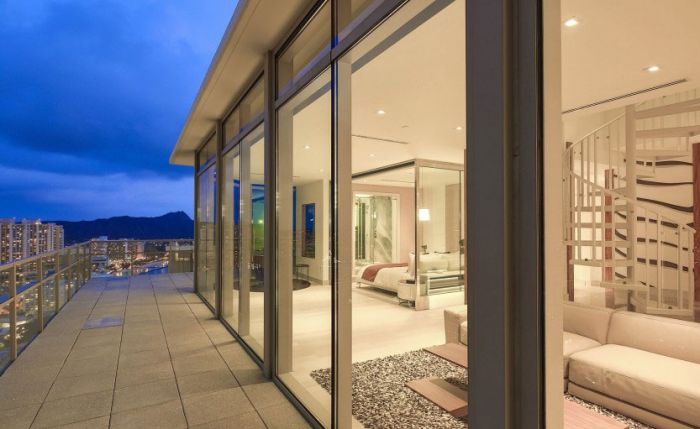 Photo Credit: Trump Waikiki
Trump Waikiki (#3)
I mean, the picture above is reason enough that this suite makes it onto our top five picks. Add to that it's location in beautiful Waikiki and you're pretty much guaranteed to get our attention. The 2,200-square-foot, two-bedroom suite comes with floor-to-ceiling windows that provide stunning views of the island, modern furnishings, Hawaiian design elements and an in-suite washer and dryer (prime!). Did we mention that there's a private Jacuzzi hot tub on the rooftop lanai? The penthouse is priced at $3,099 per night.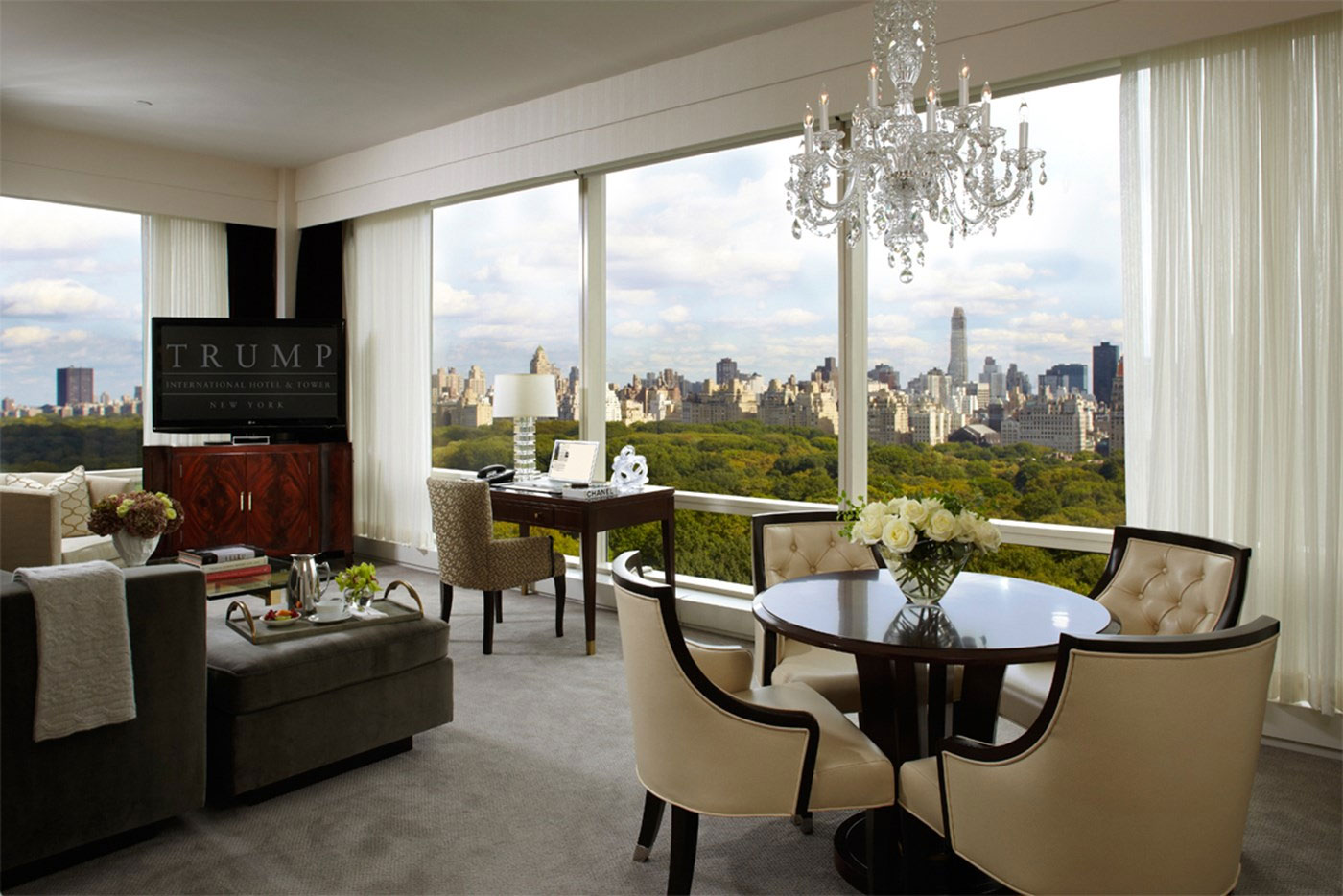 Photo Credit: Trump New York
Trump New York (#4)
Those Central Park views though! Located in Midtown Manhattan, Trump New York's $1,800-a-night Park View Two-Bedroom suite has a really great NYC feel to it. It's chic and roomy, offering around 1,550 square feet of space. With two walls of floor-to-ceiling windows, guests are offered a front seat to all of Manhattan's picturesque views. The residence includes a living and dining area, a handcrafted Schonbek crystal chandelier and a fully equipped European-style kitchen with appliances by Sub-Zero.
Photo Credit: Trump Chicago
Trump Chicago (#5)
The sleek look of Trump Chicago's Grand Deluxe Lake View Two- and Three-Bedroom Suites have a very good sense-of-place vibe to them. Ranging between 2,032 to 3,876 square feet, the penthouses include floor-to-ceiling windows, 65" Samsung display complete with GuestTek Television Systems, separate dining and living rooms, a marble surround fireplace, and a fully-equipped kitchen with appliances by Sub-Zero and Miele. Guests also have access to a local, chauffer-driven Cadillac XTS or Escalade house car. The suites start at $1,256 a night.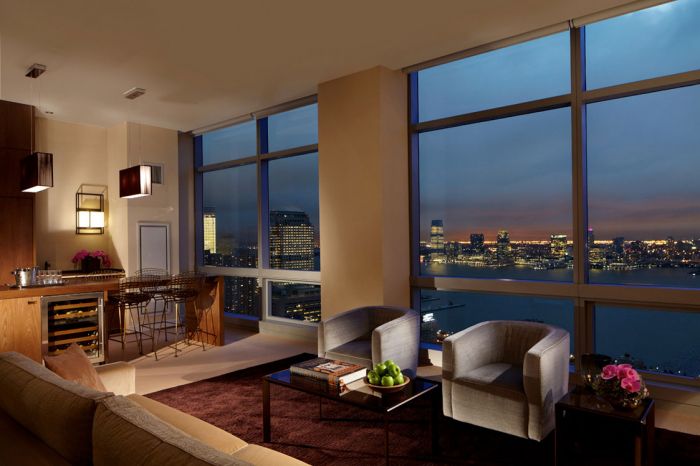 Photo Credit: Trump SoHo
Trump SoHo (#6)
With its location in SoHo, we wanted to love this property's two-bedroom penthouse suite more, but we're just not getting the same NYC-loving feeling we had with its sister property in Central Park. The 44th-floor suite is priced at $6,800 a night and offers 1,797 square feet of space and overlooks the Hudson River. One of our favorite aspects is the master's marble bathroom with free-standing tub that has Empire State Building views. There's a home-away-from-home vibe here, thanks to leather Fendi Casa furniture.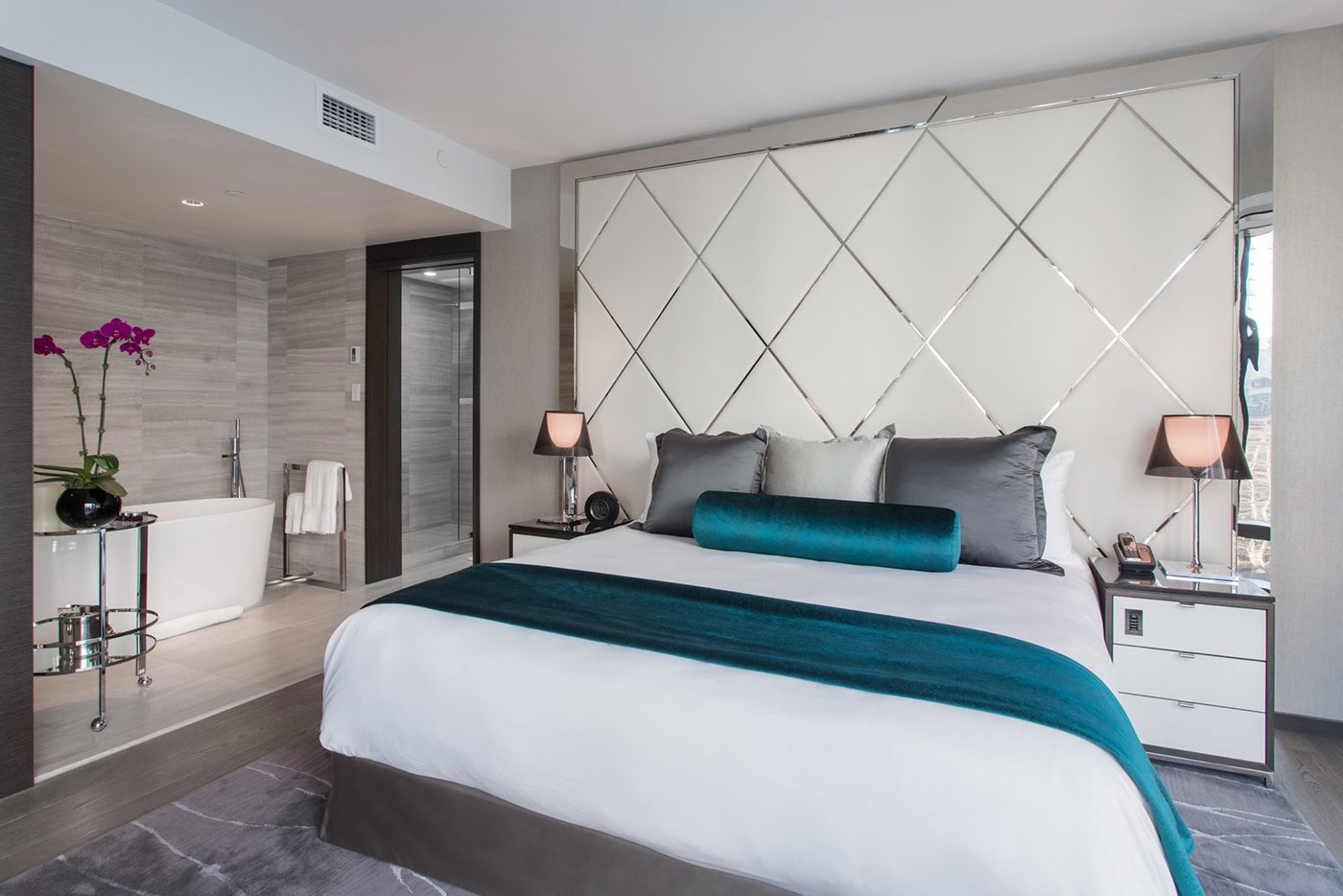 Photo Credit: Trump Vancouver
Trump Vancouver (#7)
Vancouver is a city that's really come into its own in the past few years, and the chic and modern look of this property's two-bedroom Grand Deluxe Suites is exactly what you'd expect from this Canadian destination. The $943-a-night suites offer 1,500 square feet of space and come with a large, private furnished terrace, rich wood walls, European Oak hardwood floors, heated master baths finished with Nublado Italian marble, and Crestron automated wall control pads. The mini bar is also stocked with premium liquor, so that's a win. It's docked a bit though for being on the smaller end of our suites choices.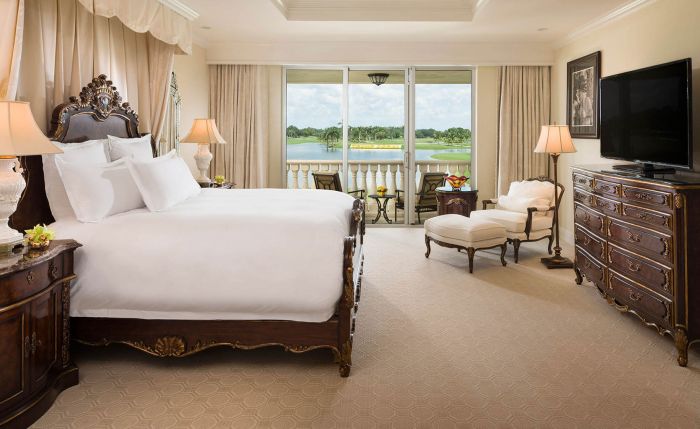 Photo Credit: Trump Doral
Trump Doral (#8)
Trump Doral's $7,194-a-night presidential suite has more of a classic-luxury aesthetic to it than the other accommodations on our list. Entered through a grand foyer, you might think you're walking into your affluent grandparent's southern home, which gives this suite a familiar and comforting ambiance. The 2,369-square-foot residence includes two bedrooms; marble flooring in the dining room, foyer and bathrooms; a kitchen with granite countertops; and Nana Mildred. Okay, that last one we made up.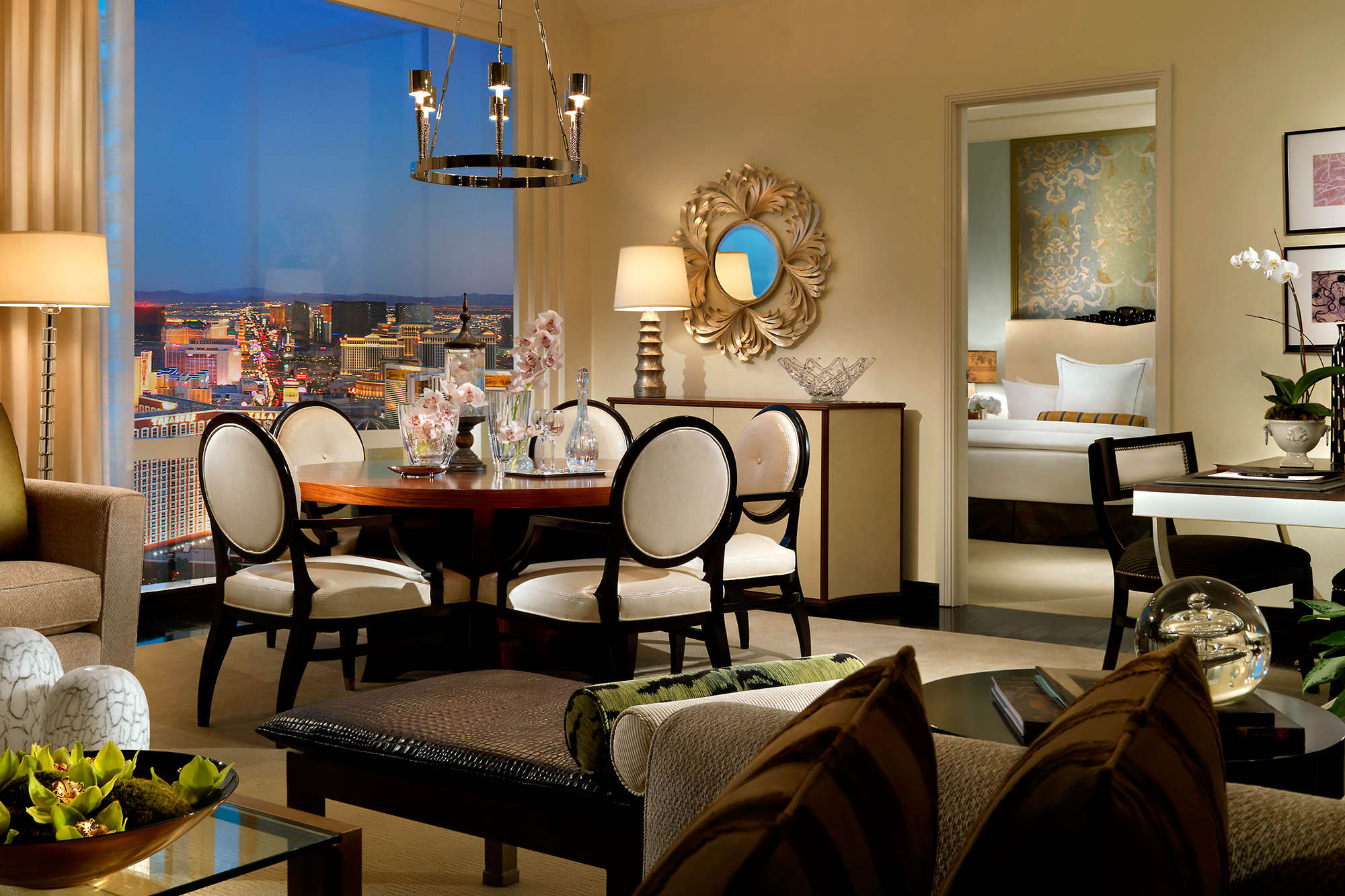 Photo Credit: Trump Las Vegas
Trump Las Vegas (#9)
If you're booking a presidential suite in Las Vegas, you expect the works. Unfortunately, Trump's three-bedroom penthouse misses the mark and looks like it could be in any location rather than having a Sin City appeal. On the other hand, it is definitely elegant and makes for a good option for those who prefer a more grown-up Vegas (read: quiet, formal). The 3,000-square-foot suite is priced at $2,035 a night and includes family-friendly living and dining areas, a library nook (case in point), Italian marble bathrooms and panoramic floor-to-ceiling views of The Strip.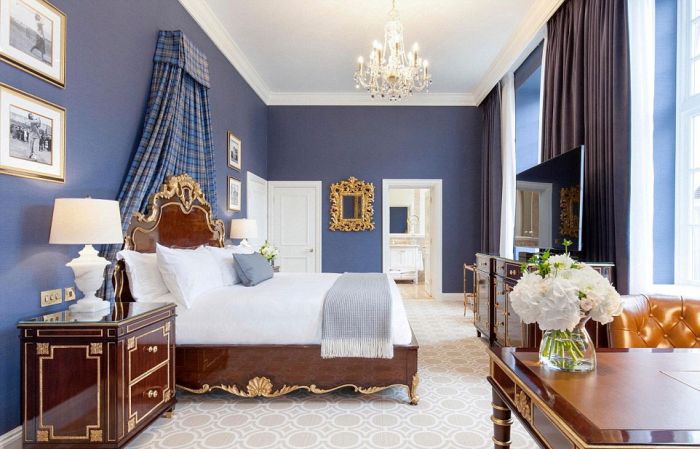 Photo Credit: Trump Turnberry
Trump Turnberry (#10)
Trump Turnberry reopened this past June following hotel-wide renovations. With the transformation, the Scottish property debuted its new presidential suite priced at $4,300 a night. Housed in a lighthouse built in 1873, the suite has a very regal feel to it and includes two bedrooms, living and dining rooms, and marble bathrooms. Of course, a huge part of this property's appeal is its iconic Ailsa Open Championship course. The lighthouse suite offers prime views of the greens.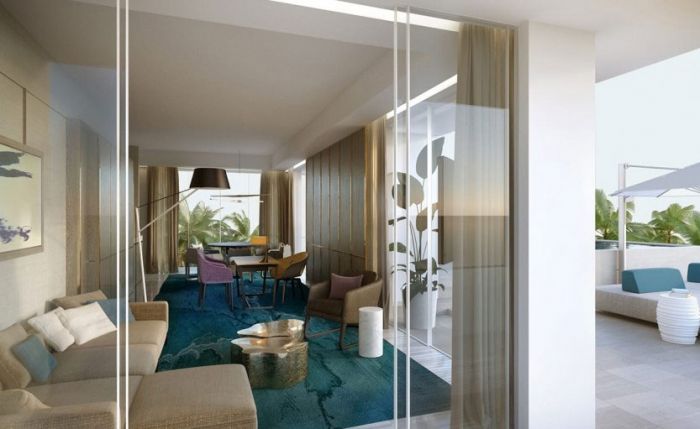 Photo Credit: Trump Rio de Janeiro
Trump Rio de Janeiro (#11)
Trump Rio de Janiero recently opened and as such, not much is known about its presidential suite other than it is 2,992-square-feet large and includes a private terrace and plunge pool with ocean views. At around $500 a night, it's definitely the least expensive of the bunch, but we're assuming that price is only available during its soft opening special. Because it's in one of our favorite cities, we're hoping when more details are released, it'll be just as great as its location.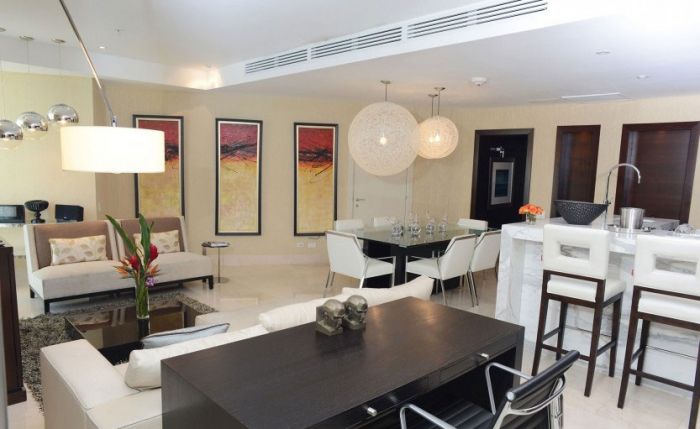 Photo Credit: Trump Panama
Trump Panama (#12)
To be honest, we don't know what's going on here. Trump Panama feels like the brand's unattractive half sister—it just doesn't feel very luxurious or modern. And at $2,689 a night, we'd expect a little bit more out of our accommodations. The 1,562-square-foot space offers partial views of the ocean from its 35th floor perch and features a living and dining room, kitchen with granite countertops and marble flooring. The saving grace of this suite is its expansive balcony and floor-to-ceiling windows that, if anything, let in lots of natural light (since full ocean views are out of the question).
* Macleod House & Lodge, Albemarle Estate at Trump Winery and Trump Doonbeg were not included in the rankings.