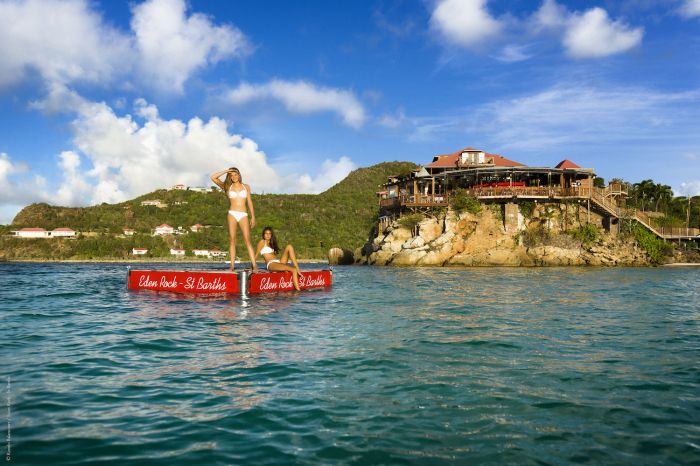 Photo Credit: Eden Rock-St. Barths
St. Barth's is unique among the islands of the West Indies in offering up a pastiche of Paris and St. Tropez in a Caribbean setting. While there are quieter sides to the incredibly beautiful island to be sure, anyone looking to experience the true style and flair of St. Barth's should book a suite at the Eden Rock–St. Barths in St. Jean Bay, one of the best and most beautiful beach resorts in the world. And it's a world where champagne, cocktails, fine cuisine and the beautiful people can be enjoyed in abundance.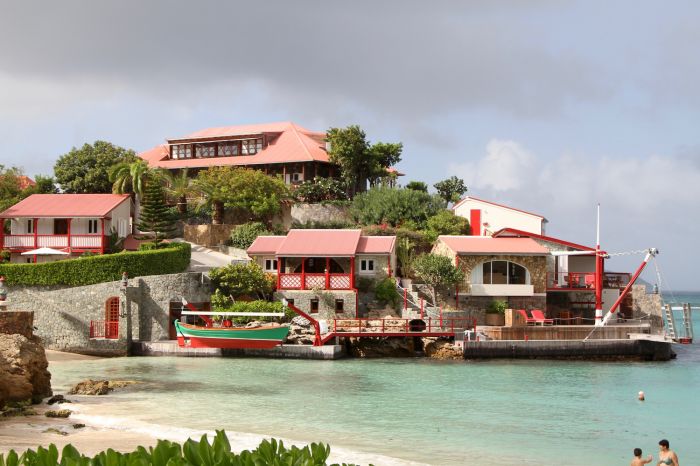 Photo Credit: Jared Paul Stern
Part of the renowned Oetker Collection of European luxury hotels, the 5-star Eden Rock–St. Barths espouses "French art de vivre in the heart of the Caribbean." Much of the hotel is situated on a craggy bluff—the Rock itself—that juts out over the beautiful blue ocean, adding a touch of drama to the proceedings. The bluff is home to "Legacy" suites honoring some of the most famous guests of the original Eden Rock, which opened in the 1950s, including Greta Garbo and Howard Hughes. Decorated with antiques, lavish fixtures, original works of art and family heirlooms, the suites have more charm and character than most of their ilk.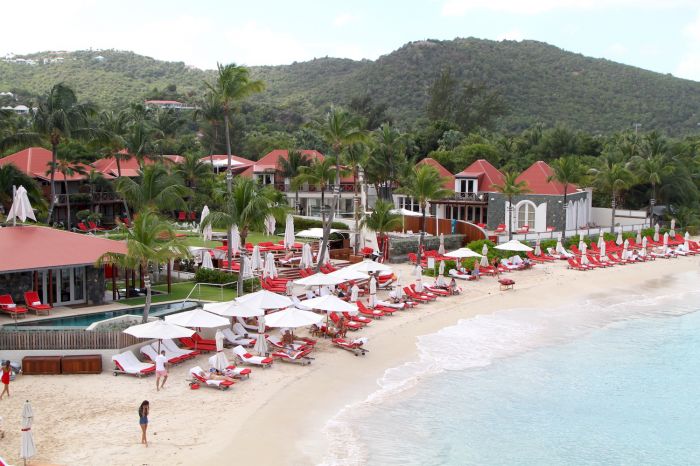 Photo Credit: Jared Paul Stern
The Legacy, Diamond and Premium suites each have unique features including terraces, decks, gardens, outdoor showers and private pools, and make you feel as if some movie star has just that minute checked out to make room for you. Several years ago on its strip of beachfront the Eden Rock built the epic Villa Rockstar, an enormous 16,000-square-foot celeb's retreat with four master suites, a screening room, recording studio, private pool. and dedicated butler, costing upwards of $120,000 per week. In 2016 Leonardo DiCaprio celebrated New Year's Eve there with guests including Rihanna, Lana del Rey and Marc Jacobs.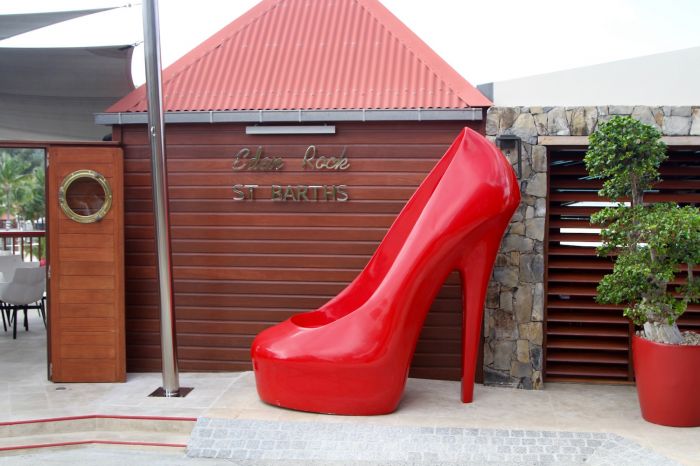 Photo Credit: Jared Paul Stern
The Eden Rock is simply "the coolest, most elegant, and most fun place to stay in the Caribbean," renowned Rolex collector Paul Altieri, founder and CEO of Bob's Watches and an Eden Rock regular, tells JustLuxe. "Lots of places have tried to emulate its style but nothing compares to the original. You feel like you're in a movie the whole time you're there." The splashes of red that appear around the resort, from beach umbrellas to curtains and a giant red sculpture of high-heeled shoe, give it a sexy, cinematic vibe. It's glamorous to be sure, but in an effortless way that doesn't impinge on your ability to relax and enjoy it to the fullest.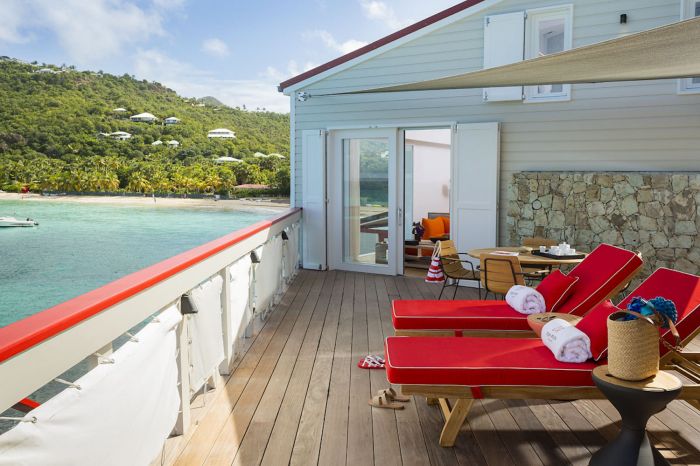 Photo Credit: Eden Rock-St. Barths
The Bluff also home to the Rock Bar, a seductive cocktail lounge, and On the Rocks, a fine dining restaurant headed by famed chef Jean-Georges Vongerichten. There are some lavish libations on offer at the former, including La Corne On the Rocks, made with Mount Gay Black Barrel Rum, Chambord liqueur, fresh raspberries, fresh mint leaves and cranberry juice, served up over crushed ice in a silver trimmed horn that looks and tastes like something from the bar at Valhalla. The hotel's beach club is the place to soak up the sun and make forays into the incredibly blue water while waiters bring you bottles of champagne—French, of course.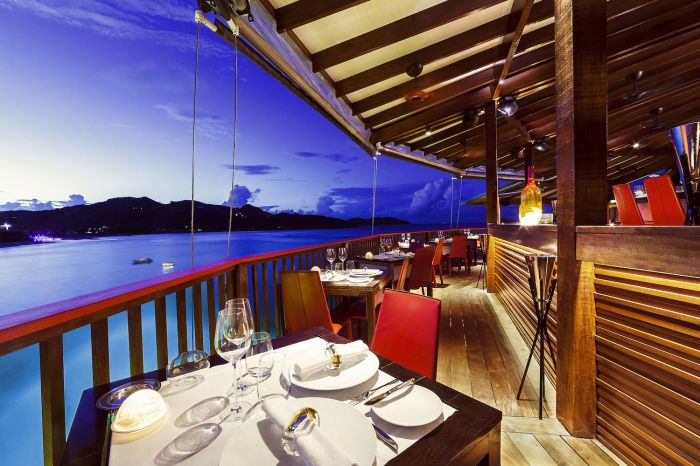 Photo Credit: Eden Rock-St. Barths
The Eden Rock–St. Barths is owned by British businessman David Matthews and his stylish artist wife Jane, whose work adorns the hotel, and the fact that it is a family-run business lends it a further air of intimacy. In 1995 they purchased Eden Rock from its founder, legendary island aviator and local adventurer Rémy de Haenen, and have been restoring, improving and expanding the impressive property ever since. It is frequently named one of the best hotels in the world, and with good reason.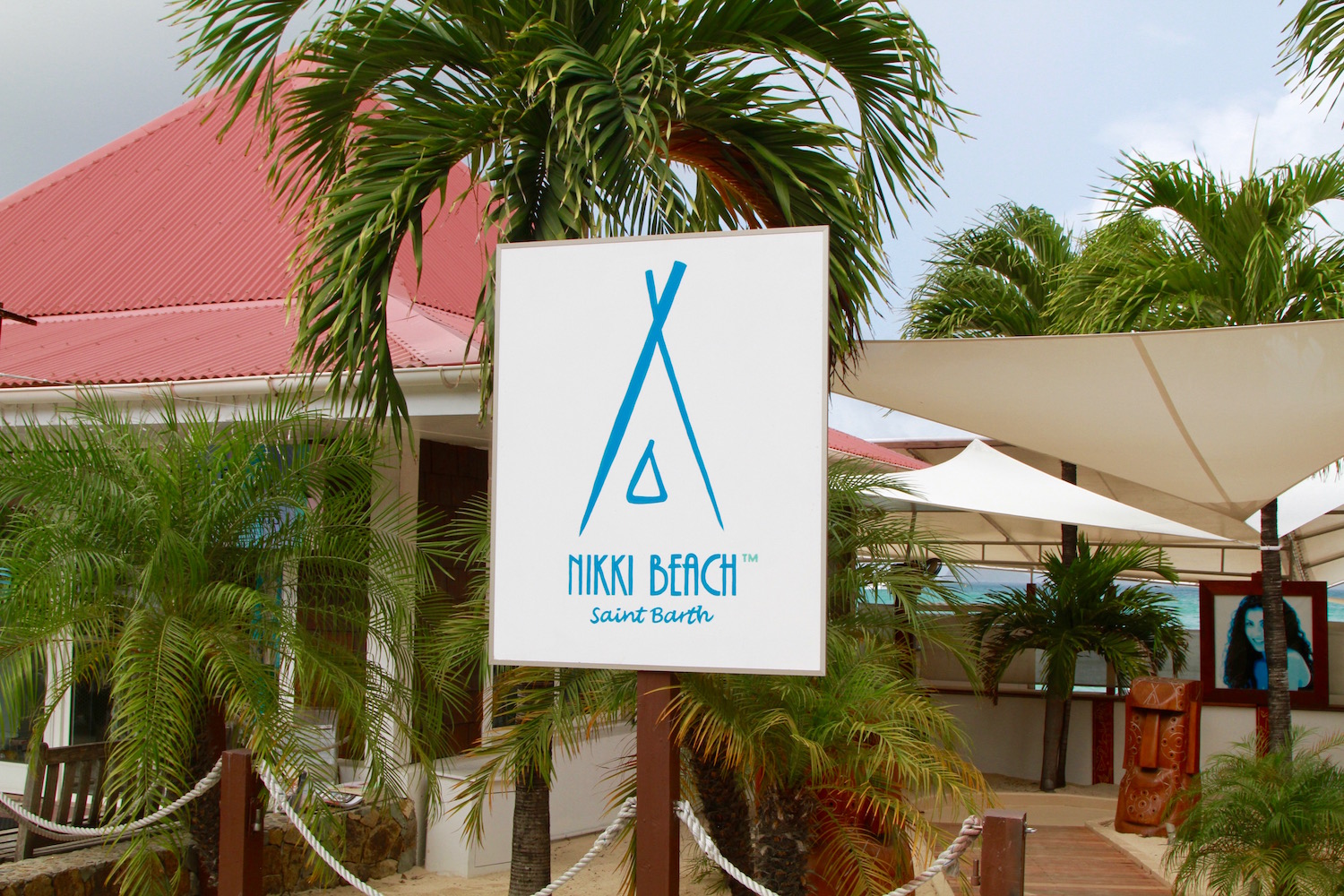 Photo Credit: Jared Paul Stern
Just down the beach from the Eden Rock you'll find another St Barth's institution, Nikki Beach, an elegantly debauched beach club with world-class cuisine, an eye-popping wine cellar and a never-ending stream of the rich, beautiful and well-dressed. It's no accident that the owners opened in right next to the Eden Rock. Sundays are the biggest day at the venue, when it turns into a never-ending beach party / brunch where refreshment comes in the form of both magnums of champagne and dips in the ocean to cool off. Celebrities can frequently be found there as well, including John Legend who performed at the club on New Year's Eve.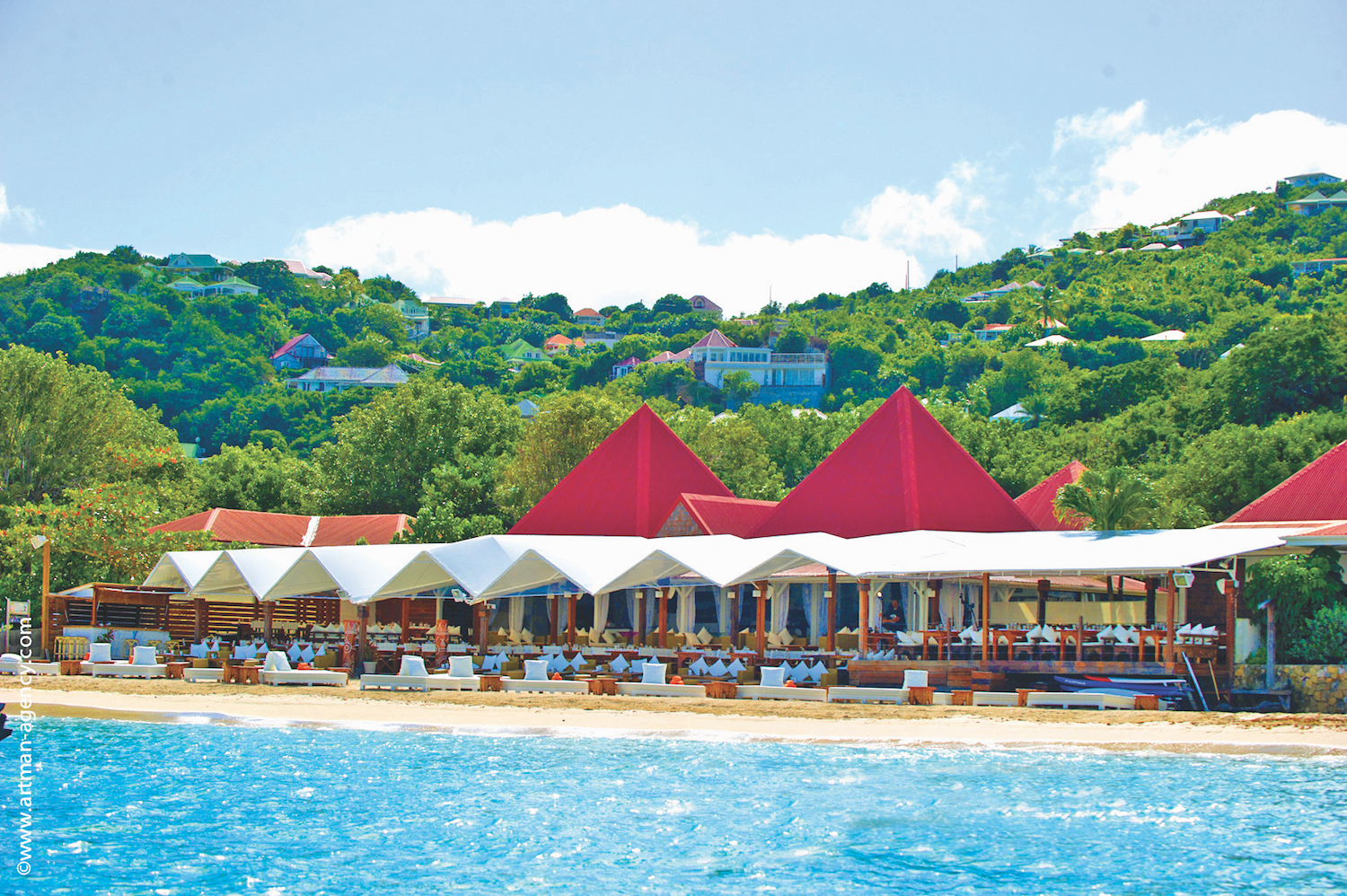 Photo Credit: Nikki Beach
Other A-list guests have included Jay-Z, Beyonce, Fergie, Josh Duhamel, Ashton Kutcher, Demi Moore, Mariah Carey, Bono and Robin Thicke among others. The plush sun beds are the prime spots for Sunday fun, and a luxury touch comes in the form of wall clocks custom made by Swiss luxury watch brand Audemars Piguet showing the current time as well as that of the St. Tropez and Bali locations. The St. Barth's outpost recently celebrated its 15th anniversary, with a white party, a Nikki Beach tradition that began with supermodel Naomi Campbell, who specified an all-white dress code for her birthday bash at Nikki beach St. Tropez in 2002.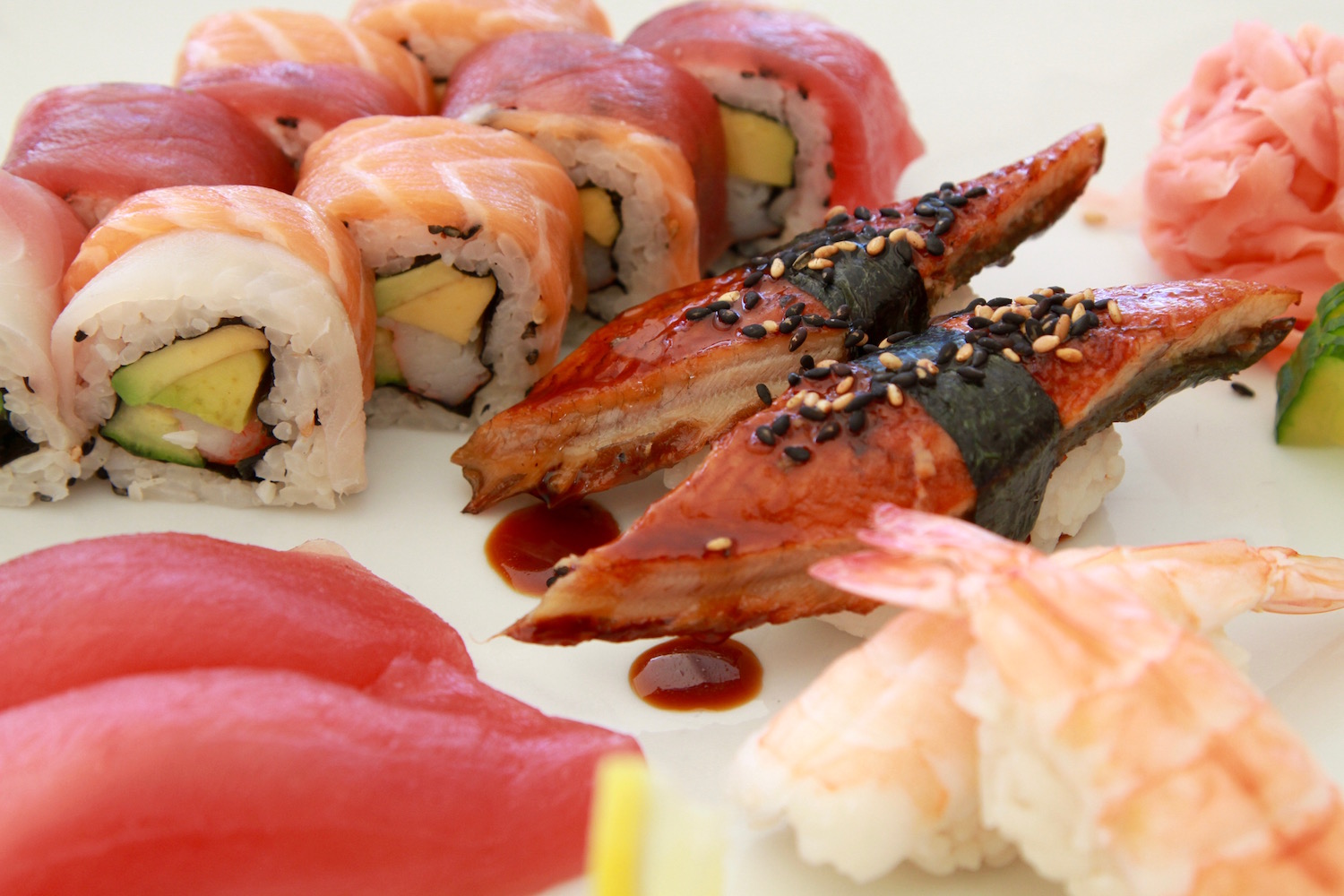 Photo Credit: Jared Paul Stern
Entrepreneur Jack Penrod opened the first Nikki Beach in Miami in 1998 to celebrate the life of his late daughter Nicole. There are now 13 permanent Nikki Beach locations around the world as well as annual Nikki Beach pop-up locations during the Cannes and Toronto International Film Festivals. The brand also has four international resorts in Koh Samui Thailand, Porto Heli Greece, Bodrum Turkey and Dubai. A Nikki Beach Barbados is also in the works.