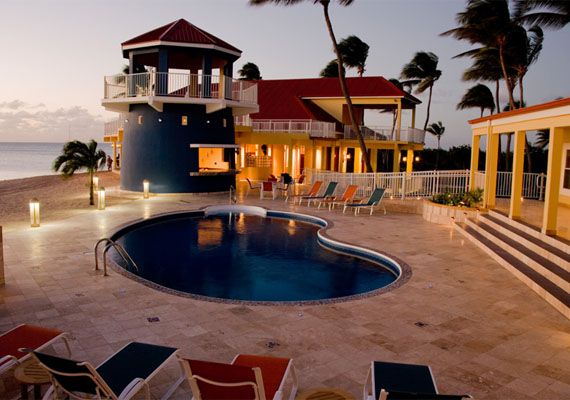 Photo Courtesy of The Lighthouse Bay
Remember when Travie McCoy sang about wanting to be a billionaire "so freaking bad" that he would give away cars, be on the cover of Forbes Magazine and adopt babies like Brangelina? Well, maybe Travie didn't know about the Caribbean's most expensive hotel, otherwise I'm sure the lyrics would have included a stay at the exclusive Lighthouse Bay Resort.
Photo Courtesy of Shutter Stock

Recently, a survey by CaribbeanResorts.net found The Lighthouse Bay Resort to be the costliest resort in the Caribbean. To acquire the results, the site focused on high peak season travel, most affordable double room and given a one month booking window. Among the top 20 hotels, Amanyara (Turks & Caicos) took second with Sheriva Villa Hotel (Anguilla) finishing third.
Photo Courtesy of The Lighthouse Bay


Naturally, arriving at Lighthouse Bay Resort is an option only for the elite with travel by jet plane or helicopter. Those without the means to secure that kind of snazzy transport will have to settle for Google images to see this luxurious destination. Surrounded by the Atlantic Ocean, Caribbean Sea and Codrington Lagoon, the private nine-suite resort is available to guests as an exclusive island retreat. If this sounds like exactly what you're looking for, then get ready to spend $2,490 for just one night's stay. You can't put a price on paradise, right?
Photo Courtesy of Amanyara


Over on the Turks & Caicos Islands, Amanyara, with its villas scattered throughout tropical vegetation and sweeping views of the Atlantic Ocean made the list due to its hefty price tag of $2,059 per night. This serene hideaway seamlessly blends together its natural environment with its modern design through sliding-glass walls that create the appearance of limitless space between your accommodations and the turquoise waters below.
Photo Courtesy of Sheriva


Sheriva Villa Hotel, a luxury boutique hotel, finds its way onto the list with a mere $1,914 per room night. Pennies. Referring to itself as understated yet offering elitist luxuries, the property offers 1-bedroom Grand Pool suites to grand 8-bedroom villas with multiple pools.
Photo Courtesy of Eden Rock

Also named on the Top 20 list were:
Jumby Bay, $1898
Le Toiny, $1812
Petit St Vincent, $1640
Sandy Lane, $1597
Coco Point Lodge, $1515
Jade Mountain Resort, $1504
Hermitage Bay, $1423
Sandals Royal Plantation, $1422
Grace Bay Club, $1405
Peter Island Resort, $1223
The Venetian on Grace Bay, $1179
Eden Rock, $1169
Tortuga Bay, $1062
Caribbean Club, $1027
Imanta Resorts, $1020
Le Sereno, $1014
Goldeneye Resort, $1008

Maybe Travie's next song will be on which hotels he'd spend his newfound-wealth at, I am sure he could find one or two to mention.