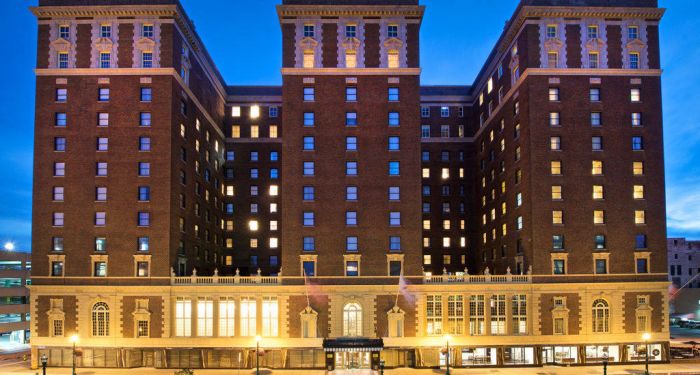 Photo Credit: Marriott Syracuse Downtown
There are times when staying at a historic hotel goes beyond being ensconced in solid construction and ornate architecture that can never be replicated in today's world. At Marriott Syracuse Downtown, a grand hotel that opened in Fall 2016 after a $76 million renovation, checking in palpably connects you to its historic significance as well as remarkable rebirth. Of the nearly 185 attentive staff working here, more than half come from nearby, inner-city neighborhoods proud to be an integral part of the hotel's new chapter.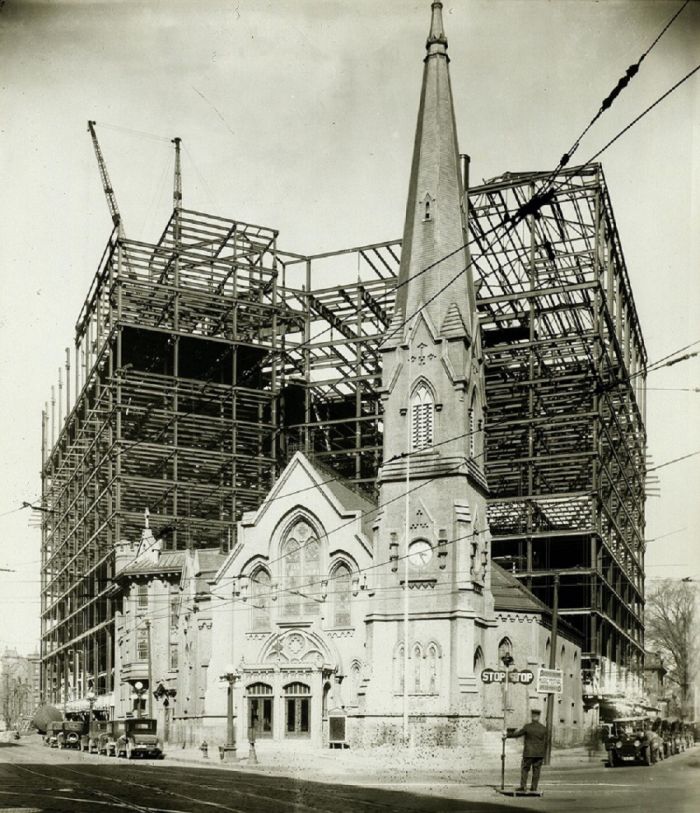 Photo Credit: Onondaga Historical Association
Originally opened in 1924 as the Hotel Syracuse at the intersection of South Warren and East Onondaga Streets in the heart of downtown, this Historic Hotels of America property was built to accommodate business travelers, tourists and top celebrities amidst Central New York's booming economy fueled by the Erie Canal, and later, Industrial Revolution-driven commerce. Child star Jackie Coogan of Charlie Chaplin's The Kid-fame was the first official guest followed over the years by Charles Lindbergh, Elvis Presley, John Lennon, the Rolling Stones, and Presidents John F. Kennedy and Dwight D. Eisenhower. The hotel remained the city's premier cultural hub for decades, but nearly met its fate to the wrecking ball only to be saved in the final hour.

Photo Credit: Onondaga Historical Association
Restored to its original grandeur, The Marriott Syracuse Downtown now stands as a symbol of rebirth for multiple generations of locals. Grandparents who once stayed in a room during their honeymoon in 1965, can now do the same for their grandchildren's wedding. Former employees who made careers here only to see the property boarded up and abandoned, can now visit and experience it in better shape than when they left it.

Photo Credit: Marriott Syracuse Downtown
Restoration of the derelict shell began in 2014 with no electricity and only one functioning toilet in the entire 11-floor, 600-room, three-tower hotel. Many original ornate flourishes were neglected or covered over time with ceiling tile and partition walls. Approximately 1,000 construction workers and artisans, up to 500 per shift, often worked double time to completely remodel it within two years. Room count was reduced by more than half to reconfigure cramped spaces that no longer matched modern guest expectations, while simultaneously increasing square footage. Each room's only enduring attribute is the "servidor," a casket top-shaped door containing a locked compartment once used by guests to leave their laundry for a completely unobtrusive in-room amenity.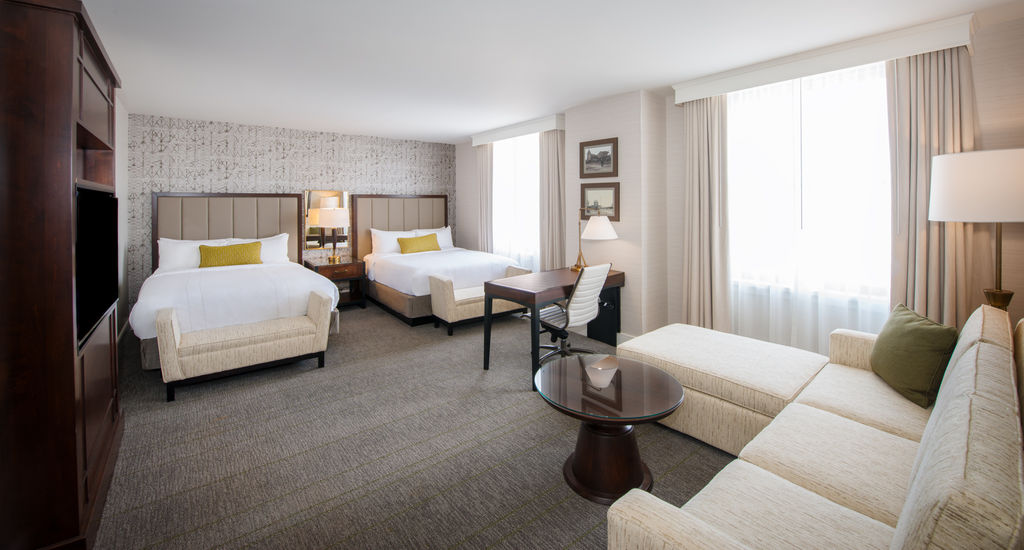 Photo Credit: Marriott Syracuse Downtown
The Marriott Syracuse Downtown's massively grand lobby features original terrazzo flooring, soaring 20-foot ceilings and columns, and a 40 by six foot mural above the front desk depicting 20 key events during the first 100 years of Syracuse's history. Decades of accumulated tobacco smoke and coal dust that darkened the mural over the years was removed to reveal its original 1949 appearance. Just as they did for the hotel's initial opening in 1924, locally-based Stickley Furniture supplied lobby and guest room furnishings.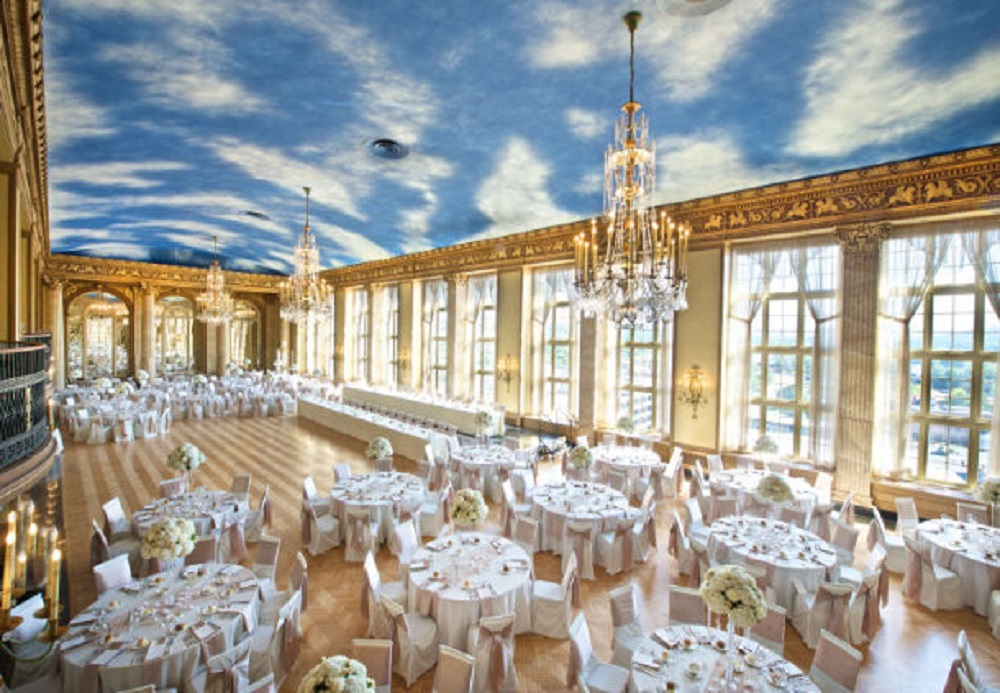 Photo Credit: Marriott Syracuse Downtown
Soaring city views with wide open countryside in the horizon via floor-to-ceiling, two-story windows in the 10th floor Grand Ballroom are elegantly accented with original 16-foot-tall chandeliers each boasting over 2,000 crystals, carefully restored to their former glory at a "chandelier spa" with machines delicate enough to remove ink from a sheet of paper. The vaulted 27-foot-high ceilings covered with an expansive hand-painted skyscape was painstakingly repaired one brushstroke at a time.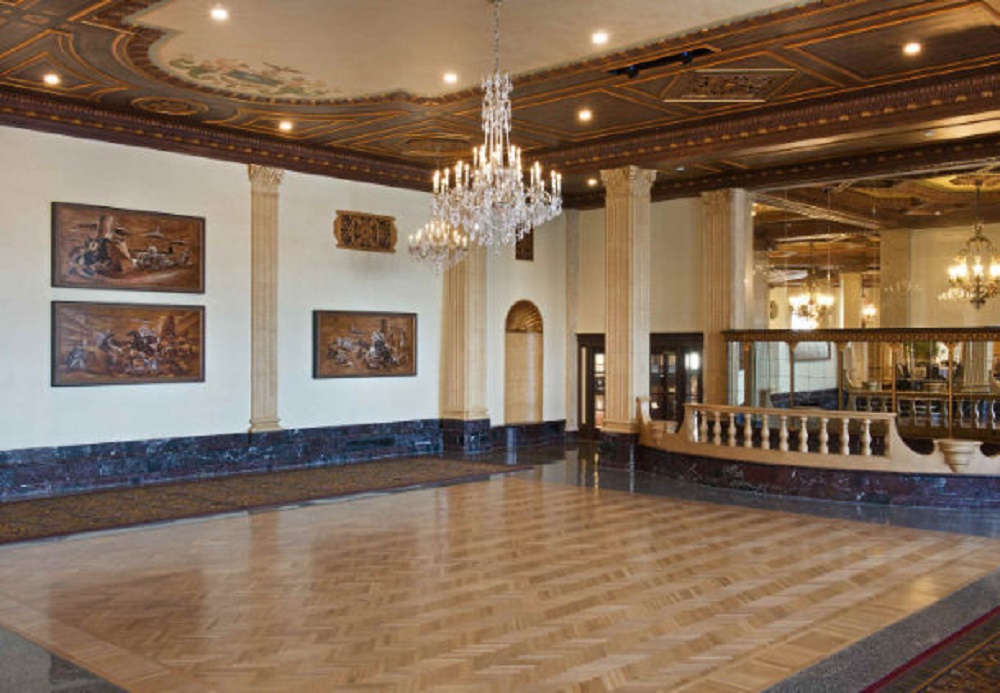 Photo Credit: Marriott Syracuse Downtown
The Persian Terrace at lobby level features expansive arched windows, a trompe l'oeil ceiling framed in a rich wood coffered effect enhanced with classical detailing. The hand-laid herringbone wood dance floor was filled to capacity when Cab Calloway, Benny Goodman and Glenn Miller passed through Syracuse on tour during the big band swing era.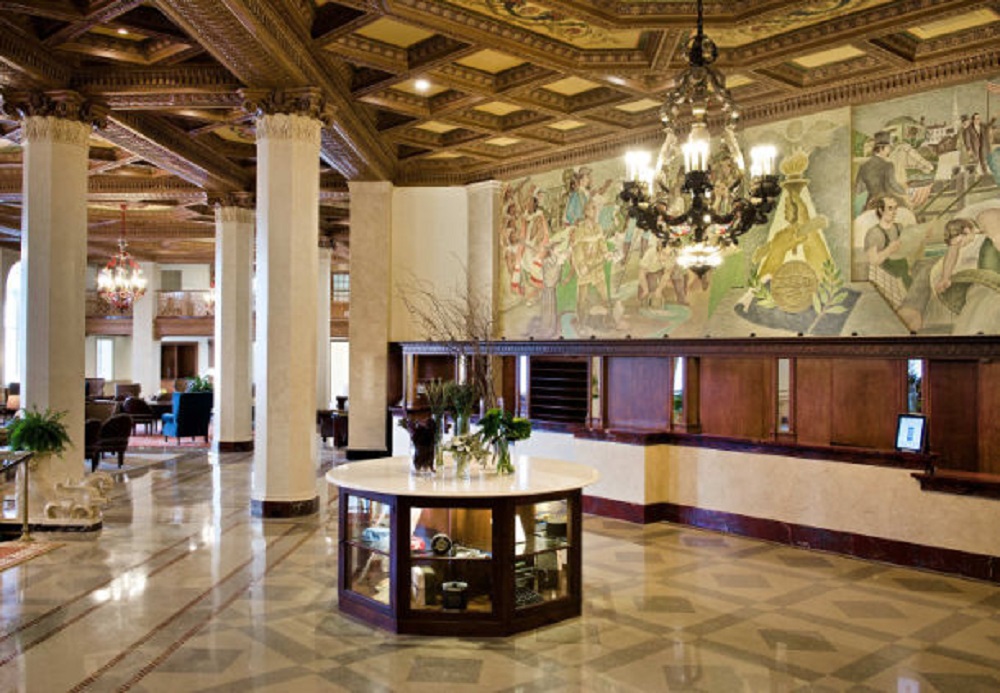 Photo Credit: Marriott Syracuse Downtown
On loan from the Onondaga Historical Association, historic photos mounted throughout the property and memorabilia filling lobby display cases provide additional glimpses into how the neighborhood and hotel evolved over time.
A key practical highlight of staying here is descending into the lower lobby interconnecting all three on-site dining venues also accessible via outside entrances and street level patio seating.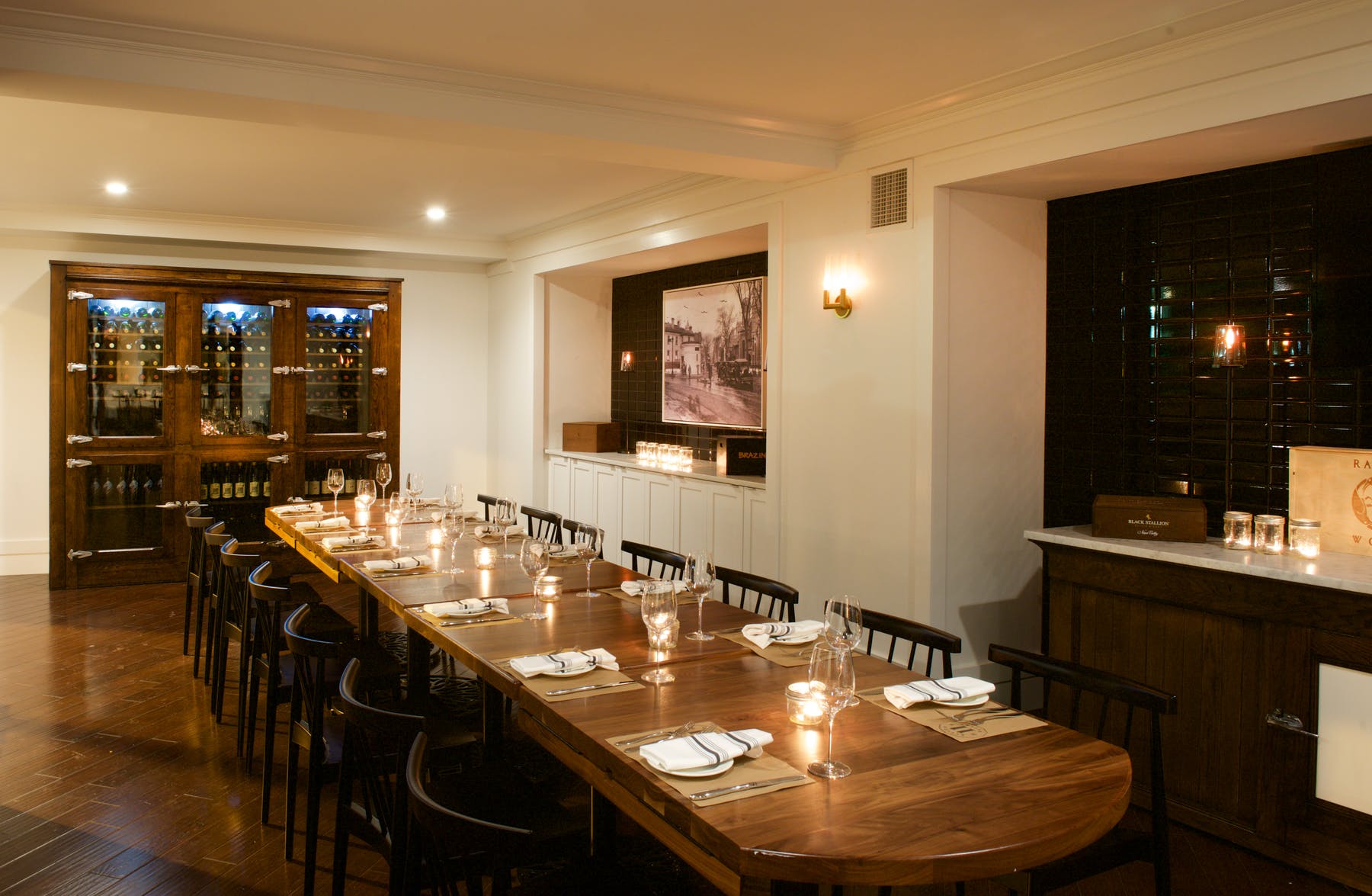 Photo Credit: Eleven Waters
Named after the region's renowned Finger Lakes, Eleven Waters, the hotel's signature dining venue, is a French-style bistro with an upstate flair. The dining room is flooded with natural light and modernist, bright earth-tone furnishings, while tables are set with artisan water glasses crafted from recycled wine bottles. Breakfasts include a full buffet or signature dishes like a Syracuse Skillet made with local Gianelli sausage, Utica greens, and mozzarella and romano cheeses. Offerings later in the day can range from Hosmer Chardonnay Mussels and Frites in an Onondaga County butter and roasted garlic sauce, to Hudson Valley duck tacos and cassoulets.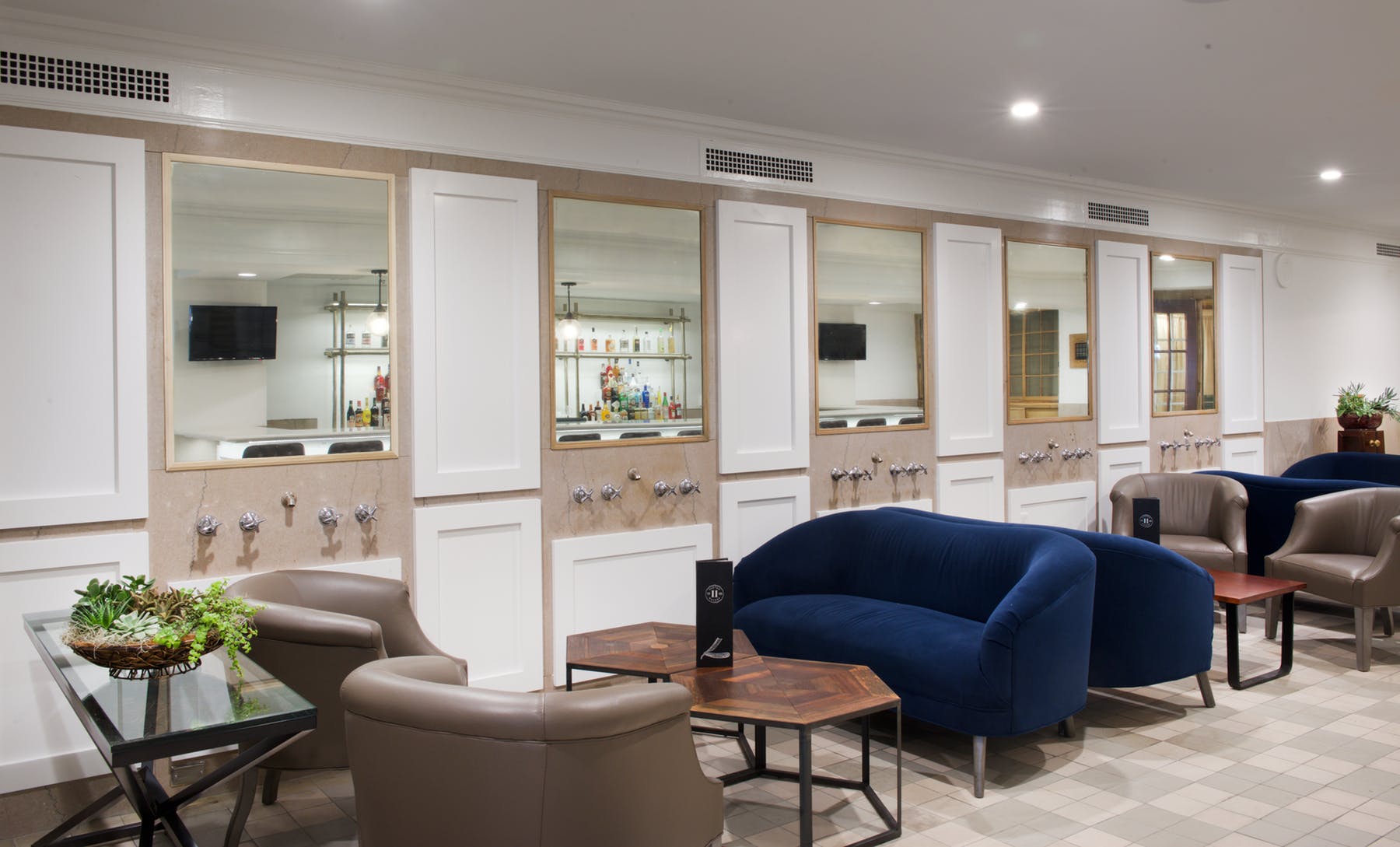 Photo Credit: Eleven Waters
Recently inducted into the American Academy of Chefs Culinary Hall of Fame, Executive Chef Tom Kiernan bases his preparations on Central New York farm-fresh ingredients and local wines. "Every entree at Eleven Waters is created with a Finger Lakes wine pairing in mind," says Chef Kiernan. Varietals like Glenora Chardonnay and Hazlitt Riesling flow on tap directly from the cask for a better-tasting, eco-friendly glass. What was once the hotel's on-site barbershop is now a bar serving up local craft beers from Ithaca Beer Company and Middle Ages Brewing while cocktails like the The Clean Shave and Beehive Mule, a nod its roots, use local micro distilled liquors like Knapp Distillery vodka. Blue velvet settees and taupe leather club chairs add a modern touch to the original mirrors, tiled flooring and chrome water fixtures that remain to this day.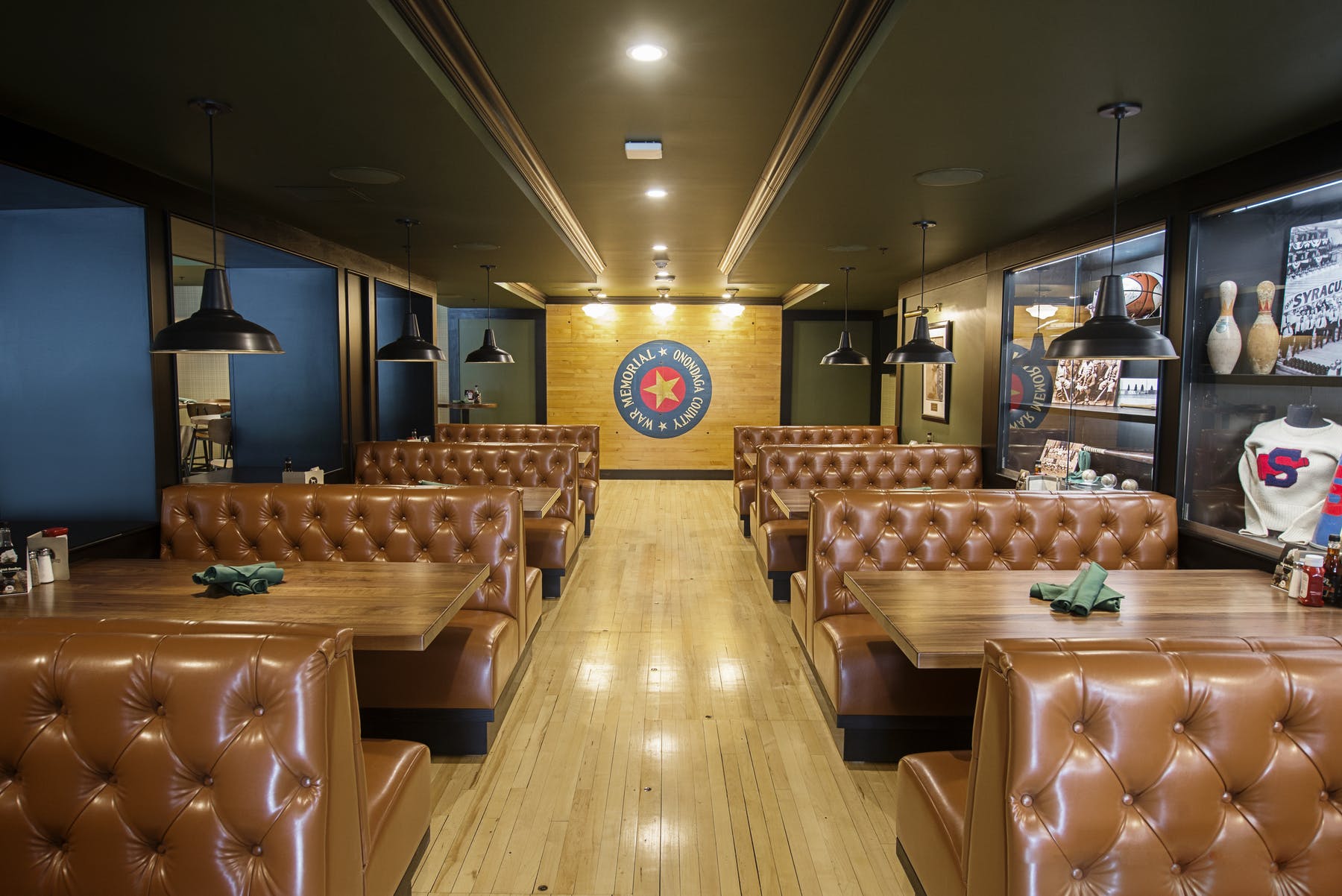 Photo Credit: Shaughnessy's Sports Pub
Shaughnessy's Sports Pub is another can't-miss option where comfort dishes like Shepard's Pie and overstuffed Reubens are served at the bar and surrounding dining area with a basketball court floor once used by the Syracuse Nationals, one of seven teams that formed the original NBA in 1949, that was moved from elsewhere and reinstalled here.

Photo Credit: Steve Mirsky
The official hotel for Onondaga County Convention Center (OnCenter) just a block away, Marriott Syracuse Downtown is also within walking distance to the Onondaga Creek Walk winding along the river passing by Armory Square's, vintage music shop The Soundgarden, Empire City Brewery and Kubal Coffee Roasters across the street from the Niagra Mohawk Power Company, widely considered the boldest Art Deco building in the United States. Continuing along the Walk brings you past other historic sites like Inner Harbor and an old salt works reaching its terminus on the shores of Onondaga Lake.