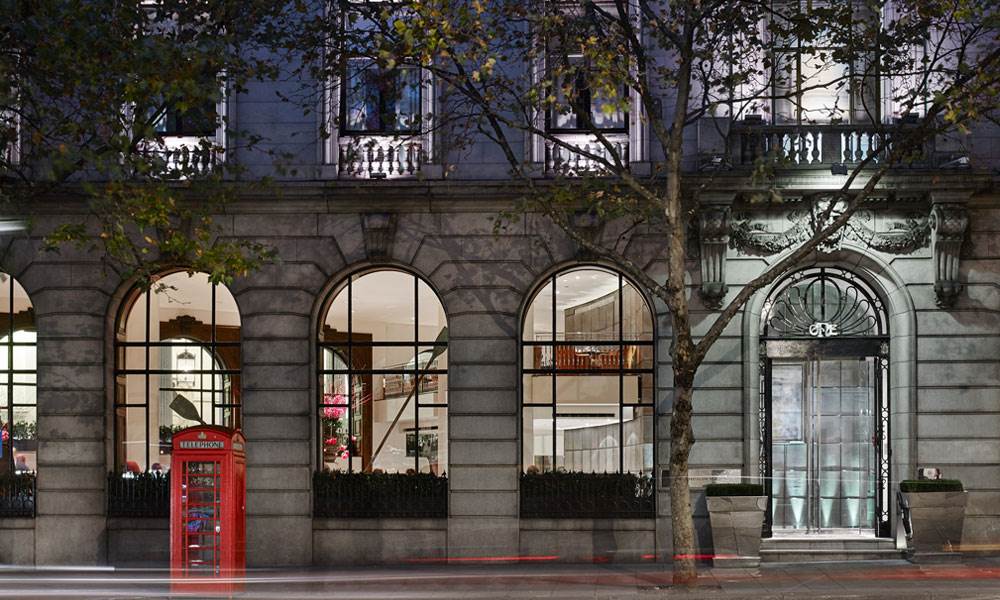 Photos Credit: One Aldwych London
Nestled in Covent Garden, One Aldwych in London is a luxury property that has been charming guests with a bevy of brag-worthy aspects since 1998. But at the heart of it, the luxury boutique hotel offers a warm personableness, a unique personality and a welcome respite from a chaotic, cosmopolitan city.
History and Design
Designed in 1905 by architects Charles Mewes and Arthur Davis, it was once the home of the Morning Post (for 30 years until it merged with The Daily Telegraph) and was located in the hub of the golden era of print newspapers. In fact, one of its more notable employees, Sir Winston Churchill, reported on the Boer War during his years with the paper. Today, the landmark building has preserved many of the design duo's hallmark architectural features. Contemporary art and floral arrangements are juxtaposed with Edwardian and Parisian designs of the past including a copper cupola dome (located in the private dining room), mansard roof of Westmorland slate, female headstones, and low balustrade balconies. The blend of modern and classic makes for enriching views wherever you explore the hotel.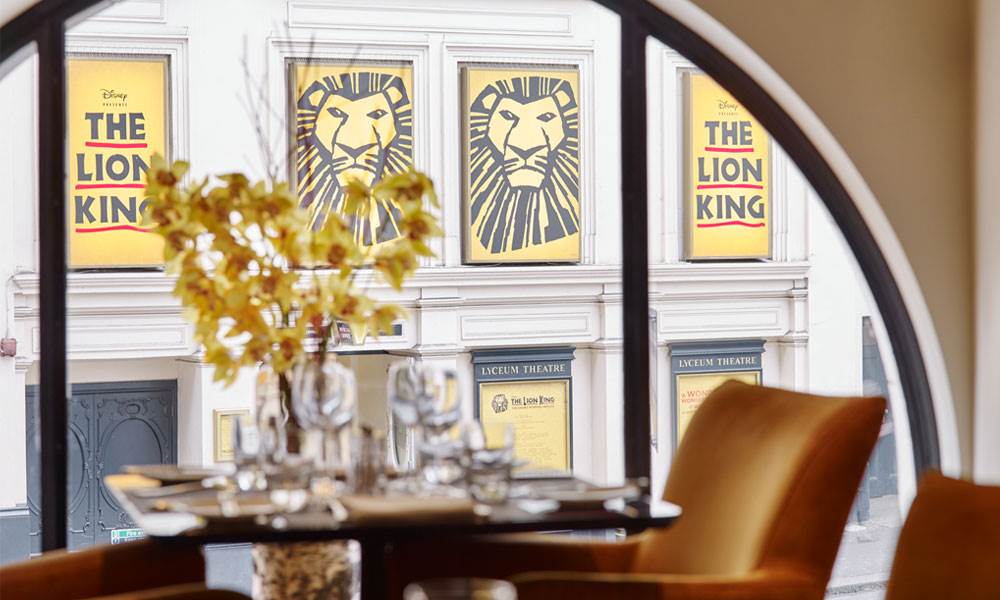 Location. Location. Location.
One of the most appealing aspects of staying at One Aldwych is the location. Covent Garden offers shopping, dining and entertainment, and is steps away from the hotel. Even more alluring is the variety of theaters and shows (there are at least 20) that are all within a 10 minute walking distance. For breathtaking sights, the Thames River, Trafalgar Square, Big Ben and The London Eye are a quick bike ride or easy walk from the hotel.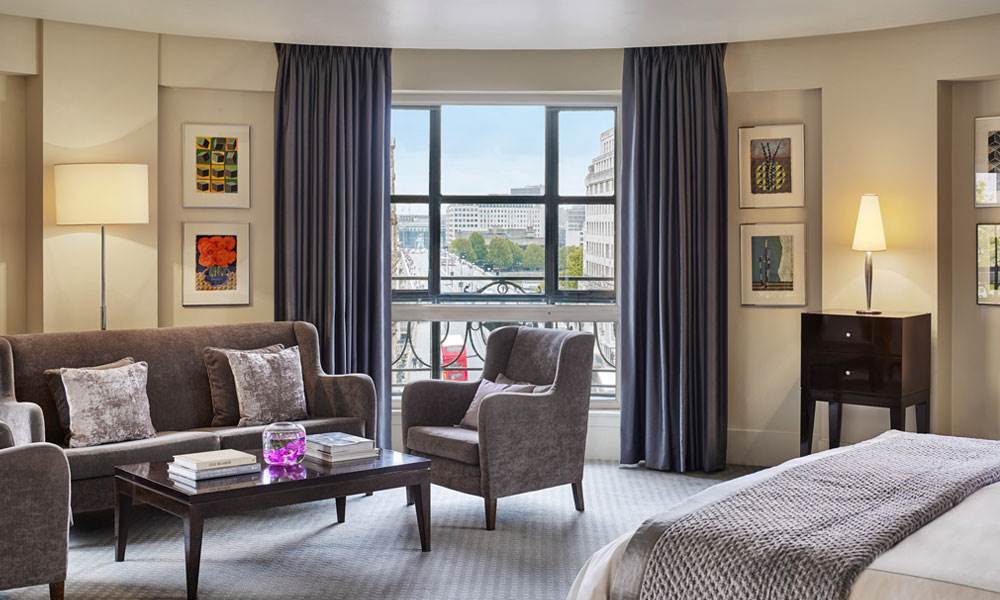 Service and Rooms
The property is independent and privately owned which means that its eclectic personality and attention to detail is experienced at every turn of your stay. Although the property is five-star, it isn't stuffy or overly formal; instead it's about friendliness and having an approachable, helpful nature. Sitting at 105 rooms, it straddles the definition of a boutique and grand hotel. Each of the rooms are airy, with plenty of natural light streaming through, and they offer great views of the city. Despite being in a busy neighborhood, the rooms have a zen-like quality; you don't hear outside city noises, which helps weary travelers get a good night's slumber.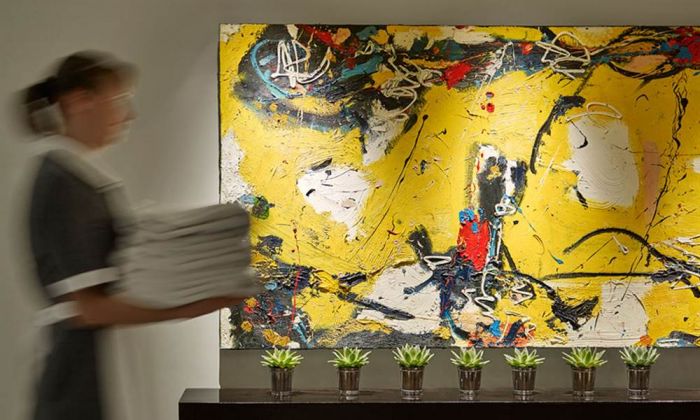 Flower Power and An Art Attack
One of the more unique talking points to the hotel is the flowers and the artwork that dot many of the spaces. There are over 350 pieces of unique, contemporary and abstract art to be found. These include Toast for Breakfast, Toast for Lunch, Toast for Tea and More by Tracy Davidson which sees 198 squares of toast embedded in beeswax; it is a personal tale about her impoverished childhood as well as her father's time in prison. Also noteworthy: Boatman with Oars by Andre Wallace which greets you as you enter the Lobby Bar. It's a fun, interactive piece guests get to enjoy as they sip their cocktails alongside this striking figure; it's a statement piece, but doesn't overpower the space or mood.
Meanwhile in-house florist, Mark Siredzuk (a.k.a. Flowers at One), enhances the whimsical and creative nature of the hotel with his statement floral arrangements. In fact, flowers that welcome guests in every room are courtesy of Siredzuk. The pieces found throughout the hotel, such as the ones poised on plinths in the center of the Lobby Bar, add depth and allure to the nooks and larger spaces of the hotel.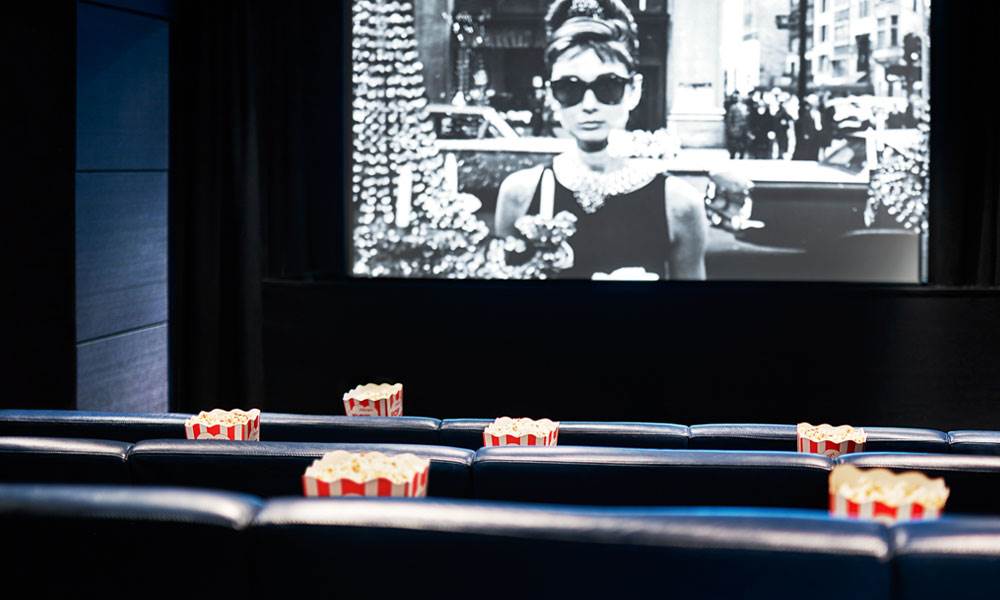 Film and Fizz
Dinner and a movie with your own private cinema sounds like something you could only do when in your home city. However, the hotel's Film & Fizz partnership with Curzon has made it possible for out-of-towners and locals to get an intimate film experience. A movie ticket gets you a glass of Lallier Champagne, the latest screening of one of their new film releases and a three-course meal at Indigo, one of the hotel's two gourmet dining experiences.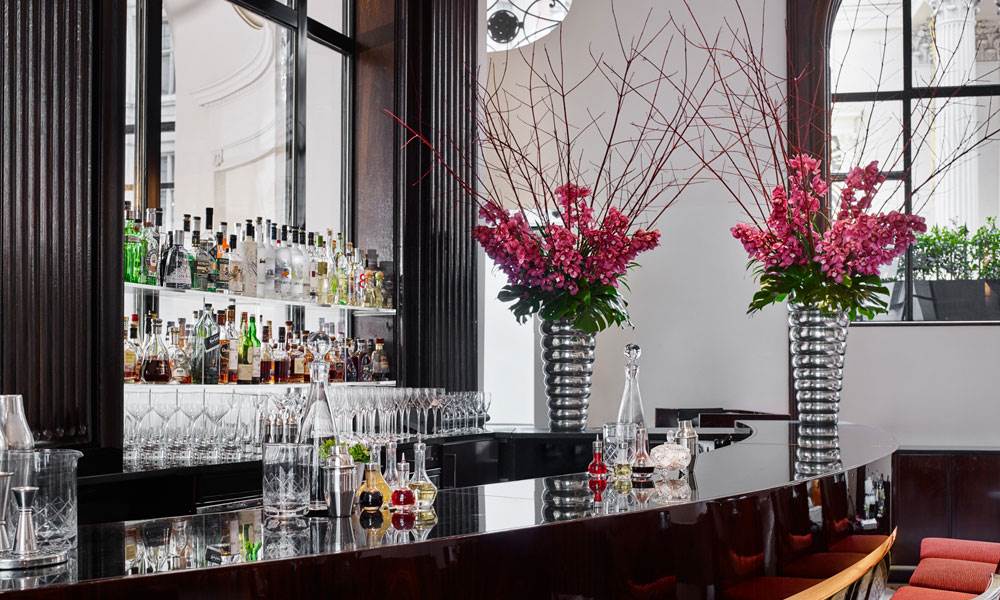 Food and Drink
The Lobby Bar, with its lofty ceilings, marble flooring and cushy seating, is the place where locals take advantage of happy hour (cocktail trolley, anyone?) and where visitors can soak up London's energy and lively pace. Perhaps the not-to-miss drink is The Origin, a nifty cocktail with plenty of bells and whistles. It is part of a collective devised by Pedro Paulo called Showtime Cocktails as a fitting homage to all the theater shows in the area, and fittingly, drinks are divided by type (e.g. Comedies, Musicals, Backstage). The Origin takes you on a journey through The Highlands, courtesy of a pair of VR goggles provided. Soon you're fully immersed in the sights, sounds, and eventual tastes and smells of the Scottish Highlands, when intense smokiness from your cocktail arrives at the table and wafts up into your nostrils. The drink is crafted with Dalmore 12-year-old whisky, Merlet cherry liqueur, cherry puree, grapefruit juice, chocolate bitters and finished with Lallier Champagne. A bonus is the nibbles that complement the sips, created by Chef Dominic Teague. The drink pairs sublimely with croquettes that are made with the heady pungency of goat cheese, truffle and sweet crushed almonds.
Lunch and dinner at Indigo are entirely gluten and dairy free; menus are crafted by Chef Dominic Teague. Although one might suspect that this was due to allergy or dietary requests, it was a personal choice and he quietly changed the menu fare back in November 2015—with the most important aim not to compromise flavor and quality. Today, it boasts as the first luxury hotel restaurant in the UK to be awarded the Coeliac UK Gluten Free accreditation. Indigo prides itself on sourcing locally from the British Isles. Not-to-miss dishes include Wye Valley asparagus with lemon mayonnaise; and fresh truffles and beer battered day boat fish with hand-cut chips, crushed peas and tartar sauce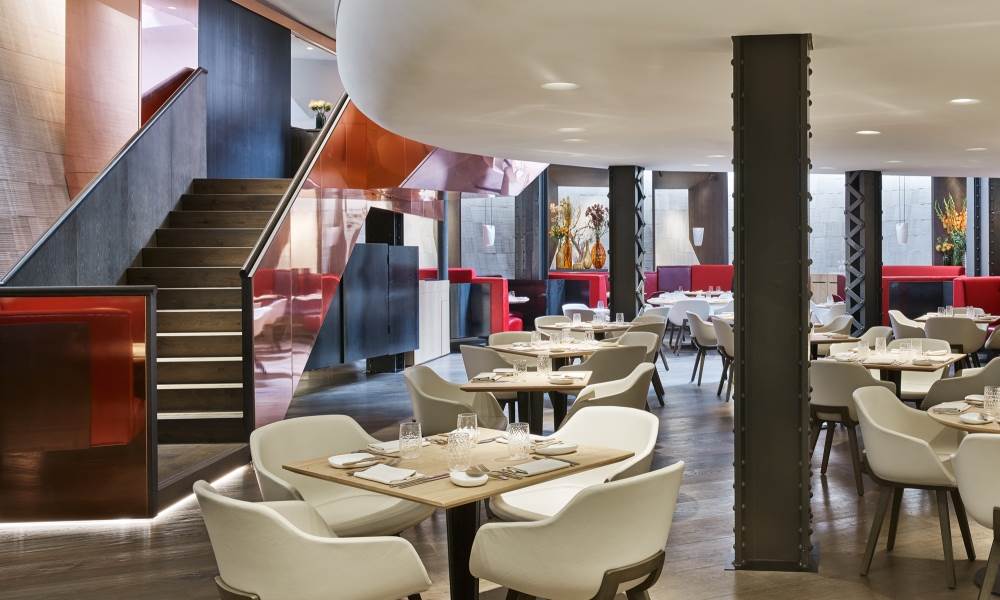 From Michelin-star awarded Chef Eneko Atxa (his three-Michelin-star Azurmendi Restaurant is also one of The World's 50 Best Restaurants), comes his London outpost, Eneko at One Aldwych. The fare will cause adventurous foodies to swoon as it is unabashedly Basque; dishes are robust in flavor (through the use of many umami-laced ingredients), layered (with reduction and emulsions aplenty) and presented in an avant-garde manner. The aim of the restaurant is to present traditional Basque dishes with a more modernist approach.
Menu showstoppers include Memories of Bay of Biscay which sees plump diver scallops seared, served with daikon, chive emulsion, with a fog of dry ice emanating from the dish (because, why not). Braised Pork Cheeks arrive to the table glistening with an almost mahogany laquer coating the meat. Then the umami-based accompaniments, including iberian ham duxelle, create a seductively salty-sweet, ruddy-colored reduction sauce.
Desserts are a must and envisioned by Chef Alexandra Zaccardi, whose torrijia tastes like the cousin of a tres leche cake—squishy Basque vanilla sponge is drenched in milk infused with cinnamon, nutmeg and star anise. Salted Caramel Mousse arrives like a rectangular log with a light amber sheen; it's on the creamier and denser side of mousses and finished with white chocolate truffles, butter cookie crumbles and sheep's milk ice cream.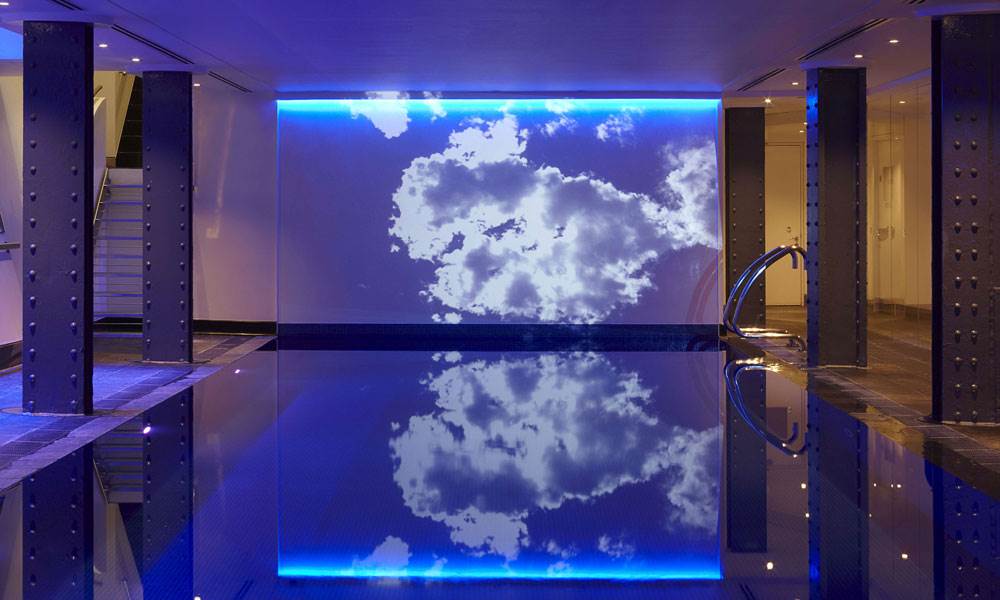 Spa at The Health Club
First, there's the serenity of the chlorine-free, 59-foot pool with visual projections of clouds and sea creatures swimming alongside you; the dreamscape is bolstered with underwater music in the pool, as well as steam and sauna rooms to provide you with peace and relaxation. Then, there's The Spa at The Health Club. Even if you're pressed for time, the one signature treatment you can't go home without is the quickie Glow on the Go. It is one of the more rare treatments where facial massage techniques are done in an assertive manner, rather than an application of products with gentle or light caresses. But there's a method to the madness so to speak. In partnership with OSKIA skincare products, a London based nutritional skincare line, this 45-minute facial is quite methodical. The spa technician assess your skin and uses products that best suit your needs. The bio-active line is beauty-meets-science and is created with plant stem cell technology, peptide complexes, antioxidants, enzymes, prebiotics, plant extracts and floral oils. After one treatment, the results offer you radiant and glowing skin.