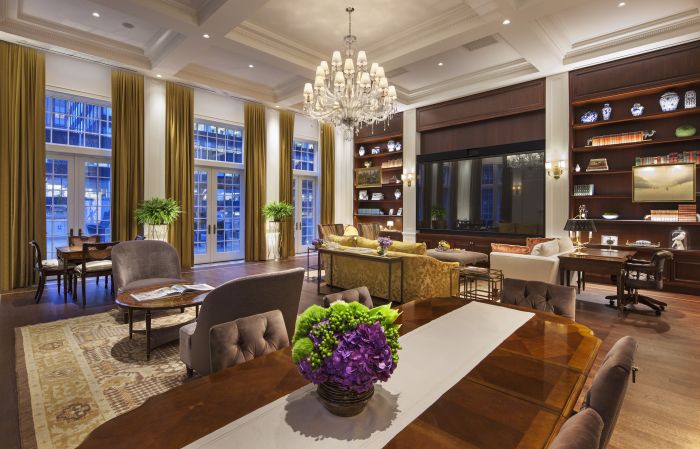 Photo Credit: InterContinental Barclay
As if this 1926 grande dame hotel wasn't special enough, the InterContinental New York Barclay saw fit to add a penthouse. On the heels of a massive renovation, completed in April 2016, management decided to go all-in with an ultra-luxurious penthouse on the roof. Mind you, the InterContinental New York Barclay already had a Presidential Suite that rents at $25,000 per night. Why not add one with a full-on view of the Chrysler Building as well, with a well-appointed terrace?
As soon as you enter the penthouse, you'll notice the living room's floor-to-ceiling windows with the famous Chrysler Building in full view. A spacious, 2,700 square feet of luxury welcome you into this one-of-a-kind penthouse. Named after the hotel's most famous long-standing resident, Harold S. Vanderbuilt, this 16th-floor penthouse is the envy of all who see it. In the living room two sofas, along with two arm chairs, offer a comfortable place to discuss the day's events. At night, this space is lit by a glittering chandelier for a relaxing tone. Two arm chairs take up residence in front of the gas-log fireplace for before-dinner cocktails on chilly winter nights.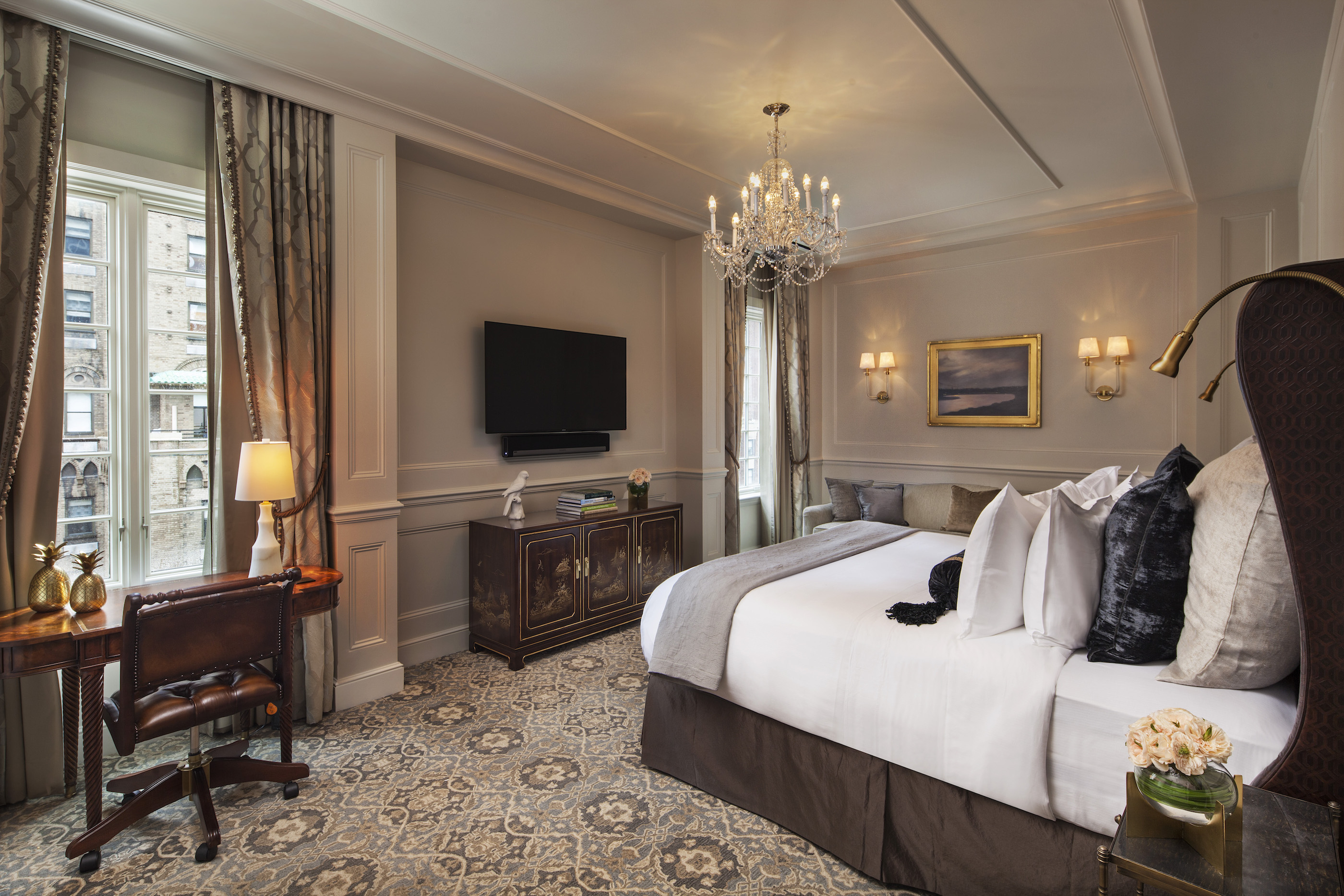 Photo Credit: InterContinental Barclay
With two bedrooms, three full bathrooms, an open floor plan and a 1,300-square-foot outdoor terrace, it's hard to beat this combination. The two bedrooms include a master bedroom with a king-sized bed, and a second bedroom with two queen beds. Everything in the penthouse shines like new, because it is all new. Top-of-the-line furnishings and amenities will spoil you. Bath amenities are made by Caswell-Massey, the first retail tenant at the hotel. Caswell-Massey has been in business since the 1700s, providing high-quality products for a discriminating clientele.
The master bath features a large soaking tub to bathe away the day's cares. Why not order an in-room massage afterwards to complete the relaxation ritual? If you discussed stocking the liquor and wine cabinet when you made your reservation, an after-bath libation is readily available. If anything is missing, a call to room service will fill in any items of food or drink needed. There's also plenty of room in the full-size refrigerator for any beverages or specialty foods you desire.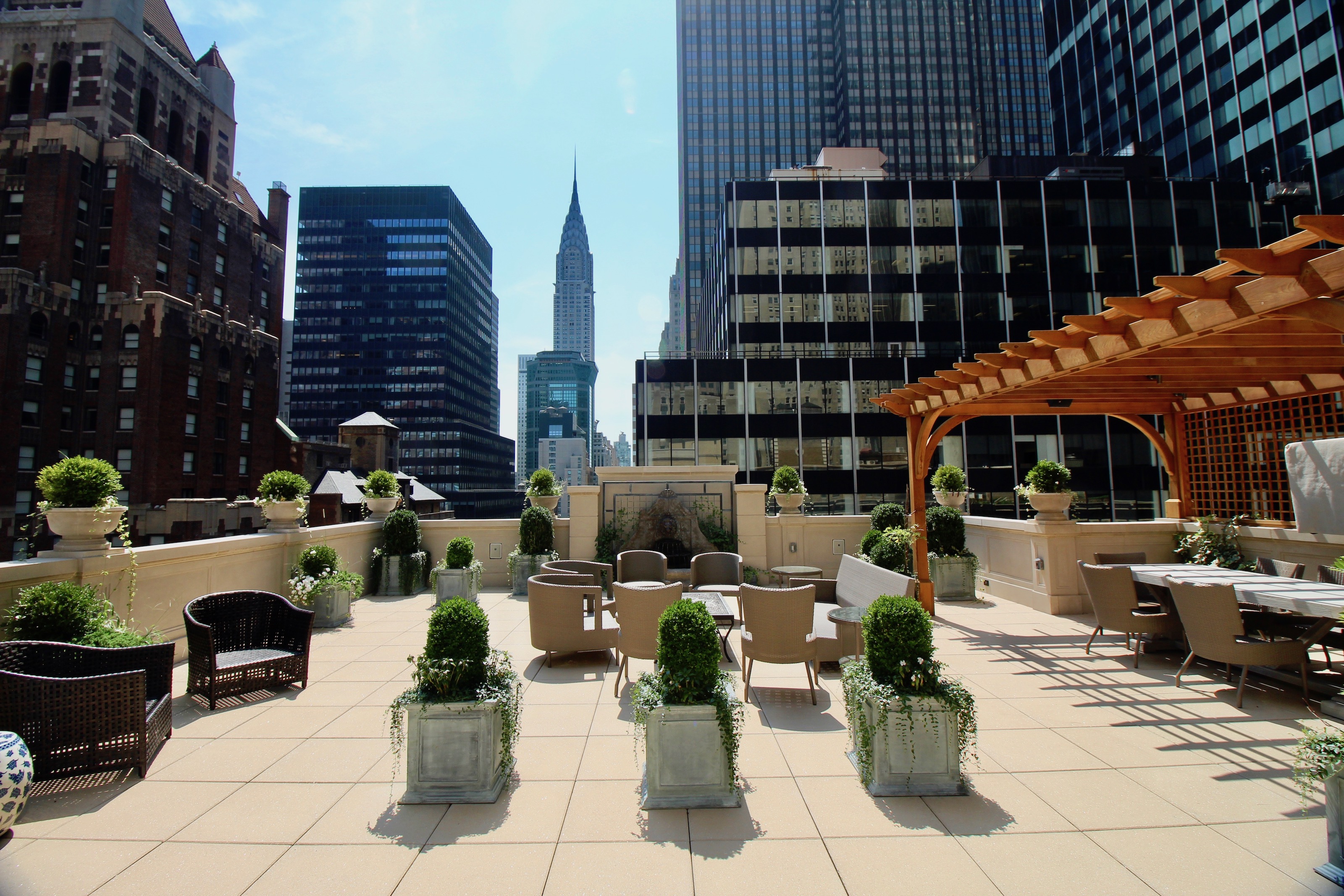 Photo Credit: Kurt Jacobson
In the warmer months, enjoy the exclusive terrace landscaped with container shrubs and other botanicals. Hold memorable family gatherings here over lavish food and drink while listening to the bubbling fountain. The hotel is happy to furnish a chef, if needed, to cater your event on the terrace. In a city where smoking in hotel rooms is illegal, the terrace offers a place to light up without breaking the rules. There's even a big screen TV on the terrace.
If you prefer something a little cozier, consider a recently-renovated one-bedroom deluxe suite. This 500-square-foot suite features a work station, candle-lit fireplace, sofa and high back chair in the living room. The suite's king-size bedroom is decorated in Federalist fashion, providing a level of elegance few hotels can match.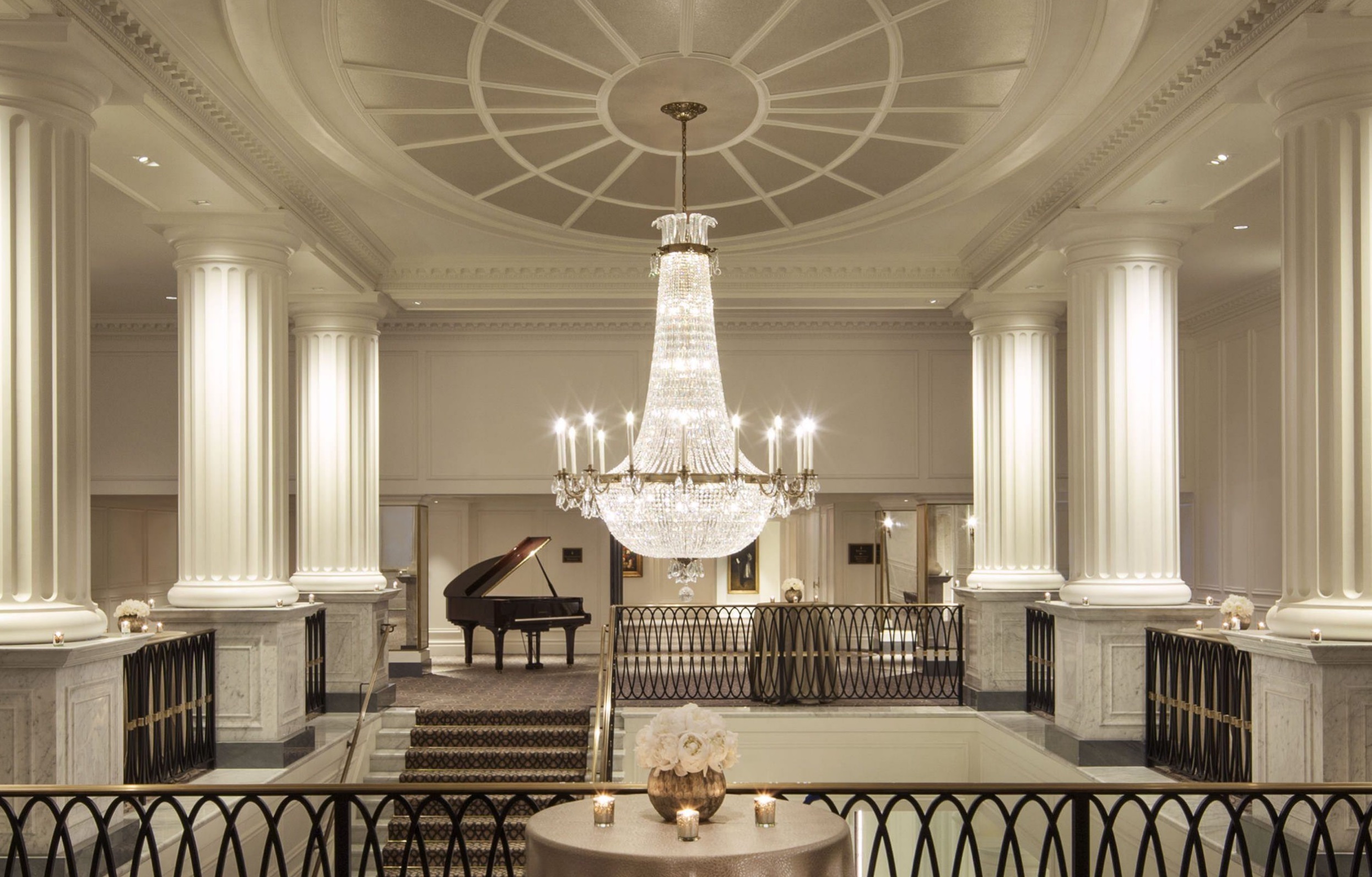 Photo Credit: InterContinental Barclay
On-site amenities include valet parking, a fitness center, a limousine/town car service, a 24-hour front desk, and multiple ballrooms with audio visual equipment. Add to all of this the Gin Parlour for upscale cocktails and dining. The InterContinental Barclay New York was the first hotel to put a large birdcage in its lobby treating guests to birdsong throughout the day. While the days are gone when birds sang in the lobby, nowadays pets are welcome if you want to bring your dog or cat along.
This historic hotel has been pampering guests since its inception in 1926 as an apartment-type hotel. Whether you're looking for a penthouse, a suite or a standard room, the Intercontinental Barclay is one of New York City's finest hotels.