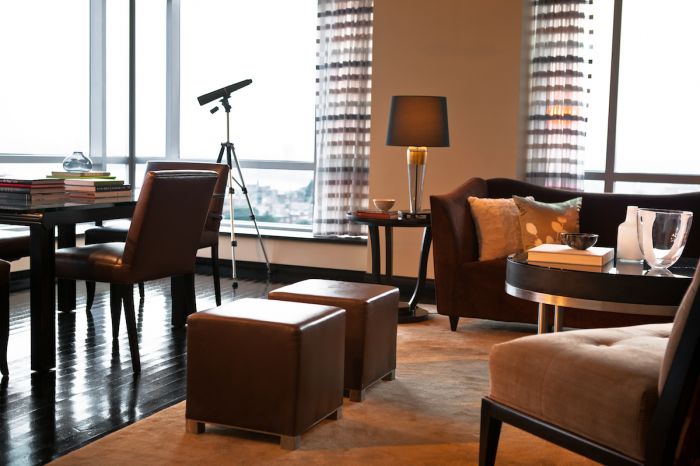 Photos Credit: Kimpton Hotels
The Kimpton brand has made a name for itself with a portfolio of cool boutique hotels that qualify as luxurious, but don't drain your resources. In addition to refreshing design, what they've aced above all is location—in nearly every city you want to visit there's a Kimpton in the coolest neighborhood, often more than one in cities with more diverse offerings. The Kimpton Nine Zero is well known to style-conscious explorers of Boston, where it presides over the famed Boston Common. Featuring Kimpton's signature fresh take on contemporary style, the location is one wherein you can experience "anything from symphonies to slam dunks", not to mention world-class shopping and dining within a few minutes walk. Bold splashes of color aren't jarring, but rather harmonize with well-designed architecture and eye-opening views of the Common and many historic landmark.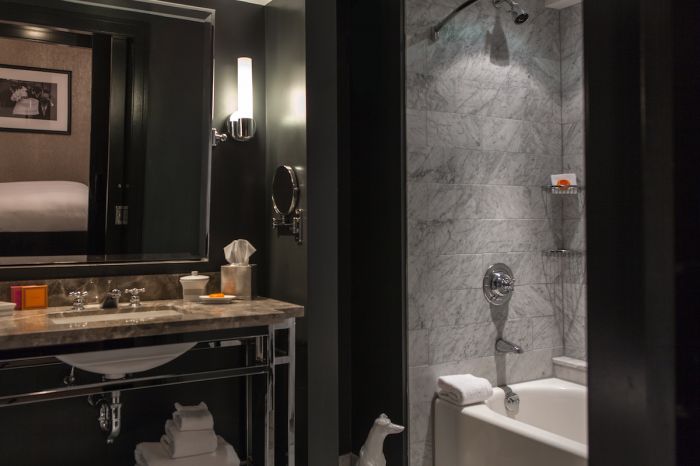 The Nine Zero offers 190 well-designed guest rooms and suites, 2,400-square-feet of meeting and event space, and a second story lounge, Highball, one of Boston's best and most happening watering holes. The hues and textures greet you from the stylish lobby with rich golds and midnight blues set off with polished chrome and nickel accents, artfully upholstered furniture, hand-blown glass chandeliers, bronze sculptures, glowing oil paintings and limestone tables. This is softened a bit in the guest rooms which feature buttery yellow walls and ebony-stained furniture. There are four spacious suites for those seeking an even more luxurious experience, and an above-and-beyond Cloud Nine suite, 1,065 square feet of sheer escapism.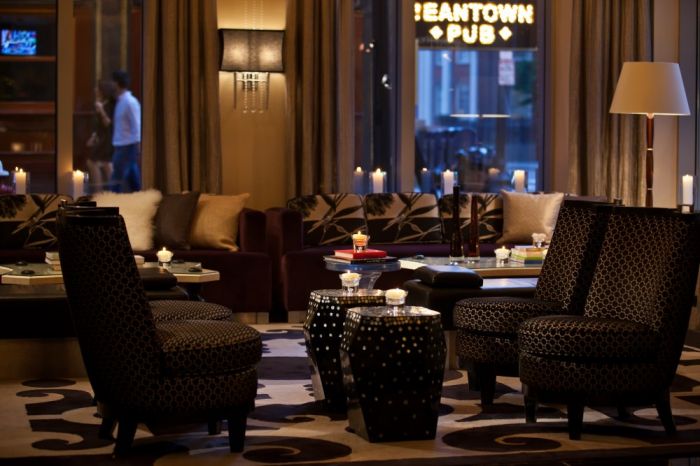 All of the accommodations feature luxe Frette linens, an honor bar stocked with local Boston treats, bespoke bath amenities from Atelier Bloem, and windows that actually open, a true rarity among hotels these days. And having the Highball lounge right on site is a huge draw in its own right. The design is spot on, offering a vintage cocktail bar vibe with a contemporary edge and a cool experience minus the attitude that some places seem to feel the need to provide. There's a nostalgic element with a nod to the martini culture of the 1950s and '60s, but this isn't one of those places where the staff seems to be in costume. The atmosphere is friendly, but that doesn't infringe on the feeling of being in a "hot spot", or vice versa. You feel comfortable no matter if you're dressed up for a date or just in your favorite pair of khakis.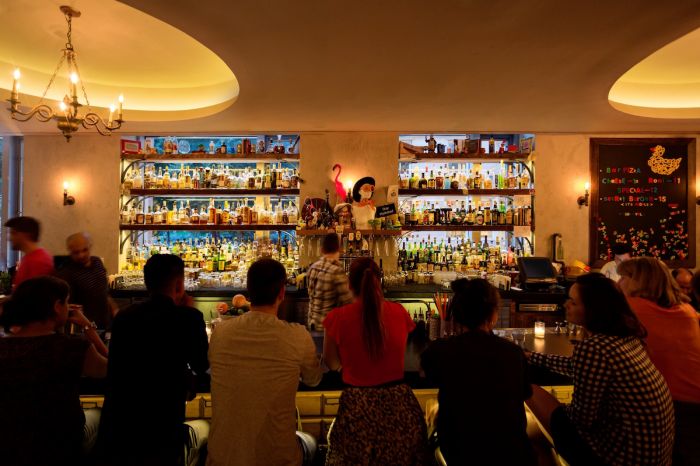 Tufted leather chesterfield sofas, which we always feel elevate a drinking establishment, antique mirrored cocktail tables, reclaimed wooden walls, artful lighting, skilled DJs and a bar big enough to ensure that you're never left waiting too long for a perfectly mixed drink, add up to a unique experience on the Boston scene. Even if your goal while staying at Nine Zero is to explore the city, it's good to have a base camp like the Highball. And the food's good too, with elements of southern, soul and Asian cuisine designed for light bites and small plate snacking. Guests of the Nine Zero can also have breakfast in the space which is equally appealing in the daytime thanks to a view of Boston Common.